While the general message of the holidays is one of joy, peace and love, not all aspects are so cheery.
For years, parents, older siblings and spouses have used the holiday season as a time to threaten those they love the most. That's right, threaten. How? With the conjuring of the dreaded naughty/nice list — a cruel, manipulative tool of fallacy wielded by those closest to you in order to trick you into modifying your yuletide behavior, lest you end up on the wrong side of that long line of cursed names.
The Broadway rendition of Charles Dickens' classic "A Christmas Carol" comes to the Ocean Ci…
Get into even the slightest bit of mischief between Thanksgiving and late December and you are likely to hear lines like, "keep it up and you'll end up on the naughty list!" or "Do you want a lump of coal in your stocking!"
There is even a famous Christmas carol that boldly claims that, not only is the jolly fat man making a list, but that he is checking it twice to ensure the naughty folks do not end up getting presents due to potential clerical errors. Whoa … sounds like Santa means business.
It's time for the b.s. to stop. We at Atlantic City Weekly are going on record this year, letting you all know that, in fact, Santa Claus does NOT keep such a list, and whether you behaved well all year or not, you have nothing to worry about. Yes, the truth is that your loved ones have been lying right to your face, (which ironically would have been an infraction serious enough to land them on the naughty list, if one did exist).
Since this legendary list is nowhere to be found, we — A.C. Weekly Associate Editors Ryan Loughlin and Rebecca King — decided to create one of our own, revolving around some of the nicest and naughtiest things you can get into in Atlantic County this holiday season.
When you think of Historic Smithville, you probably don't think of modern gastropub comfort food with an amazing beer list, craft cocktails an…
Predictably, Rebecca's are sweet and wholesome. And Ryan's … not so much. But no matter which side you land on, you will find fun-filled events, shows and entertainment of all types to fill your stocking, no matter how you behaved over the last 12 months.
The naughty list
By RYAN LOUGHLIN
Run Santa, run: Lots of cities have "Santa runs" this time of year, which consist of a bunch of drunken people in Santa Claus costumes parading from bar to bar, being as loud and obnoxious as humanly possible. Atlantic City is not one of those cities. We do, however, have a boardwalk lined with casinos, each of which is packed with bars. One could imagine that it would not take much effort to round up a few of your most jackass-y friends, throw on Santa suits and hit as many of these as possible in one outing. After all, why do you need an officially organized event for this?
Ho, ho, ho: While many may not think of strip shows as being a big part of the holiday season, this is A.C. and anything goes! Borgata Hotel Casino & Spa's Burlesque Show is back at the Music Box for a quick run Tuesday through Sunday, Dec. 26 to 31 (TheBorgata.com), while Boogie Nights at Tropicana Atlantic City hosts its weekly male revue Primal Men 7:30 p.m. every Saturday (Tropicana.net). Those looking to see Mrs. Claus in her birthday suit can head over to Bare Exposure (2303 Pacific Ave., Atlantic City), which took home an A.C. Weekly Nightlife Award this year for Best Strip Club. Head down and find out why!
That fighting spirit: One of the most common ways for any kid to land themselves on the naughty list is to fight with their brother or sister. And really, why bother risking injury when you can head to Borgata at 6 p.m. Saturday, Dec. 16, to catch the Cage Fury Fighting Championships? After all, pounding someone into a bloody submission is really something best left to the professionals. Located at 1 Borgata Way in Atlantic City. Go to TheBorgata.com for more info.
Spike your egg nog: A frosty beer is good all year, but the holidays provide a time for bartenders to get a little creative with their cocktails. Who doesn't like to take the edge off of a crazy day of dealing with relatives by knocking back a few? We recommend you saddle up to the bar at The Iron Room for their "Whiskey, Spice and Everything Nice," a blend of Rye, hazelnut liqueur, chai tea syrup, lemon juice and egg white topped with shaved nutmeg and cinnamon. Maybe it's not the cold that turned Santa's nose red after all. Located at 648 N. Albany Ave, in Atlantic City. Go to IronRoomAC.com for more info.
The nice list
By REBECCA KING
Dancing with sugar plums: The personifications of toys, candies and even rodents take on a childlike charm in the classic holiday ballet "The Nutcracker." Watch as protagonist Clara gets thrust into the magical and miniature world of her nutcracker doll, where toy soldiers engage in epic battles with mice, flowers waltz and the Sugar Plum Fairy reigns supreme. Nothing nasty here! The Atlantic City Ballet's production of "The Nutcracker" plays 7 p.m. Friday, Dec. 8, and 2 p.m. Sunday, Dec. 9, then again at the Circus Maximus Theater in Caesars on Dec. 16 and 17. Stockton PAC is located at 101 Vera King Farris Drive, Galloway. Go to ACBallet.org.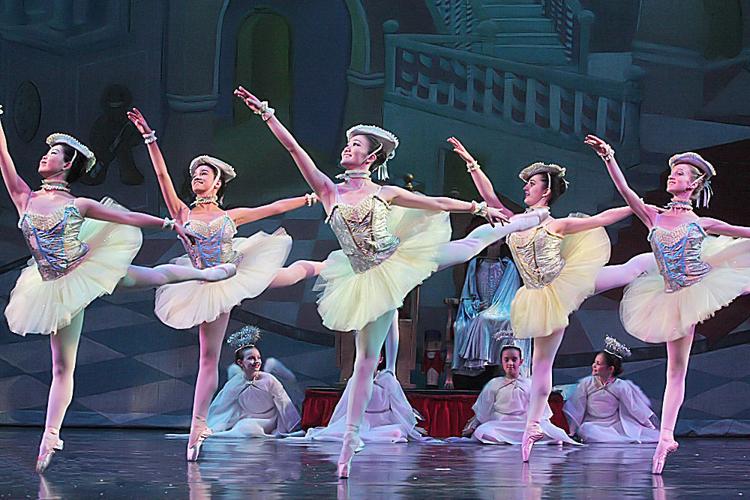 Hear angelic voices: Handel's epic masterpiece "Messiah" will be performed in all its glory by a choir made up of Stockton students and passionate local singers 7 p.m. Sunday, Dec. 10, at Borgata. Organized by the energetic Beverly Vaugh, a Stockton professor of music, the choir features about 200 voices coming together to recreate songs like the famous "Hallelujah" anthem. A community coming together to sing a religious and cultural classic? I can't think of anything more wholesome. Borgata is located at 1 Borgata Way, Atlantic City. Go to Stockton.edu for more info.
Jazz hands: Celebrate everyone's favorite nice guy at South Jersey Jazz Society's "A Charlie Brown Christmas" 7:30 p.m. on two Mondays, Dec. 11 and 18. Ed Vezinho and the Jim Ward Big Band will be joined by vocalist Cathy Rocco to delight audiences with the famous music of Vince Guaraldi that has become synonymous with the holiday season. Tickets are $25. Located at the Gateway Playhouse, 738 Bay Ave., Somers Point. Go to SouthJerseyJazz.org.
Oh, Christmas tree: Charity is the epitome of niceness, and every year Boardwalk Hall partners with Court Appointed Special Advocates of Atlantic and Cape May Counties for its Deck the Hall fundraiser. Intended to raise money for CASA, this initiative invites local businesses, organizations and individuals to sponsor a tree — which they can decorate in any way they like — that will then be displayed in Boardwalk Hall. It's charitable, it's festive, and a visit to see the trees is sure to reverse your naughtiness from attending that strip show. Stop by through Dec. 31. Located at 2301 Boardwalk, Atlantic City. Go to BoardwalkHall.com for more.
Santa selfies: After a weekend of good-natured events, you'll be ready to meet the Big Man himself — Santa Claus. Catch him before he flies back to the North Pole from noon to 3 p.m. Saturday and Sunday, Dec. 9 and 10, at the Music Pier in Ocean City. Just be sure to ignore everything on Ryan's list before you do. Cost is $10 per photo. Located at 825 Boardwalk, Ocean City. Go to OceanCityVacation.com for info.