When the Trump Taj Mahal closed its doors back in October, there were a lot of losses — jobs, lodging for visitors, and just about everything else that was contained behind the white and gold facade of the resort. But one former Taj establishment has managed to remain open despite the shuttering of the casino's doors — The Hard Rock Cafe.
In some ways it's not surprising. The Hard Rock has been resilient; its oceanfront, boardwalk location has kept its doors open and rocking throughout two decades of continuous operation. Not bad for a town where clubs and restaurants go in and out at an alarming rate.
But that's not to say the last few months haven't been tough.
"It's not easy being on this end of the boardwalk," says Tim Butler, assistant general manager of Hard Rock Cafe. "With Taj closing and Showboat flying a bit under most people's radar, you gotta get creative to keep traffic coming out here this time of year. You have to do something unique."
Most serious athletes find ways to stay sharp after their respective outdoor sports seasons …
Being unique has never been a problem for the Hard Rock chain, though. And that begins with the memorabilia on the walls. One needs not take many steps before landing face to face with some impressive items — think David Lee Roth's pants, a signed Les Paul from Slash and even a full spandex stage outfit from Ace Frehley of KISS. You could spend the better part of an afternoon just checking out the authentic artifacts of rock history that line the walls.
The menu here specializes in American classics like burgers, wings and sandwiches. Each may be common staples on a lot of menus, but Hard Rock manages to not let the gimmicks outshine the food, something that is often not the case at most theme-based restaurants.
The wings ($12.95) feature a series of optional sauces with cool names like "classic rock" and "heavy metal" used as codes for the varying heat levels. And they stand behind their wings proudly, as they have even signed on to compete in A.C. Weekly's upcoming Wing Wars competition Jan. 28, at Haven in Golden Nugget.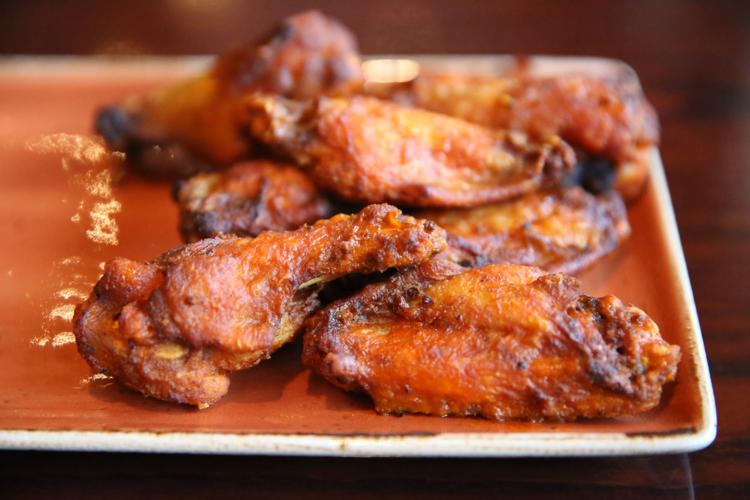 While they may offer standard pub grub, it's hard to overlook the burgers at Hard Rock, as they are a real standout on a large menu. A particular highlight is the hickory barbecue bacon cheeseburger ($15.95), which combines their proprietary blend of Angus beef with caramelized onions, cheddar cheese, smoked bacon and barbecue sauce, all crowned with a slightly sweet, perfectly squishy brioche bun.
"We make a ton of them so they always come out perfect," Butler says confidently.
Those looking for something a bit less heavy can opt for the grilled Norwegian salmon ($20.95), which is topped with a combo of herb butter and a sweet/spicy barbecue sauce. Paired with one of their many exotic, fruity cocktails, it makes for a light yet satisfying combo.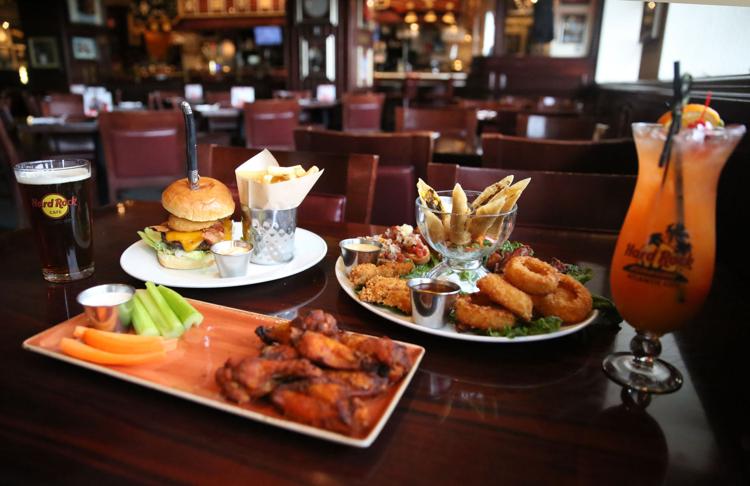 Dessert features a bevy of decadent options, from lava cake to sundaes, but their signature sweet treat is the homestyle apple cobbler ($7.95), a crusty, crumbly blend of apples and spices topped with vanilla ice cream and Ghirardelli caramel sauce.
In addition to their regular menu, from opening to noon on Saturdays and Sundays the Hard Rock Cafe serves up one of the best brunches in town. Options buck the norm with choices such as the Rockin' Corn Flake French Toast ($14.50), the ricotta blueberry pancakes ($11.95) and, of course, the "Whole Lotta Love" Breakfast Burger ($15.95), a behemoth that includes avocado, bacon, jack cheese, lettuce, tomato and a fried egg along with their classic patty and aforementioned brioche bun.
Those looking to save a few bucks will be pleased to discover a specials menu which features nine items each costing $9.95. Everything from soup and sandwich combos to fish and chips can be had for what is arguably less than most would pay at your average drive-thru these days.
The Hard Rock may have some obstacles to climb at the north end of the Boardwalk, but it seems they have the tools to make it work. Of course the giant elephant in the room is: will the Taj reopen?
"Who knows," Butler says. "Each week we hear something different, but for now we can only do what we do best."
Hard rocking at Hard Rock
The food and rockin' atmosphere is but one reason to come to the Hard Rock Cafe Atlantic City. At this Boardwalk spot, "Hard Rock" is not merely a catchy name, it's a lifestyle, as they feature live music on their main stage on regular basis.
New for this season Hard Rock Cafe Atlantic City will pair up with A.C. Weekly to present The Atlantic City Weekly Friday Night Live Music Series.
1. You have probably never heard of it. And while there are a bunch of reasons that this is …
To be held weekly 8 to 11 p.m. Fridays beginning Feb. 3, local bands will perform live at the Hard Rock Cafe, thrilling audiences and patrons with both covers and original tunes. Specials will be offered at the bar, as well.