With all of the new restaurant offerings at Harrah's Resort Atlantic City — Veracruz, Guy's Sammich Joint and Coastal Craft, just to name a few — there is one concept that is easy to overlook: AC Burger Co.
But it shouldn't be.
It might not have the pedigree of an Iron Chef or the sexiness of a Spanish-Mexican tapas menu, but AC Burger Co. is a fun place offering modern takes on perhaps America's most famous culinary offering: the burger.
"We knew people wanted burgers, so we wanted to give people a place to go any time of day to get a great burger or sandwich and great salads, but not alienate anyone by doing anything too extreme," says Harrah's Vice President of Food and Beverage Lee Sanchez. "We wanted to keep it simple and fun with quintessential American themes. You can go anywhere in the world and America is represented by the hamburger, so it speaks to American culture, but it can also represent other cultures. So we wanted to experiment and try different flavors, too."
When the question posed is "What is your best asset as a professional athlete?" and the answ…
AC Burger Co. takes the place of Bill's Bar & Burger, formerly owned by BR Guest — it owned Dos Caminos and Sammy D's, which were replaced by Veracruz and Coastal Craft + Kitchen, respectively — and will reopen this fall at Golden Nugget Atlantic City, after Landry's bought the burger concept late last year.
The look hasn't changed too much — the checkered picnic table look is gone in place of a more modern feel, but the menu has been totally overhauled and features none of the items as Bill's, a risky move for loyalists of the brand for the last five years.
To ensure fans would not complain and to lure new customers, Sanchez, Executive Chef Rob Schoell, Restaurant Chef Nancy Simmons and Manager Dan Visicaro knew AC Burger Co. had to be special. They had to do it right from the moment it opened earlier this winter.
It all started with the patty. It sounds simple to pick a good burger, but it isn't. There are a lot of choices out there, and a lot of them are not good. So Sanchez estimates he and his team tried more than a dozen different ones until they settled on an 8-ounce, hand-pressed, certified black Angus mix of chuck, brisket and short rib. For those who are health conscious, the cattle is verified non-GMO raised in the United States without the use of antibiotics or hormones on a 100-percent vegetarian diet.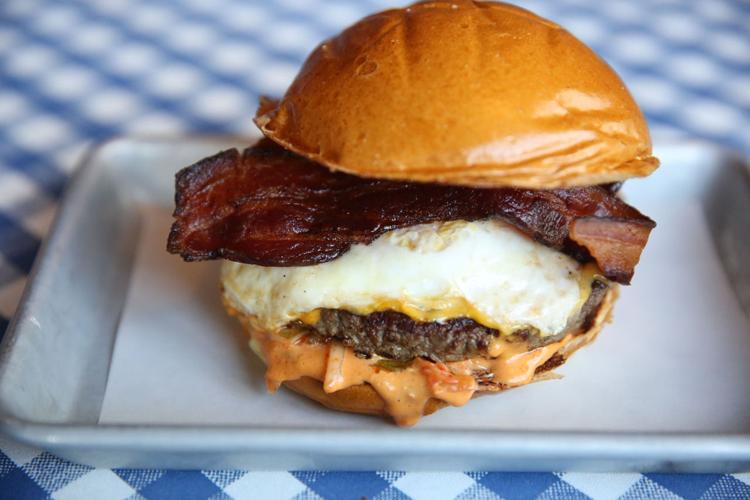 The classic cheeseburger ($12) is simply seasoned with salt and pepper, cooked to medium unless otherwise requested, topped with lettuce, tomato, pickles and AC/BC sauce — a variation of a classic Thousand Island burger sauce — and served on a brioche roll made locally daily by Formica Bros. Bakery in Atlantic City.
"If you are centering an entire concept around the burger, you have to make sure the patty is the right quality and flavor that can be consistently great, and we think we nailed it," Sanchez says. "This one has the right thickness and right amount of fat so that when it's cooked to medium — which we recommend strongly — it's absolute perfection."
AC Burger Co. also has more than a half dozen alternatives including standouts such as the kimchi ($14) with fried egg, homemade kimchi, American cheese, Neuske's bacon and spicy gochujang mayo served on the brioche; the green chile ($12), my personal favorite with grilled Serrano peppers, pepper jack cheese, lettuce, red onion, salsa verde and charred jalapeni mayo served on a homemade Kaiser roll; and the signature burger topped with house-made pastrami ($15), AC/BC sauce and Swiss cheese, served on thick-cut marble rye bread.
Perhaps the best on the menu is the AC/BC Burger ($14), a variant, secret-blend patty that has been dry aged for 28 days served on a brioche, smeared with garlic herb cheese with a mushroom au poivre sauce.
Not in the mood for a beef burger? No problem. There's a California turkey burger ($12) made with turkey sausage, Swiss cheese, arugula, balsamic onions and truffle mayo on brioche; the sausage and pepper burger ($14) with a hot and sweet Italian sausage blend topped with grilled green and red peppers, shaved provolone and whole grain mustard on a semolina roll; and the vegan Mexican ($11), a black bean and quinoa burger topped with pico de gallo, vegan mayo and pickled onions, served on a scrumptious sweet potato bun.
"We certainly wanted some amazing flavor combinations to offer a modern approach to a classic burger bar," Sanchez says. "The kimchi burger is our international burger, the green chile burger is a nod to the western part of the U.S., the pastrami burger is screams New York, and then the AC/BC Burger aimed at foodies with that funky, dry-aged flavor and the decadent cheese and sauce that would likely be found in a steakhouse more than it would in a casual burger joint."
Hop aboard a cruise under the light of June's full moon, also known as the Strawberry Moon, …
But AC Burger Co. isn't just about burgers. It has something for everyone, with a super creative menu that would make most people happy just sampling the appetizers. The wings ($10) are top notch and offered in three flavors: classic buffalo, parmesan curry or, our favorite, Thai curry. Instead of chicken nuggets, how about duck confit nuggets ($12.50) fried to perfection and served with orange marmalade? Who can resist pork belly cracklings ($7) with Cajun spice and lemon, or one of the best fried cheese ($7.50) appetizers in South Jersey, featuring lightly breaded mozzarella and cheddar cheese curds served with marinara?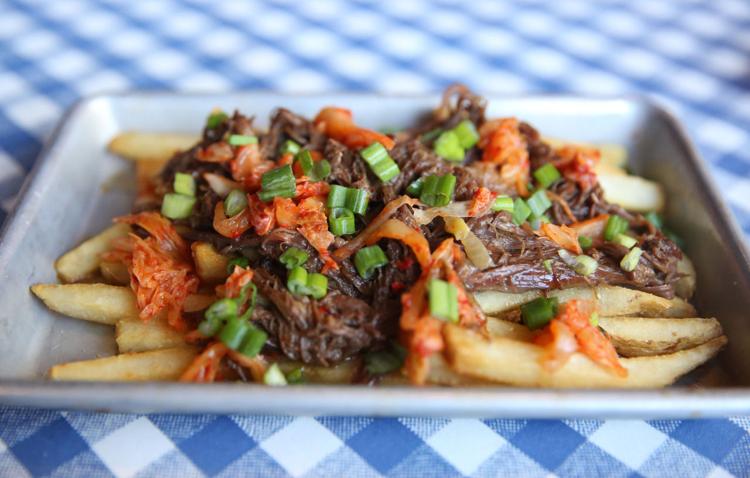 But what AC/BC really does well is its array of sandwiches.
"One thing people kept telling us they wanted were the sandwiches that Harrah's offered more than 10 years ago at the deli that was in this location," Sanchez says. "So we gave the people what they wanted, and it's even better than ever."
At the top of the list — based on customer requests — are the corned beef and pastrami sandwiches ($14). They are both made in house, hand cut and served as giant sandwiches on thick-cut marble rye bread. Customers also asked for a great cheesesteak ($14), and they got one with shaved ribeye, caramelized onions and American cheese on a the best cheesesteak roll from Phildelphia: Sarcone's Bakery. That roll can also be found in the roast pork ($12.50) with homemade broccoli rabe, long hot peppers and provolone cheese.
Sanchez's favorite sandwich is the Cubano ($12.50), with slow-roasted pork shoulder, ham, Swiss cheese and pickles on crusty bread, finished with stone-ground mustard, then buttered and pressed. But our favorite is the simple but rarely seen fried bologna sandwich ($11.50), thick cut and piled high with bologna and American cheese, mayo and mustard on that Formica brioche.
"I think the sleeper on the whole menu is the open-faced turkey ($12.50) made with turkey that we roast in house, shave it down thin, pile it high on country bread and top with an amazing turkey gravy and crispy fried onions," Sanchez says. "It's not just food that you can have every day, but something people are coming back for again and again."
And what would a good burger joint be without good fries ($5) and onion rings ($6)? AC/BC has that covered from regular fries, tater tots or sweet potato tots, and fixings such as chili, cheese, bacon, pesto, parmesan garlic or the house favorite: disco, gravy and white cheddar cheese sauce. They even have some of the fries under their appetizer menu, including the short rib fry ($10) with short rib shrapnel gravy, caramelized onions, cheese sauce and melted mozzarella and cheddar cheese curds; and the oxtail fry ($9) with braised oxtail, kimchi and scallions.
"The feedback has been great," Sanchez says. "Sure, there are some who miss Bill's after five years, but even the most loyal Bill's customer is coming around. Some people have two or three meals here on one trip. And we will keep introducing new, seasonal items and tweaking what works and doesn't work. We are constantly evolving here and in all of our restaurants."
More Fun Stuff at AC/BC
You can't go to any Harrah's restaurant — or Bally's or Caesars, for that matter — without trying dessert from the best pastry chef in South Jersey: Executive Pastry Chef Deborah Pellegrino. She doesn't disappoint at AC/BC, with a dessert menu ($8 each) that matches the fun vibe of the place.
There's Smorechos, layers of whipped ganache, salty buttered graham crackers, cream cheese spread, pretzel chips and cinnamon sugar cannoli chips; a decadent chocolate fudge cake; deep-fried Oreos topped with vanilla ice cream; and a loaded brownie topped with chocolate fudge cake, Snickers, Twix, Heath, M&Ms, vanilla custard and finished with caramel and chocolate syrups.
There's also a half dozen shakes ($6 to $15), including the ice cream sandwich with cookies and cream ice cream topped with an ice cream sandwich and chocolate chip cookies; the chocolate-covered pretzel with chocolate peanut butter ice cream topped with M&Ms, Snickers, chocolate-covered pretzels and caramel; and the cinnamon cake shake with cinnamon swirl ice cream topped with cinnamon roll pastry, Cinnamon Toast Crunch and cinnamon sugar. You can also request to make them adult shakes by infusing everything from Godiva chocolate liqueur to Rumchata.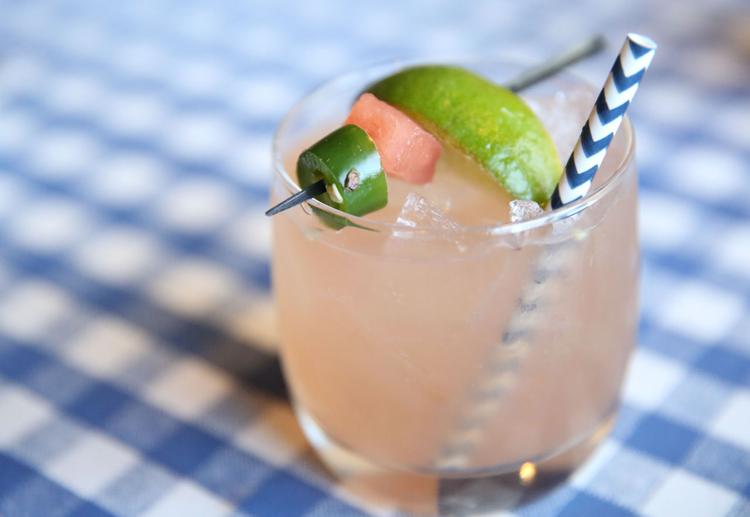 There's also a superb beer list with a dozen craft beers from breweries such as Brooklyn and Evil Genius, plus dozens more by the bottle, an impressive wine list, homemade sangria, specialty shots and cocktails.
On the cocktail side, check out the maple bacon old fashioned ($12) with Russell's Reserve Rye, walnut bitters, maple syrup, candied bacon and orange peel; the Coconut Dreamsicle ($14) with Patron Aneja, Malibu, coconut milk and fresh orange and lime juice; and the Pineapple Watermelon Splash ($12) with Absolut Elux, muddled watermelon and pineapple and cranberry juice.