There's a gorgeous, upscale restaurant inside Tropicana Atlantic City that is the casino's best-kept secret. The problem is that it's been the casino's best-kept secret for more than 30 years.
If the talented culinary team at the Trop has its way, though, that will all change over the next six months.
Il Verdi, a spectacular Italian restaurant, will suddenly become THE place for Trop's loyal players to dine when Fin and Seaside Cafe close early next month to pave the way for multiple concepts by Iron Chef Jose Garces that will debut next spring.
The issue with Il Verdi is that it's hard to find. Tucked around a corner off the casino floor near the escalators to the showroom, there is no real frontage, just a nondescript side door. But once you find it, you will treasure that discovery.
+1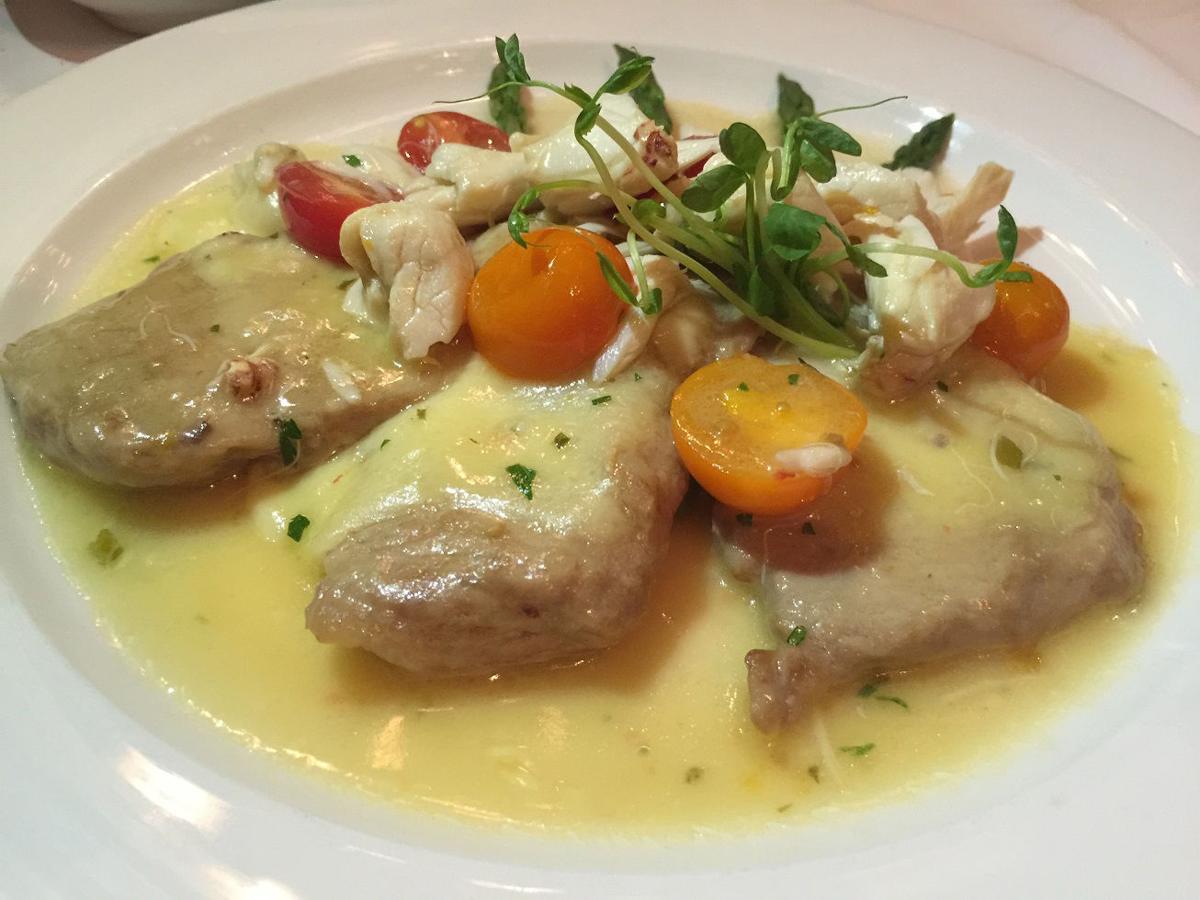 A big reason for that is Restaurant Chef Jack Flanigan, who talks about the restaurant with such love you would think he's talking about his own business. That's because he's been involved in the restaurant for more than 20 years. Together with his experienced wait and kitchen staffs and direction from Director of Culinary Operations Demetrios Haronis and Vice President of Food and Beverage Renee Fleifel, Il Verdi is in very good hands.
So just in time for Fin's closing and Il Verdi's schedule expansion, there's a new menu, and it may the best Il Verdi has ever offered.
"I, along with our guests, love the intimate charm of Tropicana's hidden gem, and with the new menu the chefs have put together showcasing Italy's finest flavors, it is definitely worth seeking out and seeing for yourself why il Verdi continues to be successful for over 30 years," Fleifel says.
Truer words have never been spoken.
"The menu has always been awesome, but it's constantly evolving and we're really proud of this one," Flanigan says. "We change it seasonally, but we put a lot into this one."
The biggest new addition is fresh pasta. Not fresh pasta that they buy. Fresh pasta made daily in house, including rigatoni, penne, linguini and fettuccini for must-try pasta entrees such as their rigatoni Bolognese ($21) with a sausage ragu; linguini with littleneck clams ($21) with white wine, garlic, Italian parsley, basil and olive oil; homemade ravioli ($24) filled with fresh mozzarella in a basil pomodoro sauce; and Spaghetti Alla Chitarra ($27) with rock shrimp, calamari, Calabrian chilies, white wine and a roasted plum tomato sauce.
But the hands-down winner of all the new homemade pastas is the ricotta-stuffed gnocchi ($19), light, melt-in-your-mouth pasta pillows with blistered heirloom cherry tomatoes, basil, garlic and extra virgin olive oil.
"When you make pasta yourself every day, it's just better … simple as that," Flanigan says. "And the gnocchi are really over the top. We used to have a potato gnocchi, but these are Demetrios' babies, and they are as light as a feather and the best gnocchi I ever had."
Of course there are other reasons than pasta to visit Il Verdi.
Start out with the Cubanelle pepper ($11) stuffed with hot sausage, Pecorino Romano and sharp provolone served over a bit of homemade marinara made from San Marzano tomatoes; the spiedino ($12) — think Italian grilled cheese with parmesan and herb-crusted fried Fiore di Latte mozzarella with a roasted garlic anchovy sauce and marinara.
"We stay on top of trends and what's going on, but even more importantly, we use fresh Jersey produce whenever possible and we source as much local seafood and products as we possibly can," Haronis says.
For meat eaters, it doesn't get better than two new dishes: a double-cut pork chop ($34) pan seared with garlic, rosemary, broccoli rabe, hot and sweet vinegar peppers and sharp provolone; and a 42-ounce Tomahawk ribeye chop ($89) for two — or three or four — that is as good if not better than anything Fin offered. The 28-day-aged long-bone ribeye is grilled with roasted garlic and truffle butter and served with parmesan herb fingerling potatoes.
"It's just awesome," Flanigan says. "It's something I always wanted to have on there. There is a wow factor with that Tomahawk. I have seen one person eat it all, but it's also great for a family dinner for sharing."
Seafood lovers won't be left out, either, with Salmone Susanna ($34), grilled Faroe Island salmon topped with jumbo crab, tarragon and diced tomatoes in a white wine butter; or the Fra Diavalo ($52) with a pound-and-a-half lobster, shrimp, mussels, clams and calamari in a spicy San Marzano marinara over linguini. And if you're smart you can add some langoustines in there for $12.
Flanigan knows that if you go to Il Verdi, you will go back. He sees it happen every day.
"There's a timeless look to it," Flanigan says. "It's a very quaint dining experience. It's not loud or bright. There's plenty of marble and a mirrored ceiling that reminds you of the classic casino Italian restaurants. The same footprint is here from when it opened more than 30 years ago. Our servers are knowledgeable. It's our hidden gem. People have to find us, but when they do, they are glad. It's worth the effort to look for us."
Haronis agrees. "There is something special about this place. And while it may be a classic casino Italian restaurant, the food is that perfect mix of traditional and modern presentations. Things aren't as heavy as they used to be. The food is lighter and we use nothing but the best ingredients. When people come in they tell us it's one of the best Italian restaurants in the city. This new menu has made it more approachable in price as we go after everyone. We don't want Il Verdi to be just for high-rollers anymore. We think it's so good everyone should experience it."
IL VERDI
WHERE: Tropicana Atlantic City
WHEN: 5 to 11 p.m. Fridays through Tuesdays; will go to seven days a week when Fin closes on Oct. 1 until the new Jose Garces restaurants open in spring.
HOW MUCH: Appetizers range in price from $11 to $42; soups $8; salads $11 to $21; sides $6 to $10; pasta $18 to $27; seafood $32 to $52; meats $32 to $89; desserts $10.
SERVICES: Major credit cards accepted. Liquor license. Disabled access through front door. Eat in. No takeout. Private parties. No catering. No kids menu. No smoking.
MORE INFO: Call 609-340-4000 or go to Tropicana.net
BETWEEN YOU AND ME: All of the desserts ($10) are homemade including a mind-blowing tiramisu and Limoncello mascarpone cheesecake, but the house favorite (and ours, too) is the beignets, lightly fried cream cheese dough filled with ricotta cheese filling, dusted with powdered sugar and served warm with a trio of sauces: chocolate, white chocolate vanilla and caramel. You can thank us later.