Obviously they're great for grabbing a cuppa joe and a muffin. So coffee houses and cafes, with their warm and inviting atmospheres, soft lighting, cozy furniture and groovy tunes flowing from a barista's favorite Pandora station, should make them the perfect type of place to sit back in a big cushy chair, half-caf in hand, and strike up a — depending on your mood — low-key or snappy conversation with a nearby stranger.
1. The history. Belcoville is a tiny town — only eight blocks — which is why many who live i…
Modern times being what they are, the only real conversation you often get at a coffee shop anymore is the boom of your Sharpied name on a paper cup soaring above a crowd of anxiously waiting, pre-caffeinated customers. And once you've secured your order, you'll be lucky if it isn't knocked out of your hand by some ear-budded hipster too focused on a mobile device to notice your existence.
This is not how it is at Positively 4th Street Café, housed inside the Laurel Bay Inn, in Ocean City works. In fact, it's the complete opposite.
There is an old theory started by the French that the first bite of any piece of food is the…
"Everyone is out to help others — that's the type of place it is," says Co-owner John Szabo. "The place is comfortable and embracing — it actually shocks people. And it's a mixed crowd — from those who can barely afford a cup of coffee to those who pull up in a Rolls Royce. It's a common space, there's no sense of entitlement.
"They just want a safe, secure space."
The round table
To emphasize the level-playing-field vibe at Positively 4th Street Cafe, there is an actual round table that, much like the famous one of Arthurian legend, implies those who sit there have equal status.
Throughout the day, customers — many of whom have grown to become great pals — come and go as they please, engage each other in conversation and play crossword puzzles together. They even have a name for this informal group: aptly, the Round Table Friends.
Another group — mostly opinionated Eagles' fans — generally gathers in a different area.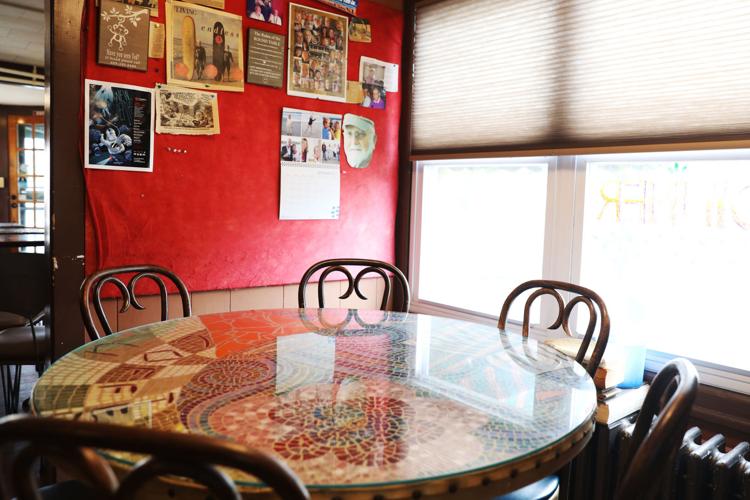 "It isn't a bubble here," Szabo assures. "There's always a lively discussion — whether sports or politics …"
'Our primary goal'
Food is not secondary in any capacity this beloved neighborhood epicenter for coffee and conversation.
"Food is definitely not second — it's our primary goal," Szabo states.
The food here is, as Sazbo calls it, "off center," whether from a unique combination of ingredients or from the method in which it's prepared.
"We want to make an impact with our food."
Szabo, who has a background in banquets and catering at the old Sands hotel and casino, cooks dinners at Positively 4th Street in season, as well bakes the muffins, scones and pound cakes. Wife Sharon, with whom he also shares ownership of the Laurel Bay Inn bed and breakfast, is in charge of seafood, salads, freshly made smoothies and developing their creative food options — like the entire menu just dedicated to toast.
"We use a variety of items you wouldn't expect — amazing Greek yogurt, a sour cherry spread, raw honey, hemp seed … of course, avocado," Szabo says.
Positively 4th Street prides itself on its quirkiness and rightfully boasts that it is not the type of place where you'll find pancakes or fried eggs on the menu.
"The only eggs we do are hard boiled on toast. And we bake our omelets like a frittata and serve them on multi-grain bread," explains Szabo, referring to dishes like the open-faced Pappas Bravas ($7.75), with sautéed sweet peppers, poblanos and jalapenos, with red onions and cooper white cheese, cilantro and hot sauce.
A few of the favorite dishes among many diners is the quinoa, according to Szabo, which is loaded with protein and very "versatile," along with a "weird" chocolate parfait made with chia seeds, coconut milk, Greek yogurt and fresh fruit.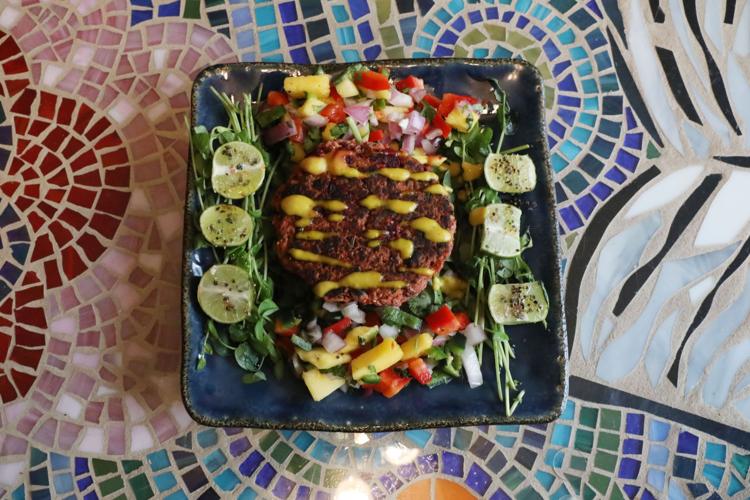 Though not entirely gluten-free, they won't add extra gluten to any items, and they also have a fine selection of vegan options, thanks to a vegan barista-turned-cook.
"Her enthusiasm is contagious," Szabo says. "She's helped me come up with some creative (vegan) ideas."
Coffee, tea or bee
Positively 4th proudly carries organic coffee by local roaster Harry & Beans, and they offer a wide range of espresso drinks and gourmet teas by T-Salon and Revolution.
A popular beverage is Sharon's Bee Brew tea ($6). Pureed organic oranges, bee pollen, turmeric, ginger and raw honey serve as the tea's base.
"She just started making it for herself," Szabo says. "But people started to ask about it. Now it has become a steady favorite."
Mini-cultural center
Positively 4th Street Cafe lends itself as a home to artists, musicians, poets and more.
Wall art by local artists changes every two weeks, and artists are welcome to contact Sharon Szabo if interested in displaying theirs. Additionally, a student photography club meets there on occasion, not merely to talk shop, but to display work and shoot, as well.
"We have people who have been doing art for a long time, and some who are just starting out," Szabo says. "It's a great venue. There's no intimidation. Come in and put your work up."
Weekly poetry readings and acoustic music have recently stopped, but Szabo assures that a new open-mic night is presently in the works.
Even the café's name has a musical connotation.
"We were playing the name game (when we were opening) … and we wanted it to be a warm, embracing place on a couple of different levels. And we wanted to be positive about it … and we're on 4th Street. So we are positively on 4th Street," he laughs. "Then the Bob Dylan song came on ('Positively 4th Street').
"So we had to call it that," he laughs at the ironic labeling of their cheerful café after a song with rather bitter lyrics. "(The song) is anything but positive."