Little Italy Pizzeria and Restaurant in Northfield may be new to this area, but its roots run deep.
Little Italy in Wildwood Crest has been a fixture on the seasonal dining scene for 22 years. So, when owner Tony Curatolo wanted a year-round establishment, Northfield just made sense. And, with the help of a local expert, Little Italy Northfield opened in April of this year.
Tattoo culture has been on the rise for at least the last two decades. Gone are the days whe…
Local Roots
When Curatolo and the team behind Little Italy in Wildwood were looking to expand north, they sought the expertise of local Tony Cannuscio. As the former owner of the esteemed Antonino's Jo-Jo's Café Italiano in Northfield, Cannuscio was the perfect person to open and manage Little Italy in Northfield. When Jo-Jo's shuttered its doors in 2014, Cannuscio left the restaurant business to work in sales with the ever-popular Ferraro Foods.
"But, I couldn't keep my hands out of the dough," Cannuscio jokes, explaining that he comes from a restaurant family.
Jo-Jo's first opened in 1969, and working in restaurants is what Cannuscio knows and loves.
"It's really nice to see many of my old customers back," Cannuscio adds.
The team behind Little Italy also has a great deal of expertise, explains Cannuscio.
"Together, we bring a lot to the table," he says. Many of Little Italy's dishes are made with family recipes that have been passed down for generations from Italy.
Video poker players who opt for a little low-cost fun at nickel machines usually encounter p…
Branching out
"We use all of the original recipes from Little Italy in Wildwood Crest, but we've added more to this location," Cannuscio says.
The brick oven pizza has been a very popular addition, explains Cannuscio, adding that they offer many of their gourmet pizzas by the slice. Pizzas such as buffalo chicken, barbecue chicken and fresh eggplant are very popular.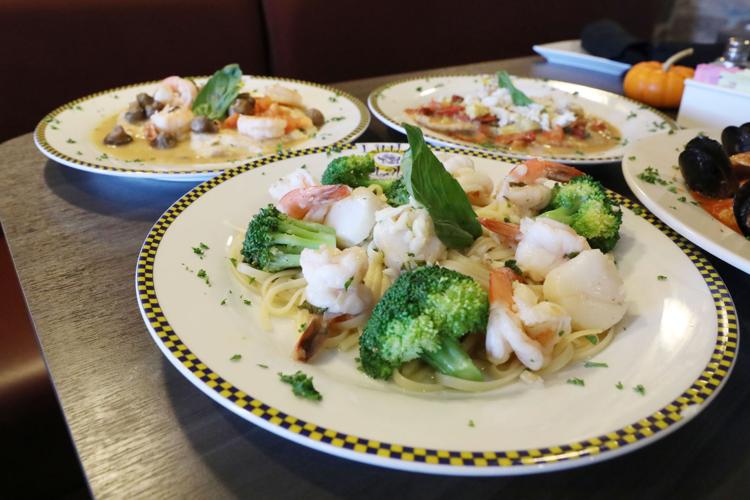 "We make our dough, fresh daily," Cannuscio affirms.
While pizza has been a popular addition to Little Italy's menu, there are many other selections that also shine. Many of the pastas are handmade, including the gnocchi, fettuccinie and the pasta sheets for seasonal stuffed pastas, including ravioli and tortellini.
"The lasagna that we make is the owner's family recipe from Italy," Cannuscio says.
The homemade lasagna ($16.95) with ricotta, meat sauce and mozzarella cheese is served with a salad and bread (which also happens to be freshly baked in house daily). The Pescatora ($26.95) is another popular dish, featuring shrimp, scallops, clams, mussels and calamari in a red sauce with a splash of wine, served with choice of pasta, salad and bread.
For a unique dish and vegetarian option, try the eggplant balls.
"Our eggplant balls, looks exactly like meatballs, but instead they are made entirely with eggplant instead of meat," Cannuscio says.
In full bloom
Little Italy's interior pays homage to traditional Italian décor. Stone detailing, rich wood floors and red checkered table cloths create a warm and welcoming space. With seating for 70, the restaurant is cozy, but in warmer months the outdoor patio adds seating for 50 more.
"Our patio was a hit this summer, peopled just loved sitting out there," Cannuscio says. By next summer the restaurant plans to add a wood-burning oven outside. The patio also features live music and is pet-friendly.
In addition to the regular menu, Little Italy features daily specials including a customer loyalty program.
"Customers get points for every dollar spent, and we offer rewards starting at 50 points," Cannuscio says.
There is also a daily lunch special for $6.95 from 11 a.m. to 2 p.m. and a daily early bird special for $14.50 from 3:30 to 5:30 p.m. Monday is Mussels Night (dine-in only) — with the purchase of an entrée, customers receive a free order of mussels.