On a nightly basis, the line at Sweet Charlie's, a rolled ice cream shop on the Ocean City boardwalk, stretches out the door, begging the question: why wait for ice cream on a boardwalk full of places that sell ice cream?
Well, to start, rolled ice cream isn't just normal hard ice cream flattened out and curled into tubes. It actually begins as a liquid that is then placed on a plate that is below 20 degrees, causing the batter to quickly crystallize into incredibly fresh ice cream.
Donuts aren't just a breakfast treat. As Danny DeVito says in "Other People's Money:" "Since…
"We have a dairy farm that makes the batter that we put on the plate. It's basically cane sugar, butter fat and milk," explains Steven Billig, CFO of Sweet Charlie's, which opened on the boardwalk over Memorial Day weekend. "There are no preservatives, and we don't have any freezers. It's as fresh as fresh can be. We start off with a natural base and the flavors come together by the way we mix in the base. We have anywhere from eight to 10 flavors that we do and unlimited toppings. We also have a yogurt base and a vegan base."
Ocean City is hardly the first place to embrace the trend of rolled ice cream, which was initially inspired by a Thai technique. Sweet Charlie's itself has a few locations and originated in Philadelphia.
"We started in Philadelphia in the city, but we always came down here (to Ocean City) with our kids going back to when they were infants," Billig says. "We felt like this was our hometown, as well, and we loved the vibe of the family boardwalk here."
Sweet Charlie's isn't the only rolled ice cream shop on the boardwalk. One called CubZero Ice Cream sits a little further up the boards. Another — Arctic Freeze Creamery — can be found on Asbury Avenue. But is rolled ice cream really worth the hype? Billig has two answers to the aforementioned question: why wait for ice cream?
"It's a twofold (answer). They love the product and how fresh it is — that there's no preservatives, and the second part is they love watching it be made in front of them. It's like a shortened Benihana," he says.
Watching the ice cream get made truly is a treat in and of itself. After ordering your chosen flavor from a list that includes options like "Rise & Shine" with Cinnamon Toast Crunch, "Off Duty" with coffee flavors and donut pieces, and "S'more Please" with graham cracker, chocolate and a roasted marshmallow, you head over to the cold plate to watch your creation get made. The workers are friendly, chatting with customers about where they're from and if they've ever had rolled ice cream before. They pour the liquid batter on the plate then add whatever flavors you've chosen, adding some flair where applicable — for example, if you order the s'mores flavor they literally light the marshmallow on fire in front of you, or, if you want added chocolate or caramel sauce in your ice cream, they'll write your name on the sheet ice cream once the add-ins are chopped up and smoothed out. The last step is taking a chisel to the smoothed over dessert and curling it into a roll. Those rolls are then placed in a cup and sent over to the topping station. Sweet Charlie's includes unlimited toppings, so you can really go crazy with the extras. The whole process takes around five minutes. The wait in line? Anyone's guess.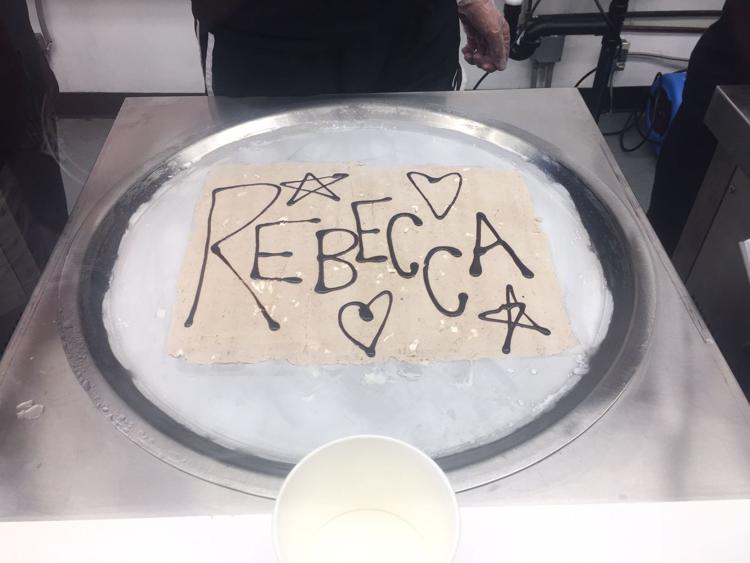 But Sweet Charlie's certainly tries to make their product worth the wait. They have a Polaroid camera inside to snap pictures of patrons in line. Those photos then get put up on a cork board that says "Charlie's Friends" — Charlie being the Billig family dog and the namesake of the shop. And though long lines for trendy dishes are a rarity in towns like Ocean City, line culture — or waiting for hours on end to get one's hands on an item lauded by the Internet as unique or mind-blowingly delicious (think cronuts) — is pretty common in big cities.
"It's cool to be in a line … I have friends whose kids want to wait in the line. It's funny," Billig laughs. "People even wind up making friends in the line. I will say, our Ocean City location is larger than our Philly location, so the line does move faster here."
Ocean City offers so much to see and do, that even if you spent the whole summer here, you m…
At its essence, rolled ice cream is just very fresh ice cream dressed up in a new way. Once the spoon hits the dessert, it all melds together, making it the texture of normal ice cream. As to the spectacle of the ice cream being made, the taste, the lack of preservatives and purity of ingredients, we'll leave it up to personal preference to judge if the line is worth the wait.