Wanna know how good Purdy's Galloway Grill is? Take a look at Don Purdy's waistline.
Since opening his first casual eatery, the Galloway Township mayor has gained 25 pounds!
"Yeah, this was definitely not a healthy move for me," Purdy laughs. "But it shows how good the food is."
Opening a restaurant, as any restaurateur will tell you, is also not healthy for the mind. In fact, Purdy's friends — including Galloway councilman and Smithville Inn and Fred & Ethel's proprietor Tony Coppola — told him he was crazy to open his own joint.
"They told me I was insane to open a restaurant with everything else I have going on," Purdy says, who also owns Purdy Automotive, DP Towing and Purdy Collision. "But when you hear why I did it, it kind of makes sense. I'm a car guy, not a restaurant guy, but now that I am doing it, I can tell you that they are right: this is a very hard, demanding business."
But Purdy — and his family of helpers including wife Michelle and son Jonathan — assembled a team that is really knocking it out of the park when it comes to approachable, casual food, ranging from some of the best strombolis you will devour in South Jersey to breakfast all day.
When the South Jersey Area Wind Ensemble started up it was just a way for music professional…
The reason why Purdy decided to open a restaurant directly ties into the overall project on Chris Gaupp Drive. After driving by a half-finished, dilapidated, gigantic building that was created to be a medical office in 2007 but was never finished, Purdy decided to do something with it.
"I was tired of looking at it," Purdy says. "Every window was busted; there were boards over everything. It bothered me. There were no walls inside, no plumbing, no electric, not even a window. Graffiti was all over the back of the building. But it was a well-constructed building that was just wasting away in an awesome location. So, why not?"
Purdy decided to buy it, add 6,000 square-feet and construct the Osprey Nest, a dorm directly tied to Stockton for 91 students. In nine months it was done, and students moved in last fall, followed by the 40-seat restaurant a few months later, complete with all new equipment, wood tables, an open kitchen and a quasi-sports theme.
"I knew I had a lot of students here who did not have cars to travel, plus I am surrounded by office buildings, including AtlantiCare, Stockton and a lot of residents. It just made sense to put something causal here that everyone can afford."
The best thing Purdy did when it comes to Purdy's Galloway Grill was hiring the brother/chef tandem of Julio and Marco Torres, veterans of other local restaurants who came with a great work ethic and a slew of amazing recipes and ideas.
"The idea was to offer the food I like to eat," Purdy says. "Easy going, grab-and-go, simple but delicious food."
The large menu certainly has something for everyone, but the talk of the town surrounds Purdy's buffalo sauce for its chicken dishes. Sweet with just a little bite, it's absolutely delicious and a bit reminiscent of the Pic-A-Lilli Pub's sauce. It can be had on buffalo chicken pizza ($11 for a 10-inch, $16.50 for a 16-inch), inside the buffalo chicken stromboli ($10 for a small, $16.50 for a large), on wings ($9 for 10, $16 for 20), tails ($8 for six) or even inside a buffalo chicken quesadilla ($9). Not enough choices? How about buffalo chicken cheesesteak ($6.75), the buffalo chicken grilled cheese with fries ($8), the buffalo chicken sandwich with fries ($8) or the buffalo chicken wrap with fries ($9)? Hell, you can even ask them to throw some of that sauce in their breakfast burrito and it would taste good.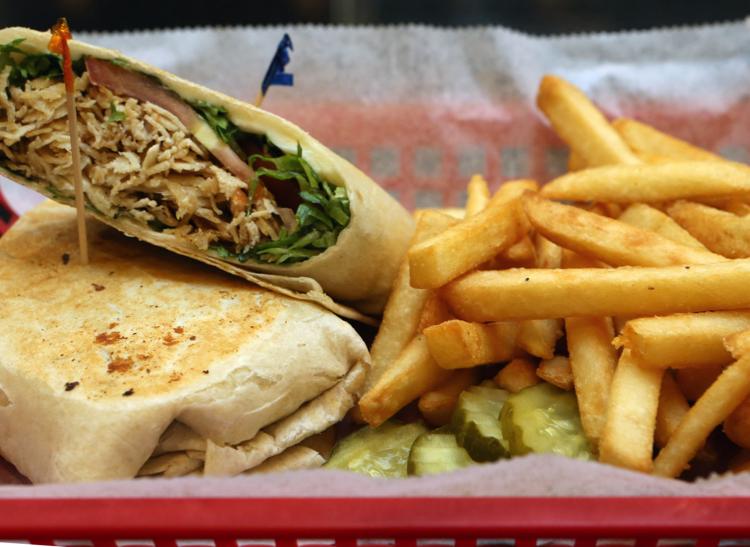 "It took us two days just to figure that recipe out," Purdy says. "It was a lot of back and forth. It wasn't copied from anywhere or a recipe on the Internet. It was just Julio and Marco trying things over and over until they got it right. And now that we have what I think is the best sauce, we only have it one way. There's no hot or mild or super hot; we serve it one way. It's perfect, why mess with perfection?"
That made-from-scratch approach is what propels most of Purdy's Galloway Grill and kicks it up a notch above most casual pizzerias like it.
"The pizza dough is made from the best flour," he says. "It costs double what most people pay."
Empanadas ($3.50) — beef, chicken and, yes, buffalo chicken — are made daily by hand. The potato boats ($6 for four) feature potato skins that have been hand scooped — the inside of the potatoes are used for home fries — and then filled with bacon and cheese or broccoli and cheese. The burgers are fresh, never frozen, 7-ounce beauties available in a variety of ways, including the Texas ($9) with melted Jack cheddar, bacon, fried onions and BBQ sauce; the patty melt ($9) with Swiss cheese, sautéed mushrooms and onions on grilled, buttered rye toast; and the signature Galloway Grill Burger ($11), a double-burger monstrosity with double cheese, lettuce, tomato and fried onions.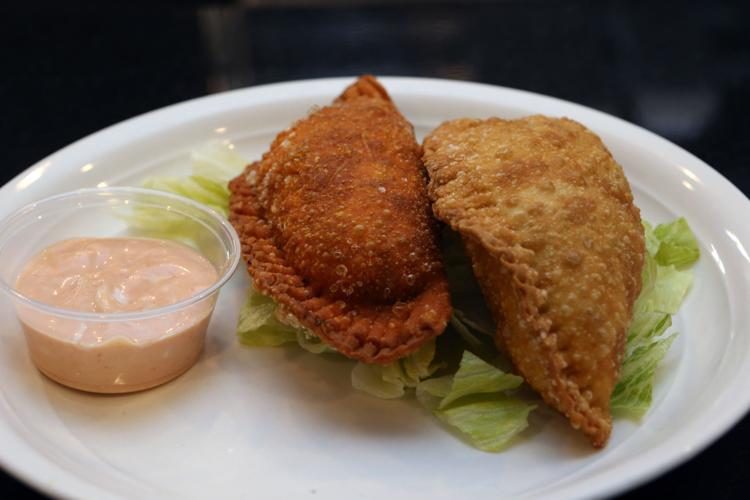 Even the marinara, used for sandwiches including the meatball or chicken parm ($6.50) and dinner entrees such as spaghetti with meatballs and chicken parm with pasta (both $13) is homemade.
"I think people are really surprised at how much we make from scratch for the kind of place we are," Purdy says. "People are just used to frozen stuff, but we try to make as much fresh food as we possibly can. And then when you look at our prices — chicken parm is $13 with a side salad — it's even more unbelievable."
Now back to the stromboli ($8 for a small, $15 for a large, extra for buffalo chicken). While most pizzerias use the same dough for stromboli as they do pizza and calzones, Purdy's does it right, making it as a loaf, rolled to a very thin crust then stuffing it with everything from pepperoni to sausage to meatballs to cheesesteak mean — my favorite — then brushed with garlic butter and sprinkled with parmesan cheese. The texture is crispy and flaky while the taste is buttery and savory. It's awesome.
"There was a place called Paioli's where Bulldogs Bar & Grill is now, and they always had the best Stromboli," Purdy says. "So this is our attempt to make it as good as they used to be."
There's also a slew of specials offered every day. Recently, diners could choose from a homemade meatloaf dinner with all the trimmings for just $13, while others were raving about the Jersey Italian hot dog with peppers and onions, chicken cordon bleu and even a Reuben sandwich with corned beef that was roasted on premises.
Before it became commonplace for today's entertainers to label themselves with just one name…
If you're not about all of that fatty goodness, Purdy's also has more than a half dozen salads, including the Zesty Chicken Taco Salad ($9.50) with lettuce, grilled chicken, tomato, onion, black olives, Jack cheddar, salsa and sour cream in a giant tortilla bowl; or the Cobb ($9) with lettuce, grilled chicken, tomato, onion, bacon, blue cheese crubles, egg, avocado and Jack cheddar.
"A lot of people are eating healthy, especially for lunch at the hospital and school, so we have them covered," Purdy says.
There's also the extremely popular all-day breakfast, where the originality continues. Yes, you can have two eggs, home fries and toast or pancakes for 5 bucks, but why do that when you can be adventurous?
Try the Purdy Pounder, where $8.50 cents will literally get you a pound of food — three eggs, cheese, choice of two meats (scrapple, bacon, pork roll, sausage) and fresh-made home fries — on a giant Kaiser roll. The same basic concoction can also be stuffed in the breakfast burrito ($9), or you can have it their way with three eggs, sausage, peppers and onions.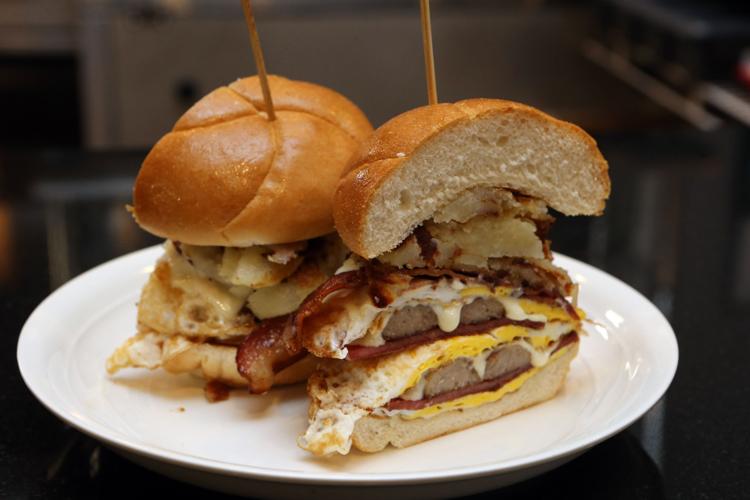 "People seem to devour that Purdy Pounder," Purdy says. "It's intimidating but delicious."
Another breakfast fave is the french toast ($6), which can be had regular or with choice of either Captain Crunch or Cinnamon Toast Crunch batter.
Purdy has more plans to debut soon, including an expanded sub menu to include an Italian and other cold options, more soups and, perhaps most importantly, delivery.
So is the "car guy" and mayor now a "restaurant guy?"
"I guess so," Purdy says. "But don't ask if I'm glad I did it because I'm not sure. It's a tough business that demands a lot of time, and since I am dragged in so many different directions, it's sometimes tough, though I have an awesome team that makes it easier. One thing I can tell you: I respect and admire people in the restaurant business more than I ever have."