A few months back, Scott and I hit up a local food court-style establishment in Galloway Township by the name of The Exchange. Inside we found a cornucopia of Fat Boy treats from Vagabond burgers to the heavenly empanadas at El Coyote … and even some healthy drinks at Greens and Grains. We walked out pants-burstingly full, but feeling incredibly satisfied with both the food we ate and the variety of options that were there for the choosing.
1. It's one of the beachiest bars around. Atlantic City's coast is lined with several beach …
So when The Exchange opened a second location in Linwood — this time with an entirely different lineup of restaurants — we wasted no time and headed straight for the Fatmobile. It was time to eat.
Ryan: What I always love about a food court setting is that there is no debating where to eat. Everybody in your party can choose a favorite spot — or, in our case, multiple favorite spots — and still eat together. It's an absolute win/win.
The options at the Linwood location of The Exchange include a cross section of some popular names from the area and some new ones: Tony's Baltimore Grill, Lil Saigon, The District Bar, Ernest and Sons Sub Shop, Jar'd Coffee Company and Banzo (another too-healthy-for-us, veggie-based spot).
Scott: Since this place is a stone's throw from my home, I have been here from the very first day it opened earlier this summer. Since I have been in-the-know from very early on in its conception, I have had to endure Fat Boy cravings brought on by not-yet having a Tony's Baltimore Grill in my backyard for months. So when they opened, it was my Fat Boy dream come true.
This Exchange is bigger than the original and nicer when it comes to design. Wood communal tables — some lower, some hightops — are surrounded by the restaurants, with the exception of The District Bar, which has its own space, a gorgeous bar area reminiscent of an Irish pub in décor thanks to its dark woods.
OK. So you missed our awesome, once-in-a-lifetime pre-sale deal on 50 Bites+ passes and now …
Ryan: The Fat Boy plan of attack was to divide and conquer — splitting up and heading to two spots, ordering food and sharing it back at the table. The first stop for me was Lil Saigon. I hemmed and hawed a bit as I tried to decide what to get, but luckily the friendly woman behind the counter steered me in the right direction, suggesting I go for the roast pork ($10) on a French baguette with veggies and Vietnamese mayo. It took very little convincing thanks to her overwhelming enthusiasm for the dish.
From there I headed to Ernest and Son, where the menu is massive, so it seemed like deciding would be tricky, but ultimately it was not. As soon as I saw the "Cortellessa Cutlet" sub ($9.50), I knew I had to have it. A fried chicken cutlet with bacon, lettuce, tomato and mayo? Yes, please.
Scott: I headed into The District Bar, which has the same operators as Banzo, who also own the chain of Greens & Grains. If you know anything about them, you know the owners are vegans, so The District Bar, like its adjacent Banzo, offers healthy alternatives. Since we were in full Fat Boy mode, we tried what seemed like a very unhealthy alternative: fries ($6) with a trio of dipping sauces. More on that later. And then I went to TBG and, of course, ordered a pizza ($16) — half buffalo chicken, half sausage — and its world-famous fried shrimp ($18) and fries.
Ryan: Our food all seemed to arrive within seconds of each other. Not wanting to get too full on one item, both Scott and I took quick bites of things to be able to properly judge what was good and what was just OK.
The first bite of my roast pork baguette was divine. The lovely woman at Lil Saigon had not steered me wrong. The pork, heavily marinated and then grilled, may have been the most flavorful piece of meat I have had all year with the Vietnamese mayo adding a nice touch of creaminess. The fries from The District Bar weren't my thing, but I'll let Scott explain that.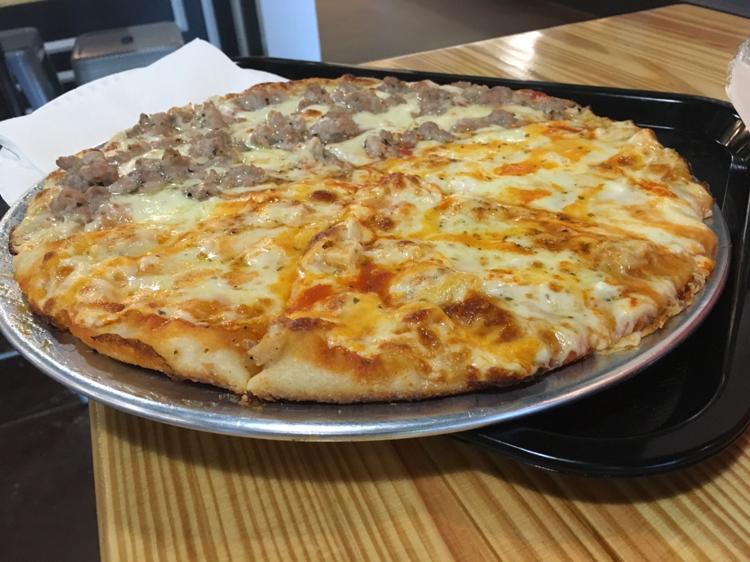 Scott: At least we can say we tried to eat something healthy. The folks at District Bar are not using a deep fryer. So, of course, they are different from your greasy french fry. The fries are baked, so they don't have that golden color or the super crispness that a deep fryer offers. But, for a baked fry, The District Bar nails it. If you're a healthy eater or just looking for a healthy alternative and crave french fries, they are tasty and helped along by an array of dipping sauces. The nacho cheese (made with a plant-based ingredient containing no dairy) might fool some people to think it's real cheese. The sriracha maple ketchup was the best of the bunch and had a nice kick. The only real miss was the sweet potato pineapple, which had a decent flavor but the texture of baby food. I am looking forward to trying their meatball parm fries (with no real meat, of course) because they have been getting a lot of great buzz on the street.
Ryan: A big surprise for me was the fried shrimp from Tony's Baltimore Grill. While my portly dining companion informed me this dish is legendary, I previously only associated Tony's Baltimore Grill with pizza. So finding this delicious shrimp dish was a real treat. The shrimp were perfectly fried and not rubbery or stringy. The fries they came with were similar in size and shape as the others we had, but tasted better thanks to the grease. The pizza was decent. Scott liked it more than me, but he has always been a huge fan of Tony's. Personally, I'm more of a Manco's guy, but that's just me.
It's been a long time coming, but the brand new observation wheel is now towering proudly over the Steel Pier. And while it is not open to the…
Scott: As a fellow fatty, I am not sure why you have to be just a Manco guy. I love Manco — it's my favorite pizza in the area — but I also like Tony's, which is also in my Top 3. And the pizza was awesome. The buffalo chicken is a real surprise for me because I never knew they even offered buffalo chicken until they came to Linwood. A perfectly tangy sauce with diced chicken on TBG's legendary crust is a winner. And the sausage pizza on their amazing red sauce and buttery crust is almost as good as if you were getting it out of the original. People ask me, "Is it as good as the one in A.C.?" Made in the same type of pans with the same recipe, I would say it's about 85 to 90 percent as good, and definitely worth not driving to A.C. if you are on the mainland. And the shrimp are my favorite. Hand butterflied, breaded and deep fried to a perfectly golden brown, there's not a better fried shrimp in South Jersey.
Ryan: The chicken cutlet sandwich from Ernest was another standout for me in a crowd of standouts. Frankly, this whole meal felt like a greatest hits record. The chicken was tender and flavorful, and the A.C. sub roll it came on suited it perfectly.
Scott: I agree. I was surprised how good the cutlet was. While not the best cutlet in the market, it's pounded thin, nicely breaded and quite flavorful. I am more partial to Ernest's cheesesteak, which rivals anything around. Check it out.
Ryan: So what's not to love at The Exchange in Linwood? Not much. They really have managed to hit another home run here, bringing in some great restaurants and transforming them into some of the best quick-service spots you will find anywhere. For me The Exchange was Fat Boy Heaven.
Scott: I also want to give a shout out to the other places we didn't try on our visit but that I have been to on other occasions. Jar'd has become THE place for me to grab a coffee. Made with Ultimo Coffee — an amazing coffee maker in Philly — and a lot of love by its owners, Jar'd has the best latte in the market. They also offer some great toasts, breakfast choices and desserts in a jar (try the chocolate mousse). And Banzo's health-conscious cuisine had me fooled on a couple of occasions. Particularly good is its lamb gyro that features a delicious pita, one of the best tzatziki sauces ever created and a plant-based lamb substitute that is so awesomely flavored that you will swear you are eating the real thing.
In other words, The Exchange is an amazing addition to the mainland culinary scene. Linwood is not exactly known for its places to eat, and The Exchange certainly changes that. Plus, with the only liquor license in town, it's a no brainer.
Rating: 350 pounds (Fat Boy Heaven)