More strategy goes into the planning of what culinary indulgences should be prepared for the annual Chefs at the Shore fundraiser than most people might imagine.
Not only could hundreds of guests be basing their impressions of a chef's skill — or a restaurant's worthiness — on just one or two offerings, but dozens of the best chefs in South Jersey will attempt to one-up one another with what they bring.
That helps explain why Chefs at the Shore is returning to Gardner's Basin for the 14th year, 5:30 to 9 p.m. Thursday, June 22, on the grounds of the Atlantic City Aquarium, and why it can again be expected to raise tens of thousands of dollars for educational and scholarship programming for students in the hospitality profession, and for the Aquarium's various scholastic and environmental-awareness endeavors.
Ryan: Last year I headed out to do a dining review at the Stockton Seaview Hotel & Golf …
Chefs at the Shore is co-sponsored by the A.C. Aquarium and the Professional Chefs Association South Jersey Chapter — a 45-year-old branch of the American Culinary Federation that has become a model for other chapters around the country to follow.
"We're not just your ordinary club whose members get together for a beer. We've got different facets and outreach programs that impact the community in a number of different ways," says PCASJ President Ken Trout. "We support student scholarship funding, our Heart Healthy soup program serves about 75,000 bowls to the Atlantic City Rescue Mission each year, and the Sunday before every Veteran's Day our volunteer chefs prepare 300 meals for the retired service personnel at the Vineland Veterans Home. Money raised through events like this gets applied to all those things."
The PCASJ is also the organization behind the "Let Us Eat, Please" fundraiser at the Atlantic City Boat Show each spring at the A.C. Convention Center.
"We recently gave a presentation in Georgia and showed other chapters in Orlando and Phoenix how to model their community outreach programs around ours, so we've come a long way and have been having an impact in many ways on a national scale," Trout says. "That's how involved we've become."
Chefs at the Shore — featuring sample-size portions by head chefs and culinary directors from many of South Jersey's most prominent independent and casino-based restaurants — also assists the Atlantic City Aquarium in its mission to raise funds for the Atlantic City Historical Waterfront Foundation and in-house student educational initiatives.
"Proceeds get divided evenly with the Chefs Association, and in our case it goes toward enhancing our educational programming here, such as purchasing seine nets and other equipment to take school children to the salt marshes and on field trips to learn about sea life and our ecosystem, making it easier to offer discounted prices for school groups to come visit us, that sort of thing," says Atlantic City Aquarium Director Lisa Schall.
Some of the Chefs at the Shore samplings that guests can expect to try include a fried oyster slider with back-bay coleslaw prepared by Golden Nugget Atlantic City Director of Culinary Operations Bob Hettmannsperger; a house specialty lobster mac-and-cheese from Steve & Cookie's Restaurant & Oyster Bar in Margate; a firehouse jumbo shrimp wrapped in bacon with a hint of "secret recipe" hot sauce from Cousin Mario's Italian Restaurant in Mays Landing; a shrimp ceviche — Mexican blue shrimp with jalapeno peppers, tomato-and-lime vinaigrette and a basil-and-green chili emulsion — from Olon, Tropicana's newest dining establishment by esteemed Iron Chef Jose Garces; and a hickory-smoked bacon slab from Bacon Bites owner and executive chef Larry Rosenberg.
"We'll also have hot and cold appetizers passed around in the beginning as everybody's filing in, two cooking demos, an all-chef band under the leadership of (Spectra Food Service) Chef George Fisher and a (4 to 6 p.m.) live radio broadcast by WOND's 'Off The Press with Scott Cronick' host (and Press of Atlantic City Director of Entertainment Publications) Scott Cronick," says PCASJ Chairman of the Board David Goldberg.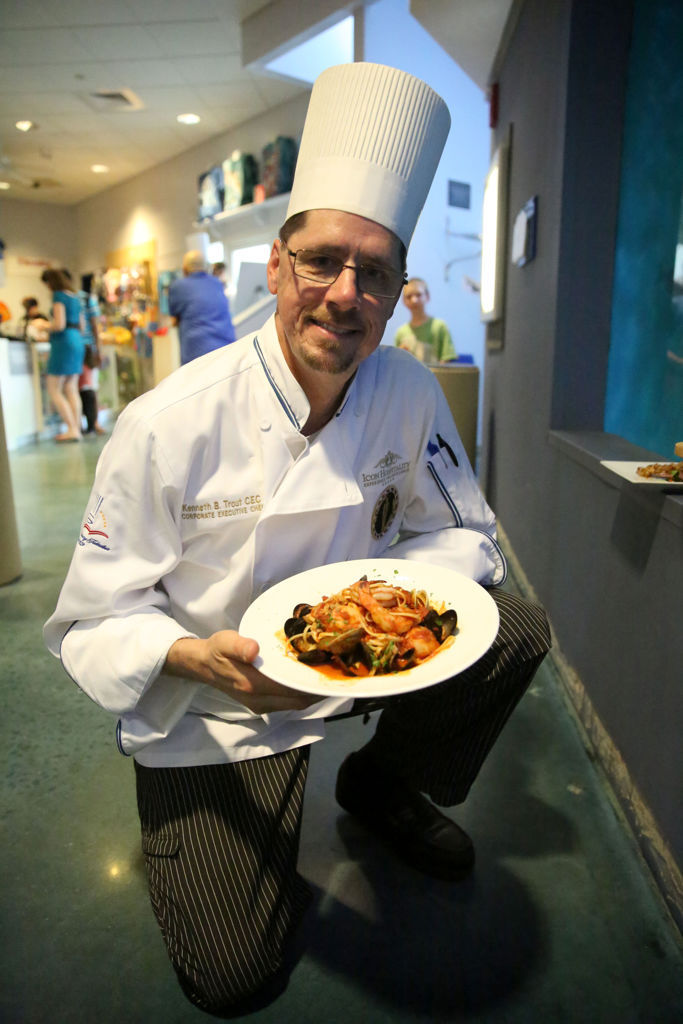 Cronick will also serve as the event's emcee. The Napa Valley, California-based J.Lohr Winery will have sample tastings of several of its wines, and local distributors and craft breweries will offer premium wine and beer tastings throughout the evening. There will also be raffle prizes and silent auction items for guests to bid on that include dinner packages, visits to local landmarks like Lucy the Elephant, the Absecon Lighthouse and Morey's Piers, and other items all donated by local merchants.
{p class="bodytextbodycopy"}Every holiday we endeavor to help out the last-minute gift buyer…
"As of now (about a week before the event), we have 38 establishments participating, including some from as far away as Manahawkin, so it's shaping up to be bigger than last year and things are coming together nicely," Trout says. "We'll have tents set up, and part of it takes place inside the Aquarium, but we're really hoping for some nice weather."