Back in May, Tropicana Atlantic City stepped up its culinary game in a big way, re-imagining the Fiesta Buffet while simultaneously introducing a brand new concept, the Seaside Café. Each provide a bounty of mouthwatering options in a casual, modern setting, and both have helped to add a few more reasons to stop into Tropicana for a bite to eat.
"Everyone is thrilled with how the all new Seaside Café and Fiesta Buffet turned out. In keeping with Tropicana's 'More' philosophy, there is something for everyone's taste for breakfast, lunch and dinner at both restaurants, to go along with some of the best views around of the beach and boardwalk," says Renee Fleifel, vice president of food and beverage for Tropicana.
Still not convinced? Read on.
Variety
Perhaps the greatest strength of a buffet is its ability to offer a little something for everyone. The newly re-imagined Fiesta Buffet takes that concept and runs with it, as the seemingly endless options of appetizing treats are lined up for the taking.
"The chefs are excited about having brand new venues to show off in, whether it's the Fiesta Buffet's Saturday and Sunday brunches with their made-to-order omelets, or the Surf and Turf buffet for dinner," says Chef Demetrios Haronis, director of culinary operations for Tropicana.
And that Surf and Turf buffet is no joke — think heaping piles of snow crab legs, along with classic comfort foods like fried chicken and pot roast, plus an array of desserts that will have you cramming in room for one last plate, no matter how full you are.
The unexpected
While it may be typical for a buffet to offer a wide variety of food options, rarely do they present you with an entire Thanksgiving feast. However, as part of the Fiesta Buffet's redesign, they have done just that, with the dinner menu offering everything from sweet cornbread to stuffing to some of the juiciest, most perfectly-tender slices of roast turkey you will ever have. It may look like summer outside but its feeling like November in here.
If you find yourself longing for the days of synthesizers and thick British accents, things …
Breakfast and Sunday brunch versions of the buffet are also offered, with all the classics (eggs, pancakes, omelets to order) being served at breakfast along with fancier options — think salmon Oscar — at brunch.
And not to be outdone in the pleasant surprise department, Seaside Café comes out with some seriously unexpected cuts of beef.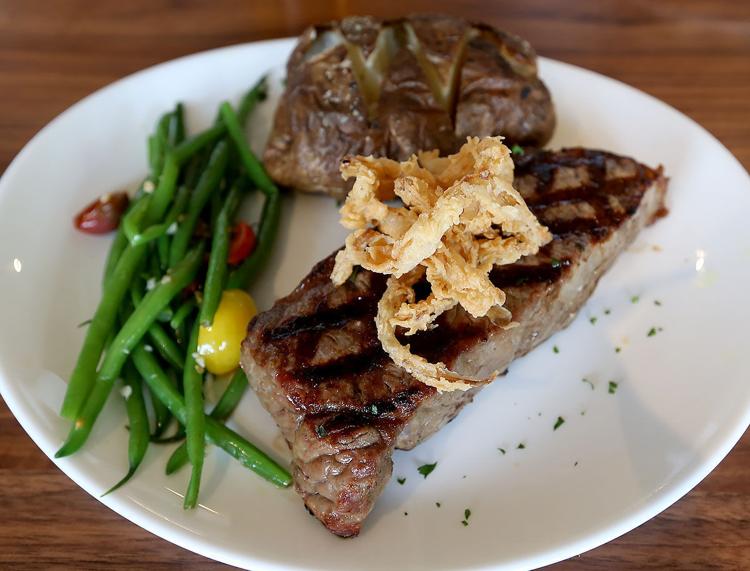 "Seaside Cafe showcases hand-cut steaks from our own butcher shop along with Jersey Shore seafood classics," Haronis says.
Location, location, location
It doesn't get much more pleasant than enjoying a meal as you gaze upon the Atlantic Ocean. Not many restaurants offer such views, but the Seaside Café actually gives you the option to see the ocean while seated inside or, if you prefer, while dining al fresco as the warm salt air dances around you. Taking in the sights of the boardwalk while polishing off a hand cut steak is going to be tough to beat no matter where you go.
Just when you thought you'd heard it all from Dylan, along comes something that makes you sc…
Fiesta Buffet's location directly next door to Seaside Café means these same picturesque views are on full display there as well, with large walls of windows showcasing the scenic atmosphere of this seaside resort.
Come as you are … and whenever you like
While both the Seaside Café and Fiesta Buffet may be brand spanking new and gorgeous to look at, one need not feel obligated to throw on their Sunday best in order to enjoy a meal here. Rest assured the vibe at both spots is quite casual, and one would feel as comfortable in a pair of shorts and a T-shirt as they might hope to.
And in case you hunger doesn't follow "traditional hours" (hey — this is Atlantic City, traditional hours do not apply here) the Seaside Café offers guests the option to dine anytime. That's right, they are open 24 hours a day. One could easily have dinner at the buffet and come back around once those late-night cravings kick in.