Do smoothies deliver a powerful punch of vitamins and nutrients? Or are they sugar bombs dressed in healthy marketing packaging?
It depends.
In recent years, smoothies have garnered a reputation for being healthful drinks, especially for those who don't consume our five to nine daily doses of fruits and vegetables.
They're also convenient; you can grab a smoothie after a workout and drink your breakfast or lunch as you make your way through the day. Plus, you feel good because you drank something good for your health — or at least you think you did.
Hidden calorie danger
Smoothies can be calorie and sugar-laden, particularly the store-bought ones. Not a believer? Check out the nutrition labels on some popular coffeehouse smoothies.
In fact, some smoothies can have as many calories and sugar as a regular milkshake, a big hamburger or a can of soda, says Nina Radcliff, M.D., a Galloway physician anesthesiologist, television medical contributor and textbook author.
"We need to be aware and be wise," she says. "Fruits and veggies are healthy when blended in a smart manner. However, the other ingredients can make or break (smoothies). Added ingredients, such as sugar-laden fruit juices, whole milk, ice cream, syrups, sugar, cheap protein powders and whipped cream can add empty calories."
These empty calories — in other words, calories and fat with no nutritional value — can translate to weight gain.
Dr. Radcliff emphasizes the importance of eating fruits and vegetables whole, rather than drinking them.
For one, blending fruits and veggies obliterates the fiber. As a space filler in the stomach, fiber provides a feeling of fullness, which means you'll eat less. Furthermore, fiber decreases sugar absorption from the intestines, which helps stabilize blood sugars.
Secondly, drinking doesn't satisfy the appetite as much as eating does. Consequently, we may consume more calories to feel full.
Protein power
Kristin Conover of Greate Bay Racquet and Fitness makes a case for using smoothies as meal replacements, particularly for clients who exercise before work or during lunch.
The convenience of simply grabbing a smoothie and moving on with your busy day can't be overstated. But if smoothies are going to replace a meal, they need to have protein in them, such as high-quality protein powders, low-fat yogurt, milk or nuts.
This protein can help you feel full longer. Plus, snacking on almonds can satisfy the need to chew to feel satiated, Conover says.
Not all smoothies are bad, of course.
Mixing fresh or frozen berries, a banana, ice and 100 percent fruit juice (check to make sure the juice isn't made with high-fructose corn syrup) can be a low-calorie treat, says Dr. Radcliff.
But keep the serving size small — about 8 ounces or less.
Although Dr. Radcliff doesn't eschew smoothies, she encourages moderation.
"Know what's healthy — the types of sugars, as well as other added ingredients — and if available, study the nutritional information," she says. "Do the math and make wise choices. Enjoy your healthy, yummy, smart choice, in moderation."
Smoothies and juices: what's the difference?
We've heard about farm to table. But farm to cup?
Yup.
Just ask Christine Patton, owner of Stone Harbor's Juice Girl. The freshest ingredients go right into all of the drinks she offers, creating clean, bright, delicious flavors.
Patton's journey to Juice Girl began when she read a book at age 18 on wellness and natural healing. She became passionate about juices, detoxifying cleanses, wheat grass shots and more. Three years ago, she opened Juice Girl.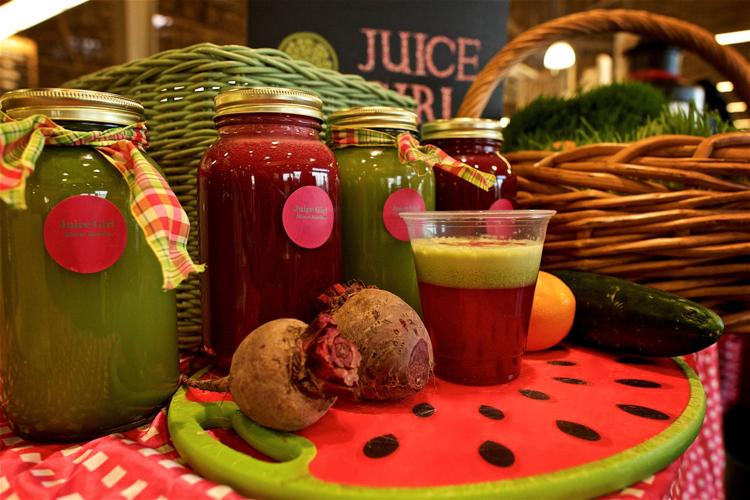 There is a difference between juices and smoothies. Juices are created when only the juice is extracted from the ingredient. Smoothies are created when the ingredients are blended and consumed in their entirety.
Some juices are cold-pressed, meaning heat isn't used during the juicing process. Advocates claim that cold-pressed juices contain more vitamins, minerals and enzymes, but scientific research has yet to support this. The process, however, guarantees a longer shelf life, but the juices must be refrigerated.
GREATE BAY RACQUET
AND FITNESS CLUB
Where: 90 Mays Landing Road, Somers Point
More info: GreateBayRacquetAndFitness.com
MAZZEO'S MARKET
Where: 601 New Road, Northfield
More info: BFMazzeo.com
EAT CLEAN ORG
Where: 734 W. White Horse Pike, Galloway
More info: EatCleanorg.com
GREENS & GRAINS
Where: 7307 Ventnor Ave., Ventnor;
1600 New Road, Northfield; and 80 W. Jimmie Leeds Road, Galloway
More info: GreensandGrainsNJ.com
JUICE GIRL
Where: 299 97th St., Stone Harbor
More info: JuiceGirl Farmacy.com