When miniaturized muscle cars race around Boardwalk Hall in the wintertime, it is generally a case of drivers from a variety of different auto-racing styles staying active and competing in their sport when most premium outdoor racing series go on winter hiatus.
Conversely, some of the top drivers in dirt track, asphalt modified and even NASCAR and Formula 1 have been switching allegiances to rallycross as their primary racing preference, largely because the unpredictable and wildly exciting brand of racing has been gaining mass appeal with motorheads of all ages.
If you find yourself longing for the days of synthesizers and thick British accents, things …
The transition began to occur about seven years ago, according to Colby Rodriguez, chief strategy officer for Red Bull Global Rallycross — or GRC — that returns to Bader Field for the second summer 11 a.m. Saturday and Sunday, Aug. 12 to 13.
"The form of racing in its essence goes back about 50 years, but it really started to gain traction with a growing audience, particularly a younger demographic, during the X Games seven years ago (in Los Angeles)," Rodriguez says. "That's what ignited it, and now its a full-fledged premium series."
Drivers in two classes — an entry-level division called Lites and the Supercar class of professional drivers — compete in heats of five cars that lead up to a 10-car championship each day in each division. Both racing days in Atlantic City count as separate race events in the Red Bull GRC series, which starts in April and runs through October. Prize money is doled out to top placewinners in each event, and a champion is crowned at the end of the series based on a points system.
The serpentine track constructed on Bader Field is just under a mile in length and is highlighted by a dirt ramp about 70 feet long that has cars and drivers flying through the air. Qualifying heats are five laps and championship heats are 10 laps.
"What's great is we're able to change the dynamics of each track and add elements to each race course," says Rodriguez, noting that a typical GRC racecar is four-wheel-drive, has more than 500 horsepower under its hood and can do zero to 60 miles-per-hour in about two seconds. "In NASCAR and Formula 1, the last thing anyone wants to do is get the tires off the road because it usually ends in a huge wreck. Here it's part of the action.
"GRC is a class that many top drivers have become exclusively devoted to," he adds, "and we've really become a disruptive force in the motorsport landscape. Last year was fantastic in Atlantic City and we hope to make this a regular stop on the series for years to come. Just building a race course on an abandoned airfield is a great story within itself.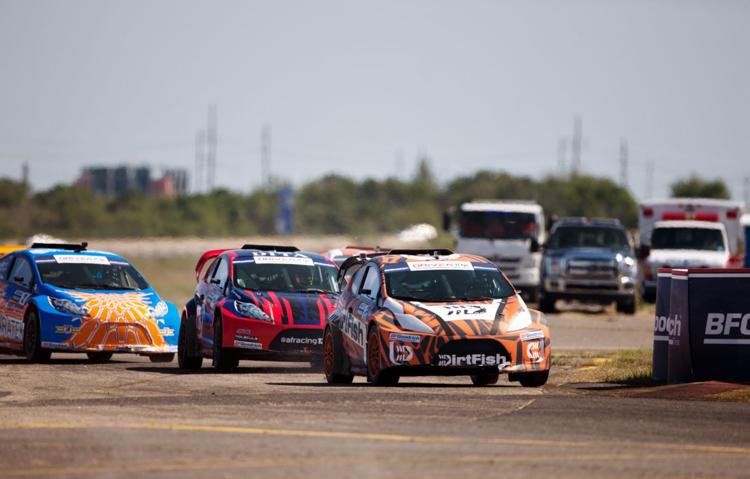 Speed is king in GRC
As fast and powerful as the otherwise undersized GRC cars are, Rodriguez says success is based on skill at navigating a course, maximizing traction and capitalizing on opportunities to pass opponents using more than just sheer speed. Speed certainly factors into the equation, though, including the fact that one of the top GRC racers in the series is North Carolina resident Scott Speed.
The two-time defending Red Bull GRC Supercar champion, and winner of the inaugural event at Bader Field last year, Speed trails fellow two-time champ and Volkswagen-Andretti GRC teammate Tanner Foust in the standings coming into Atlantic City. Canadian Steve Arpin is third in the standings.
"Last year (A.C.) was one of the fastest courses in the series," says Speed, 34, a former standout racer in both NASCAR and Formula 1. "Because there's so much space around the (former airplane) runways, it makes for some wide-open racing and better chances to pass. And I'm pretty sure the course layout is similar this year to how it was last year."
Just when you thought you'd heard it all from Dylan, along comes something that makes you sc…
Speed's intro into Red Bull GRC racing came in 2013 during the X Games in Brazil. The top GRC standout at the time was Travis Pastrana, another former NASCAR racer whom Speed knew well. Speed's biggest eye opener in the GRC racing style was jumping a car off a ramp, which on the Brazilian X Games' course was a grade 80 feet long.
"It was definitely scary," Speed says. "I remember I was still racing NASCAR at the time and got an invite as a sort of guest-star appearance in the X Games. I knew Travis really well and asked him 'What do I need to do to take this jump, buddy? What's the strategy?' And he basically spent the next 10 minutes explaining all the ways I could kill myself if I did it wrong.
"The first time we were out on the track practicing I didn't even take the jump, I just drove around it," Speed adds. "But finally in the second practice I ended up having to hit it, and I'll just never forget how smooth the landing was compared to what I was anticipating. I also remember how long it felt like I was in the air — I didn't expect to feel that weightlessness of being off the ground."
After that experience, Speed was hooked on rallycross racing.
"When you look at one of these cars doing what it can do," Speed says, "It can kind of make a stock car running around a track at 180 miles-per-hour look kind of boring."