As densely populated as Atlantic County's beaches are in the summer, spots on a municipality's lifeguard roster are reserved for exceptionally fit individuals capable of passing a series of grueling tests. To make the grade is considered a badge of honor for the few who do.
Evidence of how talent-laden the county is surfaced last summer during the Red Bull Surf + Rescue competition, when Longport, Brigantine and Ventnor swept the Top 3 places in a field of nearly 40 elite, four-person teams from Atlantic, Cape May, Monmouth and Ocean counties.
But as fast, fit and water savvy as area guards may be, accomplishing that same sort of sweep this year — when the Red Bull S+R returns 5 p.m. Tuesday, July 18, to the Mississippi Avenue beach in Atlantic City — got immeasurably more difficult.
"Last year we kicked it up a notch," says Red Bull S+R Technical Director Bruckner Chase. "This year we kicked it up 10 notches. The pond got a lot bigger and we're bringing in some big fish."
Since the Chart House debuted in Golden Nugget Atlantic City in 2012 as part of Landry's ren…
The third annual Red Bull S+R has been expanded to 50 teams including those from Long Island, New York, down to Virginia Beach, Virginia. Five states — New Jersey, New York, Delaware, Maryland and Virginia — will be represented, each of which must use the same four athletes in an elimination-style format. The co-ed competition requires at least one person on each foursome be female.
"The initial intent of the event its first two years was to focus on the culture and community of beach patrols in the state of New Jersey, specifically in and around Absecon Island, since some of the country's longest-tenured beach patrols are in this area," Chase says.
The Atlantic City Beach Patrol is the oldest in the nation, having been credited with coining the term "beach patrol" during its 1891 founding.
"But the entire Mid-Atlantic beach lifesaving culture really spans from Long Island down to Virginia, and you probably have more people visiting the shore town in the Mid-Atlantic region than anywhere else in the country," Chase adds. "The number of beach patrols, lifeguards and the athletes who are part of them is just staggering. 'Baywatch' may have been filmed in L.A., but there's something about the patrols in this region that is like nowhere else in the country."
South Jersey can expect a serious struggle for supremacy from beach patrols such as Riis Park, New York, that features a world-class swimmer in Tom O'Neill.
"Riis Park does not have a tradition in rowing, but they have some of the best athletes in the world in swimming and paddling and will be a huge factor in the early rounds," Chase says. "And I know they've been working on their row, so they could be a factor in the whole thing.
"Jones Beach and Long Beach are two other New York teams with strong traditions in swimming, paddling and doing well in lifeguarding events in the New York area, as are Rehoboth Beach in Delaware and Virginia Beach, Virginia," Chase adds. "Rowing is traditionally something that New Jersey has dominated, but the way the course is laid out, anything can happen. Take a wave wrong and all of a sudden you're carrying an additonal 100 pounds of water, which is going to slow down even the best rowing tandem. But rowing doesn't even come into play until the third round, or final 16 teams, so nobody's going to even touch a boat until then."
The event's format starts off with a tag-team swim, where each of the four runs 50 meters into the ocean, swims 250 meters around a buoy and back. That narrows the field to 32 for a relay in which each of the four paddleboards 450 meters. The third round features each of two members running 400 meters before tagging off to a doubles row that does a 700-meter loop in Van Duyne rescue skiffs native to South Jersey.
One thing country star Brantley Gilbert promises when he releases a new album is he's not go…
The eight remaining teams will have one member swim 250 meters, tag off to a paddleboarder who does 450 meters, then cap the relay with a second 700-meter doubles row.
"This race favors not so much raw speed but ocean wisdom," Chase says. "If you're ocean-wise, you can read the currents and know how to navigate a course through chaos, you'll do well here."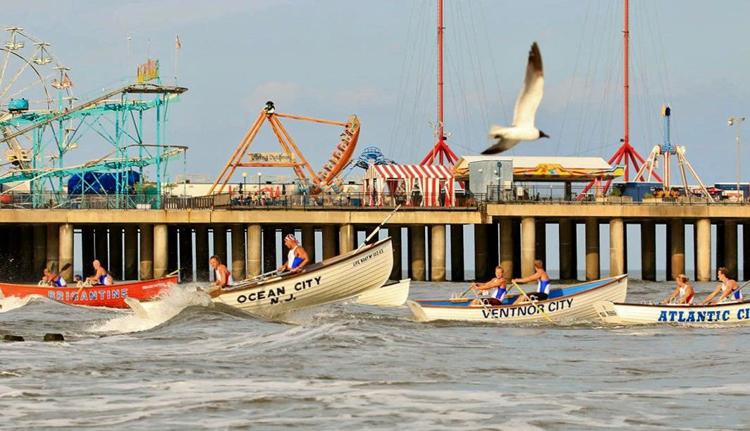 South Jersey's space invaders
Unlike more conventional athletics where, say, an elite basketball team is probably aware of another even if the two never cross paths, lifeguarding competition is more of a self-contained entity. Beach patrols vie against one another to stay sharp in their lifesaving skills, and to strengthen the fraternal bonds with friendly competition against other beach towns, but they are too busy guarding beaches to make traveling far away any kind of regular practice.
That adds an interesting element to Tuesday's Red Bull Surf + Rescue in A.C. The South Jersey guards know which teams are stud-laden within a 30- or 40-mile distance. They have relatively no idea who might show up from Long Island or Virginia, however.
"There are so many events going on throughout South Jersey all summer that we rarely get a look at many teams outside the state, but we're looking forward to it," says Brigantine Beach Patrol Chief Kip Emig, who is competing on the team that placed second in last year's Red Bull S+R, and includes his daughter Grace Emig, Brandon McKenzie and 25-year beach patrol veteran Sven Peltonen, a perennial South Jersey paddleboard champion. Brigantine is also entering a second team in this year's Red Bull S+R that includes Michael Brooks, Chris Harris, Kylie McKenzie and Bob Lenahan.
Defending champion Longport is bringing back its entire Red Bull foursome from last year, which includes captain Max Mittelman, John Tepper, Taylor Thy and Tim Schwegman.
"We're very confident," Mittleman says. "We've all been working out all year, and our mindset has been the old phrase 'it's tough to win but it's even tougher to stay on top.' We take a lot of pride in the fact that South Jersey has many of the best lifeguards in the country — not just Longport but the other local patrols too — and we're ready to show the other states that we're the best lifeguards on the East Coast."
In 2015 Schwegman became the first Longport lifeguard to ever win the prestigious Cape May SuperAthalon, founded in 1982 and involving a 2.3-mile run, 1.5-mile row and a quarter-mile swim. On Monday, July 10, he won for the second time in three years.
"Basically to do well in an event like the Red Bull, everybody's got to be pretty strong in all aspects of the event — swimming, paddling, running and rowing," Schwegman says. "You've got to have a well-rounded team and hope everything goes your way. We're looking forward to it. It's always an exciting event to watch for the spectators."