50 Bites+. 50 Days. 50 Bucks!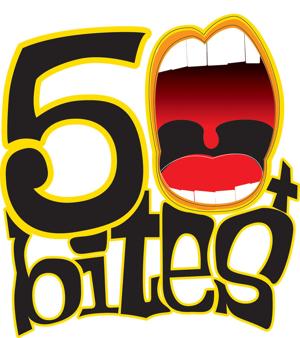 Buy Now!
Atlantic City Weekly's 50+ Things You Have to Eat in Atlantic City returns this fall
Gosh, we hope you're hungry.
Because Atlantic City Weekly's annual 50 Bites+, the ultimate, interactive foodie experience is about to commence for 2018.
The Biting begins on Oct.11 and, as it usually does, runs for 50 days, this year ending on Nov. 29.
If you are unfamiliar with the drill, we (our crack team of food reporters) determine 50+ of the region's best Bites that you must try before you die. And try you must — all within a 50-day period. The cost? Fifty bucks.
What can you expect this year that you haven't already had the delicious pleasure of trying in the past? Well, we can't tell you yet. What fun would that be? But with two brand new casino resorts in America's Playground, let's just say, "a lot."
Of course, not everything is new. All the things you loved about A.C. Weekly's event last year are returning — you will be able to take the city by storm, eating a bite at each of the restaurants, checking them off on your lanyard as you go. Wanna hit 20 in one day? Go for it. Use up all 65 bites and want more? Buy another pass and start your adventure all over again! And don't forget — a portion of the proceeds will go directly to The Community Food Bank of New Jersey, Southern Branch. Already $10,000 has been donated as a result of this promotion, and you can help add to that.
If one bite is not enough for you, many spots will offer deals on upgrades, too. Did you love the cheeseburger slider at McCullough's Pub? Well you can upgrade to three sliders for just $6. Crazy about Chef Kevin Cronin's creations at The Iron Room? 50 Biters can grab a full order of croquettes for just $5, along with $5 Crimson Voodoo cocktails (an original creation named for one of the Jersey Shore's greatest bands).
This is the culinary event of the year. There is nothing like it. Don't miss out!
Click a complete list (with photos) of all the mouth-watering bites available this year!
Then follow Atlantic City Weekly on Facebook and Twitter for special announcements!
Buy Now!
Need more convincing?
Read our FAQ for everything you need to know about 50 Bites+. 50 Days. 50 Bucks.
For more information email scronick@pressofac.com
Mailing is $6 per order. No Refunds
Participating restaurants may charge tax.