There was a time not so long ago when the culinary landscape in and around Atlantic City was not very impressive. For years the only thing anybody pictured when the topic of food in Atlantic City was brought up was an endless lineup of bland buffets and maybe the occasional steakhouse. It was hardly innovative.
But in the last 20 years, the area has blossomed into a foodie's paradise. Everything from sushi bars to Michelin stars can be found in and around America's Playground — not to mention a wide variety of celebrity chef-owned restaurants. The culinary scene in our neck of the woods has truly become a force to be reckoned with.
But with so many great spots, how can anyone reasonably know where to go and what to get? That's where 50+ Bites comes in.
Beginning Oct. 10, A.C. Weekly's annual culinary adventure known as 50+ Bites will officially return. Here's how it works — you buy a pass which entitles you to one Bite from each participating restaurant in Atlantic County throughout the next 50 days (Thanksgiving excluded). Once again this year there will be more than 50 Bites (60 in total) and each will offer you a delicious culinary experience.
But the biggest and most exciting news? 50+ Bites is no longer 50 bucks! Did we raise the price? Nope. We slashed it. For 2019 a 50+ Bites pass can be had for just $25. That is less than 50 cents a bite. You simply cannot beat this deal.
And though the price is changing, fear not, as all the things you loved about the event last year are returning — you will be able to take the city by storm, eating a bite at each of the restaurants, checking them off on your lanyard as you go. Wanna hit 20 in one day? Go for it. Use up all 60 bites and want more? Buy another pass and start your adventure all over again! And don't forget — a portion of the proceeds will go directly to The Community FoodBank of South Jersey.
So, we assume if you have read this much, you are looking to get your hands on your very own 50+ Bites pass. That's easy — just head to ACWeekly.com/50Bites to order yours today. This is the culinary event of the year. There is nothing like it. Don't miss out!
ATLANTIC CITY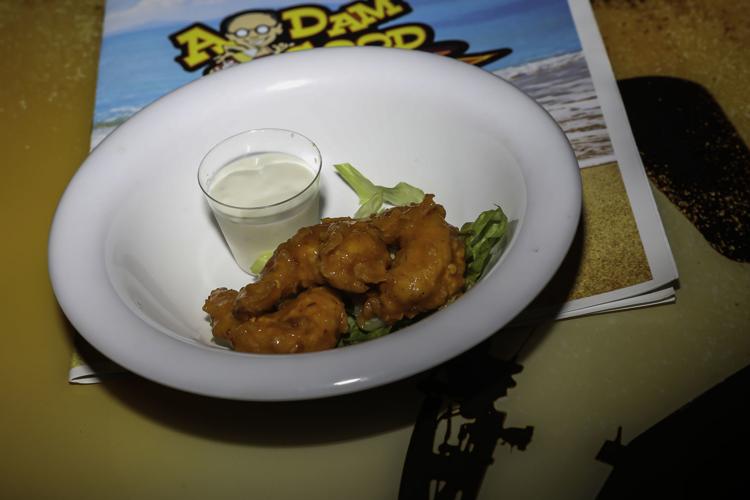 A Dam Good Sports Bar
The Quarter Tropicana Atlantic City // ADamGoodSportsBar.com
Buffalo Shrimp
Something about a sports bar puts you in the mood for "Buffalo-style" apps. Wings are great, but a little obvious, which is where A Dam Good Sports Bar's Buffalo Shrimp step in. Freshly breaded fried shrimp tossed in their awesome homemade buffalo sauce and served with a side of blue cheese — heck, we wouldn't blame you if you decided to upgrade to a full 12-piece order, which you can do for just $5. Score!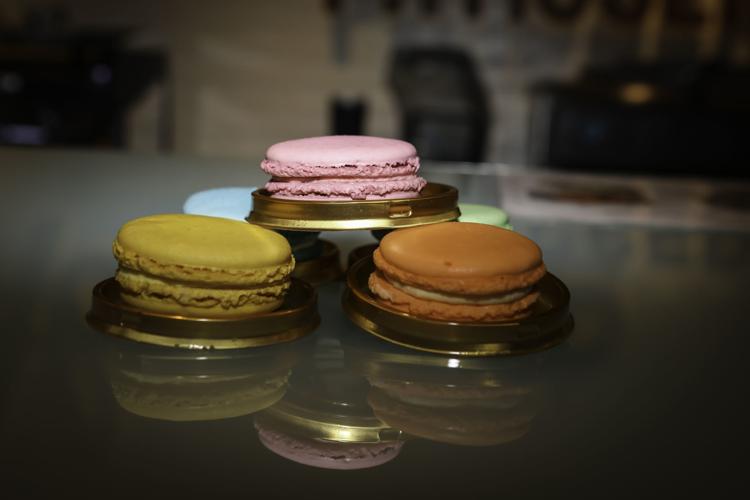 Alexia's Patisserie at The Flavor Tour
Hard Rock // HardRockHotelAtlanticCity.com
Macaron
With most places offering up savory Bites, Alexia's Patisserie stands out from the crowd with their sweet macaron. Like a brightly colored, fancified cousin of an Oreo cookie, this French treat will be a delight for your sweet tooth.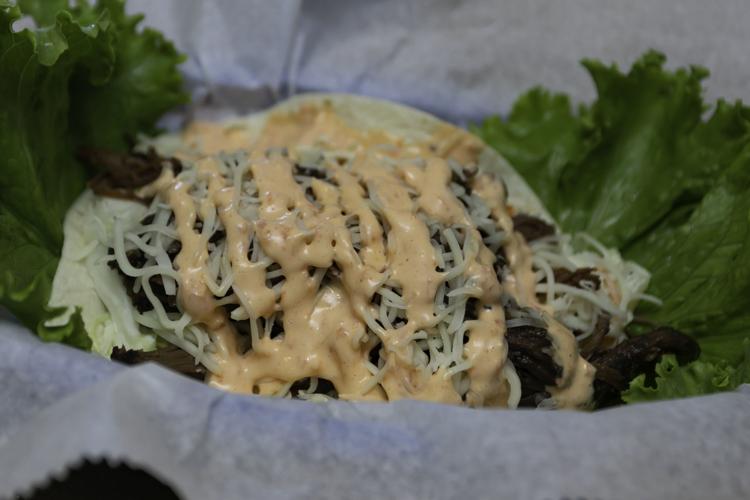 Back Bay Ale House
Gardner's Basin, 800 N. New Hampshire Ave. // BackBayAleHouse.com
Korean Beef Taco
A 50 Bites veteran, Back Bay Ale House never disappoints. This year's bite takes slow-cooked Korean barbecue beef, drops it in a mini tortilla and tops it with pineapple slaw, jack cheese and a roasted red pepper sauce.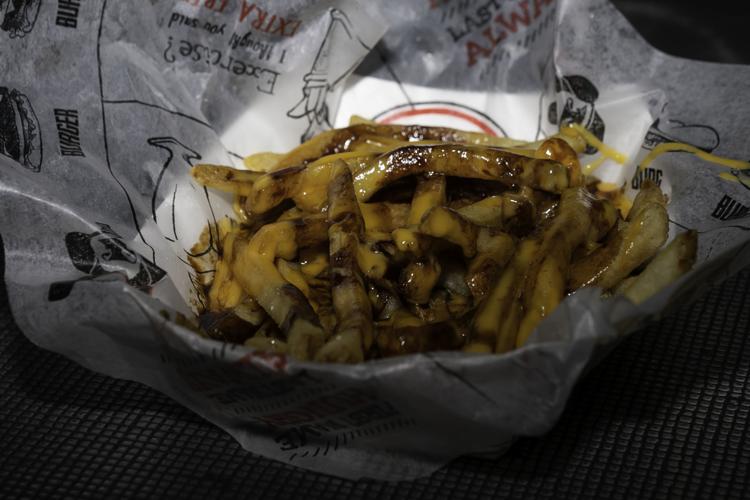 Bill's Bar & Burger
Golden Nugget Atlantic City // GoldenNugget.com
Disco Fries
Burgers are great at Bill's, but don't underestimate their fries. This year's Bite takes a page from your favorite diner, with cheese and gravy topping off a batch of piping hot spuds. You've ordered this dish countless times after a hard night of partying, and we promise you Bill's version will taste even better.
Blue Water Grille
60 N. Maine Ave. // BWG-AC.com
Texas Burger
One of the best spots for picturesque views, Blue Water Grille offers some amazing eats to match the scenery. This year their Bite is a slider-sized version of their Texas Burger, which starts with Angus beef topped with cheddar cheese and barbecue sauce and finishes with an onion ring.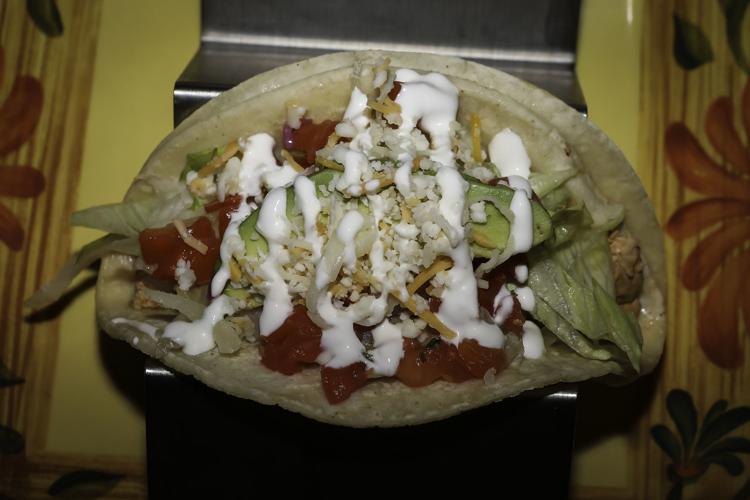 Casa Taco & Tequila Bar
Tropicana // CasaTacoAC.com
Chicken Tacos
One of the great things about 50 Bites+ is that each Bite gives you an excuse to visit that restaurant and indulge a bit. Casa Taco has one heck of a drink program, so why not order up one of their many margaritas while downing your Bite? This year they are offering chicken tacos — a tortilla stacked with grilled chicken, lettuce, avocado, queso fresco, pico de gallo and crema.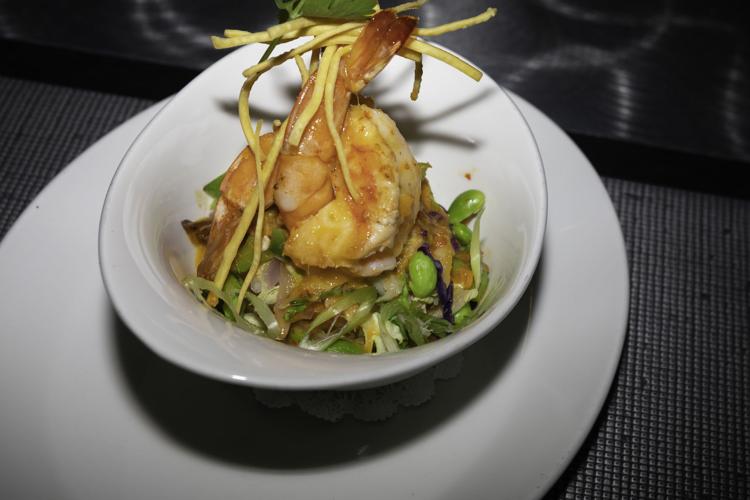 Chart House
Golden Nugget // GoldenNugget.com
Thai Coconut Shrimp
An elegant and beautiful setting in which to enjoy your Bite, Chart House's Bite is their fabulous Thai Coconut Shrimp, an exotic take on the classic seafood dish, imparting sushi rice, edamame and cabbage slaw with a ginger jus.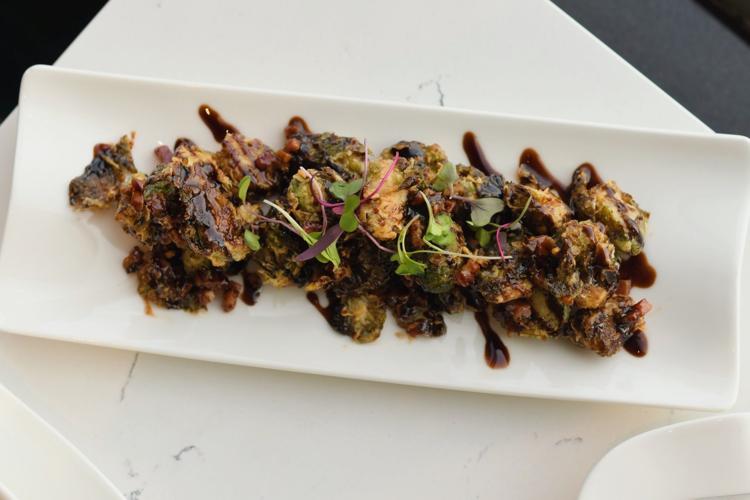 Chelsea Five Gastropub
The Chelsea Tower at Tropicana // Tropicana.net
Brussel Sprouts
Chelsea Five made a big splash last year when it opened in the Chelsea Tower at Tropicana. The gastropub's floor-to-ceiling windows offer breaktaking views, while the kitchen offers breathtaking cuisine, such as the crispy Brussels sprouts, served with a pancetta-balsamic glaze.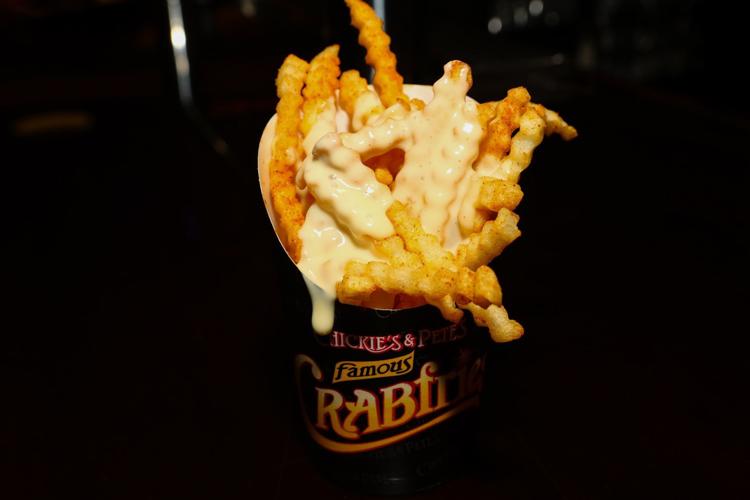 Chickie's & Pete's
Tropicana // ChickiesAndPetes.com
Crabfries
What more can be said about the Crabfries at Chickie's and Pete's? They are the stuff of legend and if you haven't had them before something has gone terribly wrong in your life up until now. Crinkle-cut French fries topped with Old Bay and other spices and served with a gooey side of cheese sauce. A+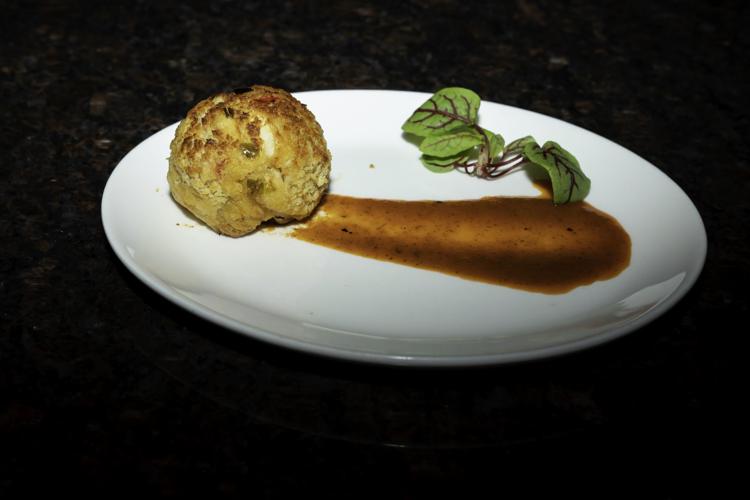 Coastal Craft Kitchen & Bar
Harrah's Resort // Caesars.com/Harrahs-ac
Coastal Crabcake
One of our favorite spots at Harrah's, Coastal Craft Kitchen & Bar makes a habit of putting out deliciously innovative dishes, such as their mini crabcake which comes topped with a roasted pepper coulis. It is somehow both comfort food and gourmet cuisine.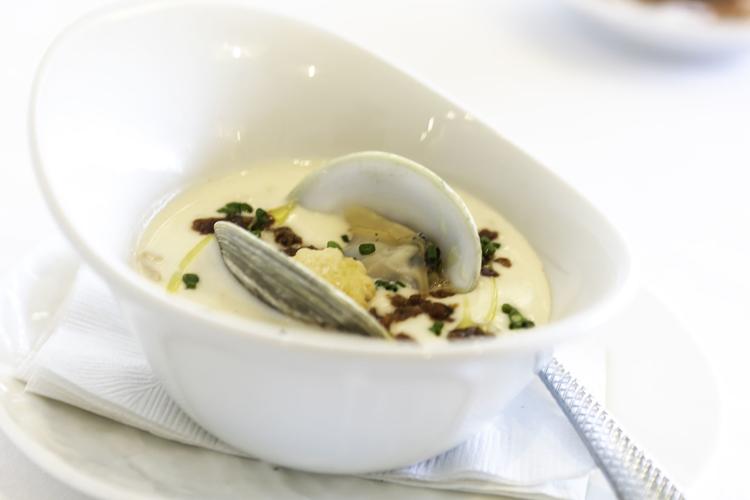 Council Oak Fish
Hard Rock // HardRockHotelAtlanticCity.com
New England Clam Chowder
Council Oak Fish offers some of the best seafood you will find in any of the casinos, with a variety of exotic dishes lining their menu. But the classic New England Clam Chowder — accented with a bit of pancetta — remains one of the best versions we have tried anywhere.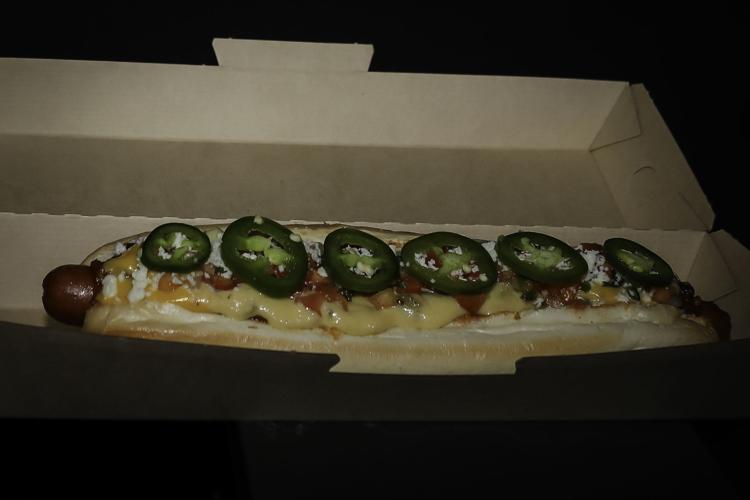 DraftKings Sportsbook
Resorts // ResortsAC.com
Foot-long hot dog
What goes better with beer and live sports than a foot-long hot dog? Answer: Nothing. DraftKings Sportsbook brings all of these things together in grand style, and the hot dog, while technically considered a Bite, is perhaps the most substantial of any on this list. You may even need to wash it down with a second beer.
Firewaters Saloon
Tropicana // Tropicana.net
Famous True Italian Sub
Firewaters is known as one of the best spots in town to grab a beer, but after a pint or two, you're gonna need something to munch on. This year they pair the suds with a sub — an Italian sub — with capicola, genoa salami, pepperoni and provolone. It tastes great, and it's bite size, so it's less filling too. A win-win. Upgrade to a full sub for just $5.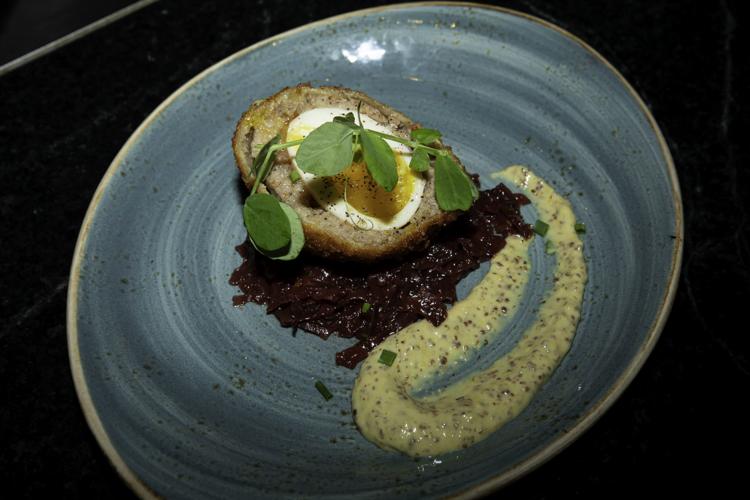 Gordon Ramsay Pub & Grill
Caesars Atlantic City // Caesars.com
Scotch Egg
The most popular chef in the world better know how to make a Scotch egg — he's from Scotland! And this version of the hard-to-find classic dish does not disappoint. A soft-boiled egg is rolled in sausage, breaded, fried to a perfect crispiness and served with braised cabbage and an English mustard. Even if you don't like eggs, you will love this.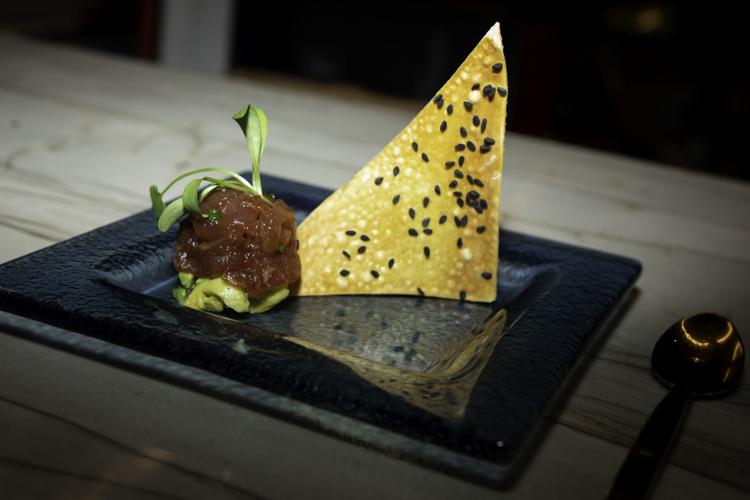 Gordon Ramsay Steak
Harrah's Resort // Caesars.com/Harrahs-ac
Ahi Tuna Tartare
Gordon Ramsay's steaks are amazing — and that includes the tuna variety! This year's bite is served tartar with ginger, chili, avocado and sesame chips, creatively dropping seafood where you least expected it.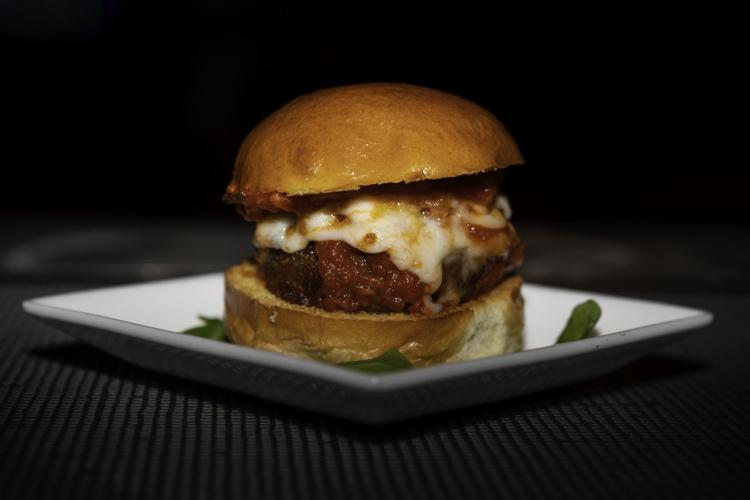 Grotto Ristorante
Golden Nugget Atlantic City // GrottoRestaurants.com
Meatball Slider
When it comes to classic Italian, Grotto is no slouch. This year their Bite is a slider version of their fabulous meatball, complete with mozzarella and marinara in perfect proportions.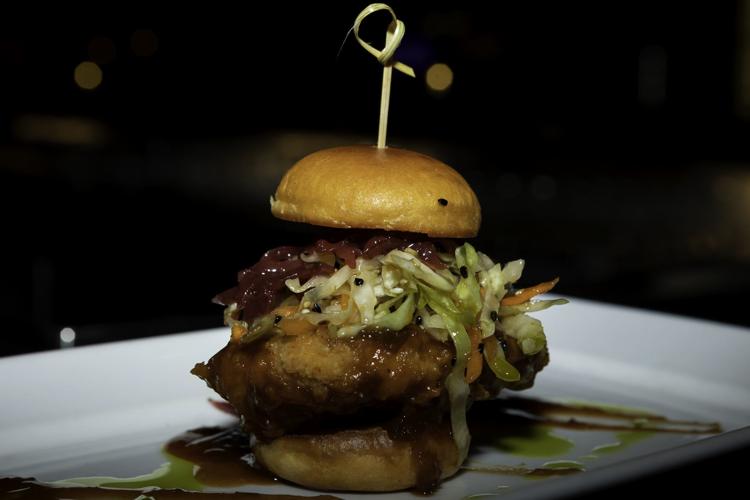 Guy Fieri's Chophouse
Bally's Atlantic City // CaesarsAtlanticCity.com
Korean BBQ Chicken Slider
Famed spikey-haired Chef Guy Fieri knows his way around a good bite and this year his namesake Chophouse offers crispy chicken in Korean barbecue sauce with an Asian cabbage slaw — all on a toasted brioche bun. Mmm …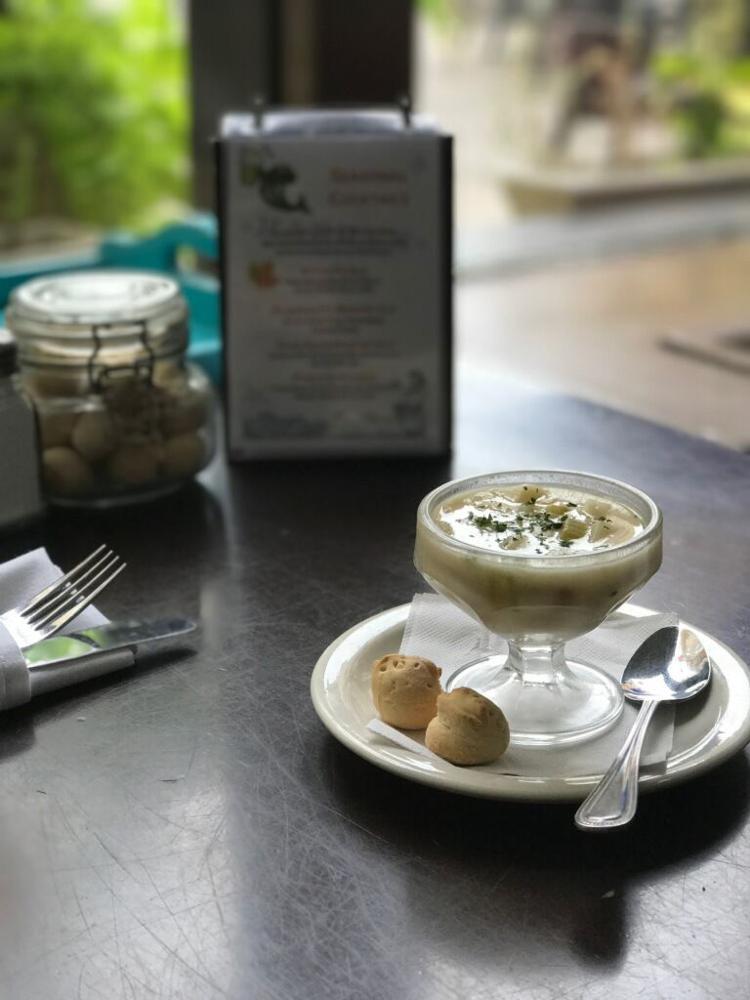 Harry's Oyster Bar
Bally's Atlantic City // HarrysOysterBar.com
New England Clam Chowder
There are two types of clam chowder and it's really no contest as to which one wins. Sorry, Manhattan, but you were never even close. Harry's take on this classic is both creamy and clammy, and serves as a perfect beginning to a seafood feast at this Bally's hotspot.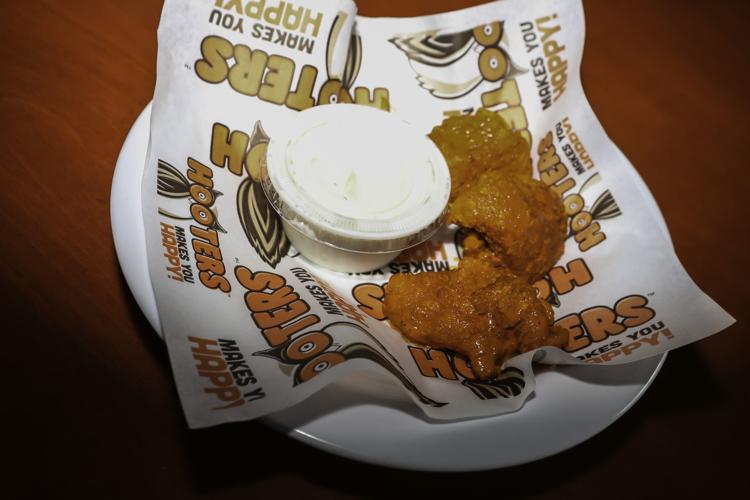 Hooters
Tropicana Atlantic City // Hooters.com
Boneless Wings
Hot wings, hot girls. A simple, yet brilliant concept rules the roost over at Hooters. This year for 50 Bites they once again offer up the boneless version of their classic buffalo wing. Breaded white meat chicken, coated in your choice of sauce. 50 Biters can upgrate to a full order for $8.99. Leave it to Hooters to know how to produce some seriously hot (chicken) breasts.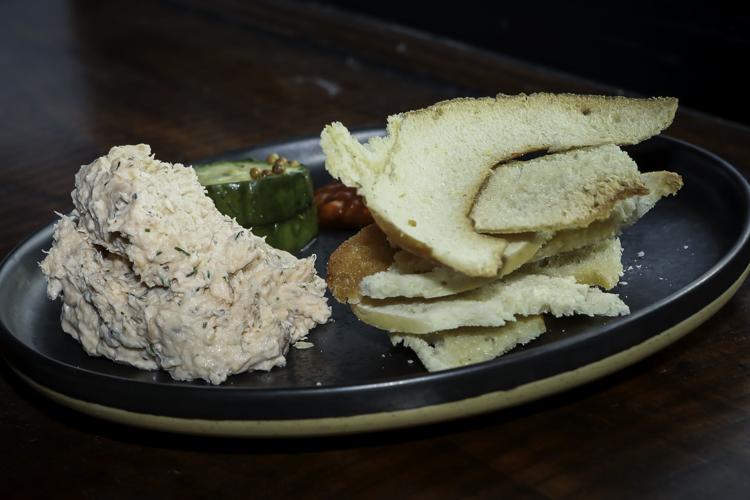 The Iron Room
131 S. Tennessee Ave. // IronRoomAC.com
Salmon Spread
The Iron Room may have moved across town, but they still have Chef Kevin Cronin, which means the food is as amazing as ever. A prime example is the house-made salmon spread, a savory delight paired with homemade pickles and bagel chips that goes perfect with a glass of wine.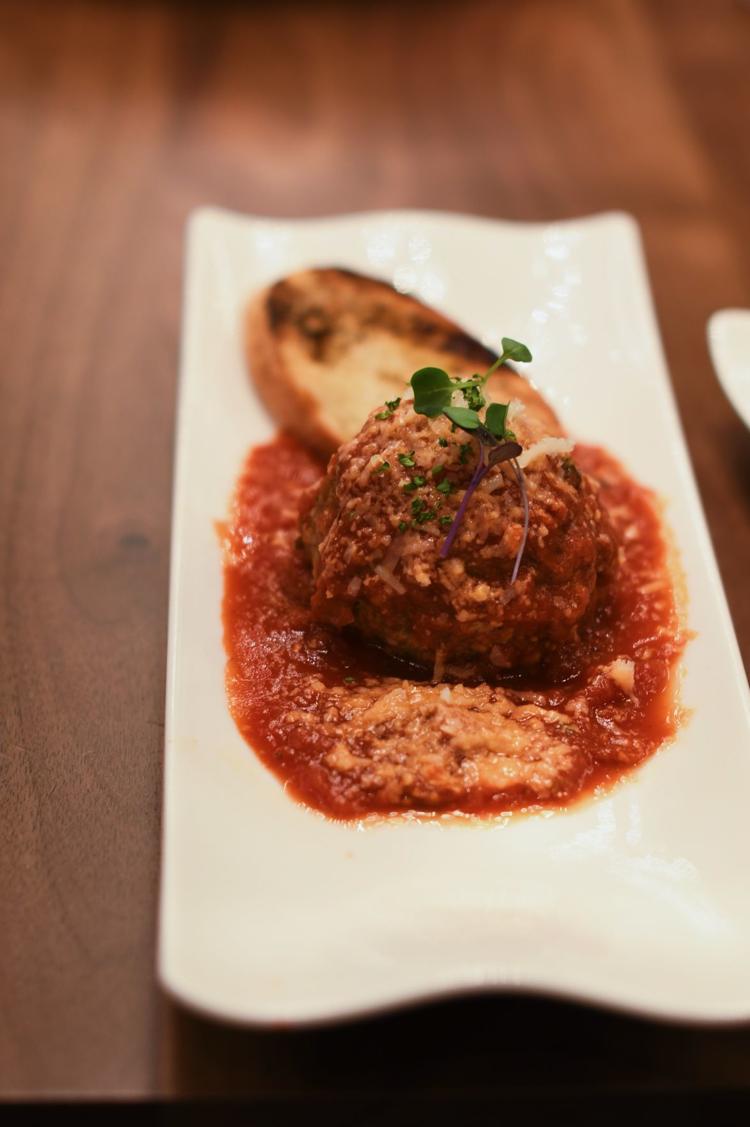 il Verdi
Tropicana Atlantic City // Tropicana.net
Mama's Meatballs
Despite being around for decades il Verdi continues to be a sort of secret spot to enjoy a fabulous high- end Italian meal at Tropicana Atlantic City. This year they put in a new bar, so grab a cocktail while you enjoy their Bite — meatballs with shaved parmesan, fresh basil and San Marzano Marinara sauce.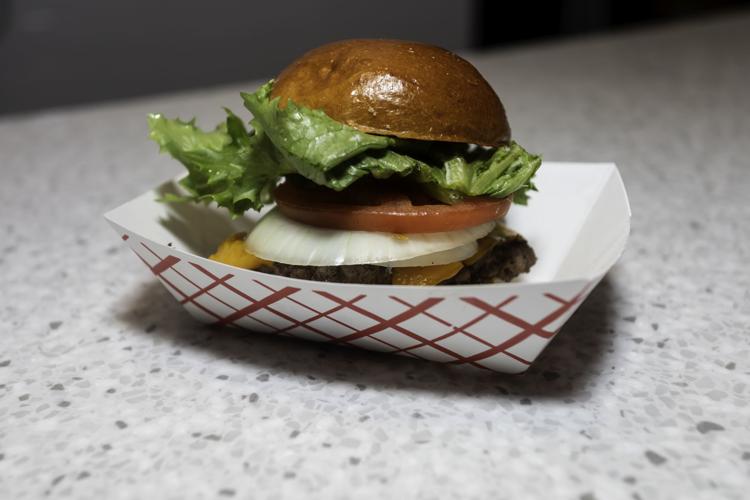 Johnny Rockets
Bally's Atlantic City // JohnnyRockets.com
Rocket Single
Johnny Rockets is all about classic Americana, so how can you go wrong with a good ol' fashioned burger? This year for 50 Bites+ they will offer their signature Rocket Single, which comes topped with Wisconsin cheddar, crisp leaf lettuce, fresh tomato, sliced onion and special sauce. Let freedom ring.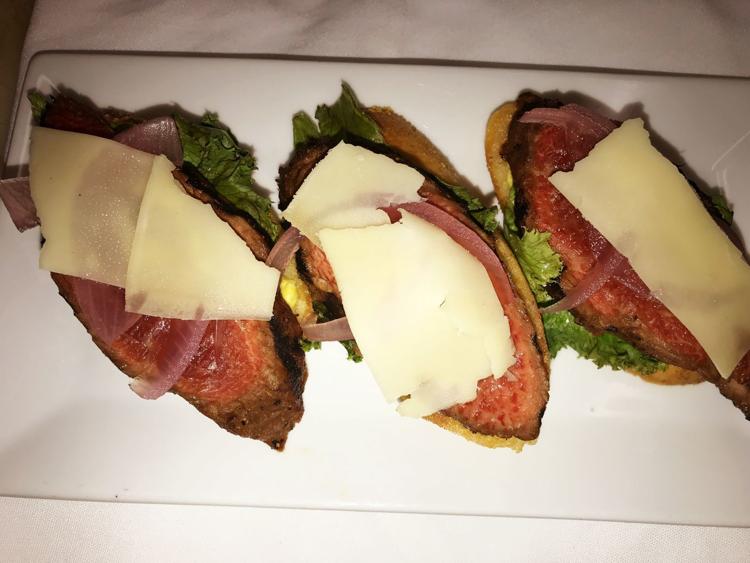 Kelsey's
1545 Pacific Ave. // KelseysAC.com
Beef Tenderloin Crostini
Kelsey's is known for producing some of the tastiest soul food anywhere. But they are taking 50 Biters out of their comfort zone a bit with their incredible Bite. Seared beef tenderloin paired with a Dijon mustard horseradish sauce resting on a garlic crostini and garnished with parmigiana reggiano cheese. You may not have seen it coming, but you'll be glad it came.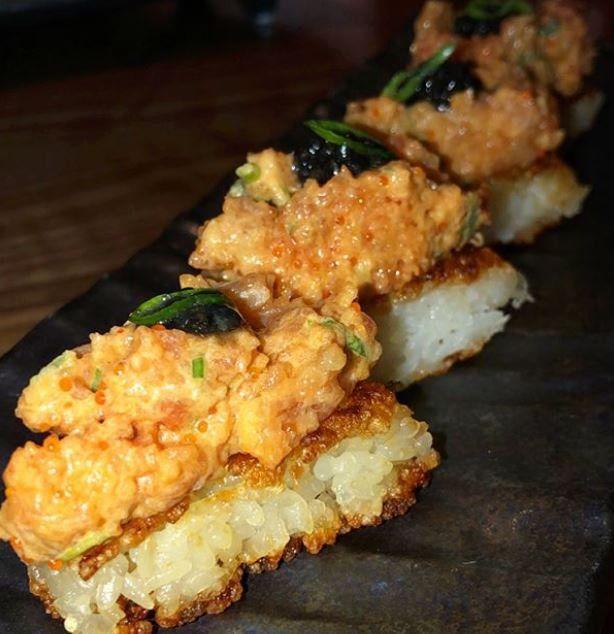 Kuro
Hard Rock Hotel & Casino Atlantic City // HardRockHotelAtlanticCity.com
Spicy Tuna Crispy Rice
After a little more than a year in Atlantic City, the buzz around town is still going for Kuro and it's easy to see why. Their Bite last year was so popular we had to bring it back for an encore. Spicy tuna and caviar work hand in hand in order to give your tastebuds a workout they won't soon forget.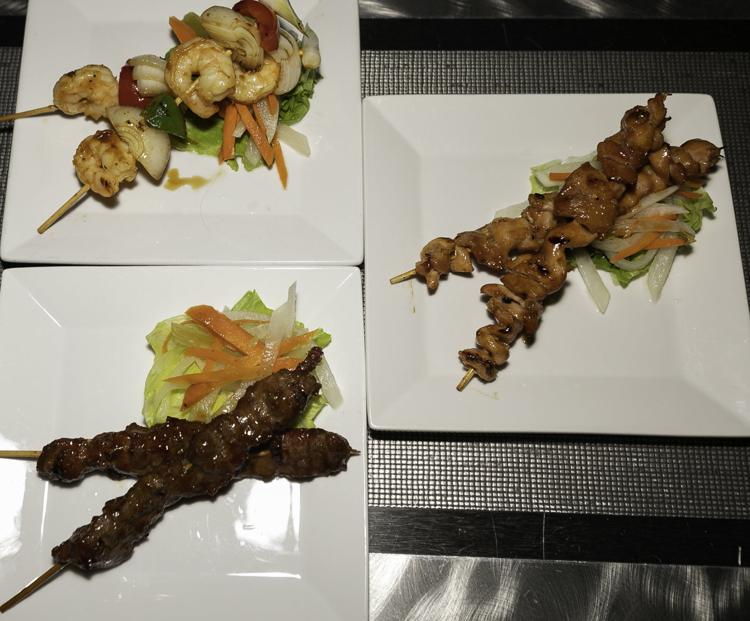 Lillie's Asian Cuisine
Golden Nugget Atlantic City // GoldenNugget.com
Skewer (choice of chicken, steak or shrimp)
Lillie's is back for 50+ Bites and we can't wait to return to this Golden Nugget hotspot of Asian delights. Grab a skewer of chicken, steak or shrimp — each grilled to perfection and brushed with a light teriyaki glaze.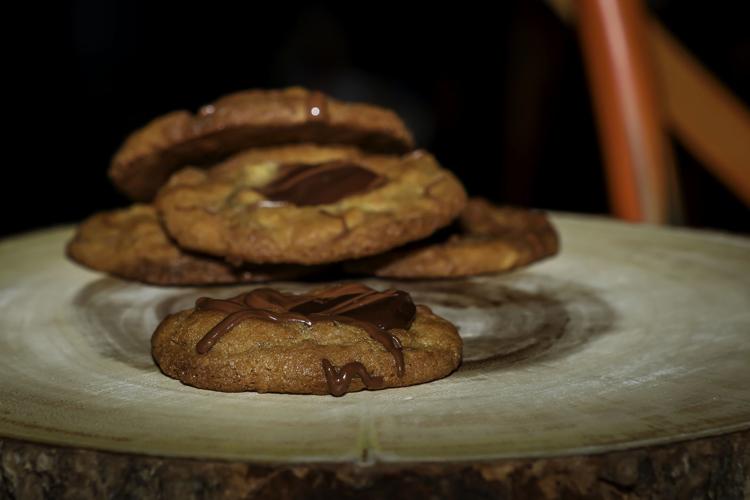 MADE Chocolate
121 S. Tennessee Ave. // MadeACChocolate.com
Bourbon Chocolate Chip Cookie
The only bean-to-bar chocolate shop and bar you are going to find in Atlantic County lives right in the heart of the Orange Loop. After a day of munching on Bites, why not finish off with an after- dinner drink and a decadently delicious bourbon chocolate chip cookie right here at MADE?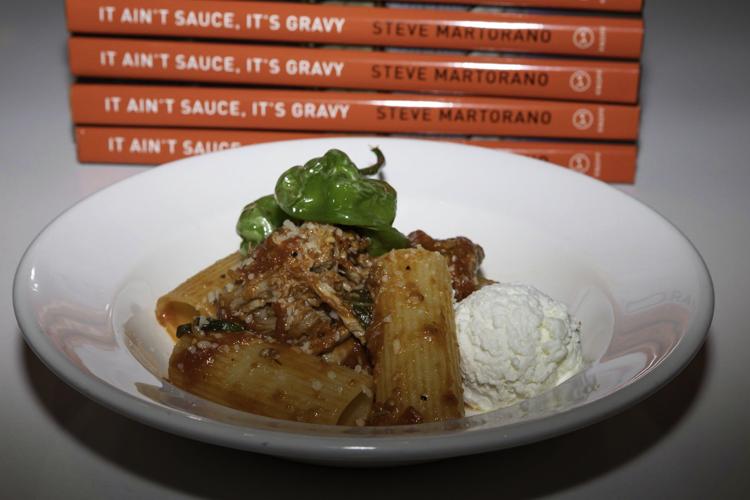 Martorano's
Harrah's Resort // CafeMartorano.com
Rigatoni Sunday Gravy
Yo cuz! It's time to head to one of the best Italian restaurants in town. Steve Martorano was a legend in Philly and now he has become a legend in A.C. One of his most legendarily delicious creations is this year's Bite, the Rigatoni Sunday Gravy, made with chunks of pork in a hearty sauce topped with a scoop of ricotta.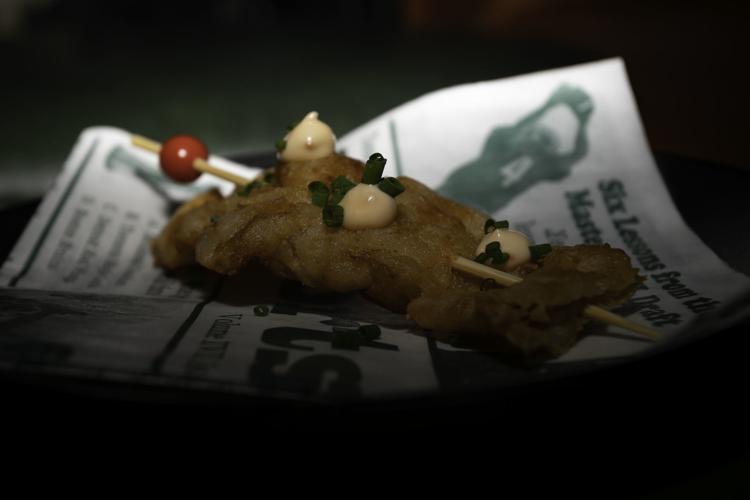 Moneyline Bar & Book
Borgata Hotel Casino & Spa // 609-317-7249 // TheBorgata.com
Chicken Fried Bacon
Moneyline is one of the newest additions to Borgata to bet on the games as you hang with your buds. A great way to make that little get together better would be if you added bacon. And deep fried that bacon in batter and served it with a side of chipotle ranch. That is their Bite and we suggest you thank them for making the world a better place.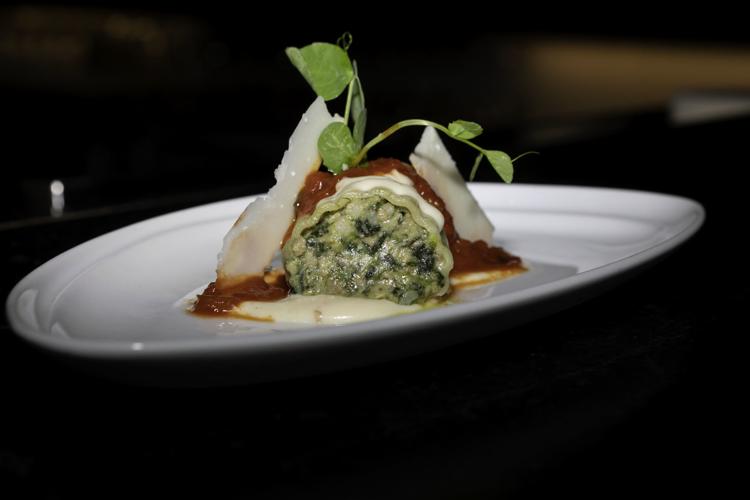 Nero's Italian Steakhouse
Caesars Atlantic City // Caesars.com
Veal Cannelloni
Last year this was the Bite featured at Nero's and it was so good we had to bring it back. It all starts with veal that is ground fresh, then roasted and eventually pulled and sauteed with garlic and shallots and spinach. Pasta is stuffed with the mixture and mascarpone cheese before being baked in homemade marinara an topped with a Fonduta — an Italian fondue — consisting of parmesan and fontina cheeses. Old school meets new school, and it's as good as it sounds.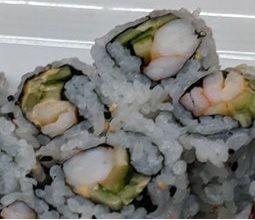 Okatshe
Tropicana Atlantic City // OkatsheRestaurant.com
Classic California Roll
Okatshe is easily the most fun sushi bar in town with its speakeasy-style entrance disguised as a Japanese candy store, but the real fun starts when you take your first bite. In this case it's the California roll, a sushi menu favorite for as long as anyone can remember, it rolls up cucumber, crab and avocado with sushi rice for a perfect bit-sized Bite.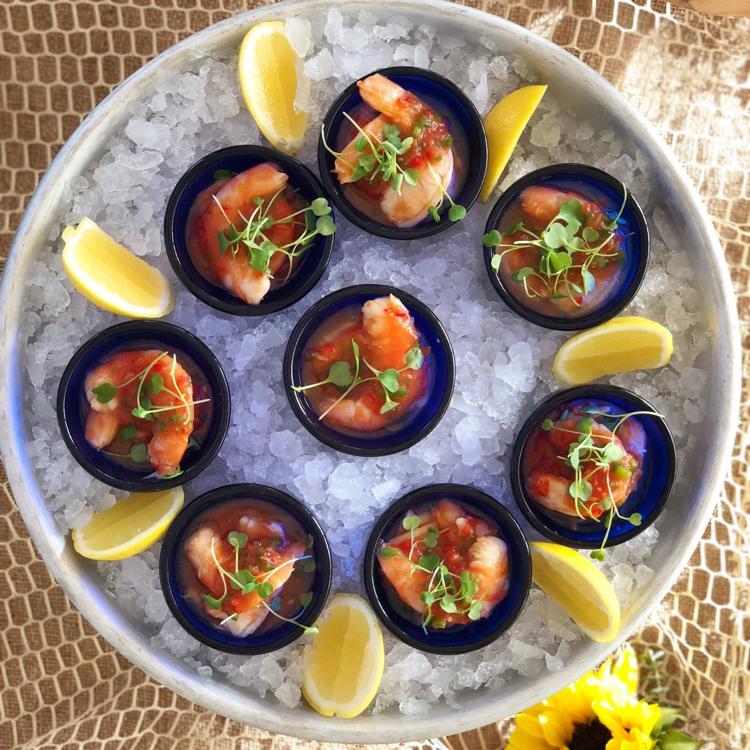 Olón
Tropicana Atlantic City // OlonRestaurant.com
Shrimp Ceviche
Bites come in all shapes, colors and styles of cuisine, and one of the hottest trends around the culinary scene is ceviche. But the Shrimp Ceviche at Olon goes beyond the standard offerings you might see elsewhere, combining Mexican blue shrimp, jalapeño, tomato and lime vinaigrette with avocado and cilantro to create an unforgettable Bite.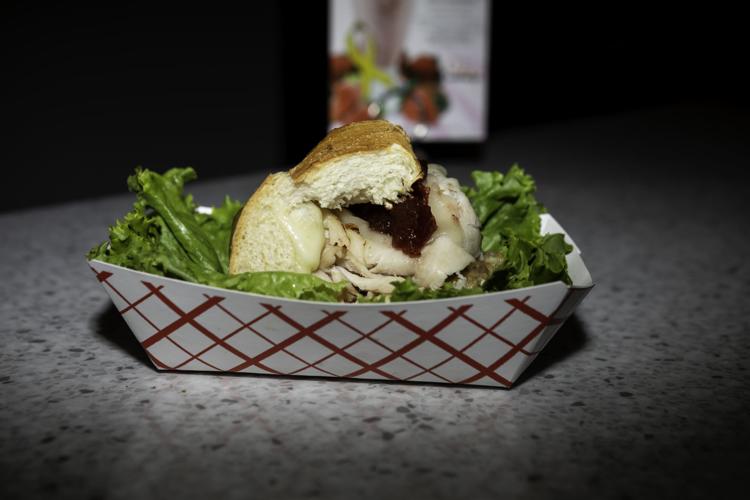 Original Soupman
Resorts Casino Hotel // ResortsAC.com
Thanksgiving Day Feast Sandwich
Once again it's "No soup for you!" at this chain made famous from an episode of Seinfeld in the late '90s. Soup will be far from your mind as you chomp down on their Bite, a holiday- themed sandwich with warm fresh sliced turkey, stuffing, cranberry sauce, provolone cheese and mayo. Next!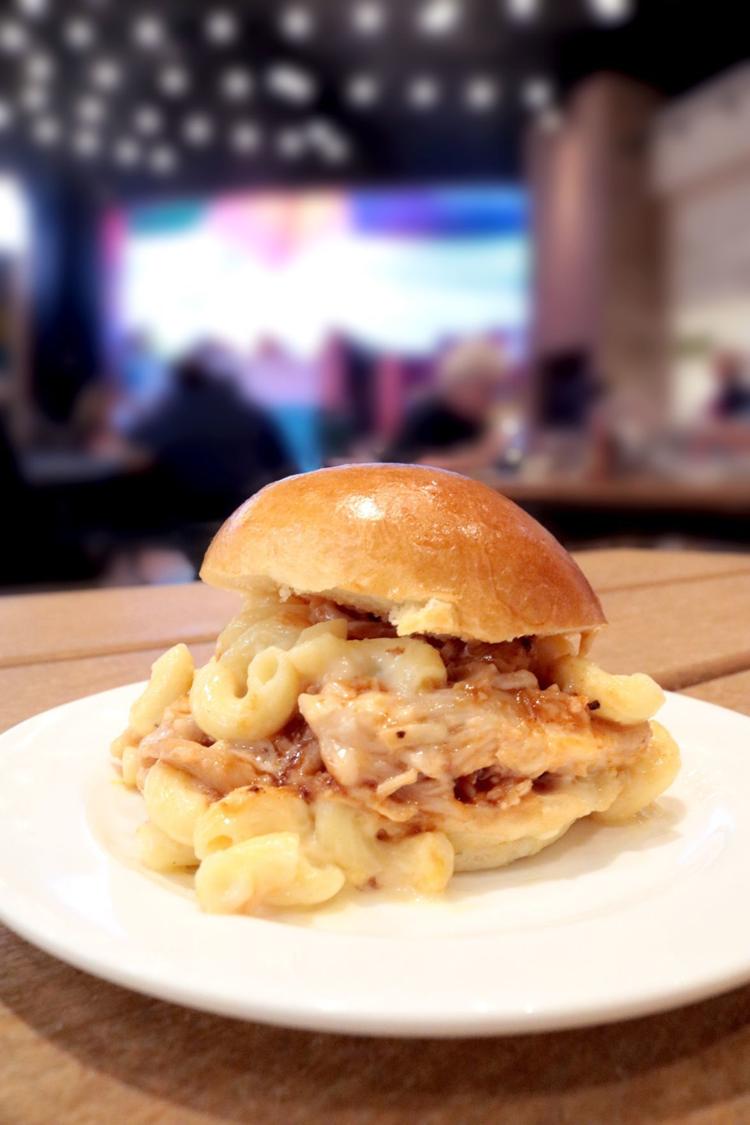 Pit Boss BBQ, Beer & Fish Fry
Ocean Casino Resort // TheOceanAC.com
Pulled Chicken and Mac Slider
Like a backyard cookout dropped directly into a high-end casino, Pit Boss is a unique stop on our journey. For 50 Bites+ they will offer a soul food combo that you'd have to be crazy not to love. Barbecued pulled chicken meets up with creamy macaroni and cheese on a slider bun. Bet'cha can't just eat one!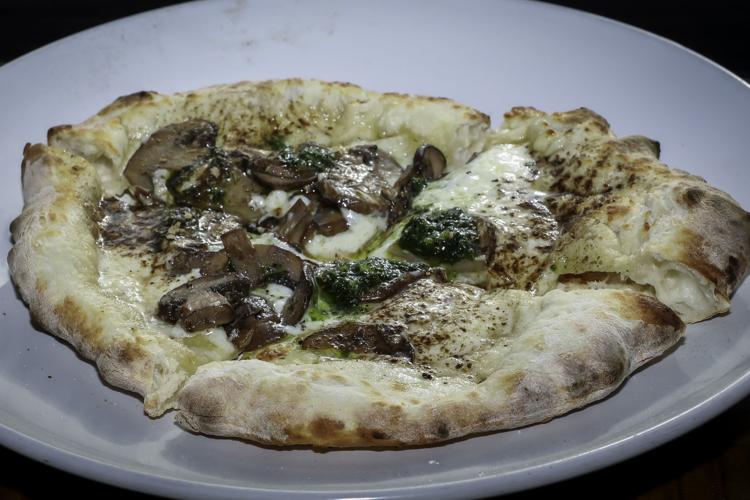 Rhythm & Spirits
129 S. Tennessee Ave. // RhythmAndSpiritsAC.com
Naan Flatbread
The newest kid on the block over at Tennessee Avenue, Rhythm & Spirits dives right into 50 Bites+ with an exotic and tasty morsel with Indian origins. Naan flatbread is topped with mushrooms, English peas, truffle salt and as the secret weapon — a dose of original Iron Room mac and cheese sauce (yup, Chef Cronin works here, too). Cheers to that!
Ruby's Dinette
Resorts Casino Hotel // Quick Bites Food Court on Facebook
Mushroom Swiss Burger
A favorite at A.C. Weekly's Burger Bash event over the years, Ruby's Dinette brings a beefy Bite to 50 Bites+ in the form of their mushroom Swiss burger which imparts fresh sauteed mushrooms, Swiss cheese, lettuce, tomato and their very own RubySauce to create a carnivorous masterpiece.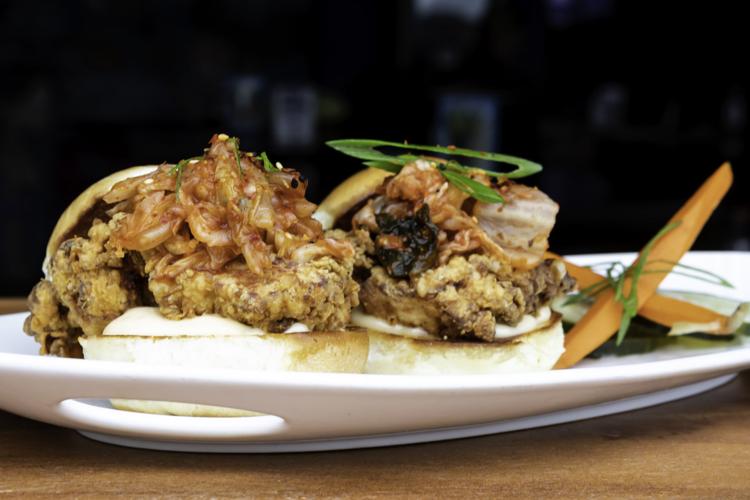 Tennessee Avenue Beer Hall
133 S. Tennessee Ave. // TennesseeAvenueBeerHall.com
Kentucky Avenue Chicken Slider
Chef Charles Soreth has a menu full of incredible Bites, so choosing one to feauture was no easy task. But the Kentucky Avenue Chicken Slider won out. A pint-sized version of the regular menu version of the sandwich, this morsel starts with a breaded, Japanese pepper-spiced chicken breast tops it with kimchi slaw and a drizzle of sweet chili aioli and serves it on a bun. Prepare to forget Popeye's forever.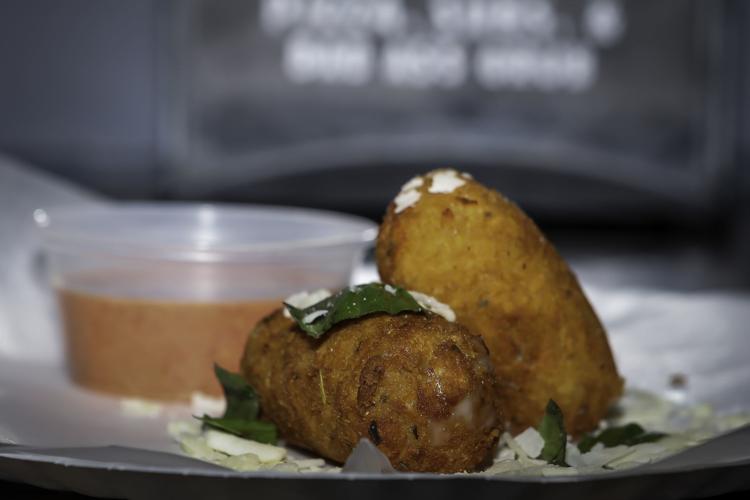 Tony Boloney's
300 Oriental Ave. // TonyBoloneys.com
Boombah Jersey Italian Mozzarella Sticks
If you know anything about Tony Boloney's, you know that they like to push things to the extreme when it comes to flavors and ingredients. So it's no surprise that their mozzarella sticks aren't just breaded cheese. They start with old-school, homemade mozzarella with herbs including rosemary and Calabrian chiles and then finish the whole thing off with a Sourdough crust.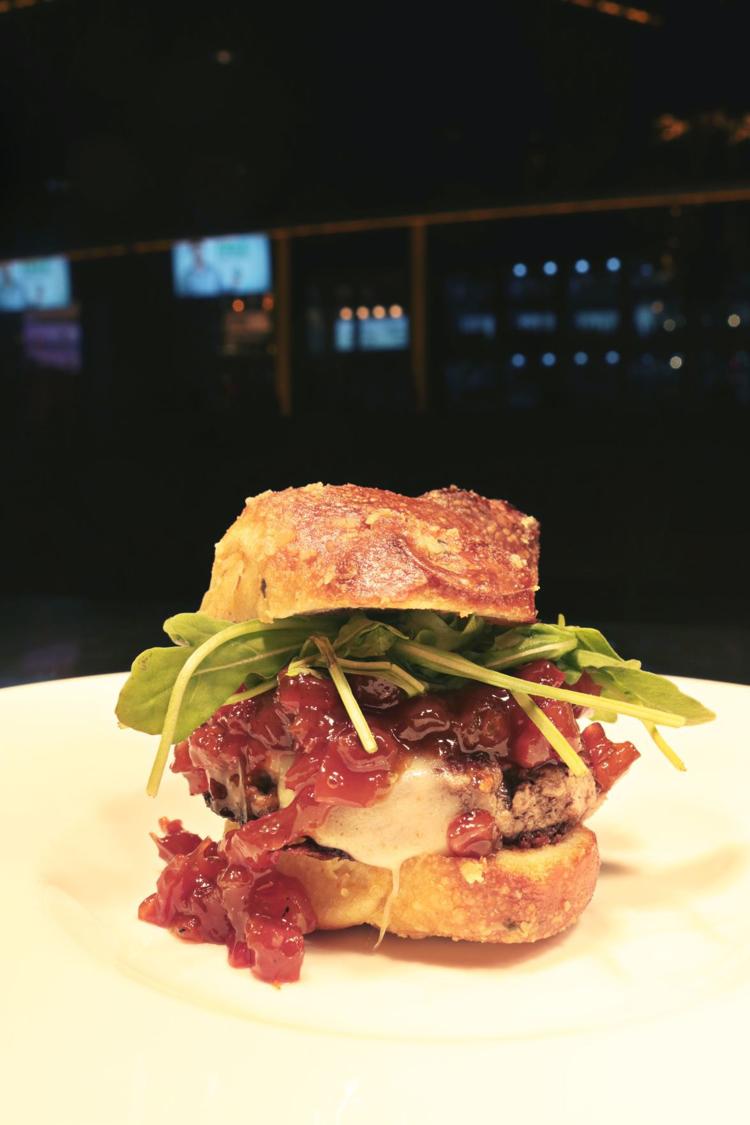 Topgolf Swing Suite
Ocean Casino Resort // TheOceanAC.com
TG Burger Slider
Topgolf blew away everyone at this year's Burger Bash with their TG Burger Slider, which took home 1st Place in the judges' category. Naturally it's championship status made it the go-to choice for their Bite, and we know you are going to love this blend of beef and pork topped with smoked provolone and roasted tomatoes served on a garlic knot bun. Tastes like victory.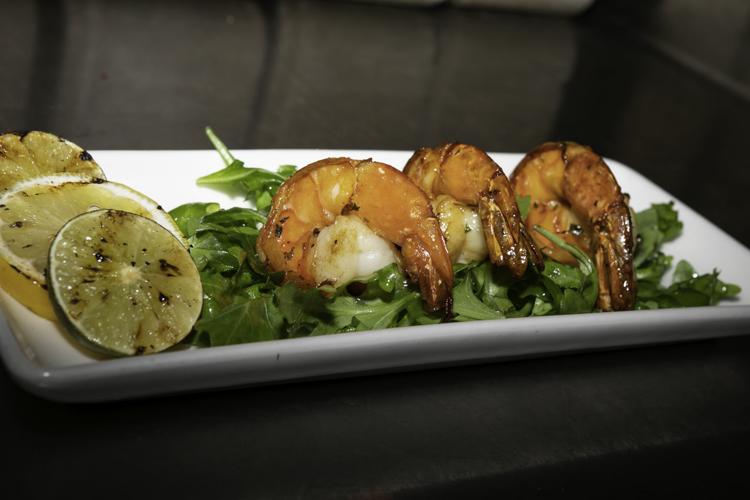 The Twenties Bistro
Claridge Hotel // Claridge.com
Spicy Shrimp
Home of the second-oldest bar in town, The Twenties Bistro at The Claridge Hotel is a great place to go for that old-school Atlantic City vibe. While you grab a few drinks, be sure to grab your Bite — the spicy shrimp — a scrumptious honey-infused crustacean served with lightly fried chilies and a citrus arugula.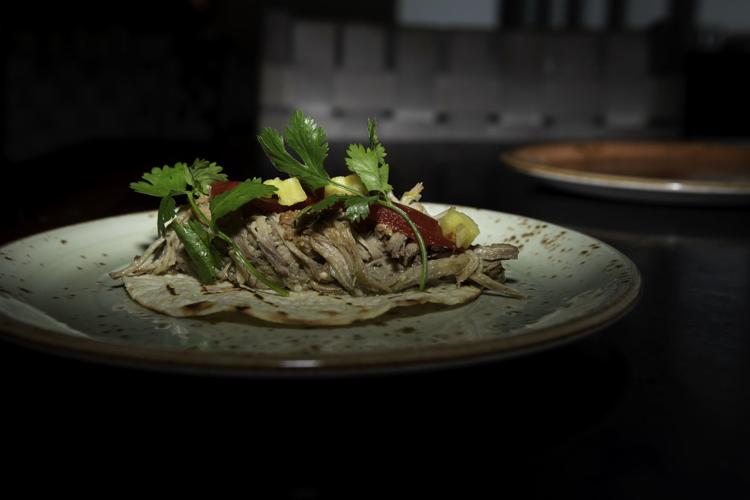 Veracruz
Harrah's Resort // Caesars.com
Carnitas Taco
There are a lot of good reasons to stop in at Veracruz … the amazing margaritas, the stunning views, the fun vibe…. But perhaps the best reason is the food. Their Bite starts with a corn tortilla and packs it with pulled pork tossed with tomatillo salsa, topped with charred pineapple, pickled red onion and fresh cilantro. It's like a mariachi band in your mouth.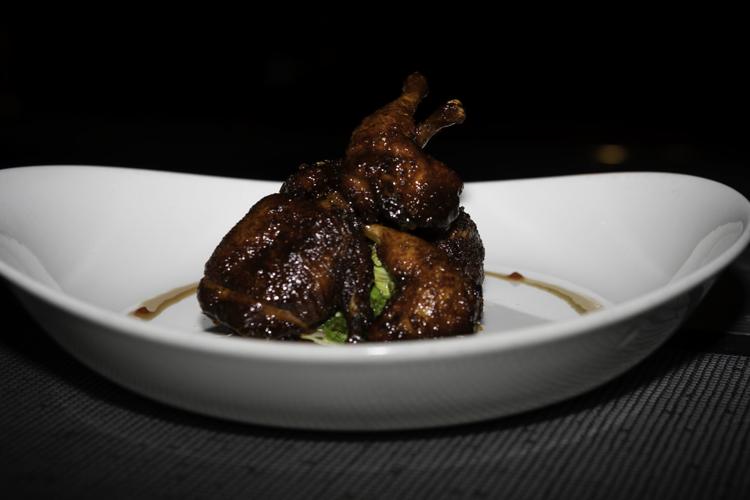 Vic & Anthony's
Golden Nugget Atlantic City // GoldenNugget.com
Maple Glazed Quail
If we were going to rank this list, Vic & Anthony's Maple Glazed Quail would be near — if not at — the top. Quail is seasoned with a spicy dry rub then perfectly fried before being tossed in a maple glaze consisting of everything from maple syrup to chipotle peppers. Accompanied with dressed greens and Sriracha, they are sweet, hot and full of flavor. They're the best chicken wings you ever had … that aren't chicken.
Villain & Saint
Ocean Casino Resort // TheOceanAC.com
Cheddar Biscuit
Villain & Saint goes a bit lowcountry with their Bite. A house-made cheddar biscuit accented beautifully with chili honey and maple butter. It's the perfect starter to a full meal here. And with Michelin Star Chef Robert Weidmaier the man behind this restaurant concept, sticking around to sample a few more items may be the best choice you make all week.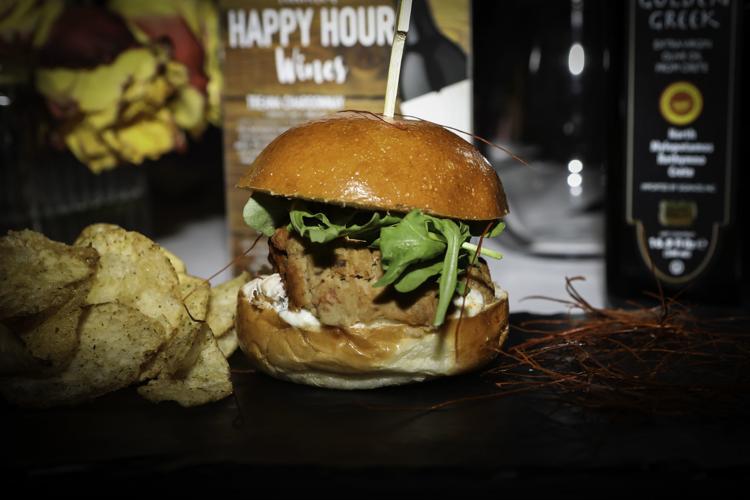 The Wine Bar at The Marketplace at Borgata
Borgata Hotel Casino & Spa // TheBorgata.com
Meatball Slider
There are plenty of spots to sip a bit of vino at Borgata, but none as casual and as fun as The Wine Bar at The Marketplace. While you are deciding on which glass to order next, be sure to sample their Bite, a tasty and savory meatball slider.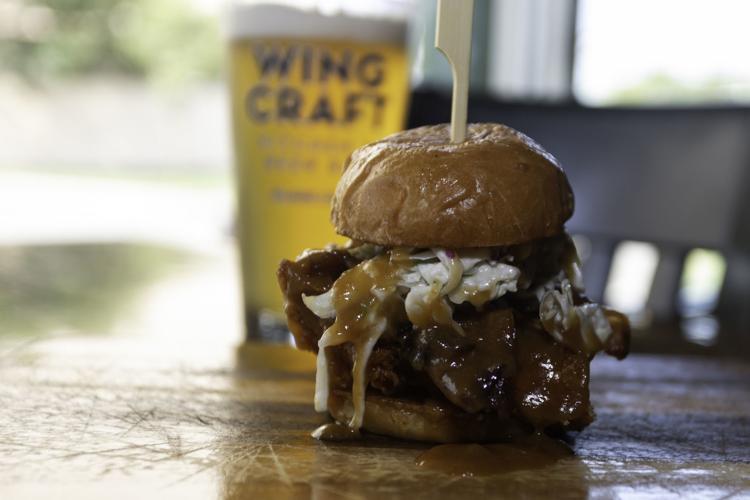 Wingcraft
Tanger Outlets The Walk, 2100 Baltic Ave. // WingcraftAC.com
Miso Honey Fried Chicken Slider
With 40 beers on tap it's easy to spend an afternoon sampling at Wingcraft while your significant other hits the outlets. The perfect companion to those brews is the Miso Honey Fried Chicken slider, a tasty Bite, featuring a Corn Flake-crusted fried chicken breast, miso honey kale slaw and brown sugar bacon all on a slider-sized bun.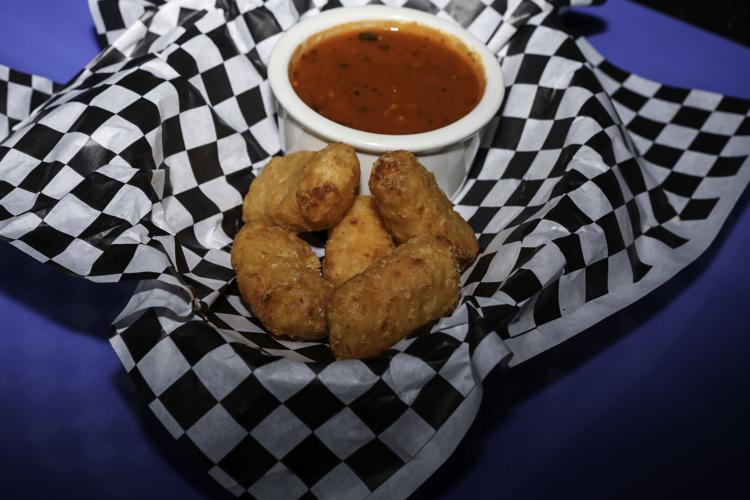 Wonder Bar and Grill
3701 Sunset Ave. // WonderBarACNJ.com
Mac and Cheese Bites
Wonder Bar is one of the few spots in A.C. where you can sit outside and enjoy the waterfront views of the back bays. And we can't think of a better way to enjoy those views than with a drink in one hand and a Bite in the other — in this case a mac and cheese bite, which boosts the classic comfort food into bite-sized app form by breading and deep frying it to a golden brown.
YOUYU Noodle Bar
Hard Rock // HardRockHotels.com
Cantonese Crispy Shrimp Spring Roll
Hard Rock's YOUYU Noodle Bar is known for amazing noodles, but those in the know make sure to hit up their sharable apps as well. The Cantonese crispy shrimp spring roll is wrapped in in a thin pastry and deep fried, yet remains a light and flavorful Bite.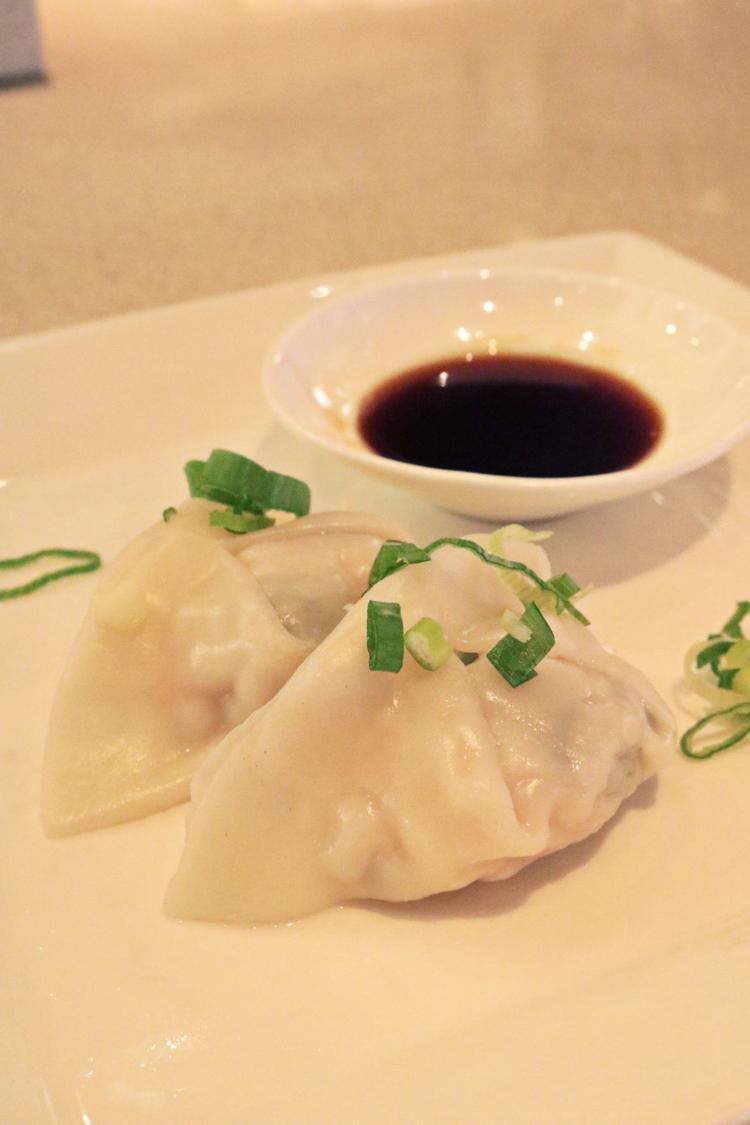 Zhen Bang Noodle and Sushi
Ocean Casino Resort // TheOceanAC.com
Steamed Shrimp and Chive Dumpling
When it comes to great dim sum, Zhen Bang Noodle and Sushi at Ocean Casino Resort always delivers the goods. One of our favorite Bites this year is their steamed shrimp and chive dumpling which features sweet soy sauce and slivered chives for a savory Asian masterpiece.
EGG HARBOR CITY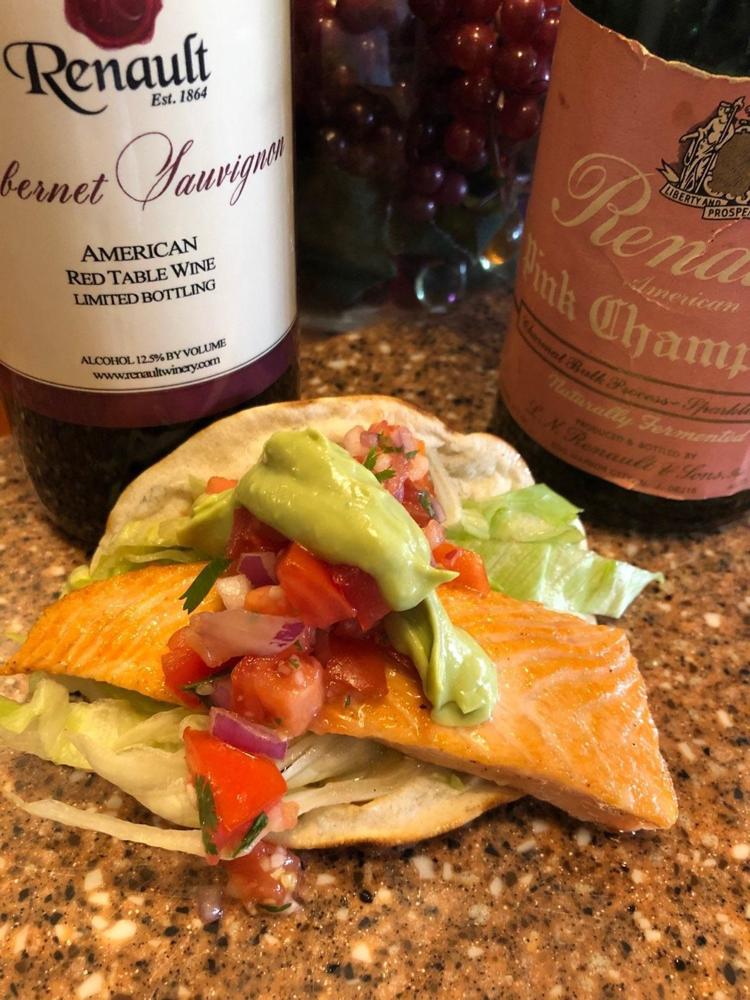 Joseph's at Renault Winery
72 N. Bremen Ave. Egg Harbor City // RenaultWinery.com
Salmon Taco
Renault Winery may be best known for their wines, but their on-site restaurant Joseph's offers up some wonderful culinary treats to match the vino. Their salmon taco puts a serious spin on this Mexican favorite with its combo of fresh salmon, red onion, shredded lettuce, sauce virge and lime creme fraiche.
EGG HARBOR TOWNSHIP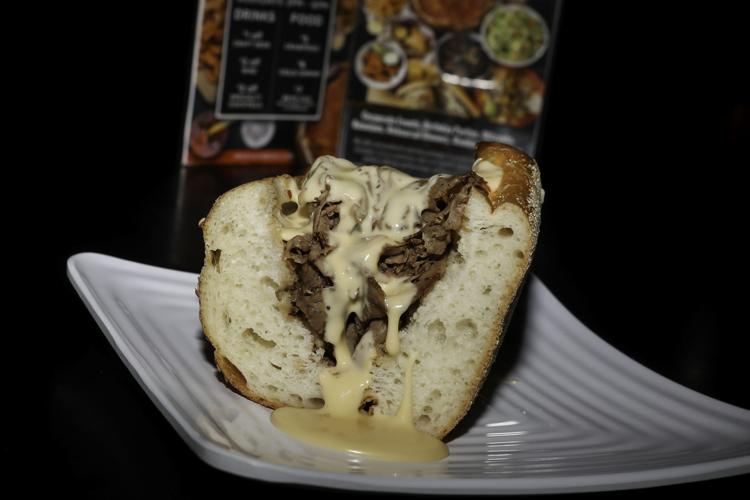 Chickie's & Pete's
6055 E. Black Horse Pike // ChickiesAndPetes.com
Philly Style Roast Beef
Chickie's & Pete's originated in Philadelphia and let's just say they know their way around any number of traditional Philly-style sandwiches. The Bite is a hot roast beef sandwich done Philly-style with seasoned beef roasted to perfection, thinly sliced topped with provolone cheese sauce and served on their signature seeded roll.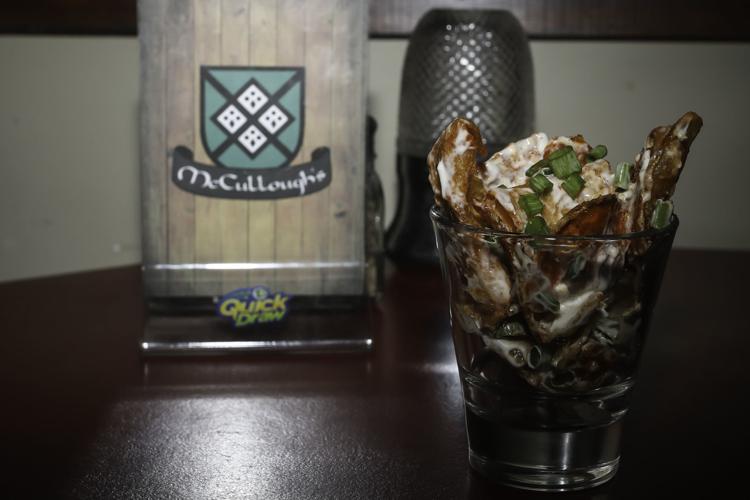 McCullough's Pub
3016 Ocean Heights Ave. // McCulloughsGolf.com
The Chip Shot
McCullough's Pub makes its return to 50+ Bites year with a tasty golf-themed bite known as the Chip Shot. House made potato chips are doused in McCullough's incredible homemade blue cheese and finished off with fresh chopped scallions for a crunchy, creamy bite of perfection.
MAYS LANDING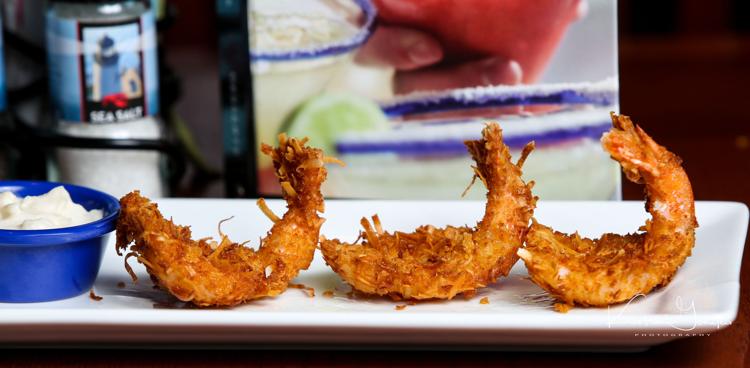 Red Lobster
4411 E. Black Horse Pike // RedLobster.com
Coconut Shrimp
Once in a while a chain restaurant steps up to the plate, and Red Lobster is a prime example of that. You know their cheddar bay biscuits are the stuff that dreams are made of, and now you can add a new reason to stop by — the coconut shrimp. Served paired with a pina colada dipping sauce, these are downright addictive.
NORTHFIELD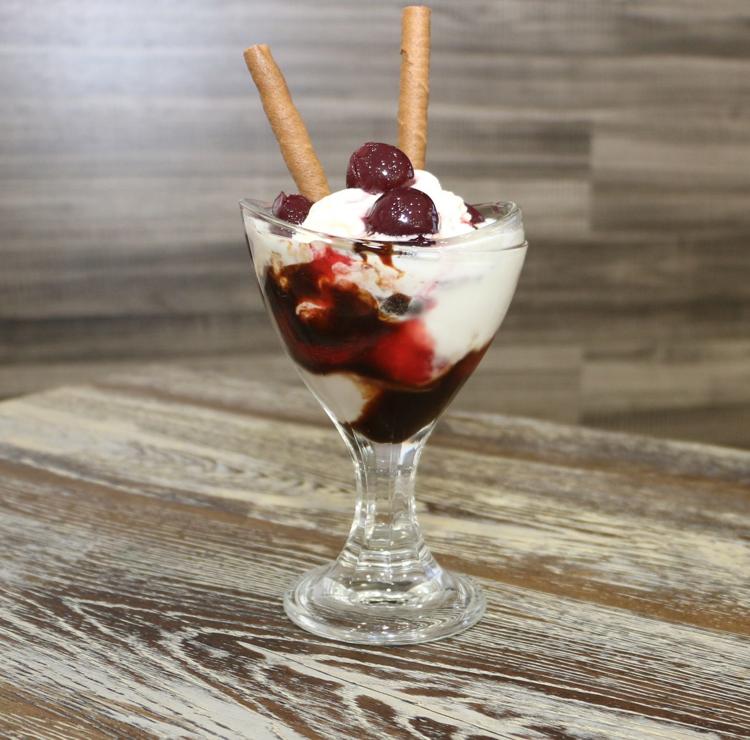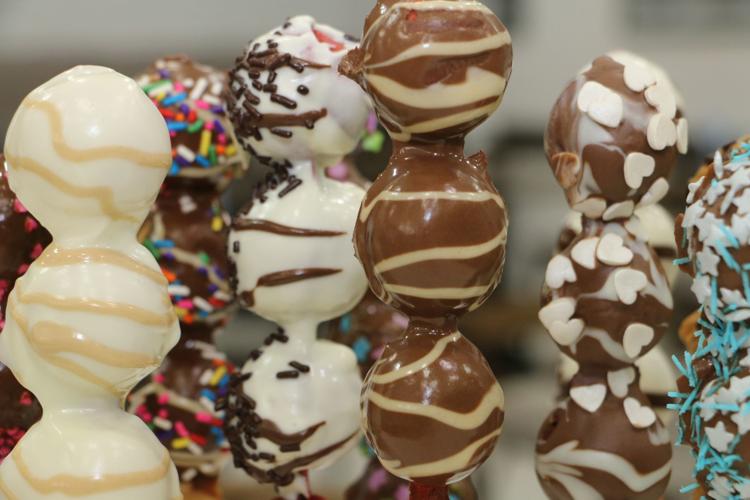 Eis Café Europa
1205 Tilton Road // EisCafeEuropa.com
Chocolate-Covered Waffle Pop, Scoop of Gelato or Single Espresso
Why offer just one Bite option when you can offer three? That's the philosophy over at Eis Café Europa and we think it's a pretty fantastic one. Of course it does create the issue of which of the three to go with for those who can't decide.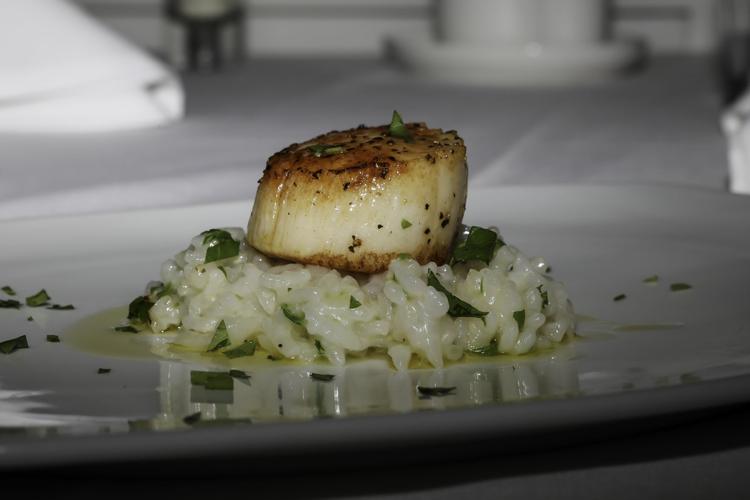 La Cucina Ristorante
1205 Tilton Road // LaCucina RistoranteNJ.com
Pan Seared Scallop
La Cucina serves up excellent traditional Italian fare in the former location of Roberta's in Northfield. They are newcomers to 50+ Bites and are starting off strong with their pan-seared scallop served on a fluffy bed of lemon-herb risotto.
OCEAN CITY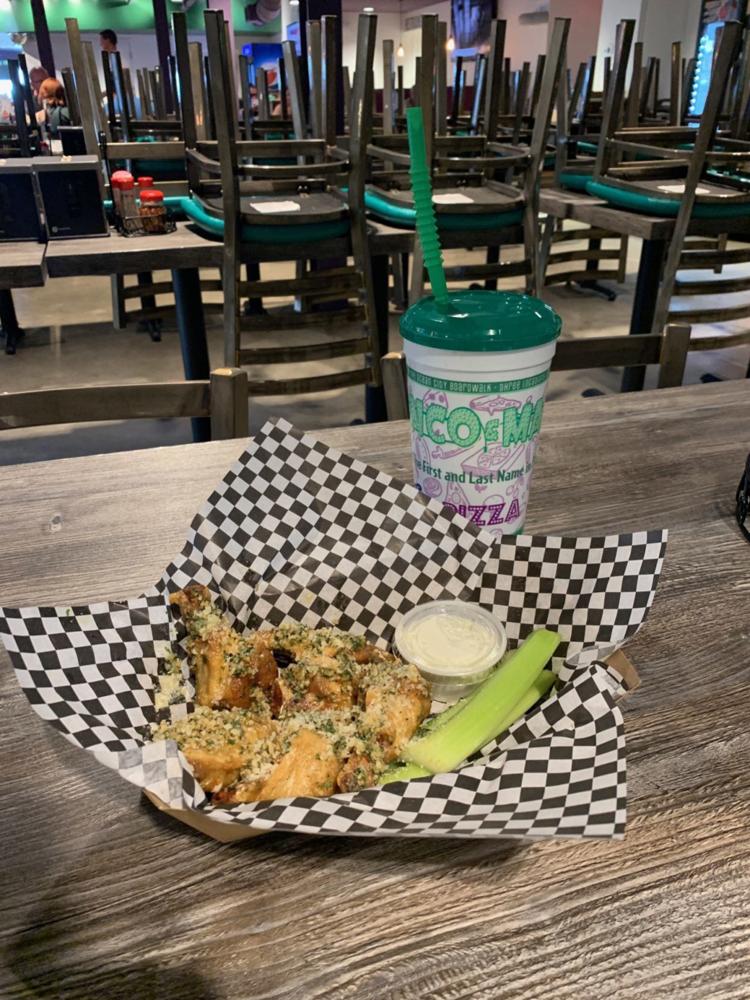 Manco & Manco Pizza
900 Boardwalk // 609-399-2548 // MancosPizza.com
Garlic Parm Wings
In case you were unaware, Manco & Manco does more than just make great pizza. For 50 Bites+ their location on 9th Street steers clear from pepperoni and marinara and instead offers their garlic parm chicken wings. One bite of this twist on the classic Buffalo wing and you'll be adding them to your Manco orders from now on.
West Atlantic City