Thursday, June 28, will undoubtedly be the most historic day in recent memory for Atlantic City, as two casino resorts will open: Hard Rock Hotel & Casino Atlantic City at the site of the former Trump Taj Mahal Casino Resort and Ocean Resort Casino taking the space once occupied by Revel Casino Hotel. Massive renovations have been done on both, bringing new dining concepts, nightclubs, hotel rooms, concert venues and more.
Here's an overview on what you can expect from these two exciting new additions to Atlantic City.
HARD ROCK HOTEL & CASINO ATLANTIC CITY
THE RESTAURANTS
Foodies and casual eaters alike can expect to be pleased by the selection of options at Hard Rock. Everything from high-end steakhouses to grab-and-go sandwich shops are on the list. Here are a few of the highlights:
Hard Rock Cafe: Taj had its own Hard Rock Cafe, but nothing like this. Relocated to the center of the casino floor, A.C.'s newest version of the restaurant that launched an empire will boast both indoor and outdoor stages, along with a menu stacked with classic American fare such as burgers, sandwiches, hot wings and more.
Robert's Steakhouse: When Taj shut its doors, one of the greatest steakhouses in Atlantic City went with it. Luckily the days of a Robert's-free A.C. are now behind us, as Hard Rock has brought this spot back for good. Expect amazing steaks that are dry aged for six weeks or more and broiled at 1,800 degrees, plus al torchio pasta with dry duck sausage, their signature "everything" French fries and some outstanding chicken and seafood dishes as well. "The best is back!" says owner Bob Gans.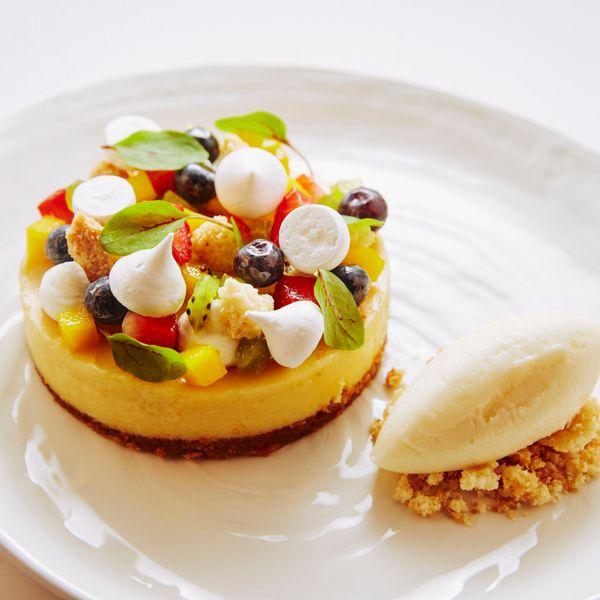 Council Oak Fish: A seafood-focused version of the council Oak Steakhouses that were made popular at other Hard Rock properties. Folks can expect live music, panoramic views and some of the freshest seafood around.
Kuro: A hip, modern Japanese restaurant, Kuro should give spots like Borgata's Izakaya some serious competition. The cocktails alone are going to keep this place packed to the gills.
Il Mulino: Another one from the Taj's list of all-stars, Il Mulino offers guests a taste of old world Italian cuisine with a list of top-notch meats, cheeses pastas and desserts.
White House Sub Shop: One of the most popular and famous sandwich shops around, White House Subs was forced to shutter the doors of its second location when the Taj closed. But Hard Rock has brought it back, which means you can satisfy that craving for their classic cheesesteak without ever leaving the building.
THE HOTEL ROOMS
Hard Rock's music-centered brand extends to its hotel rooms, with abstract images of instruments making up the art of the rooms. Their modern designs are accented by textured wallpaper juxtaposed by smooth fabrics. Bright pops of color and vibrant pillows add the "good-time" vibe Hard Rock is known for.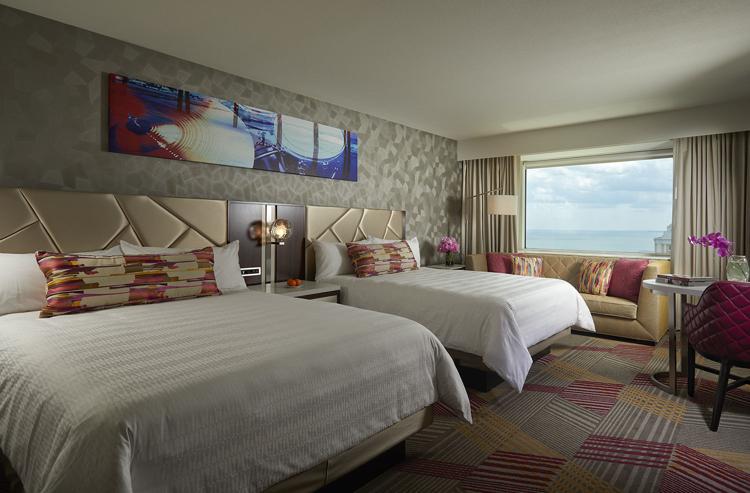 All of the rooms come with Hard Rock's signature "Sleep Like a Rock" pillow-top bedding, with views available of the ocean, bay or city. A "Classic" room includes either one king-sized bed or two queens, along with a glass-enclosed shower and Rock Spa bathroom products, like hand-cut soap and cotton towels. The "Ocean Deluxe" rooms promise a view of the boardwalk and ocean, plus a 55-inch flat-screen TV, as opposed to the 40-inch flat screens of the "Classic" rooms.
Stepping things up even more are the "Apollo Suites," with a separate living space, powder room, expansive living space, 65-inch HDTV, dining area and wet bar. And the "Celebrity Suites" take the cake by including all of the amenities of the "Apollo Suites," plus floor-to-ceiling windows, views of the ocean, a master bedroom and oversized living room.
SOUND OF YOUR STAY
Perhaps the coolest and most unique aspects of an overnight stay at Hard Rock is the Sound of Your Stay program. Taking Hard Rock's music theme to the next level, Sound of Your Stay is divided into three concepts. The first is called "Tracks." With tracks, guests will receive a special code which provides them access to a series of great songs that can be downloaded free for their listening pleasure. True audiophiles will appreciate "Wax," in which a guest will be delivered 10 classic vinyls and a Crosley record player in which to enjoy these albums to the fullest. Finally, "Picks" gives guests an opportunity to make music of their own, as a Fender guitar and amp (along with a pair of headphones) can be brought to a guests' room, so they can properly craft the next greatest rock riff of all time. A myriad of Fender models will be available, including Stratocasters, Telecasters, Jaguars, left handed models and more.
ROCK SPA
Hard Rock's music theme continues to the Rock Spa & Salon. It features 31 treatment rooms, a full-service salon for manicures, pedicures and make-up application, barber and hair services, a VIP spa suite and juice bar.
The spa will also offer the Rhythm & Motion massage treatment, which is something you can only get at Hard Rock properties. It features vibrations, pressures and patterns provided by music selections chosen by the guest. During the treatment, bass vibrations will be felt through the massage table and treble beats will come from above, immersing the guest in the 'rhythm and motion' of music.
THE ENTERTAINMENT
Hard Rock's 365 Live program promises to bring live performances to the resort for every day of the year, with a minimum of 50 live performances a week through August. With The Lobby Stage, the Council Oak Lounge, the Hard Rock Cafe, the Boardwalk Stage and the Beach Stage, along with Hard Rock Live at Etess Arena and Sound Waves, there's plenty of room for those performers to rock out in.
Throughout the summer, people like E Street Band drummer Max Weinberg (10 p.m. Friday, June 29 at Hard Rock Cafe) and "American Idol" winner Nick Fradiani (9:30 p.m. Friday, June 29, Council Oak Lounge) will lend their talent to 365 Live, and all shows are free and open to the public.
Each week, the performances will begin at Hard Rock Café with a Sunday Jazz Brunch in the mornings and a Monday Night Blues program at 9 p.m.
"I am incredibly proud of not only the amount of entertainment we are providing, but the quality, as well," said Adam Zengel, vibe manager at Hard Rock Hotel & Casino Atlantic City. "We worked very hard at crafting an experience unlike any other. Being able to come in from the boardwalk and see the level of artists we have playing without purchasing a ticket, shows our commitment to live entertainment."
FOR A LAUGH
Hard Rock will add another room to catch the best live comics in town with Howie Mandel's Comedy Club. The club will be the first Mandel has ever had his name attached to, and he will headline the opening on July 3 and 4. His headlining shows will be filmed for an upcoming TV special.
"It's like a dream come true," Mandel says "I've always wanted my own club. I've always wanted to book myself, and I'm going to book myself. I'm so excited!"
Other big names heading to Howie's club include Jon Lovitz (July 5), Jim Florentine (Aug. 28 to 30) and Jackie "The Jokeman" Martling (Sept. 18 to 20).
ART ROCK
Just to add a touch of sophistication to the whole project, Hard Rock has teamed up with Wentworth Gallery to create a series of art shows that are sure to impress even the toughest rock 'n' roller. These shows are set to feature the visual works of a variety of famous figures including Paul Stanley of KISS, Rick Allen of Def Leppard, Ric Ocasek of The Cars, Michael Cartellone of Lynyrd Skynyrd, Mickey Hart of the Grateful Dead, Brian Wheat of Tesla, Romero Britto, Charles Fazzino, Paul Sorvino and Michael Godard. Some will even perform musically, as well. Famed artist Peter Max will also make a rare live appearance to showcase a collection of some of his most iconic works 5:30 to 7:30 p.m. Saturday, July 7.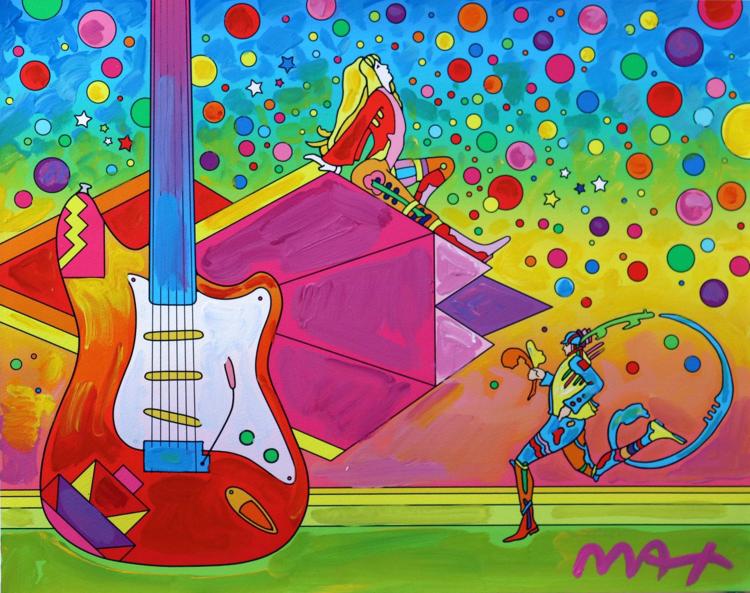 THE SHOPPING
Hard Rock's signature store follows the resort's theme nicely with The Rock Shop — a place offering all varieties of music memorabilia, as well as mementos and replicas of rock icons.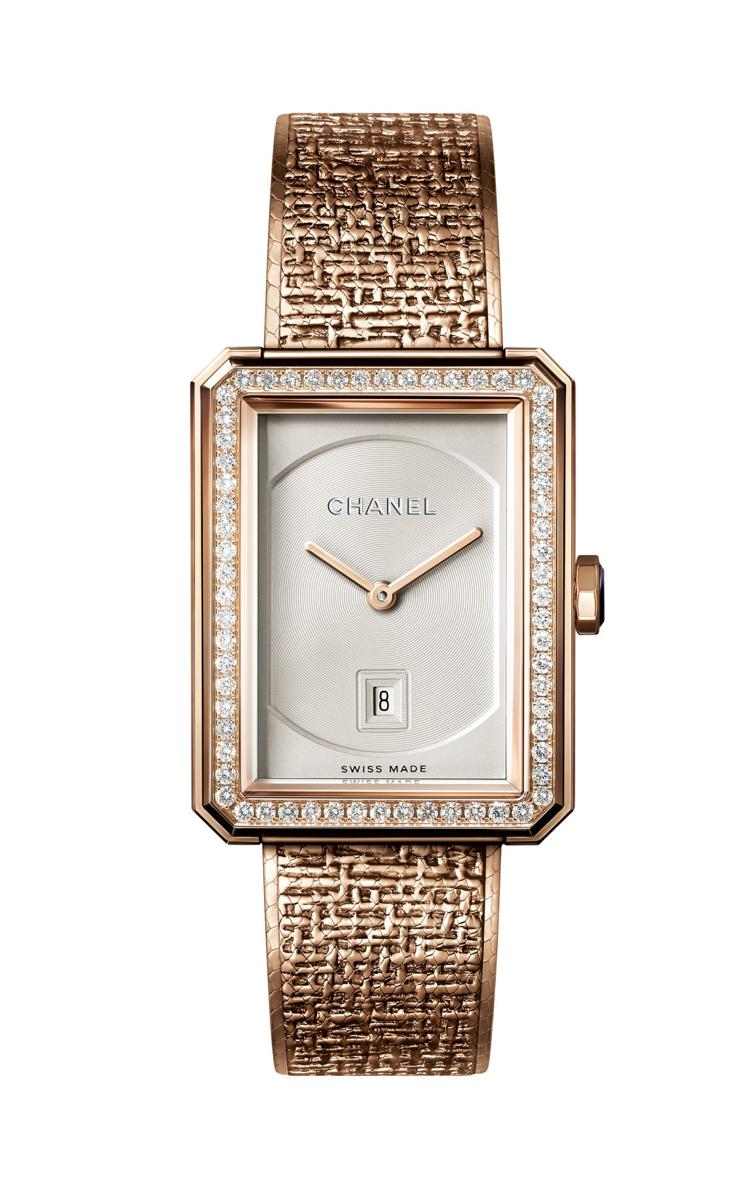 But wait … there's more! NRSH offers everything to pamper yourself, from soaps and salts to fancy beauty products. Those who win big at the slots may want to splurge on a piece of fine jewelry from Bernie Robbins Jewelers. Fashion plates can head to 24K to grab a hot outfit to be seen in and simpler folks who just seek a bit of Atlantic City nostalgia will enjoy a chewy bite from Fralinger's Salt Water Taffy.
Rockin' memorabilia
An exciting aspect of Hard Rock Hotel & Casino is that, with the music memorabilia they'll feature, it will become one of the best music history museums in the country.
Each item will be housed in a custom display, and all employees will be well-versed on the pieces, so as to educate any inquiring minds.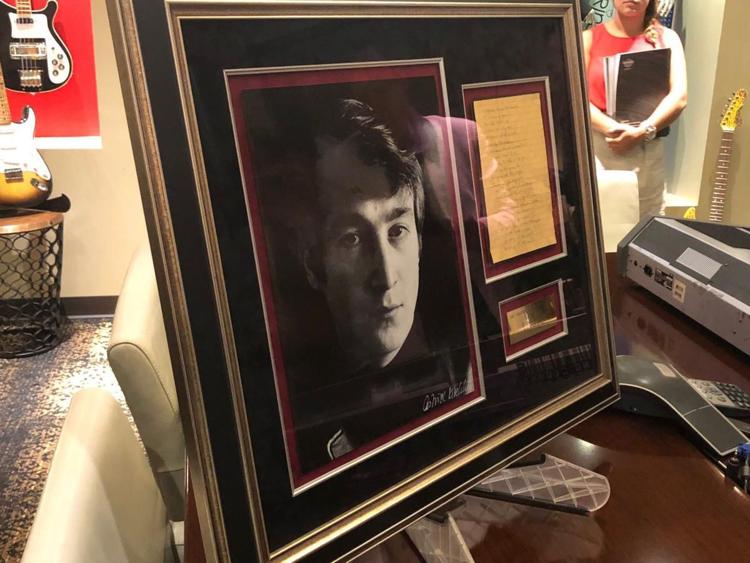 "The level and intensity of the artifacts that are on display are one thing. The quality of the design and the way it's presented — it's going to be mind-blowing," says Jeff Nolan, music and memorabilia historian for Hard Rock.
The list includes:
Michael Jackson's famous beaded glove
John Lennon's handwritten lyrics to "Imagine."
Elvis' Rolls Royce
An outfit Bruce Springsteen wore on the "Born in the USA" tour
Prince's costume from his Lovesexy tour
A dress Carrie Underwood wore to the Country Music Awards
An address book owned by Jimi Hendrix, as well as his notable flower jacket
A metallic rose gold, Topshop crop top and mini skirt of Beyonce's
OCEAN RESORTS CASINO ATLANTIC CITY
THE RESTAURANTS
Much like Hard Rock, Ocean Resort will offer guests a combination of brand new dining experiences, as well as a few returning favorites from the days of Revel.
Amada: Easily one of the most beloved restaurants from the Revel period, Amada is one of two Jose Garces restaurants on property. Serving Spanish cuisine with a contemporary flair, guests who have dined here before will surely come running back for items such as the lobster paella and the roasted suckling pig. This spot will most likely be packed on a regular basis, as it offers guests both world-class food and striking visuals with its dramatic, sweeping views of the Atlantic Ocean.
Distrito: Garces strikes again, this time with a taco truck concept. Distrito offers lunch, dinner and late-night options that include mahi tacos, house-made guac and el jefe margaritas.
Wahlburgers: Straight outta Boston, Wahlburgers is the concept dreamt up by the Wahlberg brothers — yes, those Wahlbergs, as in Donnie, Mark and their lesser known brother/chef, Paul. This casual eatery specializes in — you guessed it — burgers.
American Cut: Another former Revel hot spot, American Cut is Ocean Resort's high-end steakhouse. Owner Marc Forgione just so happens to be an Iron Chef and his restaurant combines the traditional feel of a classic steakhouse with a cool, modern vibe. American Cut will serve as a great spot to impress your date as you order up their 30 day, dry-aged 40-ounce tomahawk chop for two, or perhaps a giant 2-pound lobster.
Cereal Town: Perhaps the most buzz surrounds this whimsical restaurant. Details are scarce, but we do know they plan to tap into the nostalgia market by serving old-school and international cereals to hungry customers looking to act like kids watching Saturday morning cartoons. This spot may not be open on June 28, but should be ready to go in the coming months.
THE HOTEL ROOMS
One of the assets of Ocean Resort Casino's rooms is that they feature floor-to-ceiling windows that offer unobstructed views of the ocean or city. These rooms prove that dark, dusty casino hotel rooms are a thing of the past. The natural light illuminates a modern design, marked by dark polished wood and a calming color scheme of taupes, tans and browns.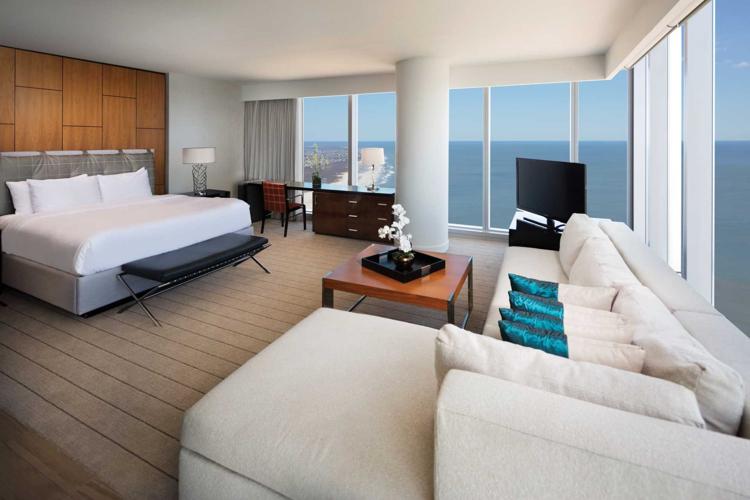 "Contemporary" rooms either include one king-sized bed or two queens, along with a 46-inch flat screen TV, a glass enclosed shower, dual sinks, a down comforter and over-stuffed pillows. "Studio Suites" are larger — a full corner studio with two walls of windows offering ocean views. The suite has all of the amenities of the "Contemporary" rooms, plus plush robes and a large couch. The most luxurious room, however, is the "One Bedroom Suite," which offers guests a separate living and bedroom area, plus a guest powder room. A deep soaking bathtub and rain shower also differentiate this room from the others.
THE ENTERTAINMENT
Though no entertainment schedule has been announced for Ocean Resort Casino, it will reopen Ovation Hall. The venue will feature everything from top headliners to symphonies to comedy acts, with a focus on booking varied performers that appeal to many different tastes.
FOR THOSE ABOUT TO SHOP
Ocean Resort has a plethora of shopping locations, covering just about anything you could imagine.
"With the partnerships we have developed on the retail side, we hope our guests will feel that there is something for everyone, and that we offer all the services they could ever want," says Frank Ruocco, president of Ocean Resort Casino.
Clothing retailers include such spots as Flying Point Surf Shop, celebrity branded fashion from Alicia DiMichele, women's fashions at Renee Boutique, as well as a variety of workout apparel at the boutique at Exhale Spa.
Time After Time will sell and repair watches, while Bergio will specialize in jewelry. Folks looking to really glam up their look can head to Bangz Salon & Blow Dry Bar. CORE stores will offer casino apparel and sundries and are located throughout the property.
EXHALE SPA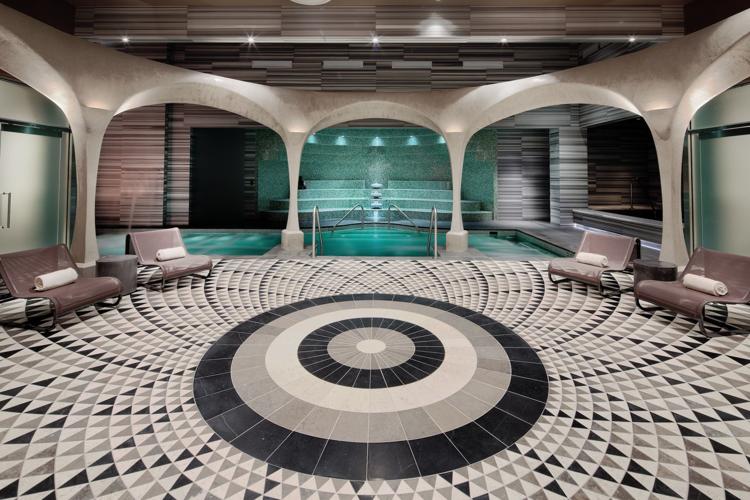 The signature spa at Ocean is Exhale, which returns from its Revel days. It includes a 3,000 square-foot co-ed bathhouse, a healing salt grotto, heated mineral pools, a steam room, lounge, bath house bar and access to fitness and well-being programs, along with a ton of spa treatments.