There was a time when being a rock star meant you had a guitar strapped to you and were belting out hit after hit for a crowd of adoring fans. While that imagery is not entirely erased from pop culture, these days a new kind of rock star has taken over some of the biggest clubs in the nation — and this rock star doesn't bother with a guitar, or any instrument for that matter.
We are talking of course about the modern DJ.
Ryan: Last year I headed out to do a dining review at the Stockton Seaview Hotel & Golf …
Years ago, a DJ was the guy who played records at your cousin's Sweet 16 party, rarely appearing to do more than put the needle down and fade smoothly from one song to another. These days, big name DJs are international celebrities on par with any A-listers you can name, and packing massive clubs from front to back with twentysomethings that all paid to specifically see them. So where did this concept come from?
"When I started there weren't that many international DJ's, it just started organically," says Fadil El Ghoul, a massively popular Dutch DJ who is better known by his stagename, R3hab. R3hab is just one of many big names that regularly make the rounds at Atlantic City clubs such as Borgata's Premier, Ivan Kane's Kiss Kiss at Trop and most recently, the venue where he spun over Memorial Day weekend, Haven Nightclub at Golden Nugget Atlantic City.
"I love Atlantic City. People come to party, and what is really special about it is that they stay in the hotel and they go down and party at the club and they don't have to worry about getting home. They really make it a celebration. It's totally unique," R3hab says.
And he makes a good point, even in club meccas like New York, there is not the same sense of "one-stop shopping" that Atlantic City's casinos provide. And while there have always been dance clubs in A.C., only recently has the town turned into a major destination for club kids.
'Haven' the time of our lives
For those who have never seen it up close, the world of modern-day clubbing is likely a mystery. We had a chance to stop in at Golden Nugget's mega-club Haven to catch a glimpse of the action on a recent Saturday night.
Desending the elevators that lead to the club, the pulsing of the music and the visceral energy of the crowd was obvious immediately. Escorted through the thick mob of humanity by our own personal valet, we made our way to our VIP area, where bottle service awaited — along with a velvet rope and our own personal security guard. The club experience is all about making you feel like a big shot for one night, and at Haven they succeed. Of course this service doesn't come cheap, with bottles running an average of around $300 each, it would be easy to drop some serious cash in this environment.
Of course, those type of worries don't seem relevant to anyone here, as the mob on the dancefloor is twisting with enthusiasm, each gyrating figure having the time of their lives while sirens and confetti cannons blast left and right for seemingly no reason. The crowd is eating it all up, to say the least. Everyone here is absolutely bursting with the type of shameless elation generally reserved for Olympic champions, first-time parents or those who just won a particularly snazzy showcase showdown on The Price Is Right.
Spinning that night was DJ Whoo Kid, a Queens, New York, native who has more than 20 years under his belt behind the turntables. His DJ booth packed to the edges with bodies, it was difficult to tell who actually served a purpose there and who was just throwing their hands in the air (and waving them like they just didn't care).
Whoo Kid's command of the crowd was impressive to say the least. Like any great frontman or rock star, the room was his. Perhaps most surprising about his set was how much rock music was featured. Traditionally speaking, club music is either hip-hop or dance oriented, but tracks from artists like AC/DC, Journey and Guns 'n Roses all managed to squeak their way onto the setlist, and the crowd loved every minute of it. By the time we departed it was after 3 a.m., but we seemed to be the only ones thinking about getting any type of rest.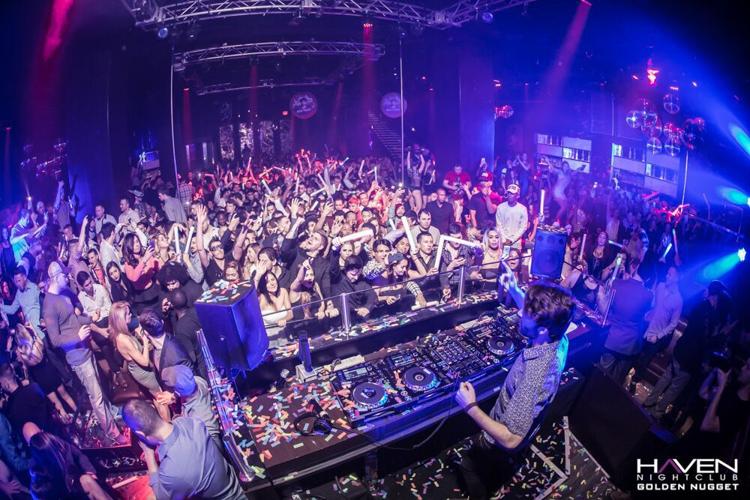 Local boy done good
Of course its not all just about international DJs. The list of local names packing the dance clubs week after week in A.C. and beyond is long. Jason Ewell is one of these names, an Atlantic City native who performs under the name DJ Jason E and has commanded the decks at casinos and clubs from here to Vegas and back. Ewell paid his dues early, starting his career back in the late 1990s in clubs such as the now defunct Déjà vu.
"I have had the pleasure in performing in most of the major cities across the U.S.A. for the course of my career. It has been one wild ride to say the least," says Ewell in between a 17-hour marathon day of DJing. So how does a DJ like Ewell manage to become so popular across the country?
"For me, it was a matter of constant networking. I lived, ate, breathed and slept marketing myself. And at the time I didn't have the benefits of social media. I constantly traveled and gave my mixes to anyone who would listen. I made sure to frequent nightlife and daylife hotspots and most importantly, linked myself with veteran DJs who were willing to take me under their wing. Then of course came paying dues. Which means playing gigs wherever and anywhere that you can to get yourself heard. And no matter how small of a gig as it may seem, you go in and give it your all like you're playing to thousands of people. If you stick to that formula, eventually you will get your moment to shine. Once I landed my first major gig in 2000 (after two years of paying my dues) it just kind of took off from there."
It's evolution baby
DJing may seem like an easy and glamorous job — especially with the advent of modern technology — Ewell is quick to point out that all DJs are not created equally.
More strategy goes into the planning of what culinary indulgences should be prepared for the…
"On one hand we as DJs are able to come to any event with our entire catalog at the touch of a button. There are things digitally that we can do now that could never be replicated in the human element. This enables us to take our creativity and our performances to levels not possible before. On the other hand, now just about anyone who wants to copy someone's hard drive, purchase software, and use pre-mixed music or cheat using a sync button can decide to "become a DJ". This has caused an over saturation of people claiming to be DJs, diluting the industry and, in some cases, discrediting a craft that so many of us veterans worked many years and paid many dues to master. Back in the day there was no way to cheat or fake it. You had to do your research, buy each record, lug them to each gig, and all we had was two turntables and a mixer. What you heard was 100 percent the DJ."
The masters of their domain
And while clearly skill behind the turntables plays into it, ultimately what makes a DJ great?
"What makes a great DJ is when a DJ will put their audience first above and beyond their own musical tastes, Ewell says. "I love a DJ that gives it their all and leaves it all on the dance floor. Genre diversity, formatting, and timing are key. I love a DJ that can captivate an audience and take them on a musical journey."
And remember the DJ who we referenced earlier? You know the one spinning records at your cousin's Sweet 16? According to Ewell those dudes are the real deal.
"Nightlife DJ's either have their routine performance or center their music selection based on what that club or trends dictate. However private event DJ's — commonly unfairly mistaken for being the lesser of the two types of DJ's — have to be way more dynamic. Their knowledge of music has to be exponentially more diverse and expansive. In most cases they have to be the host and emcee on top of that. A private event DJ has to understand how to effectively manage the event so that all working parts flow smoothly. Don't let anyone fool you, private event DJ's are the real deal."
Jesse McCartney makes his triumphant return to The Pool
The Pool regular Jesse McCartney returned to the Harrah's nightclub on Saturday after a long break from the boards.