Janet Jackson has been in the spotlight since she was a little girl. Her famous older brothers, most notably Michael, were already a musical force to be reckoned with, performing hit after hit as the Jackson 5 by the time she was a toddler.
It was television, however, not music, that first called her name, casting her as Penny on "Good Times," then Charlene on "Diff'rent Strokes."
But by the time she was 16, she was ready to break out into the music world.
Eleven albums, five Grammys and other innumerable accolades later, Janet — or Ms. Jackson, if you're nasty — has circled the world multiple times over. However her last tour, "Unbreakable," which was to include a stop in Atlantic City, was cancelled so that she and her then-husband Wissam Al Mana could concentrate on starting a family.
Today, minus one spouse, but plus one infant (Eissa born in January), the now-51-year-old is back on track and making good on her promise to return to A.C., this time on her "State of the World" tour, which hits Boardwalk Hall 8 p.m. Friday, Nov. 10.
Known for her six-pack abs, military-inspired style (albeit with the occasional wardrobe malfunction — more on that later), as well as scores of hit songs, even Jackson herself doesn't wake up in the morning as "Janet Jackson."
It takes a team of dedicated staff to help achieve perfection in all aspects of pop idolatry.
Our own team of dedicated staff here at Atlantic City Weekly wanted to discover just what it takes to "make" Janet Jackson. To do so, we spoke with Jackson's personal trainer Paulette Sybliss, her musical director Daniel Jones and her stylist Robért Behar.
Here's how Janet becomes Ms. Jackson:
Cardi-'no' with personal trainer Paulette Sybliss
Two months after giving birth in January, Janet Jackson decided to revive her touring schedule. "State of the World" was to commence in September with rehearsals beginning in July.
Paulette Sybliss, 43, a former sprinter and bodybuilder, was enlisted by Jackson's people to assist in not merely helping her lose the baby weight (50 pounds), but to physically prepare her for the incredible amount of energy and endurance needed to sing and dance night after night, month after month.
If you survived last week, you should be in good shape. Why? Well, we are now five weeks in …
"My goal was not to get her just athletically great or just getting her to look great, but fit for a tour.
"Women … struggle with baby weight (and) she had reservations ... But they went out the window quickly," Sybliss says. "I was confident in what I could do and she had faith in me."
But with only six weeks until rehearsals started, time was not on their side, so Sybliss needed to ensure that the training sessions were "intense."
"We had to hit the ground running."
In order to achieve fast results, Sybliss put Jackson on a weight-training program and "no conventional cardio," which she says surprises people when they hear that.
"There was no taking it easy. But she's such a professional. She did weights … three or four compound exercises back-to-back for 45 minutes five times a week to gain lean muscle. With compound exercises, you hit more muscle groups and it's a quicker fat burn," Sybliss explains. "With steady cardio, you burn calories, but you're not isolating muscles. And your body stops burning calories when you're done. When working multiple muscles, the body still burns calories — people don't realize that even when you're repairing the body (not working out), it's still burning calories."
Another key component to getting in shape is diet, which, according to Sybliss, is much more than skipping those French fries or that slice of pizza.
"You can't starve the body. That's a mistake people make. You must eat regularly — you need energy," she says. "If you're running on empty, you can't workout as much. Exercise is important, but good nutrition is really key."
For Jackson, Sybliss increased her protein intake, balancing that with carbs and healthy fats.
Today Sybliss keeps Jackson on a maintenance program to keep her fit and energized for the remainder of her tour. And while she still keeps a tight fist around Jackson's diet and exercise routine, she's a bit more lenient these days.
This season is about a lot of things — family ... traditions ... food. But let's not kid our…
"If she wanted to eat a slice of pizza now, she can," she laughs.
Building the Rhythm Nation: Musical Director Daniel Jones keeps the band in 'control'
While it may seem that much of pop music these days relies heavily on pre-recorded backing tracks and DJs to do most of the heavy lifting, a Janet Jackson concert is a bit more complex than just pressing the play button. Jackson's band is the real deal and it's packed with some of the top session players in the industry.
The man whose job it is to make sure everything falls into place (musically speaking) is Daniel Jones. Jones serves as the musical director for the tour, and without him, things on stage might just lack a certain amount of "control."
"I just help paint her pictures musically," Jones says. "We get the arrangements together, the setlists, the soloists — and if there are any changes to the show that she (Jackson) would like to implement, it's my job to make sure it happens."
While serving as musical director for any artist as well known as Jackson is bound to be a difficult, high-pressure job, what makes Jones' work extra tricky is that a Janet Jackson show contains so much choreography. Precise dance moves need to be precisely in sync with the music. That means there's not a lot of room for error when it comes to playing the songs.
"You don't want to trip up anybody!" laughs Jones. "Luckily Janet is so attentive to everything that there are no changes that go unknown, and I double check everything too. So if an idea for a change comes up, first thing I do is rehearse it with the band, get it tight, give a recording to her and then we all go into it together. So we make sure we are all tight enough and well rehearsed enough to not leave too much room for error."
And while some divas have little to no involvement in the musical aspects of their show, such is not the case with Jackson.
"She has all the input!" Jones says.
"If I have an idea of a change I want to make to one of the arrangements, I'll give her a couple of options and she will say 'ok, I like that one' and we will work on it. She is always concerned with the dancers too, so she makes sure it feels good for them and makes sure it works with the lighting and everything else. The crazy thing about Janet is that she has so much stuff going on in her day, but when she gets on that stage she knows EVERYBODY'S part so she is going to know when you are messing up!"
The 'future' of Jackson's wardrobe
Wardrobe stylist Robért Behar can't even begin to compare Janet Jackson with other artists.
"She's Janet," he says simply, evoking images of skin-tight leather and pointed shoulder pads. "She's a legend. She's an icon. She's an incredible human being. Incredibly generous, disciplined and kind, so it's just a different process. So I wouldn't even start to compare her to other people."
Behar studied fashion in Paris before becoming Jackson's personal fashion genie, transforming the wardrobe ideas she dreams up into actual fabric and thread. So it's no surprise that Behar and his muse work collaboratively when it comes to putting together looks for her tour.
"Janet is always very involved in the process, in every angle of the show," he says. "She's completely devoted to her performance. When we do fittings of the dancers, she's there. She looks at every single look and says 'I think this should be shorter,' or 'the makeup should be like this.'"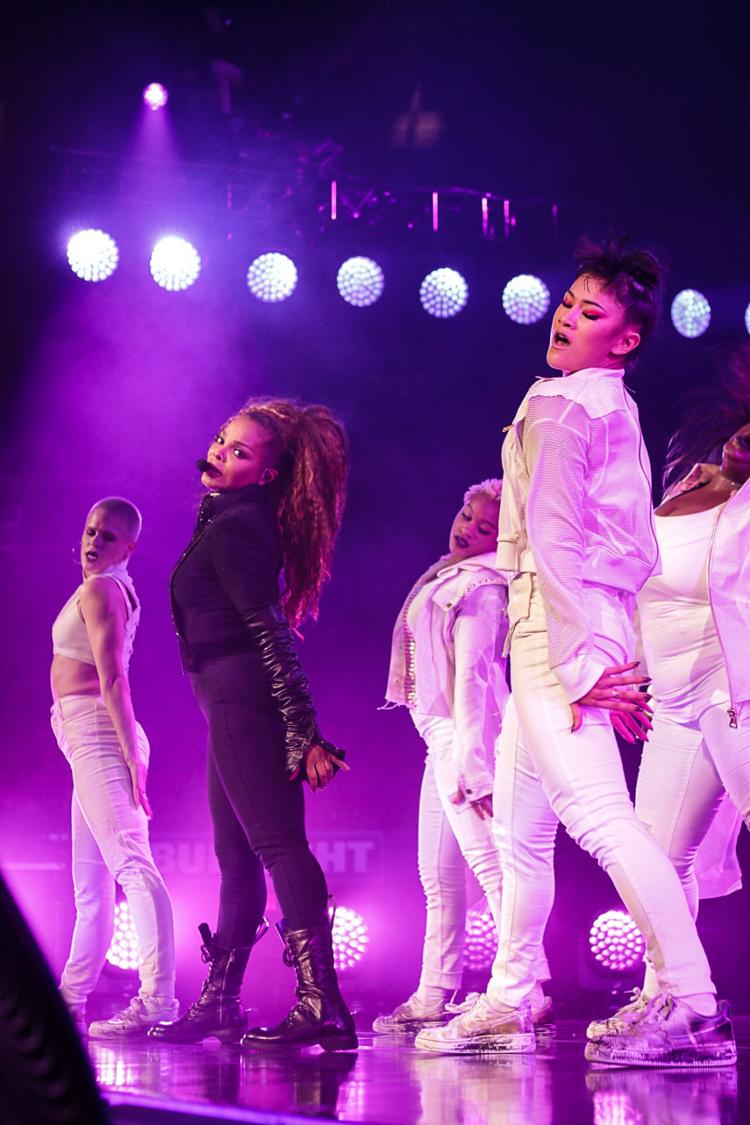 When the electric duo of Behar and Jackson start to design for a tour, they consider the different phases of the show, piecing together outfits that work with the mood at any particular moment on stage.
"Everything about the tour comes out of the brilliant mind of Janet, so she'll start talking to me about it two to three months prior (to the tour) ... It's more about flair than it is designing song by song. We don't do a costume change on every song," he says of the process. "She always has a futuristic aspect (in her tours). So, what we wanted to do this time was more of an urban flair than a high-fashion futuristic look."
As Behar says, the "State of the World" tour fittingly brings Jackson's look back down to earth, while still giving a nod to that signature galactic look she's cultivated for years.
"(The looks are) totally different. The costumes are more approachable," Behar explains. "We've always had a very extreme look in the costumes, very fashion forward, very imaginative and creative and different. And now it's just more of a street-wear feel. There's still a touch of the futuristic, though."
The opening outfit is Behar's favorite. He promises something "fly and modern," with Jackson touting a cane, coat and half gloves. The total effect, wardrobe and all, is something of a miracle, says Behar.
"It's one of the most electrifying shows I've ever seen," he gushes. "It's absolutely amazing — not to miss."
We'd expect nothing less. After all, he says, "she's Janet."
Janet Jackson at the Super Bowl: will she or won't she?
Justin Timberlake is officially the headlining performer at the Super Bowl LII halftime show, confirming months of rumors that the superstar would once again take the stage. However, even now, few mention the words "halftime" and "Timberlake" without tacking on "Janet" in the same breath.
While Timberlake has been making headlines with his return to the Super Bowl, a big part of the current story is what happened in the past — 13 years ago at the Super Bowl XXXVIII halftime show when he ripped off part of Jackson's costume, revealing her bare breast and a sun-shaped nipple ring. It was the "wardrobe malfunction" heard — and seen — around the world.
The Federal Communications Commission slapped Jackson with a $550,000 fine that was never upheld, as the court ruled it wrongful. Hundreds of thousands of people complained about the brief moment of partial nudity. Viacom, which produced the show and was blamed for the moment, banned airing Jackson's music videos on its networks and her songs on its radio stations. And this is just the tip of the backlash iceberg. Meanwhile, Timberlake got off, essentially, scot-free, as evidenced by the fact that he will return to perform in 2018.
So, it's not surprising that when we asked about Jackson making a return to the Super Bowl as a featured guest of Timberlake's that we got a hard "no comment." But is it really that much of a stretch to imagine? Surprise guests have been a huge part of Super Bowl halftime shows of late, with Destiny's Child thrilling at Beyonce's performance, Lenny Kravitz and Missy Elliot joining Katy Perry two years ago, and Beyonce and Bruno Mars arguably outshining the main headliner Coldplay at the 2017 Bowl.
It makes total sense that Jackson would make an appearance at Timberlake's performance, given that society and what's allowed on television has loosened up significantly since 2004. And it just so happens that Jackson is back at it, with her tour coming to a close a few months before Timberlake's Super Bowl performance. Perhaps its fate, or maybe just an instance of very good timing, but we would certainly cheer on Ms. Jackson if she happened to stop by.
Jeff Timmons of 98 Degrees heats up The Pool After Dark
Former member of 98 Degrees Jeff Timmons, along with "The Men of Strip," performed at The Pool After on Friday.