Anticipation continues to build for the opening of the new Hard Rock Hotel & Casino Atlantic City. Today, Wednesday, April 18, a three-city simultaneous press conference was held at 11 a.m. to announce the first upcoming concerts to be featured at the resort.
The press conferences took place at Hard Rock Café locations in New York and Philadelphia, as well as at the Hard Rock Hotel & Casino's preview center at the Tanger Outlets in Atlantic City.
The grand opening date of Hard Rock Hotel & Casino has been set for June 28, 2018, and the following acts are slated to perform throughout the year:
Steve Byrne: June 26, 27, 28
28 Motor City Live - A Motown Tribute: July 1, 8, 5, 22, 29; Aug. 5, 12, 19, 26; Sept. 2, 9, 16
Howie Mandel: July 3, 4
Third Eye Blind: July 5
Jon Lovitz: July 5
Kellie Pickler: July 6
The Dan Band: July 7
DougT Hypnosis Show: July 10 and 11
Ted Nugent: July 12
Florida Georgia Line: July 13 and 14
Gin Blossoms: July 21
Chris Young: July 21
Pat Benatar, Neil Geraldo and Rick Springfield: July 26
Rascal Flatts: July 26
A Thousand Horses: July 27
Frankie Valli: July 27 and 28
Greg Hahn: July 31, Aug. 1, 2
Bush, Stone Temple Pilots, The Cult: Aug. 1
Tickets for these shows will go on sale 10 a.m. Friday, April 20, at Ticketmaster.com. These acts, which normally play arenas and massive beach concerts, will be performing in a 7,000-seat arena at Hard Rock.
"If you have a destination that is still an attraction during the harder times attracting 26 million people on an annual basis, there is a lot of opportunity for all of us," Jim Allen, chairman of Hard Rock said at the press conference.
He emphasized how Hard Rock is not a gaming brand, but an entertainment brand, detailing that no one has ever announced 60 acts at the same time. According to Allen, Hard Rock Hotel & Casino Atlantic City has 300 acts booked, which is 100 more than promised.
A property overview was detailed at the conference indicating:
The Hotel will offer 2,000 guest rooms and suites that feature views of the ocean, Boardwalk and Steel Pier
Over 20 signature restaurants and bars
Hard Rock Live at Etess Arena featuring world class entertainment with seating capacity for 7,000
The Theater with seating capacity of 1,500/2,100 standing
The casino will have:
120,000-square foot casino floor
2,100 slots
120 table games
Aesthetically, the team at the Hard Rock gutted the former Trump Taj Mahal, adding the massive, iconic Hard Rock Guitar, a bronze facade that has own light show and more.
The Hard Rock Hotel & Casino will also feature the Howie Mandel Comedy Club, adding another venue to the growing comedy scene in Atlantic City. With Mendel at the helm, it's bound to attract some big names.
Promises were made to book more big name acts, specifically Jersey-natives.
A unique feature of the Hard Rock is its booking of Broadway tours, with "Million Dollar Quartet," "Rock of Ages" and "Kinky Boots" on the horizon. Formerly theater fans had to go to Philadelphia for the nearest Broadway tour productions. Hard Rock hopes to change that with its upcoming tour dates.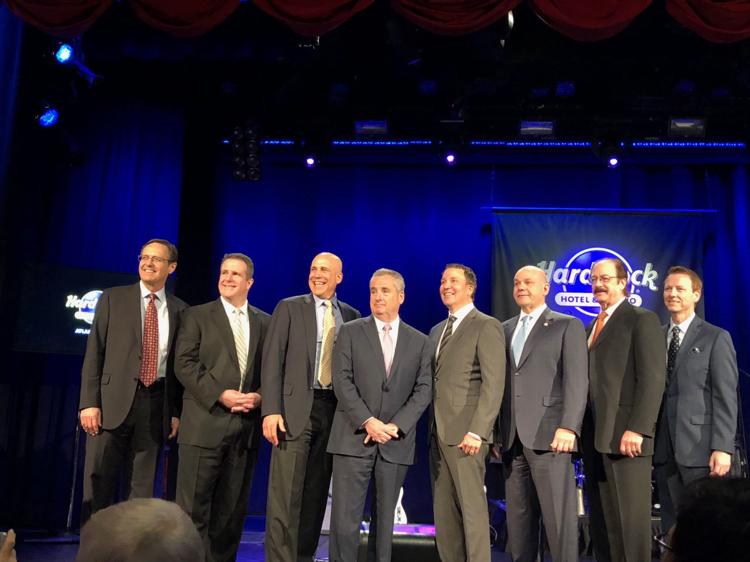 Though the restaurant scene at Hard Rock has not been announced yet, representatives at the press conference claimed their dining locations have been given a huge budget and will "set a new standard in Atlantic City." They also claimed that a new beach bar will be opening this summer at the property.
The surrounding A.C. area was also touched on, when a question arose of how the Hard Rock will be working to change the somewhat negative reputation Atlantic City has. Reps assured that they have spoken to industry leaders, city leaders, and representatives from the county and Trenton, urging them to "come together."
"We have one last shot," they said, "This is it."
They went on to say that they're dedicated to installing neighborhood ambassadors, redoing roads and creating other community boosting programs that will elevate the city as a whole.
When asked how the Hard Rock will avoid the pitfalls that shuttered former casinos like the Revel, Allen focused on the eclectic mix of entertainment and thriving restaurant scene Hard Rock promises.
The conference ended with Allen thanking the company's employees and saying he's "looking forward to June 28."
Go to HardRockHotelAtlanticCity.com more information.