Don't let the curly hair and hipster glasses fool you. DJ Jason Smith, a self-starter in the music world with more than 20 years experience, is bringing his timeless tracks with new-age spins to mur.mur nightclub at Borgata Casino Hotel & Spa 11 p.m. Sunday, Feb. 28.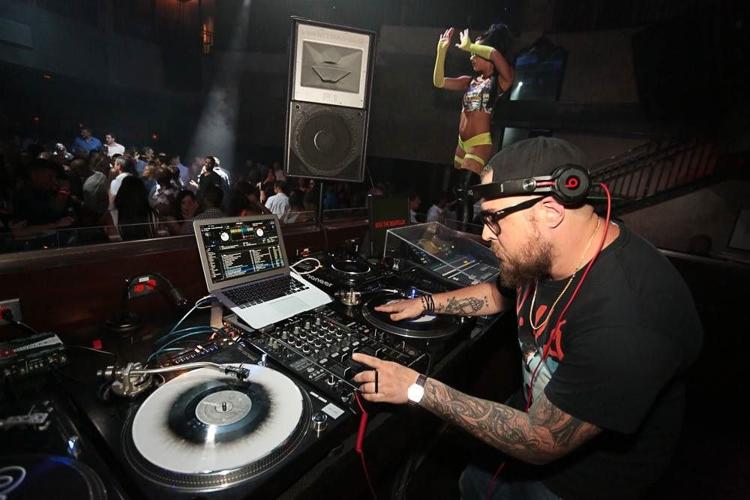 "I've dedicated my life to DJing and have been fortunate enough to survive," Smith says.
With only one turntable, a mixer and tape recorder to start out, Smith was resourceful in saving money for his equipment since he was 14 years old. Attending teen dance clubs and seeing the DJs help people have a good time made him realize what he wanted to do in life.
"I want to entertain," he says, noting that in the days of analog and vinyl, DJing wasn't as convenient as it is today.
"You'd have to spend the entire night before preparing each song because that's all you had (tape recordings and vinyl records)," Smith recalls. "With digital, it's all portable and basically unlimited."
Over time, Smith's skills have developed in more ways than just technical.
"You learn to read a room," he says. "Anyone can DJ with the right equipment and technology, but not everyone has the ability to gauge the crowd. If one song isn't working, I'll throw in a different one to change things up. The No. 1 goal is to keep the energy up no matter what."
Growing up in the small town of Binghamton, N.Y., there weren't many big-name DJs around. From listening to the mix tapes of DJ Spinna, DJ Scribble and DJ Ron G, these different influences helped Smith shape his own unique style — a style considered open format that allows him to expand his repertoire, as new music comes onto the nightclub scene.
"As the times change, you have to be able to adapt or else you fall by the wayside," Smith says.
Smith also feels strongly about helping others who are just breaking into the industry, and wants to do what he can to help perpetuate the craft of the true nightclub DJ.
"In order for my work to be strong and relevant, I've got to pass on my knowledge to the next generation," he says, stressing that his main goal behind imparting wisdom through experience is to help keep the industry thriving.
"Don't do it to get something in return," he says. "Do it for the love of the art form."
The biggest highlights in Smith's DJ career thus far was performing at inaugural parties for President Barack Obama shortly after he was first elected, and rocking the MVP Youth Ball with Kanye West, Kid Rock and Fall Out Boy at the Washington Hilton Hotel. Internationally, he's been on every continent except Antarctica. Global locations that have been crossed off his performance list include Dubai, Panama, Australia, Cape Town and London.
While Smith's performed all around the world, he's certainly no stranger to Atlantic City. He's had a residency at Providence Nightclub at Tropicana Casino and Resort for the past seven years, and was recently offered an opportunity to take his talents to Borgata, where he will project his enthusiasm and good vibes on Sunday at mur.mur.
"I know I can't please everyone, but I give it everything I've got to make sure people are enjoying themselves," he says. "Going out (to a nightclub) is a time to let go and forget about your worries."
DJ JASON SMITH
WHEN: 11 p.m. Sunday, Feb. 28
WHERE: mur.mur nightclub at Borgata Hotel Casino & Spa, 1 Borgata Way, Atlantic City.
HOW MUCH: Free admission before midnight
Go to TheBorgata.com/Nightlife for info. Cover charges after midnight vary.
MORE INFO: Go to IAmJasonSmith.com or TheBorgata.com, or call 609-371-1000.