Are you ready for the one of the most fun, entertaining — and charitable — evenings of the year?
If so, the Hard Rock Hotel & Casino Atlantic City will be the place to be on Nov. 3, when Dancing Under the Atlantic City Stars, presented by Tito's Handmade Vodka and a joint venture between The Press of Atlantic City/Atlantic City Weekly and The Community FoodBank of New Jersey, Southern Branch, will be the biggest single-day fundraiser for the amazing charity that feeds tens of thousands of people every year.
Get ready to cha-cha yourself over to the Hard Rock as Dancing Under the Atlantic City Stars combines the spirit of everyone's favorite dancing reality series with 12 local celebrities/personalities who are partnered up with professional dancers from the community to make it one of the most lavish, fun, exciting and entertaining nights out.
Guests will enjoy an open bar, over-the-top food and an unforgettable night of entertainment as the dancers waltz, tango, rumba, salsa, mambo, quickstep, jive, swing, boogie-woogie — or maybe even polka — their way to earning big bucks for the FoodBank. Couples will be voted on by you and a panel of celebrity judges to become the Ultimate Dancing Under the Atlantic City Stars 2018 Champion.
Mix, mingle and have fun with the who's who of the Atlantic City area, all while helping feed the less fortunate and enjoying an event that is sure to become an annual community staple.
Tables are available, call for pricing. You can also begin helping your favorite dancer now by donating directly to their own fundraising page.
For more info, go to DancingUnderTheAtlanticCityStars.org.
Here is couple No. 3
Brian Jackson, Chief Operating Officer of the Atlantic City Campus of Stockton University
After receiving his BS and MBA from Southern New Hampshire University, and a 2007 Leadership New Jersey Fellowship, Brian Jackson served as the Chief of Staff to the President and Assistant Secretary to the Stockton Board of Trustees for 18 years. Along with his husband Michael Olivieri-Baker, Jackson also owned and operated It's A Doggie Dog World, an upscale pet boutique, from 2008 to 2014. An active and passionate volunteer, Jackson serves on several community boards and has received multiple citations and awards for his community involvement. "I've lost many nights of sleep thinking about this dance competition, because I want to perform well for my family and for Stockton, while also helping to raise money in support of the Community FoodBank," he says.
Carol Maccri-Gossamer, Professional singer and dancer
Carol Maccri-Gossamer began her professional singing and dancing career with Merv Griffin at Resorts Casino over 25 years ago. A veteran performer with "Legends in Concert," Carol's many career highlights include performing for Royal Caribbean, Celebrity, Princess, Norwegian and Disney Cruise Lines; choreographing and performing throughout Europe with the USO International Show; choreographing the Miss New Jersey Pageant; playing the role of Ann-Margret in the international touring show of "Elvis Lives;" and acting as a lead judge for Starpower, Nexstar, and Revolution National Talent Competitions. Carol and her husband Peter perform their magic illusion show "Gossamer Magic" throughout the world. She also works with the Bonnie Blue Foundation coaching young women involved in the Miss America Organization. She is very excited to be a part of this charity event helping to feed our community.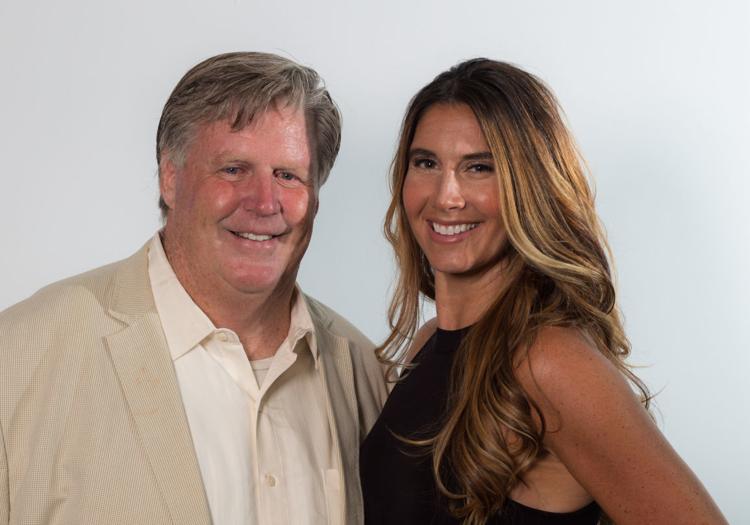 William McMenamin, Caring Adult Health Care Services
Currently with Caring Adult Health Care Services, in 2012 Bill McMenamin retired as Captain of Police after 30 years with the Atlantic City Police Department and a subsequent career consulting in the casino industry. Bill is committed to serving his community, both in his role as Vice President of Atlantic County Charities as well as an advocate for the Atlantic City Police Foundation. Married to Gayle for 23 years, they have two children, William III (20) and Bridget (18), Bill is pleased to be in the position to assist the Community FoodBank of New Jersey. When he was initially asked to dance in "Dancing Under the Stars," Bill thought it was a joke. Once he realized it wasn't, he agreed and is "all in," especially knowing it's for such a great charitable organization.
Sarah Jane Acampora, Professional dancer
Growing up in a family of dancers, it seems only right that Sarah Jane Acampora has been dancing since she could walk. She has been teaching and choreographing at Leslie's Dance Studio in Margate for the past 10 years and is currently performing in "Motor City Live," a Motown tribute at Hard Rock Hotel & Casino Atlantic City. She's always willing to donate her time to local charities and events through dance and is happy to add another one to her list through her support of the Community FoodBank of New Jersey-Southern Branch. She can't wait to hit the dance floor with one of her students' fathers, an ACPD celebrity, retired Captain Bill McMenamin.
Anthony Anderson hosted a special night at The Pool After Dark
Actor, comedian, writer, game show host and Star ABC-TV Sitcom "Black-ish" Anthony Anderson hosted a special at The Pool After Dark in Harrah's Atlantic City, NJ on Saturday OCTOBER 6, 2018.
Photo: Tom Briglia/PhotoGraphics