The Boardwalk has always been a place for fun. Spinning wheels, frog bogs, clown-mouth-balloon-water gun-filler-ups and countless other games of chance have been staples for as long as anyone can remember. In the 1980s, arcade culture made a trip to the boardwalk even more exciting, with a seemingly endless arsenal of video games such as Donkey Kong, Pac-Man and Galaga all lined up in rows tempting teens to drop in their hard earned pocket change.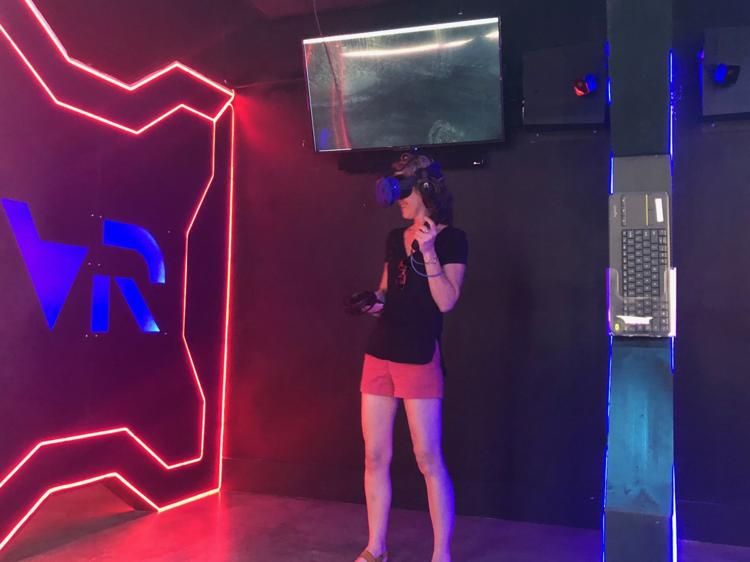 But today, on the Ocean City Boardwalk, a new kind of game is turning more than a few heads. Liberty Virtual Reality takes the fun of a classic video game and launches it into a fully immersive experience in which one feels like they are inside the world in which the game takes place. Players can duck, dive and shoot their way through a 30-minute session in one of their 13 virtual reality stations, a stand- up scare in which full movement is possible. In addition to the VR stations, there are 9D Cinema rides — seated adventures and experiences that provide a sense of actual motion to further enhance the authenticity of the whole thing.
Manager Jonathan DiMarcangelo says that since opening the Glassboro-based Liberty Virtual Reality on the Boardwalk over Memorial Day, business has been "going well."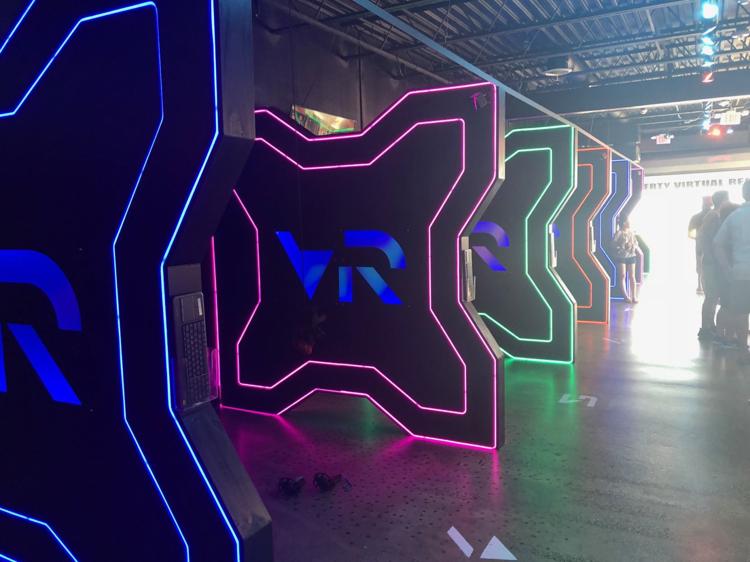 "Our original location (in Glassboro) was doing well, so we thought, why not open here?" DiMarcangelo says.
Technically, Liberty already had a location in Ocean City — two, in fact. They also own Liberty Escape Rooms at 768 Boardwalk and 1078 Boardwalk, the latter of which is next to their virtual reality building.
So what is it like to actually experience this new technology? A.C. Weekly Editor Pamela Dollak, along with Associate Editors Ryan Loughlin and Rebecca King headed to the boards in O.C. to find out.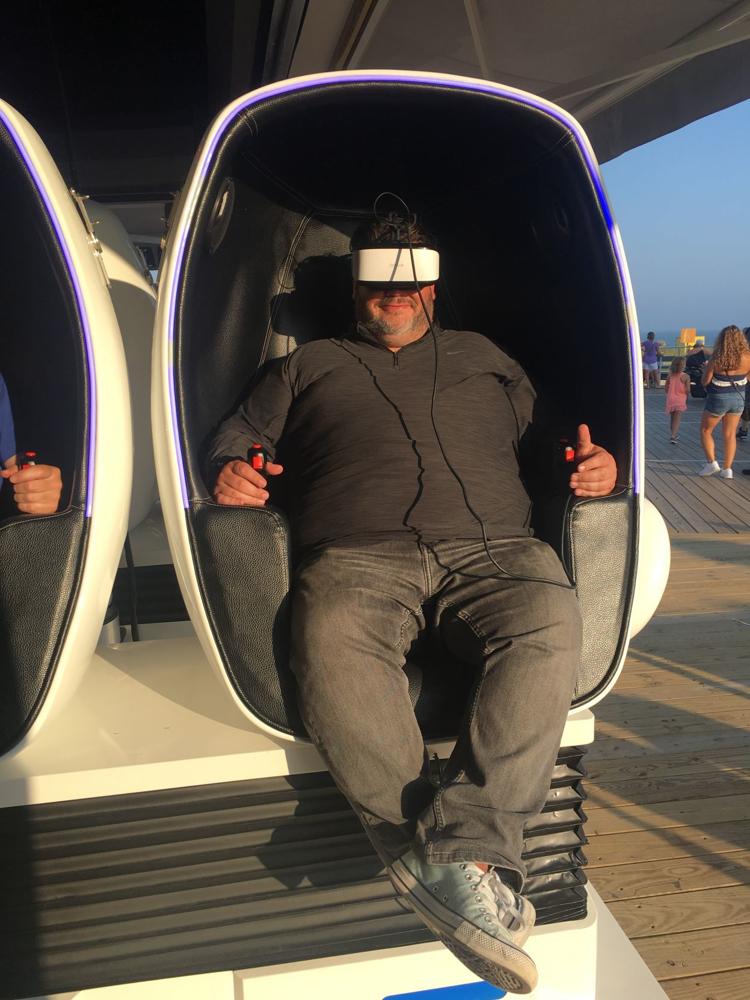 Rebecca: I love the idea of an accessible spot to experience virtual reality. Normally, VR is something that only a select few can experience, as you either need to purchase an expensive home system or go to a theme park or gaming store that has it. My only prior experience with VR was with Disney World rides, like the Flight of Passage in Animal Kingdom.
At Liberty Virtual Reality, I tried two of the 9D Cinema rides. The first took me on a cartoonish ride on a "dragon" through a magical land, and the second was a romp through the Jurassic period, complete with all the requisite T-Rex chases. Both were super fun and really made you feel like you were moving. I'd leave these for the kids, though, as I did feel a bit woozy afterwards. The games at the VR booth are a different story; I didn't feel sick at all. I played Elven Assassin, which had me shooting Orcs that were attempting to invade my town with a bow and arrow. It's crazy fun, and I probably could have stood there for another hour shooting these fake Orcs with my invisible bow and arrow. Better yet, the VR booths have tables that parents can sit and eat, relax and beat the heat while their kids try the VR. In all, Liberty Virtual Reality is a great, unconventional, addition to the boardwalk.
Ryan: I was a bit apprehensive about all of this because I'm not much of a video game guy, but the concept of a virtual hot air balloon ride experience — which was the teaser to get me here — intrigued me, so I agreed to go along. Immediately upon arrival we were informed that the hot air balloon attraction was not running. We were not off to a great start.
I opted to try one of the 9D Cinema rides. I foolishly took the advice of the manager and went with the Pendulum — an immersive experience that recreates what it would be like to swing from a giant pendulum at a high speed while overlooking a cityscape. After about four minutes my stomach and head were both displeased with me, putting an abrupt and immediate end to my virtual reality adventures for the day.
Pamela: Our original assignment was to ride the hot air balloon adventure, but it was closed due a problem with the hydraulics system. (It is operational now.) But what we did experience was still incredibly cool. I started with the 9D cinema ride called "Wonders of the World." I sat in an egg-shaped chair while wearing goggles and took a virtual roller coaster ride past the Statue of Liberty, over the Grand Canyon, down the Sunset Strip, into the mouth of the Sphinx and multiple other international points of interest. Please know that I can go on any loop-de-loop roller coaster over and over again and feel fine. But this? When I'm seated about three feet off the ground in a chair that barely moved? This made me squeamish. Not that it wasn't fun. I'd just recommend not eating prior to your ride.
Next I tried out "VR," as the cool kids call it. Once again I was provided with a goggled headset, but I got to stand this time. My game was called "Affected: The Manor," and it was a walk through a haunted house. I have a love-hate relationship with haunted houses. I love them. But I hate being scared. I will say that there wasn't too much scary stuff going on during my game. Perhaps I didn't stay with it long enough. The headset was starting to give me a headache.
But Rebecca's game "Elven Assasins" looked like fun, and my boyfriend, who played "SuperHot," a Matrix-inspired romp, enjoyed his.
I was really excited to have the chance to try these out, as I still feel like a kid at heart. However, I think that these games are best suited for actual children, who no doubt will have a ball.