Dear fellow eaters,
Welcome to our new column. We're fat, we eat lunch together on a regular basis, and when it comes to dining, we know our stuff. If you are looking for prestigious credentials (or wondering how we spend our summers), let it be known that we are both high-ranking members of the incredibly exclusive and highly secretive Fat Boy Beach Club (F.B.B.C.). Picture Skull and Bones or The Freemasons, but with lots more cheese fries. Can you join? Probably not.
 As much as we love a great meal, we hate a big letdown, and thus our goal for this column — which will appear monthly in this fine publication — is to lay it all on the line, warts and all. To put it simply, we won't pull any punches — if a place is good, we will sing its praises like a couple of youngsters with a schoolyard crush. But if it's not … well, let's just say "sugarcoating" is not what we specialize in — unless of course you are referring to coating food with actual sugar —  Mmmm! — then we are all for it!
Think of us as an all-husky version of Siskel and Ebert — Ok, maybe that makes us more like Ebert and Ebert. Whatever. You get the idea.
So throw on that XXL T-shirt  — the one you keep pretending is too big for you — and join us on our maiden voyage, as we tell the tale of a lunch spent at a little place in Northfield known as "The Spot."
                                                      — Scott and Ryan (a.k.a. The Fat Boys)
Ryan:
There was a lot of debate about where we should go for lunch on this day. I was in search of a great burger, and alarmingly enough, neither Scott nor I could come up with an obvious place to get one in the Pleasantville area. So, good buzz led us to The Spot.
Strip malls aren't known for their eye-catching charm, and The Spot makes sure to follow that tradition with the stern rigidity of a Catholic school nun. To be honest, the whole place looks like it was designed by a couple of 13 year olds who were in a hurry to get back to playing XBOX — a window haphazardly overstuffed with plants, a lantern and a piece of reclaimed wood hung at random, and finally, a series of bland floor tiles paired with overhead fluorescent lights that manage to perfectly recreate the experience of dining in a 2nd grade lunchroom. The stage was set.
We were presented with the comically long, 31-item "specials" menu, and I found my way to the only true standout of the day, the blueberry lemonade. Sweet and sugary and served in a Mason jar the size of a Big Gulp, The Spot's game started strong. Sadly, it didn't stay there for long.
Scott:
This place is certainly not winning any interior decorating awards. It's like four people had different ideas on how to decorate a restaurant and no one won the argument.
It always scares me when a small place like this has so many specials. How can you do 31 specials properly? Eight soups?! Gordon Ramsay's head would explode. And I just couldn't splurge $5 for a lemonade without some alcohol in it, especially for lunch. That seems a tad excessive.
We didn't have to argue about what to choose for the appetizer. The Loaded Fries ($6) were a no-brainer. "House-cut fries tossed in our Buffalo sauce and topped with white cheddar cheese sauce, blue cheese crumbles, bacon, tomato, diced celery and red onion." However, this was the biggest letdown of the day. These soggy, barely fried spuds had too much of all the wrong things and too little of all of the right things. That means barely any cheese sauce, so little Buffalo sauce that we had to ask for extra on the side — and it came cold to the table — so little blue cheese that crumbles wouldn't aptly describe the size. And giant chunks of celery, raw onion and tomatoes. It was like a salad on top of lifeless fries. This is not what Fat Boys' dreams are made of.
Ryan:
A general Fat Boy rule of thumb is if a restaurant can't handle something as simple as smothered cheese fries, the chef better head back to the french fry lab. I mean really, is there a simpler dish for a chef to hit out of the park? It's just a matter of piling various indulgent ingredients on top of a batch of halfway decent spuds. I mean really, celery chunks on french fries?!? Come on.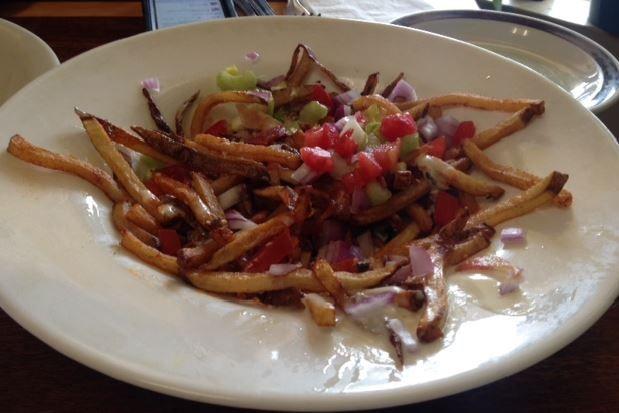 Scott:
The Brunch Burger ($12) sounded like everything I would love about a great burger. Angus beef? Check. Cheese? Check. Fried egg? Check. Pork roll? Check. Unfortunately, it did not live up to its clever name. The star was the actual burger, which was so good that it would be the only real reason for me to return to The Spot. Flavorful and nicely seasoned — but overcooked to well done instead of the medium we ordered — the burger was flavorful and placed on top of a perfect brioche roll. But the pork roll was so thinly sliced — Fat Boys don't like anything thin — that it was totally lost and unnoticeable. And the egg was so overcooked and dry it was like they made it for breakfast and no one ate it, so they waited for someone to order this burger for lunch and popped it on top.
Ryan:
Overcooking burgers is a personal pet peeve of mine. Why bother asking me how I want my burger cooked if you are hell-bent on leaving it on the grill too long? I don't get it.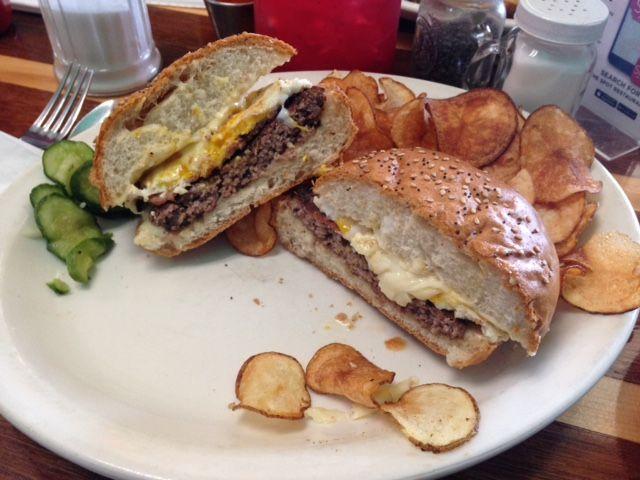 Scott:
We are wing connoisseurs, having eaten enough of them around the country to qualify us for induction into the Wing Eaters' Hall of Fame (if there was such a thing). To call the Thai chili wings ($7) at The Spot ordinary and not memorable would be a compliment. With little flavor and barely dressed with sauce — again, we had to ask for more on the side — they weren't worth the calories or fat content. And we don't care about either. And the sauce — clearly a bottled version of Thai sauce — was something you probably had 1,000 times before. And, to add insult to injury, The Spot does not have blue cheese dressing. What restaurant does not have blue cheese, especially if they have wings? That's a Fat Boy felony.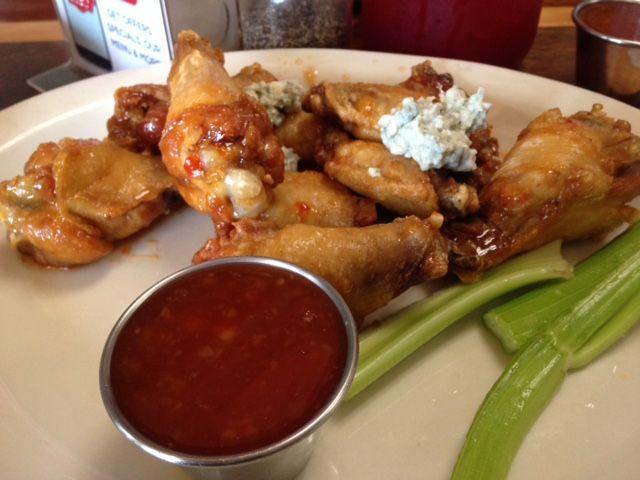 So The Spot is the place that I want to keep liking but they just keep failing for me. It's close to work and home, so it's a place I would go often if it was good. This is at least my third visit, and they are 0-for-3 for me. We had a great server, a decent burger and … well, that's all I can really recommend. Three strikes.
Ryan:
We both wanted to like The Spot, but in the end if the only praises being sung are for the economy sized lemonades and an overcooked burger, that doesn't bode well. That said, if they were to dump the 8th grade interior decorating team, fire the mastermind behind the loaded fries and knock the menu down to a reasonable list of 10 or 15 killer options, we'd give them another shot. In its current form, though — for me and my chubby partner in crime — this eatery just doesn't hit The Spot.
The Spot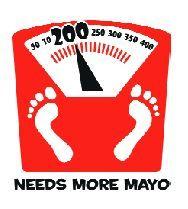 Rating: 200 pounds 
Where: 331 Tilton Road, Northfield
When: 8 a.m. to 9 p.m. Mondays to Thursdays;
8 a.m. to 10 p.m. Fridays;
9 a.m. to 10 p.m. Saturdays;
9 a.m. to 4 p.m. Sundays.
How much: Soups range in price from $3.50 to $4.50; appetizers $3.75 to $8.50; sandwiches and burgers $6 to $12. beverages $1.50 to $6.
Contact: Call 609-568-6571 or go to Facebook.com/TheSpotOnTilton