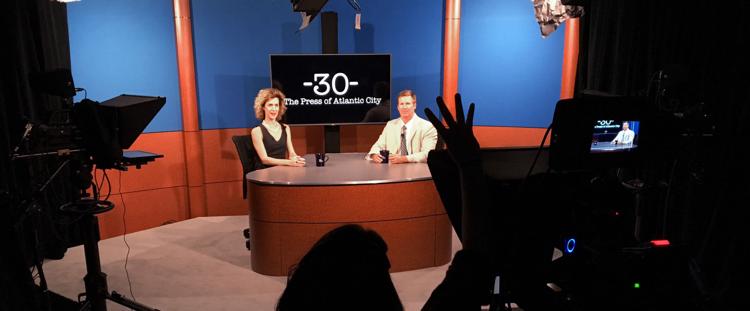 New episode of -30- airs at 7:30 p.m. Thursday
Another episode of The Press of Atlantic City's television show, "-30-," will air at 7:30 p.m. today on Stockton University's channel.
• An interview with Atlantic City developer Glenn Straub reveals some of the plans and predictions from the man who has become a major player in the future of Atlantic City.  Starub talks about his plans for Revel, Showboat, the Atlantic City Convention Center and Bader field, along with the many obstacles he's facing in his attempts to create new things in the resort.
• A father and daughter team up for the debut of a new play at the Eagle Theater, in Hammonton. At The Shore editor Pamela Dollack ists down with local playwright Kelly McCarthy who has written a play that is starring her father, Tom McCarthy, a veteran actor who has appeared in shows like Law and Order and Homicide.
• The Motorsports raceway, in Millville, has become the auto racing Mecca of the east coast and they're not stopping there.  Press reporter Tom Barlas interviews the owner of the track to talk about how it's grown and the plans for the Disney-like plans for the future.
•And speaking of auto racing, sports editor Mark Melhorn takes you on the ride of your life when he shows us what it's like to fly around a track at 100 mph from the inside of a Red Bull Road rally car during the recent race at Bader Field in Atlantic City.
Each week, "-30-" will explore the stories behind the region's major events and news makers. The show is produced by Press of Atlantic City staffers, working with Stockton students.
The show will air on Stockton's public access channel 9. Most residents of Atlantic County can watch channel 9 through Comcast cable, and segments can be watched anytime at PressofAC.com/30.
New episodes will run each Thursday and will be re-aired at 10:30 a.m. Saturdays and Sundays and 5 p.m. Tuesdays.
The half-hour episodes will cover the same range of topics as the paper: news, lifestyle, sports and business.
Contact: 609-272-7222
Twitter @VOgrodnek