Something is very different about Cuba Libre Restaurant & Rum Bar recently, and it's impossible not to notice.
Whether it's the smell of smoked wood and grilled delicacies emanating from its entrance inside Tropicana Atlantic City or just the visual of chefs cooking in the open, surrounded by guests sitting at a raised bar tasting new menu items, Cuba Libre's massive wood-fired grill is the talk of The Quarter.
Some of the most creative, unique — and delicious — food coming from that new grill has been inspired by a longtime dream of Executive Chef/Partner Guillermo Pernot, which he's had for Cuba Libre since the two-time James Beard Award-winning chef started visiting Cuba years ago.
Law firm Cooper Levenson is holding a fundraiser for Puerto Rico residents affected by Hurri…
"I travel to Cuba a lot, and I am using the techniques the Cubans are cooking with — coals and wood and smoke," he says. "So what I did was I brought all that together and put it on that beautiful grill."
Pernot is not exaggerating. The custom-made grill is stunning. Weighing in at two tons, the stainless steel monstrosity spans 8 feet in length and features open grills on the left and right side. It has two adjustable grates that can be mechanically cranked by steel wheels up and down over the coals to control temperature. There's also an oven in the center that can be used traditionally or as a smoker, plus a plancha for grilling. It's a chef's dream to have this in their kitchen arsenal.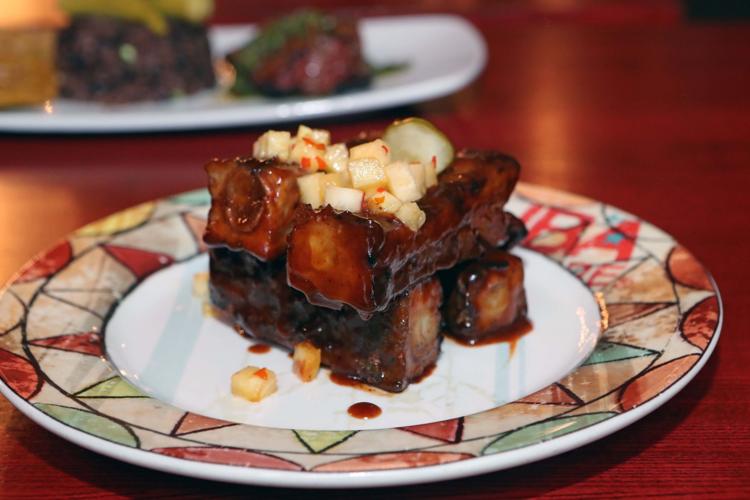 Add ingredients such as octopus, Black Angus steak and fresh veggies to the equation, and Cuba Libre's new grill is destined for success.
The grill is situated right inside the entrance of Cuba Libre, so passers-by can see — and smell — a true taste of Old Havana coming out of the "open fuego" kitchen.
"You get the visual, you get the fire, so that when you walk in front of the restaurant, you see something is different," Pernot says "You smell a little with all of the wood creating the aromas, and then you see the kitchen. Everyone loves to see chefs working in the kitchen and then presenting the dishes directly to the customer."
The 12-seat interactive chef's counter brings new meaning to the term "chef's table" in Atlantic City, as Senior Executive Chef Kevin Couch and his team — as well as Pernot, occasionally — cook up close and personal, offering brand-new recipes and dishes that have been in the chefs' minds for more than two years, ever since Pernot got the ball rolling on bringing the grill to Atlantic City.
"It was quite a project to get the grill here in Atlantic City," Pernot says. "The logistics of working inside a big building like the Tropicana, the safety issues, the engineering, fire permits, blueprints, all of the logistics … but now that we have it, it is totally worth it."
If Pernot had his way, he would use the wood indigenous to Cuba, but that's not possible, so the chef experimented and decided oak and ash were the best choices since they can burn in excess of 1,200 degrees and add great flavor. The woods works in conjunction with charcoals made from hardwood and coconut.
The new menu, which features a flame next to the wood-grilled items, is worth exploring. Start with the seasonal fire-roasted vegetables for two ($18), where Pernot and his team put the oven to use as a smoker to prepare marinated veggies such as peppers, mushrooms and eggplant with smoked olive oil, herb goat cheese and grilled rustic bread.
"If you don't put wood directly underneath the oven, it creates a smoker, and the things we are doing in there come out incredibly," Pernot says. "It's great fun to experiment."
Other "aperitivos" include guava BBQ ribs ($13.75 or $26), slow-cooked St. Louis cut pork ribs with guava BBQ sauce glazed, pickled pineapple and sliced pickles; the octopus a la parrilla ($10.75), grilled baby octopus marinated in truffle and citrus served with an amazing smoked potato crema, crispy garbanzo beans and Spanish paprika that is Cuba Libre's 50 Bites+ item this year; and — my favorite — the grilled provoleta ($10), an amazing creation where oregano-marinated provolone cheese is put in a cast-iron skillet and then seared on top of the coals and served with tomato compote, Serrano ham, roasted peppers and grilled rustic bread made just for the restaurant by a Hammerbacher Bakery, an awesome, relatively new bakery in Egg Harbor City.
"The provolone is a special type that doesn't melt, even in that heat," Pernot says. "And the octopus is something we always had on our regular menu but I figured it would be much better to cook on the embers of the wood. With that smoked potato crema, I think we have something special there."
So how hot does the grill get? Well, it can certainly exceed 1,200 degrees, and the team is still in the learning process of perfecting their technique.
For entrees, there's a great Peking half chicken ($23.50) that is slowly smoked in the grill's oven with black beans, white rice, grilled broccolini, lemongrass mojo and Chino Cubano BBQ sauce; Vacio Steak Artgentino ($26.75), all-natural Black Angus Argentine-cut grilled bavette steak with Moros y Cristianos, tostone and Argentinean chimichurri sauce; the 22-ounce, bone-in Ribeye Jibaro ($39.75) with boniato gratin, grilled broccolini and Cuba Libre steak sauce; and the Plato Gaucho mixed grill for two ($68) with a Black Angus skirt and Argentine-cut bavette steaks, jumbo shrimp, marinated chicken breasts, Cortez chorizo sausage and red hot onion rings with chimichurri, steak sauce and salsa criolla.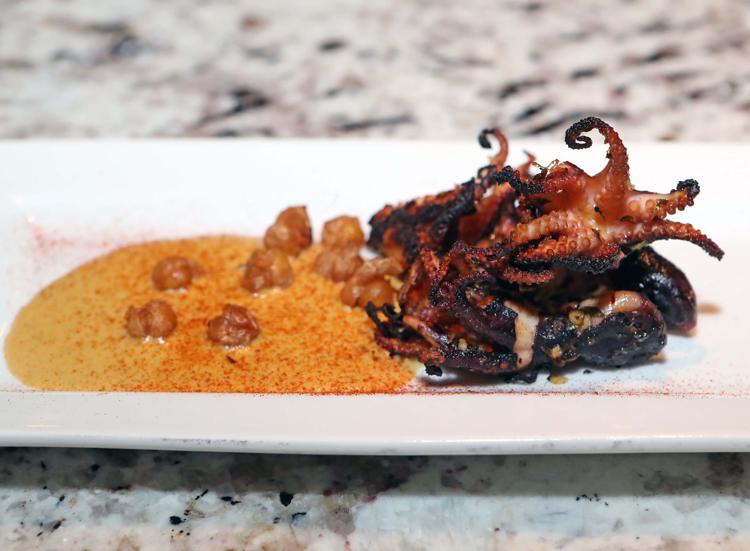 "I love it all, but I think as an Argentinean, I know how to grill meat," Pernot says with a laugh. "I just took what I love and learned from my uncle and father and put it right on that grill over that beautiful wood and then taught my team."
There are some different items on the lunch menu, including the Churrasco burger ($13.50), a 10-ounce, all-natural Black Angus skirt burger with pickle sauce, chipotle-onion marmalade, cheddar cheese, lettuce and tomato on a King's Hawaiian roll served with boniato chips and Cuba Libre steak sauce. Think of the best grilled burger you ever had and multiply that by a thousand.
The grill is even being utilized for some interesting libations to make grilled pineapple and grilled watermelon mojitos, sangria with grilled pineapple, and the signature Paloma Ahumada with grilled jalapeno honey syrup.
The chef/partner says he and his partners chose Atlantic City to be the first of its restaurants to install the grill (Cuba Libre also has restaurants in Philadelpia, Orlando and Washington, D.C.) because it needed a "boost," an upgrade that is already paying off.
"I think it needed something different, something to show that it is a destination place," Pernot says. "People have many options inside the Tropicana, so we are always trying to make ours stand out even more. When you look at our mixed grill, which was previously on the menu before we even had the grill, we tripled our sales for that item because people see the servers walking it out to tables and see it sizzling and smell the aromas of all of the meats. People are loving it."
Pernot will soon introduce nightly tasting menus consisting solely of tapas, entrees and cocktails prepared on the open-fire grill, along with whole animals like a leg of lamb or a whole pig or whole fish.
"We are starting slow with a certain amount of items that we are cooking there, learning the versatility of it and teaching the entire staff to cook in a way they never cooked before," Pernot says. "So we are doing two or three appetizers, six of seven entrees and then we will keep adding dishes as we become more comfortable. It will be a constant evolution."
Jesse McCartney isn't 'leavin' The Pool After Dark
Jesse McCartney turns The Pool After Dark into Dream Street on Saturday.
Photo: Mike Manger/PhotoGraphics