Every casino in Atlantic City — every one — has at least one Asian restaurant. But one in particular has stood out over the last few years, raising the bar for authentic Chinese cuisine while also pleasing the casual Asian diner.
And that is Eastwind Chinese Restaurant and Noodle Bar inside Resorts Casino Hotel.
With the leadership of Vice President of Food and Beverage Edward Batten, Executive Chef Robert Levenson and a restaurant staff led by Chef Jie Situ, Eastwind has won numerous awards — most recently Best Asian Casino Restaurant in Atlantic City by Casino Player Magazine — and is ranked No. 2 among all Asian restaurants on TripAdvisor in Atlantic City with a 4½-star rating, a half star higher than No. 1 P.F. Chang's, earning Eastwind the TripAdvisor Certificate of Excellence.
After two straight weeks of running around grabbing bite after bite, we understand that you …
With classically prepared small plates, entrees and noodle bowls served either right off the casino floor or with a picturesque view of the Boardwalk and Steel Pier's awesome new 220-foot observation wheel, Resorts' team is serious about transitioning Eastwind from being a place where mostly Asian players slurped on noodles and stopped in for a quick bite. They want it to become a destination.
And it is already working.
For starters, Batten & Co. have expanded the hours so Eastwind is open daily, and very late on weekends. Then, to lure nontraditional diners to find it, they added a $16.99 three-course dinner plus a $10 lunch.
So if you haven't hit Eastwind yet, here are five reasons you should go.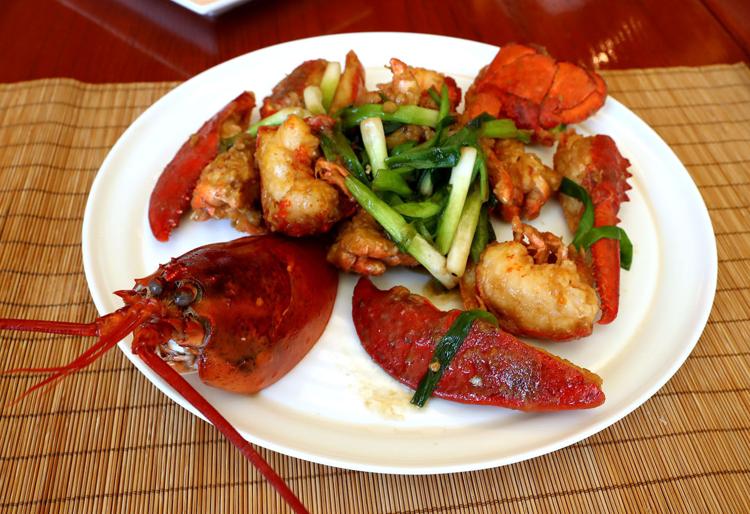 Three-course dinner ($16.99)
Available every day, including weekends, until 6 p.m., just $16.99 snags you three courses with some amazing choices. Appetizers include steamed veggie dumplings; awesome BBQ spare ribs that have one of the best Asian dry rubs in the city served with a honey-based sauce; and vegetable spring rolls. There are four entrees: veggie lo mein; a heaping plate of roasted pork fried rice that is worth the trip alone; beef with broccoli; and General Tso's Chicken, which will blow your mind and become the best Genteral Tso's you ever had thanks to its crispiness, sweetness, spiciness and quality of chicken. Finally, choose between Fried Turon — jackfruit and banana roll — or seasonal gelato. It's one of the best deals in town.
Halloween events are typically served with a shot of scare, much to the delight of thrill-se…
Lunch ($10)
Another amazing deal is Eastwind's $10 lunch menu offered noon to 4 p.m. Mondays to Fridays. You will find slightly smaller portions of menu items, all for just $10. Noodle soups include Beef Noodle with long horn pepper, bean sprouts, fried shallots and egg; Vietnamese rare beef pho with rice noodle, bean sprouts, jalapeno; or shrimp and pork wonton noodle soup with thin egg noodles and fried shallots. Wok-fried selections include choice of vegetable, chicken, beef, roasted pork or baby shrimp fried rice. And then there are four choices from the wok served with white rice: beef with broccoli, pepper steak, chicken with broccoli or the aforementioned amazing General Tso's. So when you figure it out, the average bowl and wok dishes are about $16 and the average entrees are $20+. It's a helluva deal … less expensive than your corner Chinese takeout joint with much better quality food.
Starters
There is no doubt you can walk in to Eastwind, grab a small plate, noodle bowl or wok item and walk out the door happy. But with so many awesome choices, that's tough. Let's make it easier for you.
Under small plates, the dynamite shrimp ($13) live up to their name. Crispy, fried shrimp served with a perfectly balanced sweet and spicy mayo make it better than your average bang bang variety at your local bar. The BBQ spare ribs, as previously mentioned, have just the right texture, pull and sweetness for an Asian spare rib. Perhaps the best choice is the Vietnamese BBQ buns with pork or beef. We chose the beef, which was super tender — umami! — with teriyaki, sesame seed, garlic and scallion.
Under bowls, we recommend the five-spice noodle soup ($16) with thin egg noodle, fried scallions and beef belly. But if you are a little wary of eating a mixture of perfectly cooked short-rib-like beef belly as well as the long, fatty parts of the belly, you might be better off with the Vietnamese rare beef pho ($16) with is traditional and delicious. And under Rice and Noodles, you really can't go wrong with items like XO fried rice and Short rib chow fun — both $16 — but try the pineapple fried rice ($16) with shrimp, chicken, beef, pork and raisins because (a) you won't find it anywhere else; and (b) it's yummy.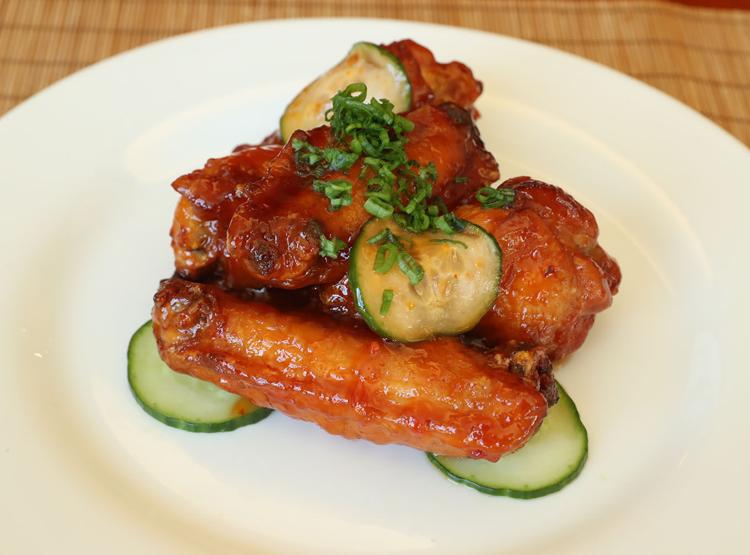 Main courses
We won't tell you again how great the General Tso's is ($18 for chicken, $25 for shrimp), but we will remind you again to get it. But there are some other nice choices here. We weren't thrilled with the Thai basil curry chicken ($18), which was kind of bland, watery and didn't have enough curry for our taste. But the Chilean sea bass ($28) with edamame beans, baby carrot, black bean teriyaki glaze and soy caviar, as well as the Peking Duck ($30 for half) with steamed buns, pancakes, cucumber and hoisin sauce will be our choices next time out.
Desserts and drinks
Of course, Eastwind is well-rounded with some great cocktails and finishing plates. On the beverage side, the Ginger Crush ($7) with Tyku Junmai and ginger ale served over ice is a deal and appealingly refreshing; and the Geisha ($8) with sake, tequila and sour apple liqueur is another bargain — like all of the cocktails — and will appeal to those looking for a sweeter beginning. Speaking of sweets, the desserts (all $6) are stellar, including homemade Asian gelato with rotating flavors such as green tea; black rice pudding with forbidden rice, coconut macaroon and seasonal compote; green tea tiramisu; and — for the less adventurous — chocolate mousse.
Cooper Levenson dances the night away to raise funds for Puerto Rico
Cooper Levenson organized a dance party to raise much-needed funds for Puerto Rico residents in the aftermath of Hurricane Maria on Wednesday, Oct. 18, at Resorts Casino Hotel.
"We have several staff members with family in Puerto Rico who are facing insurmountable odds," said Ken Calemmo, chief operating officer of Cooper Levenson. "We wanted to do what we could to help. Resorts Casino stepped up in a huge way to produce this event and we are grateful for their assistance in making it all happen."
The event included live music by Jimmy Jorge and the Latin Express, a Salsa dance lesson by LaPalma Dance Studio, performances by Arlin's Dance Academy teachers and Latin dance troupe, traditional Puerto Rican food by Resorts, and a special presentation of funds raised by the staff of Seashore Gardens Living Center.
Sponsors for the event included Resorts Casino Hotel, a Mohegan Sun Property, AtlantiCare, Fulton Bank of New Jersey, The Finkel Group, a Merrill Lynch firm, the Greater Atlantic City Chamber of Commerce, the Press of Atlantic City, SNJ Today, PhotoGraphics Photography, Argyle Interactive, Arlin's Dance Academy, LaPalma Dance, and WEMG-MEGA 105.7 FM and 1310 AM. A special events production