Harrah's Resort's culinary transformation that included opening six new concepts in six months concluded Memorial Day weekend with the debut of two quick-serve concepts in its food court.
But like anything Vice President of Food and Beverage Lee Sanchez, Executive Chef Rob Schoell and their culinary team get their hands on, they made sure both concepts were treated with the same attention to detail and passion as the full-service restaurants received for their openings.
This is a particularly good year to attend Tropicana Atlantic City's Taste of the Quarter, taking place Monday, Aug. 21.
Yes, they are quick-serve concepts, but these are goodies. The one getting the most attention, obviously, is Guy's Sammich Joint, the latest creation from Food Network superstar Guy Fieri, who already offers two dining options at Harrah's sister property across town, Bally's Atlantic City. The other is Pin-Up Pizza, which borrows a brand name from another Harrah's sister property — Planet Hollywood in Las Vegas, though the name is basically the only thing they share.
"It was kind of crazy that Guy never had a sandwich joint before because when you look at 'Diners, Drive-Ins and Dives,' it's all about crazy sandwiches and burgers and salt-of-the-earth roadside food," Sanchez says. "So I think it's cool for him to start this concept with us right here in Atlantic City."
Sanchez says the Sammich Joint fills a need Harrah's customers were looking for.
"The market called for a casual food prepared from scratch that was authentic and original," Sanchez says. "So why not have the most well-known celebrity chef bring the most familiar style of food for people to experience? He made it approachable yet true to his style."
For Pin-Up, Sanchez and his team wanted to use the established brand from Vegas but offer diners pizza with more of an East Coast flair.
"People are loving both concepts," Sanchez says. "With Pin-Up, the majority of people are getting slices, so it's about freshness and quality, and it's getting great reviews. But, as we knew, the star of the show is Guy Fieri. We knew Guy would be a hit with his strong brand, but you don 't really know until customers come up and order and understand what you are doing and tell you they like it. And they do. Guy and his team did an awesome job balancing things from the classics — cheesesteaks and the Italian — to really cool twists on some sandwiches like the Crazy Cuban, the Albacore Tuna Melt and the Guid-father, which is just this monstrous creation."
When you go to either place, you're going to make some tough choices. The options aren't just plentiful, they all sound equally delicious. So here are our picks — with the help of Mr. Sanchez — for what you should definitely devour at Guy's Sammich Joint and Pin-Up Pizza.
Guy's Sammich Joint
Bad Boy Beef ($12.95)
A hoagie roll from Sarcone's — the famous Philadelphia bakery that makes all of the hoagie rolls for the Sammich Joint — is stuffed with quality roast beef, spicy mustard, pepper Jack cheese, sprouts, BBQ potato chips and Sammich Joint Spread, a secret blend made with herbs, spices and pickled veggies that could become as popular as Fieri's Donkey Sauce.
"You accentuate the flavors that make sense: a little bit of spice from the mustard, a little vinegar and tartness from the spread; the big beef flavor; the sweet and smoke and crunch from the potato chips. And it all comes together with the sprouts and the perfect roll," Sanchez says.
Who doesn't love death defying acts? Seemingly no one, because for the last 14 years folks from all around have packed the beaches of Atlantic…
The "OG" Italian ($13.95)
Fieri pays homage to the great Italian subs of our region by basically letting the classic be a classic: ham, salami, soppressata, capocollo, provolone cheese, oil and vinegar. The only twists are the Sammich Joint Spread and the pepperoncini, semi-hot chili peppers.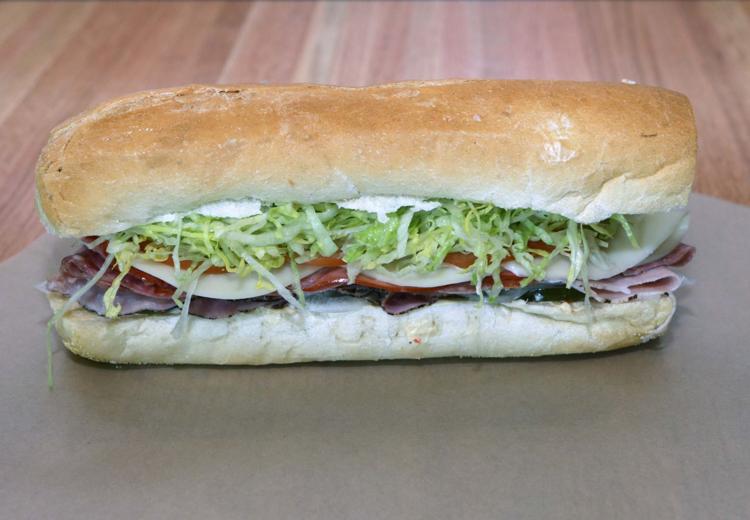 "When we were looking at the Italian, we decided to stay true the holy grail of sandwiches from South Jersey, Philly and New York," Sanchez says. "We didn't want to experiment too much. But my favorite part are the pepperoncini. They add a unique flavor and make it stand out."
Big Bite Burger Straight Up ($8.95)
Fieri is known for his burgers, and loyalists will not be disappointed by this blend of chuck, brisket and short rib with a 20-percent fat content that is the first smashed burger Fieri is using, meaning fresh meat is balled and then smashed on a flattop, cooked hard on one side, flipped and then quickly put on a Formica Bros. brioche roll.
"It's simple perfection," Sanchez says. "I don't think you need a million ingredients to make a great burger. If you want, upgrade to include cheddar cheese and bacon. It's all you need."
Breakfast
You can also grab breakfast at the Sammich Joint from 9 to 11:30 a.m. daily. The standout is the pork roll, egg and cheese ($8.95) on the Formica brioche, but Sanchez recommends the peppers and egg hoagie ($12.95) with scrambled eggs, peppers, onions, super melty cheese, provolone and sausage on a toasted Sarcone's hoagie roll. He has us convinced it's the right move.
Pin-Up Pizza
The Process
Nailing the perfect process for a great pizza was a challenge that took months to perfect. In the end, Harrah's decided to use pricey Roto-Flex ovens — just like Manco & Manco — and settled on a dough made with fortified, fine-grind flour imported from Italy, mixed with high-gluten flour to give it just the right amount of doughiness.
"There's a crispiness from the fine grind. We make the sauce fresh every day, and use amazing quality ingredients," Sanchez says. "The key was getting the ovens to work right with the dough. We hired specialists and consultants to fine tune the dough and make the pizza taste exactly how we wanted it to in those ovens. It took time to understand it. But we nailed it."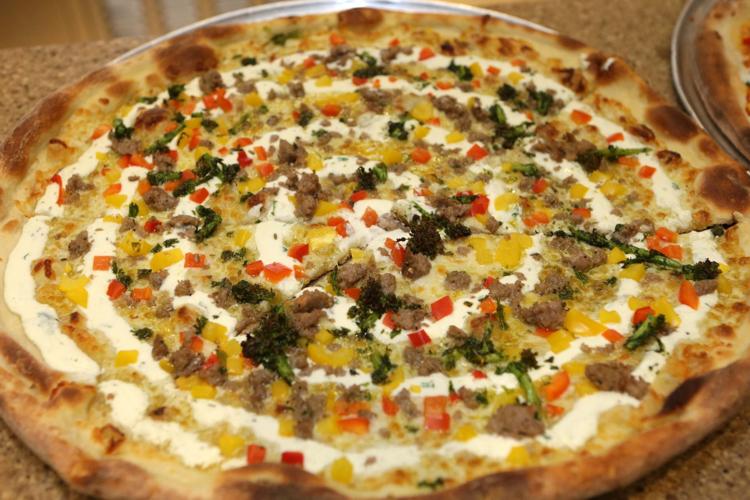 White Pizza ($20.95)
Sanchez says the key to Pin-Up's white pizza is quality mozzarella, amazing ricotta cheese and top-notch extra virgin olive oil. But if you don't want a straight-up white, get it with broccoli rabe that's firm, fresh and offers great flavor, as well as fennel sausage from Fiorella's Sausage in South Philly.
Crispy Buffalo Chicken Pizza ($23.95)
"I think a lot of places have great buffalo chicken pizza, and it really comes down to the sauce," Sanchez says. "We hit it out of the park with ours. It's a classic buffalo sauce with just the right amount of heat and sweetness. It just bonds with the crust. And we use breaded chicken cutlets cut into pieces to add another layer of crispness. It's pretty awesome."
Meatball Hoagie ($15)
One of Sanchez's favorite hoagies on the planet, this beauty features that Sarcone's Italian hoagie roll stuffed with homemade meatballs, a concoction of veal, pork and beef that is made every day at Harrah's. The meatballs cook in gravy until they are nice and soft, placed on the roll and then baked briefly to melt the provolone and parmesan cheeses. Nice!
DJ IKon returns to the Pool After Dark
DJ IKon brings the party at Friday night's Pool After Dark event.
Photos: Tom Briglia/PhotoGraphics