When you think of Historic Smithville, you probably don't think of modern gastropub comfort food with an amazing beer list, craft cocktails and a fun atmosphere.
But you should.
One trip to Fred & Ethel's Lantern Light Tavern will change any preconceived ideas you may have had. Granted, it takes time to change perceptions at a legendary restaurant known for its prime rib and meatloaf — which they still serve proudly. But Owner Tony Coppola Jr. — a big-time foodie and beverage lover — is slowly transforming Fred & Ethel's to a place where diners can still get the classics they always came for, while those more adventurous can experience a great night out.
The Broadway rendition of Charles Dickens' classic "A Christmas Carol" comes to the Ocean Ci…
"My whole take on it is what I call the Food Network generation," says Coppola. "We want a little more than a cheeseburger and french fries — not that there's anything wrong with that, because we have that — but people want a little more, so our chefs can push the envelope. They can get excited and inspired and create dishes that they find interesting and a lot of our customers find interesting. It motivates them. We are always looking for things to improve or to add or to put are twist on, and our chefs our hungry for knowledge to keep ahead of the trends. I think they enjoy working in a place that's accepting of those kinds of things, and that translates to happy customers."
When Coppola and his family took over the Fred & Ethel's in 1997, customers weren't as open to Coppola's eclectic mix of food.
"When we first opened I, like a lot of people who grew up in the industry, dreamed of my own place and how I would run it with full control. So when I finally got it, I pulled together all of my favorite recipes and dishes that I loved or saw somewhere and ripped off a corner of the menu to save for myself — a shoebox full of great memories and recipes and food. I put a lot of those on the menu," he says with a laugh. "But people were not ready for that in 1997. But as the Food Network got popular and culture changed, it wasn't difficult to adapt. In fact, we were more than ready."
Fred & Ethel's has undergone quite a transformation since current ownership took over after it was closed for four years and in bank ownership. Like everything else in the Village, Fred & Ethel's had to be resurrected and reconstructed in a historically accurate kind of way. Since reopening, it has undergone massive improvements, but the key is that most people would not notice.
"It's like an old house," Coppola says. "Every year we have a project to make things better, and we remodel constantly to update things and make things efficient and modernize, but be respectful of the style."
With music filling the tavern on weekend nights and shoppers packing the place during the day, Fred & Ethel's certainly has an eclectic clientele. Its sister restaurant — The Historic Smithville Inn — fills the need for a more traditional experience, giving Coppola the ability to make Fred & Ethel's the kind of place he seeks out when he travels.
While the general message of the holidays is one of joy, peace and love, not all aspects are…
For starters, everything is made from scratch, and it's obvious right from the appetizers with items like their signature hand-rolled buffalo chicken wontons ($8) — a must-try item and one of the best apps in South Jersey; short rib tater tots ($11) with sautéed onions, bell peppers, garlic butter and Romano cheese topped with hand-sliced, slow-cooked, braised short rib, not the usual bagged stuff restaurants plop on top of similar dishes; and Bang Bang Shrimp ($11), hand-breaded and fried shrimp tossed in a sweet yet spicy sauce.
More traditional eaters can still gravitate toward items like their wings and tenders ($9), steamed littleneck clams ($10) in a garlic white wine butter sauce, Back Bay Crab Bites ($10), certified Angus beef burgers — check out the Jersey Devil ($12) with pork roll, BBQ sauce, jalapenos, cheddar jack cheese and frizzled onions — a wide array of sandwiches including cheesesteaks and crab cakes and signature dishes like the Meatloaf Mountain ($11) with mashed potatoes, cheese, bacon bits, gravy and sourdough bread, or The Governor ($10), ground beef, bacon, onion, Cheddar Jack cheese and brioche bread, served over shredded lettuce and diced tomatoes and finished with Guinness cheese sauce, crispy frizzled onions and ketchup garnish. It's a crazy dish.
"The majority of our stuff is still mainstream because the majority of our customers are still mainstream," Coppola says. "The Meatloaf Mountain was devised because it was something different yet familiar because people love our meatloaf. So why not be creative and just pile it on?"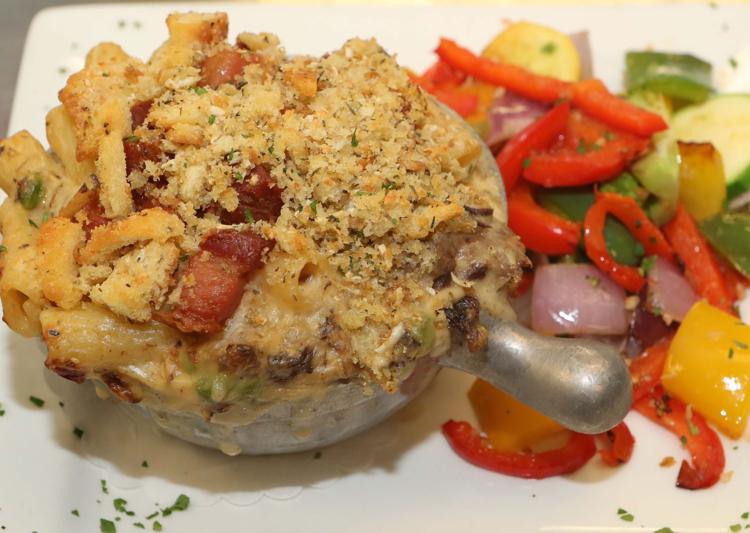 While it's easy to just grab some apps and a burger, there are about a dozen entrees worth exploring on the dinner menu, including country fried chicken steak ($16) with white country gravy, mashed potatoes and veggies; pan-seared red snapper ($22) over sweet potato hash with pancetta, corn, bell peppers and red onion, finished with browned butter and grilled asparagus; and three certified Angus steaks with the crown jewel being a 12-ounce N.Y. strip served with choice of sides that is the best $24 N.Y. strip you will find in the area.
Add 40 craft beers — eight on tap that currently featured a Dogfish Head tap takeover — and you have a pretty well-rounded joint.
"We want to evolve and also cater to those people who are looking for something different, and the craft beer movement has helped that," Coppola says. "People who go out and experiment with craft beer and cocktails are more likely to be more adventurous with eating, too. You can't just have Coors Light and Bud Light anymore, and the same can be said about the food menu."
As for the future of Fred & Ethel's, Coppola says he just takes it day by day.
"You have to create a good environment, and that starts with the people working there," he says. "If they are comfortable and happy, then your customers will probably be happy. We are not worried about the future because we are not stagnant. We created ourselves to be flexible and to grow. It's like being a shark: If you're not moving forward you die; that's what this industry is like."