When Tropicana Atlantic City purchased The Chelsea earlier this year, its management wanted to think outside of the box when it came to filling the restaurant space formerly occupied by Teplitzky's.
Instead of opening their own breakfast and lunch spot — which would have been an easy fix — Tropicana President Tony Rodio and Vice President of Hotel Operations Alan Rivin wanted a local presence, restaurant owners who would not only take care of their players and guests but would have the ability to become a neighborhood restaurant.
(Please note: Wing Wars 2018 is SOLD OUT. Sorry, you're outta cluck.)
All signs pointed to Gilchrist Restaurant, an Atlantic City staple since 1946 that now has four locations, including their latest inside The Chelsea Tower.
"So I guess Tony and Alan heard about us after some people recommended us — which was a great compliment — and they came in to check out what we were all about," says Michael Barham, who co-owns the restaurant with his mother Denise Stamat. "I guess they liked it."
They sure did. The executives almost immediately offered the mother-son dynamic duo the space.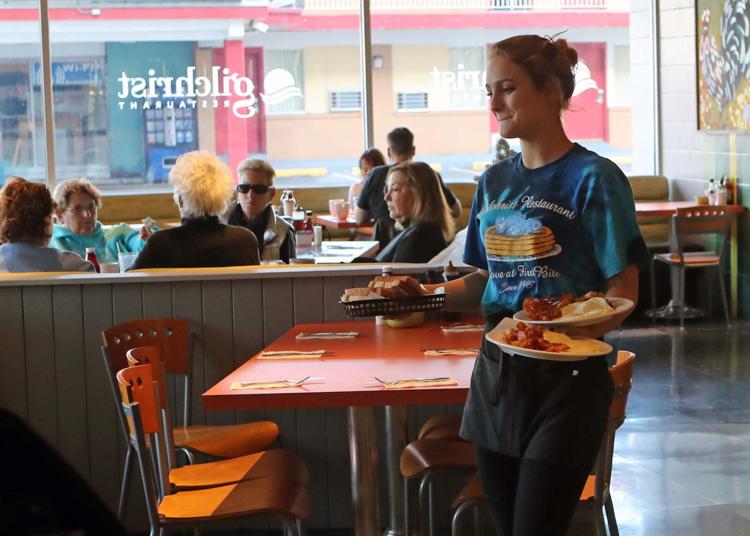 "The funny thing was that we were approached right after we went to look at another location in Atlantic City that was going to be a much greater undertaking financially," says Barham, whose new restaurant features new kitchen equipment, reupholstered furniture and booths, some new tables and chairs, paint to freshen things up and a glass sliding door at its entrance with the Gilchrist logo. "It would have been something we had to buy. So when Tony and Alan approached us a day or two later, it was a no-brainer … exactly what we were looking for."
After negotiations and some renovations, the fourth Gilchrist Restaurant opened in November, just four months after Rivin and Rodio were sold on the food, service and community spirit.
And the hot cakes ... those delicious hot cakes.
If you've ever eaten at Gilchrist and didn't try the hot cakes — Stamat says they're not pancakes, they're hot cakes — it would be like going to Peter Luger's and not getting a steak.
The media has intensely monitored her ever-evolving style over the years, but all eyes have …
Light, airy, crepe-like, buttery with crispy edges, they can turn a hot cake hater into a super fan. Available as a regular stack of three ($6.50) or short stack of two ($5.50), plain or with blueberries ($5.95, $7.95) — no blueberry sauce, just fresh blueberries inside the batter — Gilchrist's hot cakes are a thing of legend.
Although the original restaurant opened on Maryland Avenue in 1946 by Stamat's grandparents, the hot cakes became "a thing" as the restaurant evolved under Stamat.
"I think my mom made those hot cakes what they are today," Barham says. "They say all great inventions come out of necessity, and that's kind of the story with our (original) pancakes. Our Maryland Avenue location was a very unique place with a very tiny kitchen, so my mom thinned out the batter so they would cook faster. It all started there so that they could pump food out at a faster rate. And it became our signature. The greatest thing is when people say they don't like hot cakes but they love ours."
And although some people have never had anything but Gilchrist's pancakes — I mean hot cakes — there are plenty of other reasons to check the place out.
The Chelsea menu is the exact mirror of Margate's, which is like a best-of menu from its flagship location at Gardner's Basin that will be tweaked as they better understand their Chelsea customers.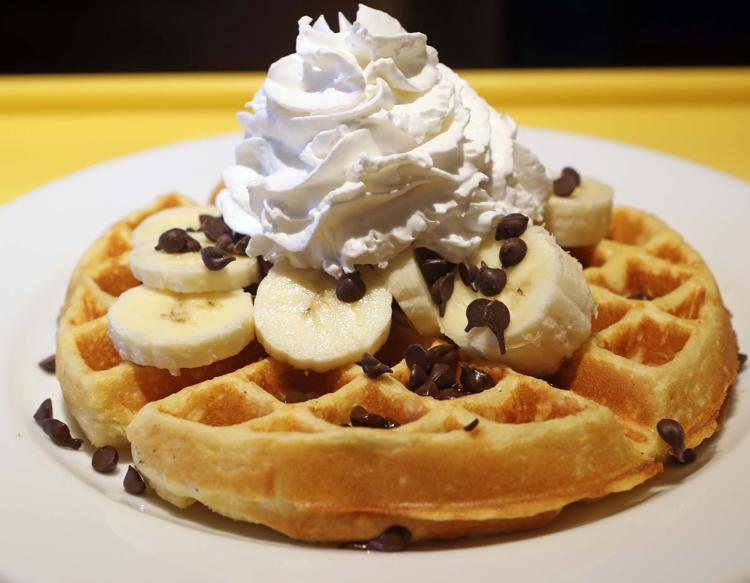 Gilchrist is open for breakfast and lunch, but all-day breakfast is certainly the main attraction. But no matter what you get, there are no shortcuts. This is scratch kitchen food.
For example, all of the eggs — from sunnyside up to over easy to omelets — are made in a pan.
"I hate when restaurants cook eggs on a griddle," Barham says. "I don't get that. A griddle is too abrasive for an egg. An egg is delicate."
Get two eggs any style ($3.95), with home fries or creamy grits ($4.75), another popular staple, with breakfast meats ($6.95) including bacon, four types of sausages, scrapple, grilled bologna, pork roll or cod fish, or with home fries, grits and breakfast meat for just $7.95.
Eight omelets are served with toast, home fries and grits with popular choices being the Spinach Cheese ($9.95) with choice of American, provolone, Swiss, cheddar or feta ($1 extra); and the Italian ($9.95) with Italian sausage, provolone, green peppers and onions.
There's also breakfast sandwiches, French toast, waffles, awesome creamed chipped beef and lox, but a great deal of folks gravitate to the Hungry Man Combos because "they get you a little bit of everything at a reasonable price," Barham says. "And we decided to add creamed chipped beef to the Chelsea menu every day unlike the other stores because we figure a lot of people are vacationing at the Trop and won't have the opportunity to possibly come on the specific days we offer it. So we have it all of the time. It's really good."
This is true. Of the three choices, the grandest will set you back $12.95 for three eggs, three hot cakes, choice of meat and home fries or grits.
For lunch, Barham is proud of the Reuben ($9.95) — corned beef or turkey, sauerkraut, Swiss cheese and Russian dressing on rye — as well as the chicken and tuna salads ($9.95) with lettuce, tomato and onion on choice of bread.
"We use really good quality corned beef, but I actually like our turkey Reuben best," Barham says. "People come in just for our tuna and chicken salads and rave about them. I think it's the consistency that they love. Some places just have chunks of tuna and chicken that fall out as you eat it. With ours, you can pick it up and it will stay on your sandwich."
Other stellar choices include the oversized turkey club ($12.95); the Offshore Griller ($9.95) with ham, turkey and Swiss with spicy mustard on grilled Texas toast; and platters such as homemade, sautéed crab cakes ($16.95) with French fries and cole slaw and fish and chips for just $8.95.
"It's not a crazy menu," Barham says. "It's about good, fresh, consistent food at great prices. Not everyone wants exotic, fancy things with words they can't pronounce. I am a fan of things like that, but especially for breakfast and lunch, you want to eat and feel good afterwards. You don't want to have to go to sleep when you are done. And if you are on vacation, you don't care what you spend on dinner, but breakfast is different. You want to go eat and feel satisfied and go on with the rest of your day without spending $25 to $30 a person. When people are on vacation and venture away to find us, when they find us on the first day, we see them every day until the last day of their trip. That's what you do with breakfast."
Just one month in at The Chelsea Tower, and Gilchrist is already booming.
"We are getting a lot of people from the Ocean Club next door, some locals who've known us forever, as well as people staying in The Chelsea and the Trop," Barham says. "They are coming over here in the winter without a bridge. So when that gets built to connect the two places that will be really nice. It has been wonderful."
The holidays get ugly with Brody Jenner at The Pool After Dark
Reality TV star turned DJ Brody Jenner, along with DJ Devin Lucien, performed at The Pool After Dark at The Ugly Christmas Sweater Party on Saturday.
Photos: Tom Briglia/PhotoGraphics