Harrah's Resort is going through a dining renaissance. In the last six months they have debuted three transformative restaurants — Veracruz, A.C. Burger Co. and Coastal Craft + Kitchen — and will open two more this weekend (Guy Fieri's Sammich Shop and Pinup Pizza). And that's not counting a new Starbucks that also opened in the winter.
Atlantic City is about to shed its winter coat and get the parties started. The unofficial s…
While all of these restuarants are wonderful in their own right, there is something particularly impressive about Veracruz, which blends Mexican and Spanish cuisines in the former Dos Caminos space. When Harrah's contract expired between BR Guest operators of Dos Caminos, the Harrah's food and beverage team could have easily changed the name, painted a wall or two and rolled into a very similar concept.
Instead, they decided to introduce a concept that has never been seen in an Atlantic City casino or perhaps any casino in the United States.
"I wanted to do something that the city didn't have," says Vice President of Food and Beverage Lee Sanchez. "We have a lot of great Mexican restaurants but no Spanish restaurants, no true tapas bars. So why not create an environment where people can go after work or before a show or even before a dinner to get some small plates, some cocktails and have fun? Why not create a place where they can sit down and have a full meal, too? But no matter what they do, it's about a social experience where you can enjoy the company of friends and try different foods and explore the flavors of Spain and Mexico and how Spain influenced the cuisine of Mexico."
Veracruz is named after the Mexican port city where Spanish sailors and conquistadors first landed so the food here is reflective of those influences, while still satisfying longtime fans of Dos Caminos and Mexican cuisine.
Becaused it's named after a port city, Veracruz obviously features a lot of seafood. Crab and lobster can be found in the homemade guacamole ($14 to $16); Gambas al Ajillo ($14) is a simply delicious small plate of garlic, oil, shrimp and seasonings; shrimp can also be found in the quesadillas ($8), a ceviche ($12) with grilled red onion, toy box tomato, mango and cucumber, or grilled on a plancha ($14); and there's tuna tartare nachos ($9) with a creamy cilantro sauce; grilled octopus ($9 with baby potatoes and smoked paprika; fried calamari ($11) with green olive tapenade and lemon saffron aioli; as well as a variety of fish entrees, including the signature Snapper Veracruz ($32), a true homage to Spain with fresh, sustainable, wild-caught red snapper, tomato, olive, caper, onion, jalapeno, lime, asparagus and herb rice.
"What's interesting is how much influence Spain had on Mexican cuisine as we know it, but we take it a bit further than that and offer some pure Spanish approaches to the cuisine, as well," Sanchez says. "The perfect combination can be found in the Arroz a la Tombada ($36), which is similar to a paella with fresh cod, octopus, calamari, shrimp, crab, mussels, clams, tomato and rice. But it's really about local seafood and ingredients and bringing Spanish culture and presenting it in Mexico's own way."
It may be hard to picture now, in an age where boxing holds few household names, that there …
If Sanchez sounds passionate, it's because he is. When he's not working, he's traveling. And when he's traveling, he's working, scoping out cities around the globe for inspiration to bring to Atlantic City. Veracruz may be his most personal restaurant creation to date, partly because he loves visiting Spain and Mexico, but also because he's Spanish.
"I basically had a vision for the menu and infinite ideas about what the food should taste like, and then Executive Chef Rob Schoell and Restaurant Chef Jason Kuey embraced those ideas and invested lots of time and research to bring that Spanish taste here to Veracruz," Sanchez says. "There were a lot of crazy directions coming from me because I grew up in a Spanish household. To me, it was all about bringing those authentic flavors that I grew up on and experienced while traveling to the plate here in Veracruz."
A nice portion of the menu is devoted to Sanchez's quest to share the experience he had while wandering the streets of Madrid and Barcelona, where he would step in and out of tapas bars to try things like assortments of meats and cheeses at Veracruz that is recreated in the amazing jamon Iberico de Bellota ($14), lomo ($10), which is cured pork tenderloin and manchego cheese ($10), as well as other tapas dishes including croquetas ($9) with Serrano ham and Romesco sauce or blue crab and Romesco.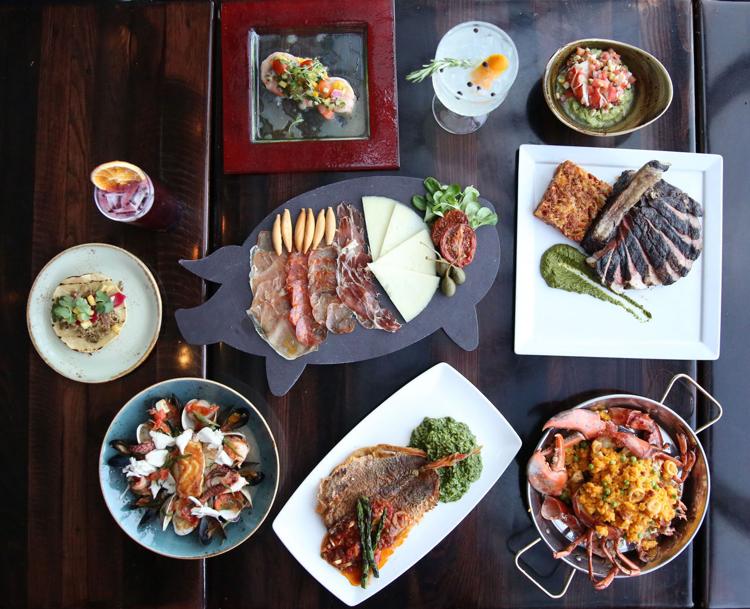 "It's what Spanish people usually eat when they drink and have fun and enjoy the social experience," Sanchez says.
Five different types of ceviches all impress, particularly the aforementioned shrimp, but also check out the tuna ($16) with soy, cucumber, lime and toasted sesame. The big plates menu's standouts include the lobster paella ($65) with a whole 1.5-pound lobster, chiorizo, calamari, chicken and bamba rice and the 20-ounce ribeye ($56) from Creekstone Farms with ancho and espresso rub, chorizo hash and chimichurri.
Fans of more traditional Mexican food won't be disappointed either. The Mexican street food is from corn ($4) with cotija cheese, chipotle aioli and lime; to six differently constructed types of tacos based on their protein ($4 to $5) — get the short rib with charred sherry peppers and the mahi mahi with slaw and chipotle aioli — to three types of quesadillas ($6 to $8) (with the chicken, sage, caramelized onion and salsa to the most flavorful quesadilla I ever devoured); to chorizo queso fundido ($10.50); to the simple homemade chips and salsa ($5) featuring a roasted tomato chili de arbol salsa that should be bottled and marketed.
"We didn't want to alienate the Dos Caminos customer," Sanchez says. "So there will be some very familiar things like the guacamole and keeping the taco simple and authentic, but everything is taken to the next level."
Aesthetically, the room didn't change all that much. It was already a beautiful restaurant with its gorgeous bay view and private Day of the Dead room that seats up to 40 people featuring authentic Mexican artwork and a large, modern bar.
"We did make some changes with furniture by adding communal tables, making the bar more representative of Mexican culture with distressed furniture and having the dining room evolve more into Spanish culture with Spanish artwork, a vibrant red color scheme to reflect the Spanish flag and even by stringing some outdoor lights to brighten the room and make you feel like you are sitting on a terrace in Barcelona or Madrid to watch the sun set and enjoy a meal," Sanchez says.
Another major factor in Veracruz's early success is the cocktail program crafted by Sanchez and General Manager Cera Fairhurst.
"The cocktail menu brings Mexican culture to life in a very modernized, clean, fresh way, and she also introduced Spanish cocktails to people who are probably not that familiar with them," Sanchez says. "Spanish people love sangrias and gin and tonics, but not the American versions — true ones that you would drink in Madrid on a hot summer day. And she did an amazing job of bringing flavors together that most wouldn't even imagine doing."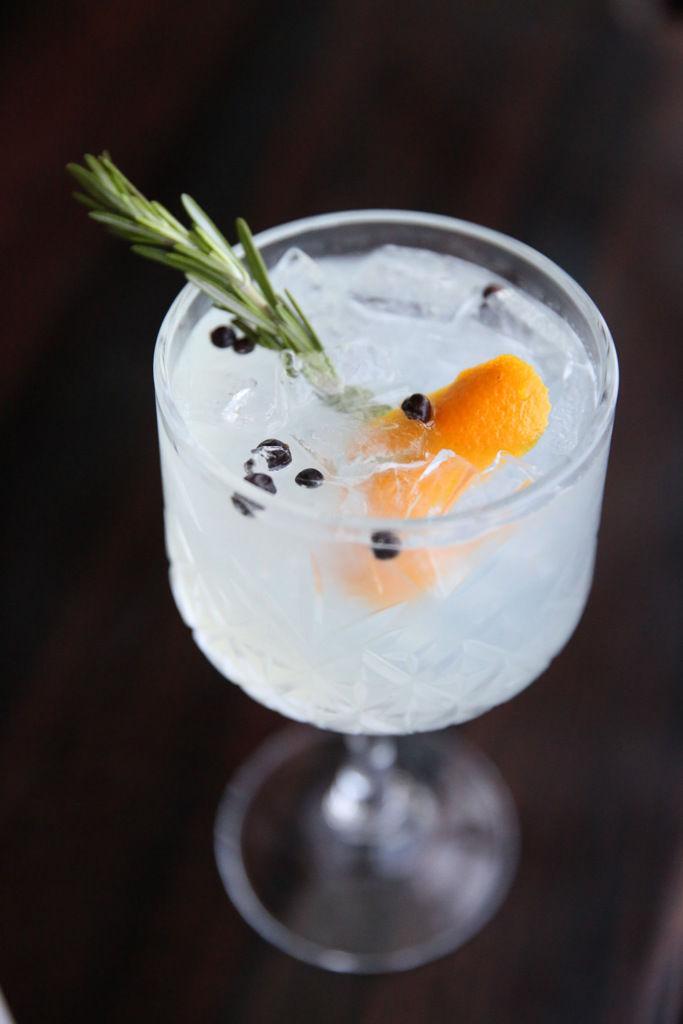 Favorites include the signature Veracruz Margarita ($9) with Patron barrel select and, triple lime juice; the Rign of Fire margarita ($12) with chili-infused El Jimador blanco, fresh lime, and triple lime juice; red and white sangrias ($9); and four gin and tonics, including the Monks Retreat ($12.50) with Gin Mare, freshlime, rosemary syrup and Fever Tree Mediterranean Tonic that would make anyone love gin and tonics.
One of the biggest attractions to Veracruz is the value. The check average is around $35.
"Customers seem to love it," Sanchez says. "When they walk in and see and hear the live flamenco guitarist on Fridays and Saturdays and explore the cocktail menu and see all of the options, it's pretty hard not to be excited about the experience. I encourage people to taste their way through the menu. There are lots of options and you can literally have a Mexican experience one night and a Spanish experience the next. Try new pairings. Try new things. But, most importantly, have fun."