#Veganuary is trending in the New Year in a big way, with endorsements from celebrities such as Chef Jamie Oliver and hundreds of thousands of Tweets and likes. Many have decided that January, or rather Veganuary, is the month to go healthy with a plant-based diet.
A shuffle through the Gaming mailbag:
"Eating a plant-based diet is a great first step toward a healthy lifestyle," says Nicole Jacoby, co-owner of the LAN Restaurant Group, parent company of Greens and Grain, The District Bar and Banzo — all plant-based eateries — along with her husband Lambros Psounos. By adopting a plant-based diet, explains Jacoby, your body is able to assimilate nutrients much more effectively and your system doesn't have to work in overdrive. Good Morning America recently did a segment, as well, extolling the value of plant-based living.
"It's very difficult to digest meat and dairy, and those products are often filled with toxins," Jacoby says.
A 'bloomin' new you — The LAN Restaurant Group
While cutting out meat, dairy, eggs and anything that comes from an animal even honey) may seem impossible, there are plenty of plant-based dining options in this area, thanks in large part to Jacoby and Psounos, who opened their first plant-based eatery, Greens and Grains, in Margate in May 2015. In just over two years, Jacoby and Psounos have expanded their plant-based dining empire to include three different brands at five local spots, with their first North Jersey location gearing up to open in Shrewsbury this year. Their three brands — Greens and Grains, Banzo and The District Bar — all offer something a little different, while maintaining their commitment to quality, healthy plant-based foods.
As is our yearly custom, it's time to raise a glass to the young people of South Jersey who …
"We understood the void, as well as the potential push back," Jacoby says.
But the meteoric rise of their eateries speaks to the need they are filling in this community and the sheer number of people that are opting for plant-based foods. Greens and Grains, Banzo and The District Bar all excel at offering healthy  fare that is also satisfying. It's not just random vegetables on a plate, they are crafted meals that are full of flavor.
"Meat is actually very easy to give up," Jacoby says, while explaining that there are very satisfying substitutes for meat that easily provide all the protein that you need in your diet. For example, a greens bowl ($10) at Banzo with baked falafel, skordalia, tzatziki, pickled banana peppers, roasted red peppers, almonds and watermelon radish has 32 grams of protein, which fills a large portion of the daily recommended intake. The average woman should eat around 46 grams, and the average man around 56 grams of protein each day.
"People are always worried that they can't get enough protein when they eat a plant-based diet, which is wildly inaccurate," Jacoby says.
Greens and Grains: For kick-starting your day
A plant-based diet is an excellent way to improve your health, Jacoby explains, but if you'd really like a kick-start to feeling great, consider doing a juice cleanse.
"Your body is constantly using energy to digest food," Jacoby says. A cleanse, she explains, gets your body used to consuming less, while providing all the nutrients that you need with minimal calories. "On the second day of a cleanse, you will feel a major upswing in energy," Jacoby says.
Juices such as their Restore ($8) with kale, cucumber, celery, parsley, apple, lemon and ginger are crafted as a meal-replacement that provides nutrients without taxing your digestive system. The Restore also includes ingredients such as ginger, parsley and lemon that help your system detox.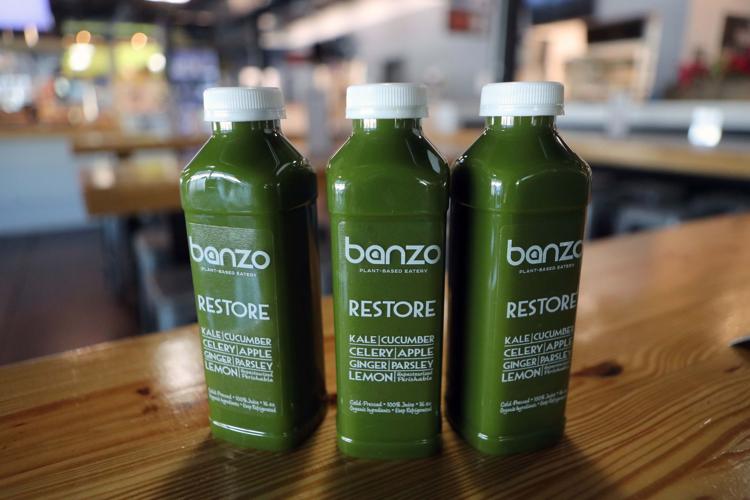 Jacoby and Psounos first got their start making and delivering fresh-pressed juices. They parlayed that business into Greens and Grains, where they expanded to offer juices, acai bowls, smoothies, wraps, paninis, pitas, salads, grain bowls and more to fuel a plant-based lifestyle.
They've also expanded their juicing operation to include a $25,000 cold-press juicer at their Galloway Greens and Grains location, where they make their popular juices every other day to supply each location.
"We do one, two, three and five-day cleanses," Jacoby says. If you are interested in a cleanse, you can order them through the LAN Restaurant Group website and pick them up at any location. One-day cleanses, or a six-pack of juices, are readily available at all locations.
Banzo: For some Mediterranean flair
Banzo is the couple's Mediterranean-inspired plant-based eatery. It offers a highly customizable menu so that you are able to design your meal to your personal taste. The menu is designed to help you build a healthy meal geared to your personal preferences.
First, you choose the base and the toppings. For example, the green smoothie bowl begins with a coconut water, banana, kale or pineapple base ($9). Then you pick four toppings, which may include banana, strawberries, chia seeds and cacao nibs, with additional toppings such as granola available for $0.75 each. Or, for lunch or dinner, you can from a base of greens ($10), pita ($9.25), greens and grains ($10) or just grains ($9.25). You then choose a protein, two spreads, four toppings and a dressing.
The District Bar: For when you need to cheat
While eating healthy is great, everyone has those hungry days when they just want to indulge. Fret not-Jacoby and Psounos have your back!
The District Bar at the Linwood Exchange offers plant-based comfort foods. Their loaded meatball parm fries ($9) seem impossibly indulgent, but are baked and 100 percent plant-based, so you can still maintain your diet but satisfy your cravings.
"If you are feeling the need to indulge, definitely go for something 'cheesy'," Jacoby says. Another option is their just-baked fries with nacho "cheez" ($6), which is made from a cashew base.
Another popular selection is the Cuban ($9) sandwich on fresh baked panini bread, grilled with dairy-free cheese, smoked tofu, Dijon mustard, Just mayo, pickles, tomatoes and red onions.
Indulge even more, as The District Bar also crafts cocktails with their own cold-pressed juices — all of which are dairy-free. They also feature a selection of organic wines and local beers.