Since the Chart House debuted in Golden Nugget Atlantic City in 2012 as part of Landry's renaissance of the property, the seafood restaurant has made remarkable strides in everything from service to quality of food.
The Chart House always offered one of the most stunning views of any restaurant in the city. Perched above The Deck so diners can see yachts docking in the beautiful bay and the best view of the city skyline you can get, the sights of the Chart House often outshined the food.
That is no longer the case.
Led by Executive Chef Rodney Seeberger and General Manager Chris Crean, the Chart House has evolved into the best seafood experience in an Atlantic City casino. And it seems to keep getting better every visit.
Aside from the view and happy hour (see info box), here are five reasons to visit the Chart House this summer.
1. The value
Seafood is expensive. And the Chart House certainly offers some pricey options like the mammoth iced seafood tower ($55 for a small or $95 for the large) and the remarkable fish and seafood entrees that can exceed $40, but there's also tremendous value available with the Chart House's current Three of a Kind promotion. For $29 — that's right, $29! — diners receive three amazing courses to feast on. The promotion runs 4 to 6 p.m. Tuesdays to Thursdays and again on Sundays.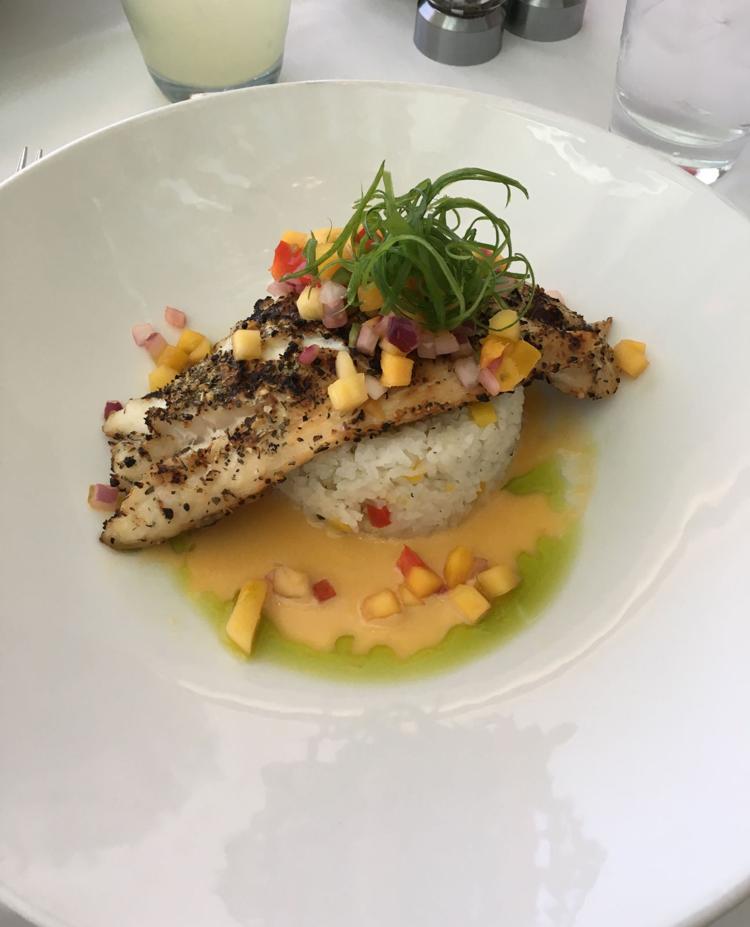 Start off with the Chart House's award-winning New England clam chowder — hands down, my favorite in South Jersey — or a Caesar or chopped salad. Then choose from four entrees. The salmon features a perfectly balanced maple ginger glaze that could convert any non-salmon eater, like myself. Served with white rice in a soy broth with cucumber-daikon relish, it's as good as a salmon dish you will find. The Key West snapper is even better. The mild white fish is grilled to perfection with a Key West spice (basil, garlic, lime zest) and served with mango sticky rice and pineapple habanero butter that offers just enough sweet and spice to make it right. Not into seafood? No problem. There's chicken francese with garlic wilted spinach and lemon butter sauce or the braised short rib and spinach and ricotta gnocchi served with asparagus and shiitake mushrooms. Then end on a great note with a choice of salted caramel brulee or mud pie, a monstrous concoction with coffee ice cream, Oreo cookie crust, chocolate fudge sauce and diced almonds.
2. The summer menu
The Chart House also debuted a Summer Across the Sea menu that is freshening things up for the seafood house. Standouts include: the brie and berry salad ($11), a frisee and arugula mix with strawberries, Hammonton blueberries, candied pistachios and vanilla vinaigrette that is raised to the next level by hand-made fried croutons featured battered brie; the Gochujang BBQ shrimp ($14) with U-15 shrimp nicely grilled, tossed in a tasty BBQ sauce made with a red pepper paste that has just enough kick and served with radish and pickled red onion salad and citrus yogurt coulis; the Maize shrimp and scallops ($39), which demonstrates how simplicity and great ingredients can create an amazing dish, with pan-seared shrimp and scallops elevated thanks to a stunningly tasty creamed corn sauce, served with spinach and ricotta gnocchi and heirloom grape tomatoes. And the crème brulee tasting ($9) — salted caramel, espresso and chocolate — is worth the calories.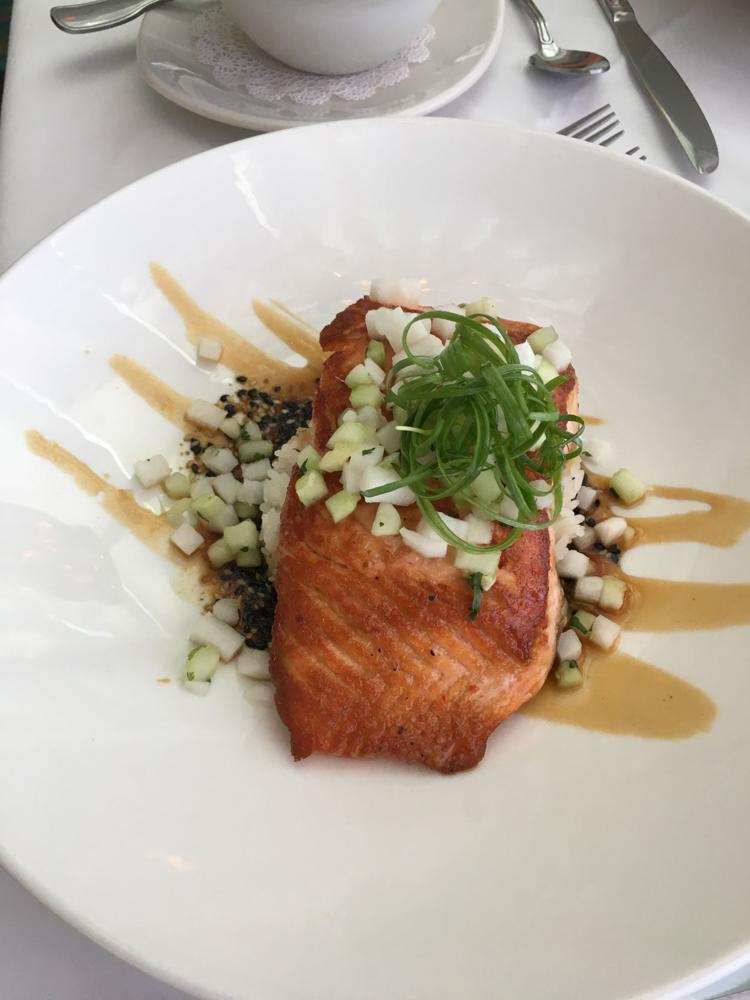 3. The seafood favorites
Of course, the Chart House's regular menu is available, as well, and it's a big one with lots to choose. Some of my favorites include the coconut crunch shrimp ($13) with citrus chili, coconut cream and soy dipping sauces; the crab, avocado and mango stack ($18) with jumbo lump crab tossed in remoulade; some of the best clams casino ($15) and oysters Rockefeller ($18) in the city; a stellar version of linguini and clams ($27); and the crab-encrusted "Dynamite Swordfish" ($41) with basil oil drizzle and coconut ginger rice.
4. There's more than just seafood
One of the greatest assets of the Chart House is that it pleases those who may not like seafood. Start off with the Mediterranean hummus tasting ($11) featuring avocado, roasted red pepper and kalamata hummus served with grilled pita bread and plantain chips or the charcuterie and cheese plate ($21) before perusing some landlubber entrees.
Embroidery first emerged last year as a major fashion trend, popping up on dresses, bags, be…
The Chart House is known for its prime rib ($38 to $49) for a reason. Herb-seasoned and slow-roasted for six hours, it's a top-notch piece of meat. But you can't go wrong with the 16-ounce N.Y. strip ($47) the marinated and seared Tomahawk lamb chops ($48) with an herb marinade served with roasted veggies and fingerling potatoes; or the paneed chicken ($25) that is panko-crusted and sautéed and served with a citrus butter and comes with garlic mashed potatoes and asparagus.
5. The cocktails
The Chart House's wine program is impressive, with literally hundreds of bottles in its "cellar" and dozens of options by the glass — way more than most places — but the cocktail menu is creative, fun and perfect for sipping while enjoying that aforementioned view.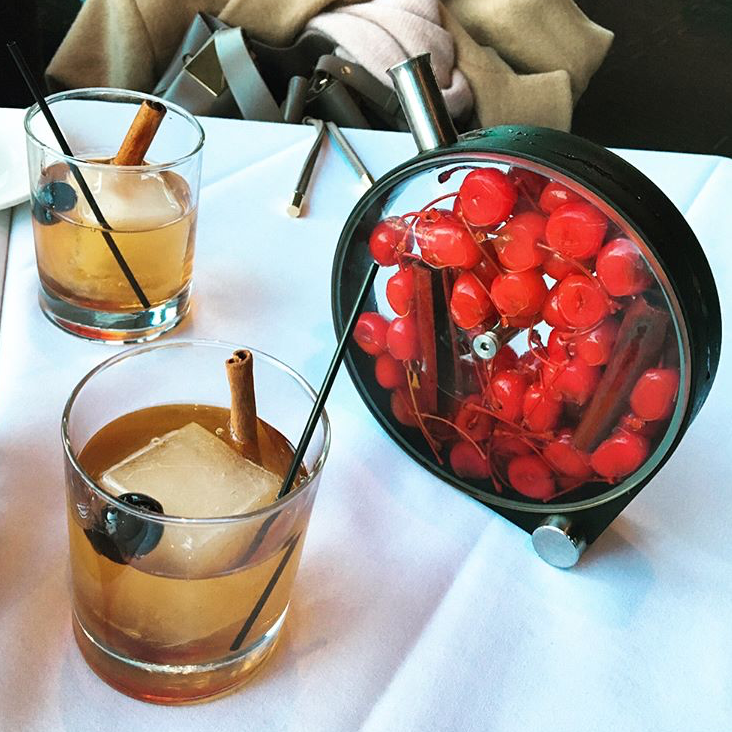 Particularly impressive are two "infused" cocktails. Circular glass flasks are loaded with fruits and liquor and gorgeously presented to serve two people for $25. The Port of Manhattan features Bulleit Bourbon and Carpano Antica Sweet Vermouth infused with dozens of maraschino cherries and then served on the rocks with a single cherry and cinnamon stick. The Real Dill features Hendrick's Gin infused with fresh cucumbers, lemon and dill, served with lemon lime soda. If those drinks don't do it for you, other signature cocktails worth drinking include the Ginger Mint Paloma ($12) with Casamigos Blanco Tequila, Monin Agave Nectar, fresh lime and grapefruit juices with a hint of ginger puree; and the award-winning Bloody Mary with Absolut Pepper Vodka that goes perfect with some shrimp cocktail.
Ice-T & Coco mix things up at The Pool
Ice-T & Coco make a stop at The Pool After Dark.