Fat Boy foods come in a lot of varieties. Everything from a bigger-than-life triple cheeseburger to a butter-and-cream-laden bowl of fettuccine alfredo can make the list. And while both of us enjoy seeking out interesting and unique flavors, we definitely have a soft spot for the type of gluttonous comfort foods that parents of yesteryear regularly served to kids before today's health-conscious kale-pushers took all the fun out of being a kid.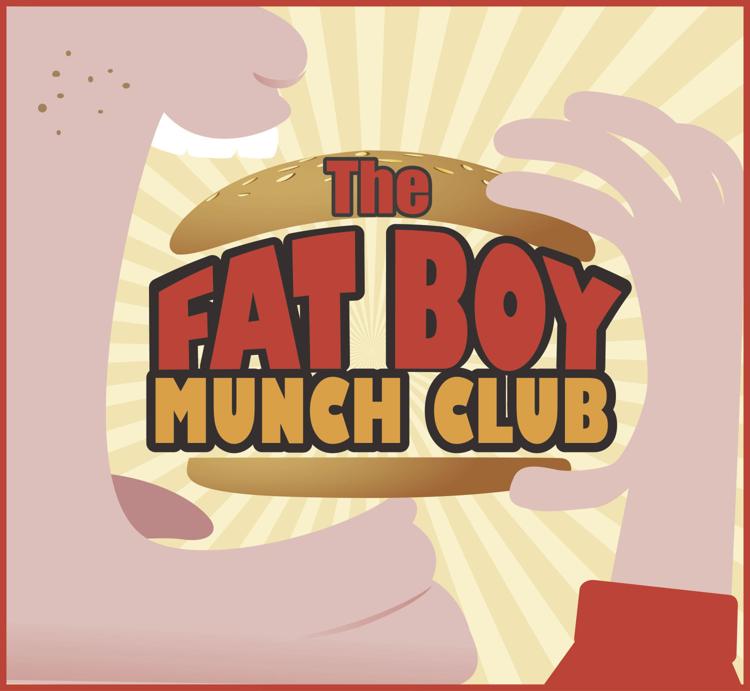 Recently, we stopped in at a spot in the Hamilton Mall that serves the kind of food that would make a 1980s mom beam with pride: Steve's Grilled Cheese and Quesadilla Company.
The grilled cheese sandwich is one of those rare treats that pretty much every human being enjoys. There are not a lot of foods for which that can be said. Frankly, if you don't like grilled cheese, we don't like you. Sorry, but that is Fat Boy policy. We have no time for people who are so troubled and misguided in life that they cannot appreciate the sheer beauty in the combination of heavily buttered bread and gooey cheese grilled to a god-like perfection. Like in a "Seinfeld" episode, Scott broke up with three different women over the years because they would not consume grilled cheese sandwiches. It's not even worth arguing about. Just move on and let's forget we ever met.
Janet Jackson has been in the spotlight since she was a little girl. Her famous older brothe…
Ryan: I was excited about this place before we even got there, but they really started out on the right foot with their drink options. A Stewart's Orange and Cream Soda straight from the tap? Don't mind if I do.
Scott: Carbonated flavored sugar water is a key to a Fat Boy's heart. But, seriously, how does Owner Steve Freda have six locations — also in Glendora, Ocean City, Sea Isle, Wildwood and Glassboro — without us not having eaten here before. Seems crazy that this Fat Boy haven could have escaped our attention.
Ryan: For what seems like a very simple concept, the menu at Steve's covers a lot of ground. Everything from basic grilled cheese sandwiches to more complex varieties were there, along with a variety of apps, breakfast sandwiches, quesadillas and desserts. We kicked things off with a basket of black bean nachos. The chips themselves were the stars here. Homemade white corn tortillas deep fried to a golden brown, they were unlike most varieties you will find in South Jersey. While there could have been more toppings (jalapeños or their secret chili could have gone a long way on this, but we'll get to that later), they made for a nice app.
Scott: They reminded me of nachos I used to get when I lived in Quakertown, Pa., where I got my first job. These aren't that tight crispy chip you expect, but a lighter, puffed-up version that is just perfection. They are immediately one of my favorite nachos on earth, thanks to the chip, but also thanks to Steve's quality, delicious queso that gets used generously throughout the menu.
Ryan: We opted to try one of the breakfast sandwiches, and boy, am I glad we did. It was called "The Cure" (a possible reference to my all-time favorite band, but not likely) and it contained eggs, cheese, scrapple and Taylor ham all piled high on buttered sourdough (the basis for all of their grilled cheese sandwiches). The blending of flavors went from "Oh man" to "Dear God!" when a few squirts of sriracha were added to the mix. Easily one of the best breakfast sandwiches I have eaten all year.
Scott: Even though I am not a breakfast guy, I have to give this sammy props. It will be perfect fuel for an all-day Christmas shopping extravaganza at the Hamilton Mall.
Ryan: We cleaned our palates with a few bites of the hot chicken, a Southern specialty made with cayenne pepper served with a side of honey that had a nice kick to it. I may have liked it a bit more than Scott, who is not big on hot stuff.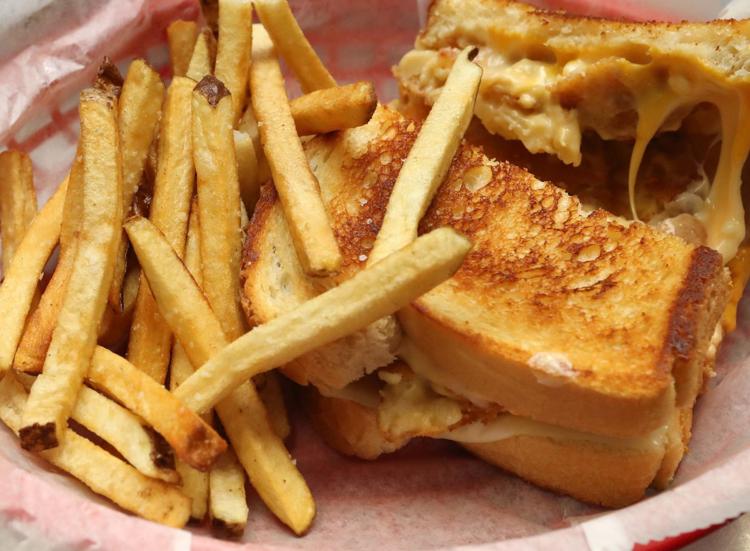 After the chicken it was on to the big time — a buffalo chicken grilled cheese, as well as a ham/pineapple quesadilla, plus an order of cheesesteak-smothered french fries and finally a peanut-butter-and-banana-based sandwich with Nutella and granola. One after the next, these items brought smiles to our cherubic Fat Boy cheeks. Each came grilled to utter perfection and had us chattering away about whether the last was as good as the current one we were chomping on.
Scott: You're right, the Nashville hot chicken lives up to its name — too hot for me. And while the buffalo chicken grilled cheese was a thing of greatness, I actually preferred the Hawaiian quesadilla for its great balance of sweet and savory. And my second favorite thing — after the nachos — was the dessert sandwich. Wow, that is as good of a Fat Boy meal topper as you will find.
Ryan: At this point, our stomachs were ready to pop, but I had noticed a chili special on the menu that I just couldn't leave without sampling. That may have been the single best move I made all day. This chili was outstanding, served just how I like it — light on beans, heavy on meat and topped with a bit of sour cream which blended in perfectly and helped the dish shine. Scott seemed to notice a sweetness to it that was not as pronounced to me, but either way, this ended up being my favorite of all the items we sampled.
If you survived last week, you should be in good shape. Why? Well, we are now five weeks in …
Scott: I was so full, Ryan was like the guy in the Monty Python movie urging me to take one small little bite. It seemed good but my Fat Boy palate — and stomach — were toast for the day … pun intended.
Ryan: It was hard to find anything bad to say about Steve's. This place embodies the true spirit of a classic Fat Boy eatery. We loved it and we will be back. Oh, who are we kidding … we went twice last week alone. I may just move in.
Rating: 400 pounds (Fat Boy Heaven)