Unless a passing motorist catches a glimpse of the sign hanging over its entrance, it is easy to drive right by Little Saigon without even knowing it's there.
The famed A.C.-based Vietnamese restaurant is located well away from the hyper activity of the Boardwalk on a one-way street in a mostly residential part of town. But as hundreds of photos of satisfied faces on its walls can attest, people know where it is and have been seeking it out for over 25 years.
Channel your inner Adam Levine or Blake Shelton with the new "The Voice" slot machines, curr…
Lien Pham started Little Saigon at the behest of her mother, Bo Tran, who brought Pham and her siblings to the United States in 1978 for a better opportunity following the Vietnam War. Pham's father died in the war when she was 9 years old. They settled in northern New Jersey and Pham ventured into the Atlantic City area to learn how to deal cards in the casinos.
Pham's father was an army cook who passed along much of his culinary skills to her when she was young. When she noticed an expanding presence of others from Asian nations immigrating to the Atlantic City area, but a dearth of places offering the dishes they loved back home, she opened Little Saigon on Arctic Avenue in 1991 with the blessing and support of her mother.
Little Saigon has since become a must-stop haven for many locals and tourists seeking some of the most delectable southeast Asian cuisine on the East Coast — its new remote location notwithstanding.
The beef-rice noodle soup Pho Tai ($8.95) is among its biggest sellers, and one that helped Little Saigon hone its reputation. It is among several variations Little Saigon serves of the increasingly favored Vietnamese soup called Pho, which also helped spur the rise of at least a half-dozen other Southeast Asian dining establishments in the Atlantic City area since Little Saigon's arrival.
"Lots of Vietnamese people started to come, but there was no Vietnamese food at all when I moved here, and my mother told me I should start my own restaurant," Pham says. "She and my sister came down (from North Jersey) and helped. After a while they got tired and looked for other jobs, but I'm still here. And now my two daughters and son run their own restaurant in Linwood."
Pham has investments and input in both locations while looking after her 83-year-old mother, who moved in with her in Absecon.
"I work like a yo-yo," she says.
Her daughters, Vy and My Tran, operate what became Lil Saigon when the Exchange food court opened in Linwood in July. Her son Jeff Tran has a full-time job as an engineer with the FAA Tech Center in Egg Harbor Township, yet he still finds time to make supply runs during the evening and help operate the Linwood location.
Lil Saigon's business model is serving a plethora of variations on just two basic premises — the Box and the Noodle Bowl. The Box's fixed $12 price gives customers multiple options for a base (such as vermicelli, spring mix, brown or white rice), protein (beef, chicken, shrimp, pork or veggies) and a side dish (spring rolls, veggie rolls or veggie slaw). Likewise, the Noodle Bowl's $10 fixed price offers choices of broths (beef, chicken, curried coconut), noodles (egg, rice, vermicelli) and protein (pork wonton, beef balls, thin-sliced flank steak, chicken or shrimp).
The average price of an entree at A.C.'s Little Saigon is about $12, and only one item out of more than 100 regular-menu options exceeds $20 — the Mon An Choi, a mixed seafood grill priced at $27.95.
Pham says she strives to keep the menu affordable, but some ingredients have to be shipped from suppliers in Florida or California, or imported from Vietnam or Thailand.
Singer-songwriter Cassadee Pope has opted to go the indie route after tasting traditional co…
Much of what she constructs her delectable dishes from comes from jaunts to the larger Asian markets in Philadelphia and New York City, but the Asian market off the Black Horse Pike in the Pleasantville Shopping Center — which was given rise to largely because of Little Saigon's success — helped put a lot of basic-dish ingredients within a short drive.
Other big sellers at the flagship location, says Pham, include the Bo Nudrig, a charbroiled beef wrapped in grape leaves ($10.95); the Tom Ram Man, grilled Saigon shrimp in a caramel sauce slow-cooked in a clay pot ($17.95); and the Hu Tieu Ga, a chicken rice noodle soup with garlic chives, cilantro, bean sprouts, scallions and other herbs and vegetables ($9.95).
There are also a multitude of vegetarian dishes available as well, such as the curried bean curd cooked in a hot pot ($15.95); pan-fried rice noodles and vegetables ($16.95); Asian eggplant with tofu ($17.95); or stir fried bamboo shoots with black mushrooms ($15.95).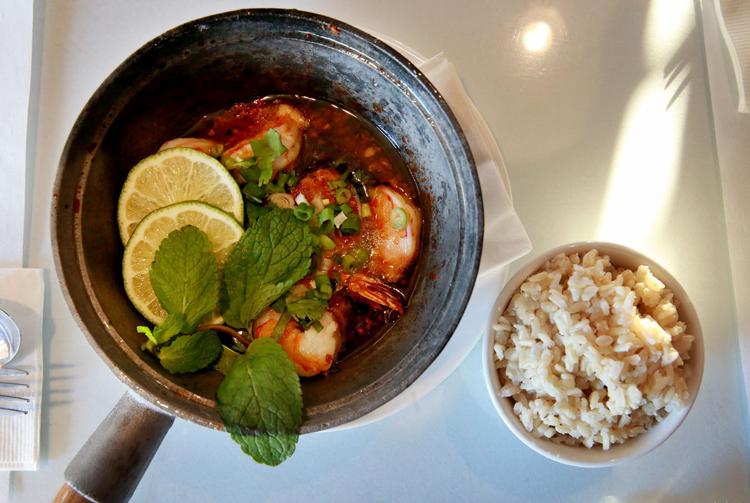 Each dish is listed by its Vietnamese name with an English description under it. Pham says she created most of the dishes herself, blending French and European influences with traditional Vietnamese cooking. Photos of many of the dishes are beside its name.
Pham says that if a customer has an idea of what they want but does not know a dish's name or where to find it listed, the staff can help.
"Most already know when they come in what they want, but if you need help, we let you know," she says. "Whatever you favor, we will make."
The Pool After Dark kicks off the New Year with style
The Pool After Dark hosted its annual New Year's Eve party.