Healthy eating trends are surging. Leading the path are plant-based diets. Sales of plant-based products have been skyrocketing, while the sales of meat and dairy have been steadily declining. Many doctors have been vocal in their prescription of plant-based diets to combat many of our most common healthy ills. The USDA even revamped their dietary recommendations in favor of a more plant-based, fresh food regimen.
Many area restaurants are on top of this plant-based diet trend and are offering healthy, vegetarian alternatives. Leading the way is Tony Boloney's in Atlantic City. "We've had a vegetarian menu since we opened about seven and a half years ago," Hauke says, who was a strict vegetarian for 16 years, and even vegan for a portion of that time. "My wife is still vegetarian and I want to give people options. I get it," Hauke says.
Tony Boloney's may be best known for their "indigenous Atlantic City grub" and generally diet-breaking dishes, but there is a whole other side that is surprisingly healthy and proves that eating healthy can still be fun. Almost anything on Tony Boloney's menu can be made vegetarian. "People are always surprised when they see that we have brussels sprouts and cauliflower on the menu," Hauke says.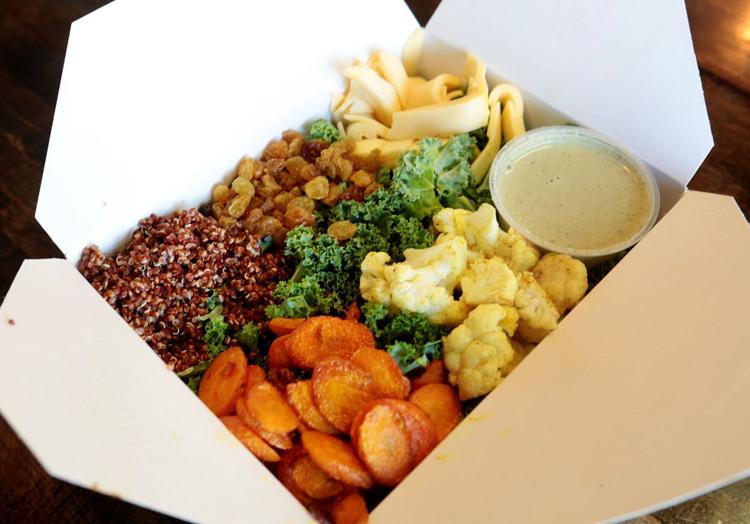 For a bowl full of vegetable goodness, try the Puebla Salad with fresh romaine, roasted New Jersey corn, black beans, tomato, queso Oaxaca, toasted pumpkin seeds, cilantro, tortilla chips with a creamy cilantro dressing and choose siracha cauliflower ($12). For a veggie-filled sub, also available as a whole wheat wrap, try the Hudson ($10.75) with roasted cauliflower, hummus, harissa, chimichurri, golden raisins, baby arugula and Havarti, or the Royal Balls ($10.75) with truffle butter roasted brussels sprouts, homemade sweet smoked mozzarella and eggplant cutlet, just leave off the optional bacon and meat.
"This summer, I ran a report and found out that more people sub out meat for vegetables than anything else," Hauke says while noting that their vegetarian and vegan options have become immensely popular. "Two of our best-selling pizzas happen to be vegan — even people that aren't vegetarian or vegan are eating these pizzas," says Hauke of pies like the King ($15/$25) with Moroccan roasted cauliflower, red quinoa, lemon tahini hummus, golden raisins and a harissa chimichurri or the Kaleiente ($15/$25) with roasted kale, Mexican black bean hummus, avocado, cilantro and homemade salsa verde.
Hauke also makes much of his own cheese from scratch with vegetable rennet so that it's vegetarian. He also places a great deal of emphasis on where his products are sourced from. "The condition of animals that are raised strictly as a commodity is deplorable," Hauke says. Further explaining that as a restaurateur, he's not interested in getting things as cheaply as possible, he wants items that are responsibly sourced and produced.
Tony Baloney's isn't alone in their mission to add healthier, vegefied options to your dining out repertoire. On a quest to address his own health issues with his diet Jonathan Sands, chef and owner of The Spot in Northfield, has spent a great deal of time and energy learning what foods make him feel his best. Hungry customers flock to this restaurant for the delicious food, but also get to reap the benefits of Sands' journey, who has learned that the more fresh vegetables he eats, the better he feels. "Science is showing that what we eat effects every part of our body, from our minds to our stomachs," Sands says adding that probiotics have been tremendously beneficial for him. "I ferment my own kimchi in gallon buckets and it has been selling wildly," Sands says. For a delicious example of this spicy, belly-loving cabbage dish, try the kimchi avocado appetizer ($7) served with rice and peanuts.
Sands uses all fresh ingredients at The Spot and makes just about everything from scratch, including his own spices, many of which he grows himself. The Spot features a full line of vegetarian dishes including many that are also vegan. While the menu changes regularly, some favorites include the veggie tofu wrap ($10) with grilled tofu, jasmine rice, eggplant, shredded cabbage, roasted peppers and a Thai chili sauce in a black bean wrap. And the veggie piece ($11) with fried eggplant fingers, grilled squash, falafel and roasted peppers topped with Bulgarian sheep's feta and seeded blend and served either in a roll or over brown rice.
For a healthy, vegan brunch, head to Hannah G's in Ventnor. Kevin and Donna McCarthy opened Hannah G's 15 years ago with the intent to give customers what they want — and what they want is a healthy option. "It's (healthy foods) working out well for us," McCarthy says.
Hannah G's has a completely vegan menu with breakfast and lunch items that include a smoothies, acai bowls, vegan pancakes, wraps and more. Check out the vegan blueberry pancakes ($8.95), the maple cinnamon oats with flax seeds, dried cranberries and toasted almonds ($5.25) or the warm quinoa and veggie salad ($12.95) with eggplant, zucchini squash, onion and roasted peppers on a bed of spinach and romaine topped with a balsamic vinaigrette.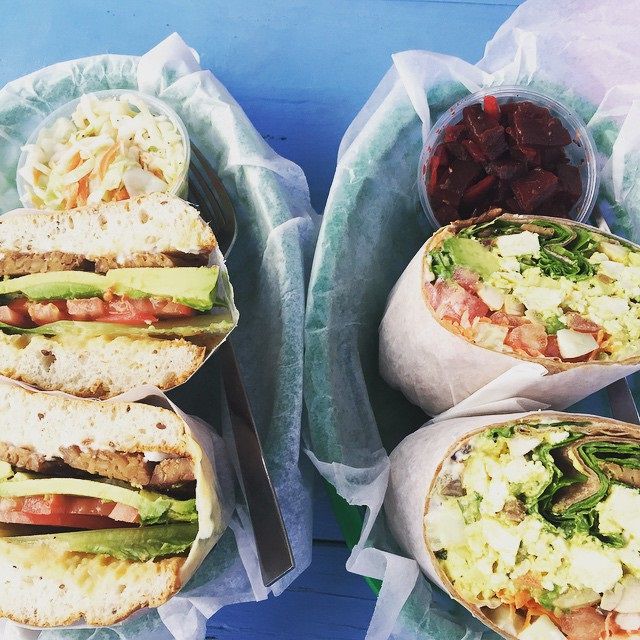 While preparing a fresh, vegan meal may take a little extra work, Greens and Grains, with locations in Northfield, Galloway and Ventnor, proves that eating vegan can be easy with their grab-and-go vegan fare. A quick 5-minute stop can net you a fresh-pressed juice, acai or pitaya bowl, smoothie, wrap, salad, rice or quinoa bowl and more. Selections such as Viva La Vegan smoothie with banana, almond milk, dates, cacao or peanut butter powder ($6.95), the CHK'N Sandwich ($6), the hummus wrap ($8) and coconut curry lentils with sweet potatoes over rice or quinoa ($8/$9) have helped Greens and Grains' popularity surge from a fresh-pressed juice delivery service to a multi-location restaurant chain in just about one year.
TONY BOLONEY'S
WHERE: 300 Oriental Ave.,
Atlantic City
MORE INFO: Call 609-344-8669
or go to TonyBoloneys.com
THE SPOT
WHERE: 331 Tilton Road, Northfield
MORE INFO: Call 609-568-6571
HANNAH G'S
WHERE: 7310 Ventnor Ave., Ventnor
MORE INFO: Call 609-823-1466
or go to HannahGs.com
GREENS AND GRAINS
WHERE: 7307 Ventnor Ave., Ventnor;
80 W. Jimmy Leeds Road, Galloway; 1600 New Road, Northfield
MORE INFO: Go to GreensAndGrainsNJ.com