Summer has often been described as having lazy, hazy days. But with all that's going on in and around Atlantic City this season, you won't have time to relax. What with amazing beach concerts that include Jimmy Buffett and Zac Brown Band, awesome not-to-be-missed annual events such as Miss America and the A.C. Airshow, local standouts like Lucy the Elephant and the Absecon Lighthouse and loads of outdoorsy things to keep you fit and active — well, you just may need a vacation from your vacation!
— Pamela Dollak
Compiled by Ann Jungels
LOCAL TREASURES
Midmer Losh Pipe Organ Concerts and Tours
Atlantic City is home to the world's largest pipe organ and it's a well-kept secret that you can listen to a free concert (noon Mondays to Fridays) or take an in-depth two-hour tour (10 a.m. Wednesdays). Note that the tour features extensive walking and stair climbing, although there is a limited mobility option. No reservations necessary. Enter Boardwalk Hall through the front lobby. 2301 Boardwalk, A.C.; 609-348-7000
Absecon Lighthouse
New Jersey's tallest lighthouse is 150 years old and has a spectacular view of Atlantic City. Situated on the island's north end near Gardner's Basin, the Absecon Lighthouse offers a variety of programming. Of course, you can just visit and climb it during the day or even on special moonlit nights (June 20, July 19, August 18). There are Wacky Wednesdays with special themes for children in July and August. The popular "Symphony & Soul" concert with a wine-tasting porch party returns on July 29. Plus the beautiful grounds feature a Lightkeeper's dwelling, educational museum, gift shop and fresnel lens exhibit in the original Oil House. In June, Lighthouse hours are 11 a.m. to 4 p.m. (closed Tuesdays and Wednesdays); in July and August hours are 10 a.m. to 5 p.m. daily and Thursdays until 8 p.m. Fees to climb to the top are $7, $5 for seniors, $4 for children ages 4 to 12, $3 for A.C. residents and free admission for active military and children under 4. The Lighthouse offers free parking and admission to the Keeper's House Museum, exhibits and grounds. 31 S. Rhode Island Ave., A.C.; AbseconLighthouse.org
Lucy the Elephant
Built in 1881 by a real estate promoter, this 90-ton steel elephant in Margate stands six stories high. Take a tour to learn about Lucy's history and climb a spiral staircase through her legs and belly all the way up to the howdah on her back. There you'll be treated to a 360-degree view of Absecon Island and the Atlantic Ocean. Hours are 11 a.m. to 4 p.m. Wednesdays through Fridays, 10 a.m. to 5 p.m. weekends. Admission is $8 for adults, $4 for those under 12 and free for kids under 2 and members of the military. 9200 Atlantic Ave., Margate; 609-823-6473. LucyTheElephant.org
FUN FOR THE KIDDIES
Atlantic City Aquarium
Bring the family to watch stingray feedings or the exotic animal show that features a 6-foot boa, a tarantula and a bearded dragon lizard. The aquarium features fish of the mid-Atlantic Ocean such as cownose rays and loggerhead sea turtles, plus ocean oddities, moray eels, moon jellies, a live coral tank and a tropical shark "Touch Tank." More than 100 varieties of fish and marine animals are on display. Live shows are held throughout the day from July 1 to Labor Day. Open 10 a.m. to 5 p.m. daily. $8 for adults, $6 for seniors, $5 for kids ages 3 to 12, under 3 are free. Located at 800 N. New Hampshire Ave., A.C.; 609-348-2880; ACAquarium.com
Steel Pier
This famous amusement pier located atop the Atlantic Ocean is still going strong. Though the diving horse may have disappeared, the fun can now be had at more than 25 extreme rides, an amusement arcade, helicopter rides and a bar and grill way out at the pier's end that offers one of the best views around. Open weekends at noon daily starting June 20. 1000 Boardwalk, A.C.; SteelPier.com
Storybook Land
For 60 years, this delightful amusement park has welcomed generations of visitors with its storybook-themed children's rides. Storybook Land offers pint-sized versions of amusement park classics like Bubbles the Coaster, the Whirly Bug Ferris wheel and the Tick Tock Clock Drop. It is a magical place nestled in the trees off the Black Horse Pike in Egg Harbor Township. On summer days, cool off in the misters, sprayers and water fun at Storybook Seaport. The park is open daily and a one-price admission includes unlimited rides with access to all Storybook Land attractions. Home-packed picnic lunches are allowed, but food is available at the Caboose Café, the Dining Depot and the Gingerbread House. 6415 Black Horse Pike, EHT; 609-641-7847; StorybookLand.com
Ocean City Boardwalk
This family-friendly, 2.5-mile long boardwalk always has something going on, like the annual Boardwalk Art Show on the first weekend in August; Character Nights on Sundays and Wednesdays, and Family Nights from 7:30 to 9:30 p.m. Thursdays when the Mummers and other bands entertain. The main section of the Boardwalk stretches from 6th to 14th streets. The Ocean City Boardwalk offers classic attractions like the 140-foot Ferris wheel, bumper cars and roller coasters at its two amusement piers, plus numerous miniature golf courses, a water parks and loads of arcades with video games and skee ball. Ride your bike from 5 a.m. to noon. Get there early and behold the sunrise. There are also surfer shops and oh-so many places to eat, or just watch salt water taffy and fudge being made. For more info, check the calendar of events at OCNJ.us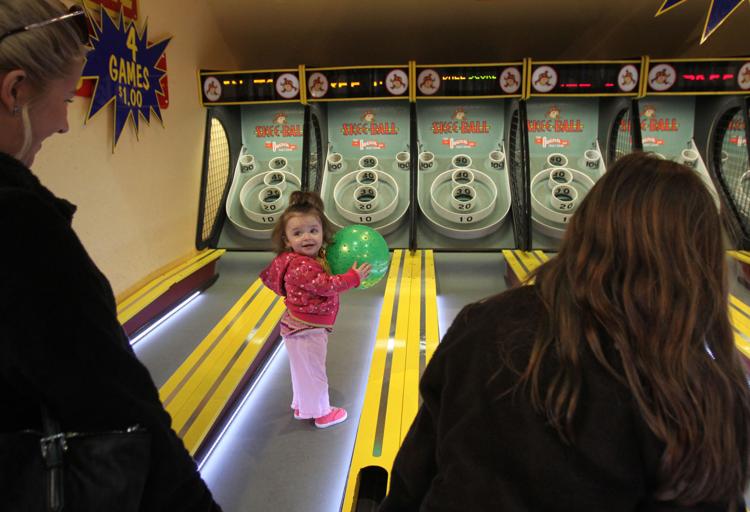 Gillian's Wonderland Pier and Playland's Castaway Cove
At Wonderland Pier on Ocean City's Boardwalk, you can ride the historic carousel with brightly painted, carved wooden horses or board a jumbo elephant and watch him soar high into the air. Hang onto your hats when on the various roller coaster rides, giant Ferris wheel or Sling Shot, which propels riders high above the O.C. skyline, and, of course, the ubiquitous Jersey Shore bumper car ride. 609-399-7082 or Gillians.com. Further down the boards at Playland's Castaway Cove, there are rides for all ages plus arcade games, a go-kart speedway and mini-golf. Check them out at OceanCityFun.com
Tropicana multimedia light and sound show and weekly fireworks
Tropicana Atlantic City's Multimedia Light and Sound Show has partnered with the world-famous Moment Factory, who has done work for Walt Disney, Madonna and Microsoft. The result is an immersive experience of sound, lighting and mind-blowing visuals. This summer there are five fantasy-themed light and sound shows that will play all summer nightly on the Boardwalk starting at dusk, with shows at 8:30, 9, 9:30, 10, 10:30 and 11 p.m. Schedule is subject to change. Tropicana will also light up the night sky with heart-pounding fireworks by Grucci at 10 p.m. Saturdays through September 10. Both events are free. Tropicana is located at 2831 Boardwalk, A.C.
FUN FOR GROWN-UPS
The Burlesque Show at
Borgata Hotel Casino & Spa
This highly entertaining and fast-paced show is a stylish tribute to the 1940s era. It features a talented, sexy, hilarious cast of dancers and comedians 9 p.m. Thursdays at Borgata's Music Box. Tickets are $25. 1 Borgata Way, A.C.; TheBorgata.com
Bungalow Beach Bar
Why travel to Miami or Ibiza when you can experience both at Bungalow? With pretty white beach umbrellas, chic lounge chairs and even day beds for relaxing while palm trees sway above you, it's about as chill as you can get in A.C. Sip on a cocktail or even try hookah. At night Bungalow turns into a cool nightclub with two levels for partying, plus a dance floor and the hottest DJs. 2641 Boardwalk, A.C.; BungalowBeachAC.com
Bally's Beach Bar
Bally's Beach Bar is where drinks like margaritas, bay breezes and rum punches flow all day long, served by bikini-clad waitresses. They also have food favorites such as chicken fingers, burgers and Boardwalk fries, and you can create your own Malibu or Absolut cocktail. At night, the city's best DJs and local bands perform, plus they offer free parking with any purchase of $75 or more. 1900 Boardwalk, A.C.; Casesars.com/Ballys-AC
The Pool After Dark at Harrah's Resort
Any time of the year it's 82 degrees here at this awesome, glass-enclosed indoor pool with cocktail and food service. Nighttime is when the party really gets heated, with DJs such as Pauly D, 3Lau and more. There are also weekly events such as Wet 'n Wild Wednesdays, Thursday Night Swim, Aqua Fridays and Epic Saturdays where celebrities such as Ice-T, Brody Jenner or Kevin Jonas can often be found. 777 Harrah's Blvd., A.C.; Caesars.com/pool-after-dark
LandShark Bar & Grill
A Jimmy Buffett-themed beach bar — and A.C.'s only beach bar open year-round — LandShark Bar & Grill a full-service bar and restaurant in the sand. Retractable walls provide gorgeous views to match the killer live music here, plus terrific food and beer. 1133 Boardwalk, A.C.; LandsharkBarAndGrill.com
The Deck and H2O Pool Bar
For two different but equally fun outdoor party scenes, head straight to Golden Nugget Atlantic City where you can hang out on The Deck or H2O Pool + Bar. The Deck is a great casual spot for pulling up your boat to and grab lunch and a beer. Colorful umbrellas keep you made in the shade while taking in the spectacular marina view, or you may opt to dance to a live band. H2O is a sweet daylife scene for hanging with the beautiful people. Relax on a sleek lounge chair or get some privacy in a cabana that has all the comforts of home, like TVs and refrigerators. Weekends bring the popular DJs. Huron Avenue and Brigantine Boulevard; GoldenNugget.com
Cabana Club at The Chelsea
The Cabana Club is A.C.'s equivalent to a Vegas-style beach club. This hot, pool-side scene redefines daylife with Saturday afternoon parties from noon to 6 p.m. Groove to DJ beats or get cozy in a private, fully equipped cabana. Guests must be 21 and over to enter the Fifth Floor pool. Cover is $10, free for hotel guests. Food and drinks are available. 111 S. Chelsea Ave., A.C.; TheChelsea-AC.com
Laguna Grill & Rum Bar
The only beach bar in Brigantine has great cuisine from breakfast to dinner with stunning ocean views. There's a patio bar for outdoor drinking and dining, often accompanied by live music, such as The E Street Shuffle, to create a jammin' mood. 1400 Ocean Ave., Brigantine; LagunaGrill.com
AWESOME ANNUAL EVENTS
Miss America Pageant
The crown jewel in Atlantic City's heritage, the Miss America Pageant is a week of festivities, including the popular "Show Us Your Shoes" parade and the nationally televised broadcast live from Boardwalk Hall. There are three days of preliminary competitions in the swimsuit, evening gown and talent categories. The Pageant finals will be held on Sunday, Sept. 11. For more information, MissAmerica.org
Independence Day Fireworks in A.C.
One of the Top 5 fireworks displays in the country, Atlantic City's pyrotechnics can be seen this year on July 4. Sponsored by Borgata Casino Resort to celebrate their 10th anniversary, the first show will start at 9 p.m. from the Marina district. At 9:30 p.m., fireworks will be shot off from different locations in the city along the beach and Boardwalk, A.C.; AtlanticCityNJ.com
A.C. Food Truck Festival
Food trucks are a trend everywhere, and Atlantic City is no exception. The first annual festival will serve up American comfort food, seafood, BBQ, desserts and more. And you can vote for your favorite! There will be live music, a kids' zone and outdoor beer and wine gardens. The trucks will be parked around Brighton Park at Park Place and the Boardwalk, A.C. Free. Noon to 8 p.m., June 18; noon to 6 p.m., June 19. ACFoodTruckFest.com
Atlantic City Airshow "Thunder Over the Boardwalk"
Come Aug. 17, everyone's favorites will return to the Atlantic City Airshow, including the U.S. Air Force Thunderbirds, U.S. Army Golden Knights parachute team, Geico Skytypers and many more military and civilian acts. It's a spectacular way to spend a summer day on the beach, watching those man-made birds do fancy and impressive maneuvers in the air. Bring a comfortable chair and earplugs. 11 a.m. to 4 p.m. Free.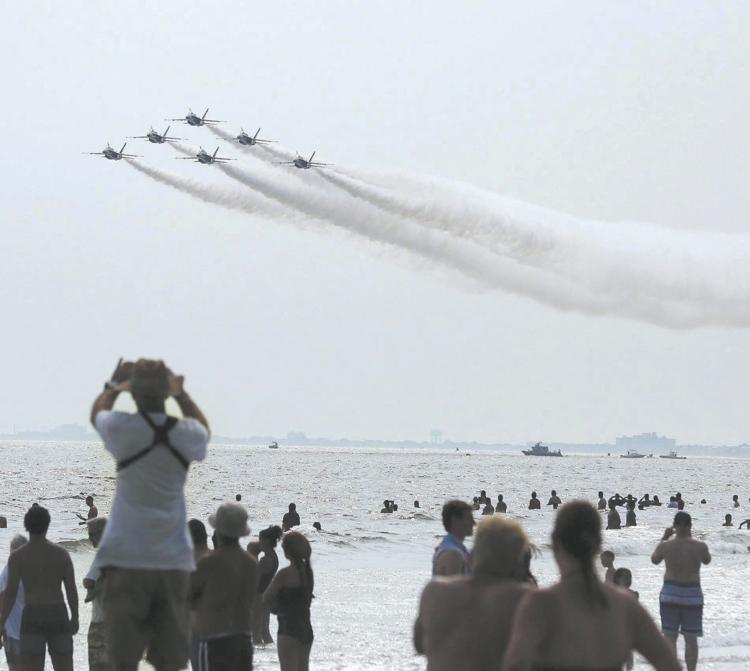 Ocean City's Night in Venice
Get into town early and head for the bay to view festooned houses lining the waterways and a stream of decorated boats that travel from Longport Bridge to Tennessee Avenue in Ocean City. Before the parade starts, take your own boat along the parade route to see the decked out houses. This year's optional theme is "Destination America." New prize categories include a "Collegiate Cup" for the boat that best represents college pride. Both boat and house decorations are eligible for prizes. The real winners, though, are the viewers of this bayside boat parade who are treated to a real extravaganza. The parade is scheduled for Saturday, July 16, followed by fireworks. 609-399-6111; OCNJ.us
Beachstock
No beach tags are required at this 13-hour, non-stop celebration of summer in Margate — also dubbed "the planet's biggest beach party." There will be volleyball and paddleboard contests, live music and dancing, a food court and beer garden and vendors. For the kids there will be a stage with shows, games, music, treasure hunts, free surf clinic and a movie on the beach in front of Lucy the Elephant. The fun takes place 7:30 a.m. to 10 p.m. at Granville Avenue. MargateHasMore.com
Nights in Ventnor Go Green
This is a crazy, fun extravaganza with costumed participants and decorated houses lining the parade route on the waterways through Ventnor. You've never seen anything like this non-fossil fuel boat parade. An expanded parade route has a new viewing area for boat watchers; anchor on the meadow side at Newport Marina. Guidelines for your mode of water transportation are wind, pedal or paddle—no batteries, no motors. It takes place 4 p.m., Aug. 6, at Ski Beach (Dorset Avenue and the Bay) and ends at Viking Rowing Club for a BBQ. To participate, register for free online at our website or Ventnorgogreen.eventbrite.com 609-487-0808; NightsInVentnor.info
Ventnor Summer Concert Series
The inaugural Ventnor Tourism Association Summer Community Concert Series starts Wednesday, May 25, running 7 to 9 p.m. every Wednesday through Sept. 7 at the Newport Avenue Pavilion, Newport Avenue and the beach, Ventnor. The series spans the genres of blues, country, jazz, rock, pop, R&B, soul and island/ska. All shows are free and open to the public. There will also be vendors, artists, crafters and local merchants on hand. For a list of who's performing, go to VentnorTourism.org.
Atlantic County 4-H Fair
Horses, livestock, poultry, oh my! Plus reptiles and more exotic animals, tractor exhibits, rides and great BBQ. Special horse and livestock events are held each evening. This fair is inexpensive family fun. There's more than enough for everyone to do. Scheduled for Aug. 11 to 13, it will be held at the David C. Wood 4-H Fairgrounds on Route 50 in South Egg Harbor. The fair is open from 12:30 to 10 p.m. on Thursday and Friday; 11 a.m. to 11 p.m. on Saturday. 609-625-0056; Rutgers-Atlantic.org
Red, White & Blueberry Festival
Little known fact: Hammonton is the Blueberry Capital of the World. So what better place to host the 30th annual Red, White & Blueberry Festival? Incredible food and blueberries in every shape and form have made this day a family favorite. Held on the grounds of Hammonton High School (Old Forks Road off of Route 30) this festival features blueberry pie-eating contests, live music, stilt walkers and jugglers. There's a classic car show and kiddie rides, too. The Hammonton Kiwanis Club will once again host a blueberry pancake breakfast from 6 a.m. to noon on the festival grounds. Admission and parking are free. Expanded Jitney rides from remote parking areas will also be available free of charge. The fun happens from 10 a.m. to 5 p.m., June 26. 609-561-9080; HammontonNJ.us
107th Annual Ocean City Baby Parade
This parade is famous, not only for its longevity, but its participants. Princess Grace was in it. Joe Dimaggio was once Grand Marshal. One of the oldest baby parades in the country, the Ocean City Baby Parade draws more than 100 entries. Plus there are bands, commercial and homemade floats and cartoon characters. Open for newborns to age 10; participants must pre-register. This is the second year that the parade, from 6th to 12th streets on the boardwalk, will be held in the evening on Thursday, Aug. 11 — time to be decided. 609-525-9300
Knee High Knuckle Buster, Atlantic City Cider Social, Atlantic City Seafood Festival
Good Time Tricycle Productions, creator of the annual Atlantic City Beer & Music Festival and A.C. Tattoo Expo, has three more annual events that take place during summer months. "The Biggest Little Event in Atlantic City" will make its debut July 22 and 23, as the Knee High Knuckle Buster will offer Championship Midget Wrestling at The Hideaway Atlantic City. The epic battle of pint-sized proportions will take place outside in an open-air arena, starting with a weigh-in and party 9 p.m. Friday, followed by the main event 7 to 11 p.m. Saturday featuring four bouts and an all-in royal rumble. Former WWE star Gene Snitsky will referee. Tickets start at $15 with VIP seating and party admissions ranging from $45 to $55. The Hideaway is located on New York Avenue. Go to KneeHighAC.Eventbrite.com for tickets. On Aug. 6, look for the second annual Atlantic City Cider Social presented by Atlantic City Weekly to take place on the beach in front of the world-famous Steel Pier from 6 to 11 p.m. It's a way of celebrating both summer and the newest libation innovations, including at least 30 ciders, meads and other fruit-based brews. Plus there will be food exhibitors, cooking demos, live music, cider seminars, a bonfire and amusements. The Steel Pier is at 1000 Boardwalk. Tickets are $40, go to CiderSocial.com or buy them at both Joe Canal's locations in Egg Harbor Township. Next up is the two-day Atlantic City Seafood Festival 11 a.m. to 7 p.m. Sept. 10, and 11 a.m. to 6 p.m. Sept. 11, at Bader Field, 601 Albany Ave. in A.C. The days will be filled with more than 40 local and regional restaurants, live music, local arts and crafts, kids' activities, beer and wine tastings, crab-eating competitions, a chowder cookoff and so much more. It's one of the biggest events of the summer and not to be missed. Admission is $5, parking is free and a portion of the proceeds will benefit the Community FoodBank of New Jersey. It's all happening at Bader Field. Go to ACSeafoodFest.com
ARTSY-FARTSY DOINGS
Second Fridays at Noyes Arts Garage
The Noyes Arts Garage offers unique original art, great shopping, live music and refreshments 6 to 8 p.m. on the second Friday of every month. There's also a branch of the African American Museum of South Jersey here. The Noyes Arts Garage is open daily as well. 2200 Fairmount Ave., A.C.; ArtsGarageAC.com
African American Heritage Museum
The original African American Heritage Museum still resides off Route 54 near Hammonton, where graphics, drawings, paintings, advertisements, household and decorative items depict African-Americans in a historical context. This impressive collection is so vast that a second location in downtown Atlantic City was necessary; it opened in fall 2013 in the Noyes Arts Garage. With its permanent home in the heart of Southern New Jersey — plus a traveling museum with access to over 3,000 historical and cultural artifacts — the museum offers a unique opportunity to open a window to the mindset of successive generations of African Americans and provides a deeper understanding of its cultural evolution. Hours are 10 a.m. to 4 p.m. Tuesdays through Saturdays. 609-704-5495; AAHMSNJ.org
Holtzman Gallery
The Holtzman Gallery at The Claridge is the largest fine art gallery in the world. This museum-like atmosphere houses works such as sculpture, paintings, prints and 3-D art from local, national and international artists. Artists include Mark Pilato, Rand Snyderman, Alberto Becerra, Beryl Cook and Shorya Mahanot, as well as celebrity artists such as Burt Young and the late Anthony Quinn. Park Place and the Boardwalk, A.C.; HoltzmanGallery.com
Eagle Theater
Located in the heart of Hammonton's Arts District, the Eagle Theater actually started as a silent film venue 100 years ago and later served as a church and storage facility for 80 years. Rediscovered, refurbished and reopened in 2009, the Eagle Theater offers professional equity productions that are innovative and eclectic. September brings a world premiere with "The King of East Jabip" by Kelly McCarthy. There is a wine bar that's perfect for intermission. 609-704-5012; TheEagleTheatre.com
Ventnor Library and Cultural Arts Center
This beautiful complex on Atlantic Avenue includes the Ventnor Historical Society and a Community Center. Offering everything from art classes to dance, yoga and tai chi, to workshops and shows, the Ventnor Cultural Arts Center occupies a prime location overlooking a city-owned beachfront park. The library, operated by the Atlantic County Library System, has more than 31,000 volumes. For a summer schedule of classes and events go to VentnorArts.org. 6500 Atlantic Ave., Ventnor
SUN, SAND, SOUNDS
A.C. Beach Concerts
Three blockbuster music concerts are scheduled to be held on the beach in Atlantic City this summer. Jimmy Buffett with special guest G. Love and Special Sauce will perform Aug. 13, Zac Brown Band plays on Sept. 1, and Florida Georgia Line will play Sept. 3. A fourth concert may be added, as well! The beach concerts have proved to be wildly successful. Last year, Rascal Flatts and Maroon 5 headlined concerts and Blake Shelton and Lady Antebellum performed in 2014. AtlanticCityNJ.com
Somers Point Beach Concerts
At 7 p.m. on Fridays from June 17 through Labor Day, you can sit on the beach, watch the sun set over the bay and listen to some astoundingly great music. Acts range from rock 'n' roll to R&B to zydeco to country. Things kick off this season with the Dane Anthony Band. Other Friday-night acts include the Jeremiah Hunter Band, July 29; Curtis Salgado, Aug. 19; and Vini "Mad Dog" Lopez, Sept. 2. Concerts are at William Morrow Beach on Bay Avenue between Higbee and New Jersey avenues in Somers Point, located just across the bay from Ocean City. There are lots of great restaurants, as well as the bayfront JFK Park. Take your beach chair and a cooler. SomersPointBeachConcerts.com
Concerts at the Music Pier
The Ocean City Music Pier hosts great rock, folk and blues acts on most Monday summer nights. It is a great place to hear a concert. All performances are at 7:30 p.m. Shows this year include, but are not limited to, Jason Mraz, June 23; the Beach Boys, July 11 and 12; George Thorogood, July 25; the Bacon Brothers, Aug. 1; and Lucinda Williams, Aug. 29. Tickets are $39 to $59, cash or check only in person at Music Pier box office. Also available online at Ticketmaster with fees. The Music Pier is also home to the venerable Ocean City Pops. Located at Moorlyn Terrace on the O.C. Boardwalk, call 609-525-9300 for a full schedule and ticket prices.
BE SPORTY AND OUTDOORSY
Batsto Village
Batsto Village was originally a bog-iron works that supplied the Continental Army with cannonballs during the American Revolution. Located within Wharton State forest in the Pine Barrens, it is a beautiful place to step back in time. Batsto became a glass-making operation in the mid-1800s and in 1876 the town was purchased by Philadelphia businessman Joseph Wharton, who remodeled the 32-room Batsto Mansion, originally built in 1785. The state of New Jersey acquired the village and thousands of acres of surrounding woodlands from Wharton's estate in the 1950s. Among the restored buildings are a post office, a blacksmith shop, a gristmill and a general store. There is also a nature center on the banks of Batsto Lake and a visitor's center that houses a museum and gift shop. During the summer months, Batsto offers guided hikes, star watches, war reenactments and canoe tours on Batsto Lake. Hiking and biking groups often use the village as their starting point. 609-561-0024; BatstoVillage.org
Paddle the Great Egg Harbor River
Paddle or float down a narrow tree-lined river with water depths ranging from 1 to 17 feet. On a warm summer day, it's a great place to get a different perspective on the Pinelands. Palace Outfitters in Mays Landing rents canoes, kayaks and tubes, plus operates a restaurant and tiki bar with outdoor tables overlooking the river. You'll be driven upriver to a drop-off point. Children as young as 5 are welcome, but each child under 10 must be accompanied by an adult. Life jackets are provided. Trip times vary from 1 to 2 hours, 3 to 4 hours, 5 to 6 hours, or 7 to 8 hours, depending on the ability of the paddlers and water conditions. 609-625-8552; ThePalaceOutfitters.com
Sports venues
Besides boardwalk bike riding, Ventnor offers a golf driving range on Lafayette Avenue, tennis courts by the beach and volleyball courts on the beach at Somerset Avenue. The Viking Rowing Club also offers rowing programs for all ages. The Ventnor Fishing Pier at Cornwall Avenue, in existence for nearly 100 years, is a great place to watch surfers and go fishing. For a fee, anglers can toss in a line in hopes of reeling in everything from striped bass to flounder to kingfish. Call 609-823-7944 for the fishing pier's seasonal rates. In Margate, go fishing at Captain Andy's Fishing Center. The full-service marina sells bait, tackle and marine supplies; boat and personal watercraft slips are available. Captain Andy's is located at 9317 Amherst Ave., Margate. 609-412-3635; Capt-Andy.com and JessieOFishing.com
Parasail, fish, surf and more at Gardner's Basin
Located along the bay just off Absecon Inlet, Gardner's Basin features A.C. Parasail and A.C. Surf School, deep-sea and back bay fishing charters, and all kinds of cruises to dolphin-watch, sightsee and drink cocktails as the sun sets over the Atlantic Ocean. Gardner's Basin is also home to the Atlantic City Aquarium, an artists' colony and some terrific restaurants, including Gilchrists and the Back Bay Ale House. AtlanticCityParasail.com and ACSurfSchool.com
Surfing
Ocean City's fairly flat and gradually-sloped beaches create waves that break well. Come watch surfers or do it yourself at three guarded surfing beaches: 7th Street, 16th Street and Waverly Beach on the north end; surfing is permitted on all other beaches when lifeguards are off duty. Check out the great local surf shops for gear or lessons: 7th Street Surf Shop at 7thStSurfShop.com, Heritage Surf & Sport at HeritageSurf.com, Surfers Supplies at SurfersSupplies.com FCA Surf offers surfing day camps and surfing lessons at 59th Street Beach. 609-602-0610; FCASurf.org
Route 52 Causeway (a.k.a. 9th Street Bridge)
This main artery into Ocean City offers a spectacular ocean view from the Visitors Center at its crest and great scenery from its span across the Intracoastal Waterway. At its base you can fish from four piers or launch boats from two ramps. Fitness buffs like the slopes and can be found walking, running or biking this bridge at all hours. This four-lane 2.2-mile bridge/causeway connects Somers Point on the mainland with Ocean City. State.NJ.us
Downbeach beaches
Downbeach ocean beaches are clean, mostly uncrowded and on all three beaches — Ventnor, Margate and Longport — you will find surfers, kayakers, sailors and swimmers. Lifeguards are on duty during summer months from 10 a.m. to 6 p.m. daily. Beach tags are required, except Thursdays in Margate. MargateHasMore.com
Corson's Inlet State Park
Corson's Inlet State Park, one of the few remaining tracts of undeveloped oceanfront land in New Jersey, has 341 acres of undisturbed beach. There's a lovely barrier island trail on the southern tip of Ocean City where during summer months you'll find nesting black skimmers, piping plovers and least terns. The park can be entered from 59th Street on the south end of Ocean City or on its other side from a parking lot off Bay Avenue just before the bridge to Strathmere. A boat ramp offers access to the inlet, which is popular with fishermen in search of bluefish, kingfish, weakfish and striped bass. State.NJ.us
Ventnor Boardwalk
For a tale of two cities, start at the beginning at Fredricksburg Avenue in Ventnor and follow it for 1.7 miles all the way to the northern tip of Atlantic City where the former Revel Casino Hotel stands, for a total of 5 miles. It's quite a contrast to go passed Ventnor's grand old beach houses, dating to the 1920s and 1930s with no commercial activity, up through the bustling Atlantic City casino scene. The Boardwalk runs parallel to the beach and is popular with power walkers, bicyclists or those who just like to sit on a bench and enjoy the fresh ocean breeze. Bike riding is permitted from 6 a.m. to noon and from 5 to 7 p.m. through Labor Day. VentnorCity.org
LET'S GO SHOPPING
A.C. outlets and more
Atlantic City offers great "destination" shopping. If you're interested in fishing, Bass Pro Shops, an enormous lifestyle outpost, features a two-story waterfall, 13,000-gallon fish tank and vintage boats. It's at Tanger Outlets The Walk, the city's home to major retail outlets such as Tommy Hilfiger, Nautica, Coach, Nike and much more. On the Boardwalk, The Playground showcases exclusive retail shops like Gucci, Tiffany & Co., Louis Vuitton and Burberry, along with more "mall-type" shops like Victoria's Secret and an Apple store. Don't forget the tropically themed Quarter at Tropicana Atlantic City for more indoor shopping and exotic restaurants like Cuba Libre. TangerOutlet.com; ThePlaygroundAtlanticCity.com; Tropicana.net
Brigantine Farmers Market
Now you don't have to go off the island of Brigantine for fresh local produce. Modeled after the successful farmers markets on Absecon Island, the Brigantine Market will have many of the same vendors offering fresh produce, honey, artisanal cheeses and organic coffee from 8:30 a.m. to noon Saturdays through Labor Day. Find it at 15th Street and Revere Boulevard; BrigantineBeachGreenTeam.com/farmers-market
Historic Towne of Smithville and Village Greene
There are more than 50 shops and restaurants dotted along a winding Village Greene. The Smithville Inn is the cornerstone restaurant in this lovely village full of restored 18th and 19th century buildings. For entertainment there is a beautiful vintage carousel, miniature old-fashioned train, family arcade and, in the summer, paddleboats on Lake Meone which sits in the center of the village. The dozens of shops include an antique shop, a candle shop, a Christmas shop and a bakery that serves eat-in breakfasts. A Tomasello Winery outlet sells wine and gourmet foods and the Cook's Corner sells freshly roasted coffee beans and an assortment of hot sauces, kitchen accessories and collectibles. In addition to the elegant colonial-style Smithville Inn, there is Fred and Ethel's Lantern Light Tavern, A.J.'s On the Lake Family Restaurant, Costello's Italian Ristorante and Pizzeria, and the Colonial Coffee Café, located in the Colonial Inn, a bed and breakfast. 609-652-7777; HistoricSmithvilleNJ.com
Hamilton Mall
Two huge youth apparel stores — H&M and Forever 21 — anchor the Hamilton Mall in Mays Landing — the largest in the region with 140 stores under one roof. The two-story mall also includes a J.C. Penney, Macy's and Sears and features a large food court, Ruby Tuesday and Johnny Rocket's, and a variety of clothing, shoe and specialty stores. Olive Garden and Red Lobster restaurants are located in the parking lot outside the mall. There's also a Buffalo Wild Wings across the parking lot from Macys. Located at 4403 E. Black Horse Pike, Mays Landing; ShopHamilton.com.
LGBT FUN
Greater Atlantic City GLBT Summer Cruise
There's nothing better than being on a boat on a beautiful summer night. So join the Greater Atlantic City GLBT on their annual summer cruise 6:30 p.m., July 18. Meet up at Historic Gardner's Basin and enjoy off-shore food, dancing, raffles and a cash bar for $25. ACGLBT.org
Wanda Sykes
With her blunt, tell-it-as-it-is style, comedian Wanda Sykes has been leaving audiences in stitches since the early 1990s. Her career began to rise when she was a writer on "The Chris Rock Show." That led to success in films and TV. As a stand-up comedian, Sykes lets her voice and unique presence shine, covering it all including politics, health care, racial profiling, gay marriage, karma and aging. She performs not one, but two shows, 9 p.m. Friday and Saturday, June 10 and 11 at Borgata Hotel Casino & Spa. Tickets are $55 and $59. 1 Borgata Way, Out.TheBorgata.com
Jane Lynch
Jane Lynch, star of the mega-hit musical series "Glee," is a Golden Globe, Primetime Emmy, Screen Actors Guild and People's Choice award winner. The actress, singer, host and advocate will head to Borgata for a night of songs and comedy that will tickle your funny bone. It takes places 9 p.m., June 25, at the Music Box. Out.TheBorgata.com
Kristin Chenoweth
Broadway chanteuse Kristin Chenoweth will enchant Borgata audiences with her high-flying vocals and stories of being very … um … "popular" on the Great White Way. The concert takes place at the Music Box 9 p.m. on both Aug. 19 and 20. Out.TheBorgata.com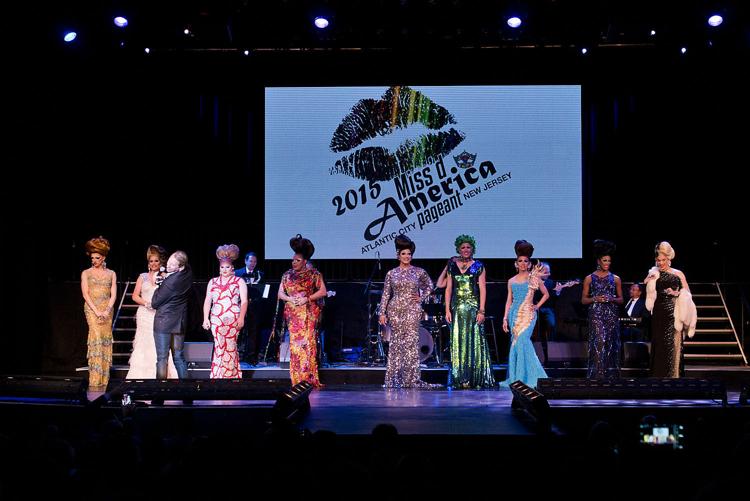 Miss'd America 2016
A fun take on the Miss America Pageant, the Greater Atlantic City LGBT's signature event — Miss'd America — is where your favorite drag personalities face off for the coveted crown for 2016. New for this year, the pageant will take place in Borgata's larger Event Center, where there's more runway space for the queens to strut their stuff. See it happen 10 p.m., Sept. 24. Out.TheBorgata.com