1. Thin Mint. Inspired by the Girl Scouts' most popular cookie, Southern Tier has created a take on a Thin Mint with its Thick Mint beer. A part of the Blackwater series of dessert beers, Thick Mint is an imperial stout with balanced tastes of mint and chocolate, melding malts with notes of Belgian dark chocolate, sweet mint and a bit of caramel. Currently, Joe Canals Discount Liquor in Egg Harbor Township has a few cases available, but get there quick, because this beer has proven as popular as the cookie it's based on. A Thin Mint-like drink can also be found at AC Burger Co. in Harrah's. Try the Grasshopper milkshake with green Crème de Menthe, Baileys and Frangelico. Joe Canal's is located at 6036 Black Horse Pike, Egg Harbor Township. Call 609-641-3285. Harrah's Resort is located at 777 Harrahs Blvd., Atlantic City. Go to Caesars.com/HarrahsAC.
A group of six talented male vocalists will reinvent your favorite Broadway tunes during a p…
2. Lemonades. A newer addition to the Girl Scout lineup, Lemonades literally look like a sliced-open lemon and have a tangy taste thanks to the lemon icing slathered on this shortbread cookie. The Lemon Vesper cocktail at Bobby Flay Steak in Borgata achieves the same tart satisfaction. With Lillet Blanc, Hendrick's gin and Ultimat vodka, this dupe is a fresh way to get a taste of summer this February. Located at 1 Borgata Way, Atlantic City. Go to BobbyFlaySteak.com.
3. Savannah Smiles. The Girl Scouts love their lemons so much, they have two cookies that use this citric delight. The Savannah Smiles cookie is lemon-flavored and dusted with powdered sugar. Sugary lemon treats can also be found at two Tropicana locations: Carmine's and Cuba Libre. Check out Carmine's Sardinian Lemon drop, made with Grey Goose vodka, fresh lemon juice and a sunken drizzle of Chambord and Argiolas Mirto Amaro, with a sugar rim. Cuba Libre has a similar, more bubbly drink, in its Second Street 75, which combines Macchu Pisco, simple syrup, lemon juice and sparkling wine. Located at 2831 Boardwalk, Atlantic City. Go to Tropicana.net.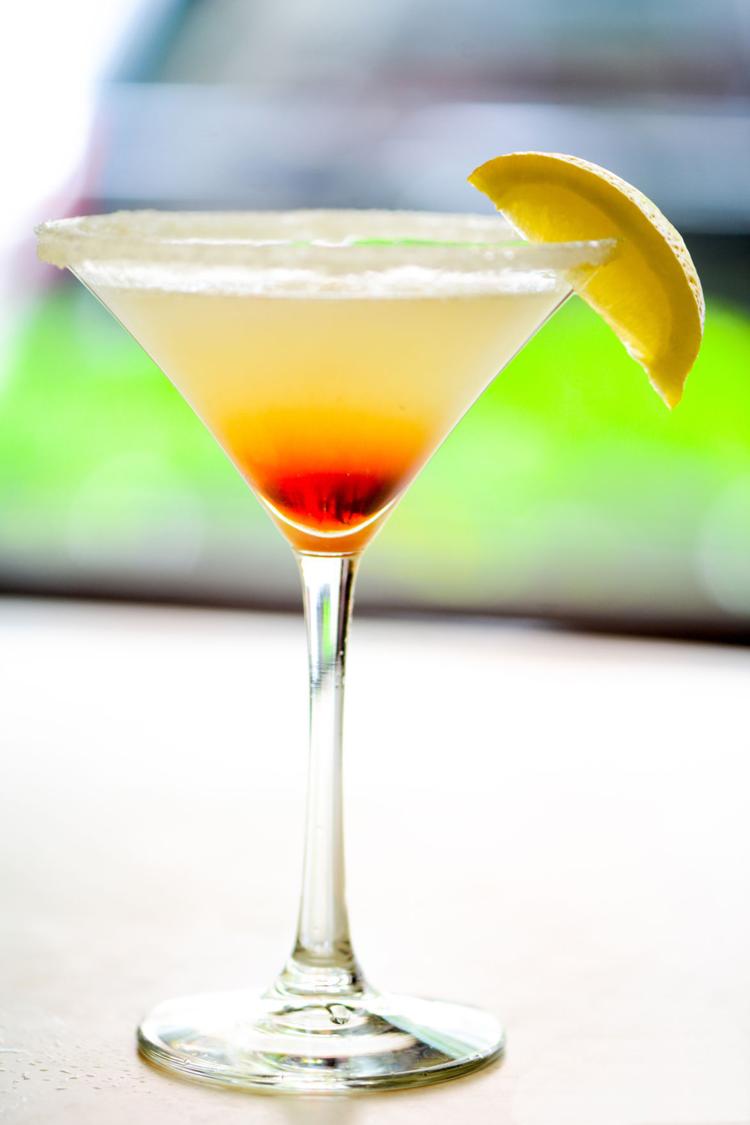 4. Caramel deLites (Samoas). The Caramel deLite, or Samoa if you're old school, is a classic for a reason. With coconut, caramel and chocolate, it's one of those undeniably tasty flavor combinations. But Caramel deLites have notoriously few cookies per-box, so once you've finished yours, satisfy your craving by heading to Bally's Wild Wild West for a Saloon Samoa — a shot so similar to the cookie it's in the name. The shot combines Amaretto, Rumchata and chocolate syrup with a shredded coconut rim. Plus, Wild Wild West has it on special for $5 through the end of the month. Located at 1900 Boardwalk, Atlantic City. Go to Caesars.com/Ballys-AC.
Nick Ballias was in a culinary conundrum. The owner of the acclaimed Wingcraft Kitchen &…
5. Thanks-A-Lot. The Shortbread, or Trefoil, cookie is about as quintessential a Girl Scout cookie as you can get. But, let's be honest, it's a little bland. Fortunately, the Girl Scouts have a similar cookie called the thanks-a-lot, which smacks a layer of fudge at the bottom of shortbread, and imprints on them the word "thank you" in English, French, Chinese, Swahili or Spanish. For a similar flavor, check out Old Homestead Steakhouse's chocolate biscotti martini, made with Faretti biscotti liquor, Kahlua, Bailey's Irish Cream, Godiva white chocolate liqueur and a splash of cream. After trying it, you'll be saying Thanks-A-Lot to your bartender. Located in Borgata at 1 Borgata Way, Atlantic City. Go to TheBorgata.com.
Joe Sikora, of the Starz show 'Power,' hosts at The Pool After Dark
Currently staring in the hit Starz series "Power," Joe Sikora hosted at The Pool After Dark on Saturday, Feb. 10.
Photos: Tom Briglia/PhotoGraphics