On any given weekend, Atlantic City is all about providing visitors with the best in nightlife. From restaurants branded with celebrity chefs to bars and nightclubs that can go toe to toe with those in just about any city in the nation. Everyone from cocktail waitresses, to bartenders, to DJs spend Friday through Sunday making sure each guest heads home with an experience that they will not soon forget.
But this begs the question — when do those service industry workers get to blow off a bit of steam? The answer? Industry night, of course.
Industry nights in A.C. generally take place on the most random of off nights — Wednesdays, Thursdays, Mondays … anything that is not a Friday or Saturday, essentially. Which is why outside of those in the service industry, few have had the chance to experience the semi-secret party that hits this town on the nights where most people are in bed at a reasonable hour.
Until now.
Its officially getting down to the wire here. Soon there will be none left. What are we bein…
We at A.C. Weekly spent a night at Borgata, pretending that we didn't have work the next day, indulging in everything that would make up the ideal night out for those in the industry. Just to make things even more fun, we followed around a group of younger partiers, the kind of folks who actually belong in an amazing club at 2 a.m. on a weeknight. Borgata has been promoting its industry night with the slogan "This is how we Monday," and for one shining night it became how we Mondayed, as well. Here is how it all went down ...
Stop one: The Barbershop
It goes without saying that if you are going to do a big night out you need to look good. While style choices may differ, everyone looks better with a bit of grooming, and that is where The Barbershop at Borgata shines. We stopped in at around 6 p.m. for a signature shave and a haircut.
The Barbershop is more than just a place for a quick touch up though. Accented with couches and a pool table in the main room, the place oozes masculinity. Picture the opposite of just about any "hair salon" you may have been to.
"My father did this for 38 years, he came from Palermo, Sicily," says Damian LaRussa, barber and shave specialist at The Barbershop at Borgata.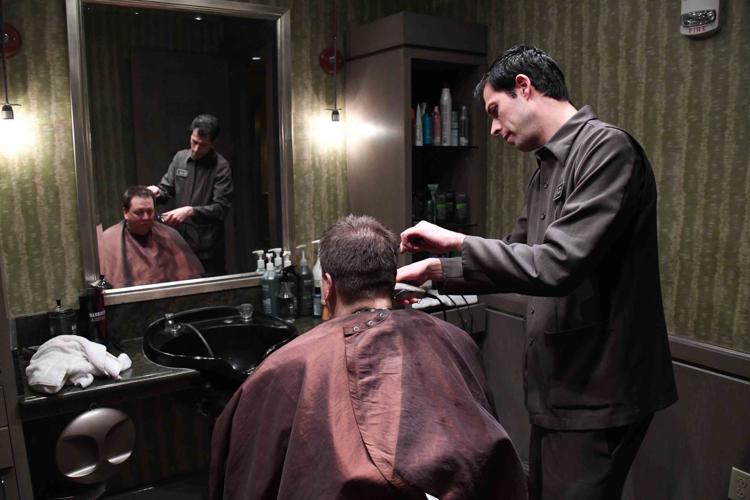 "I was an apprentice under my father when I started. He used to use a balloon to teach me how to give shaves. If the balloon popped, that meant a customer would have been cut, so I learned how to be very precise."
LaRussa speaks while casually performing a shave, starting with a hot towel and a bit of pre-shave oil. Before long he grabs a straight razor and begins.
"There is a misconception that straight razor shaves like the one I am doing give the closest shaves possible. That is no longer true, due to the fact that companies now make razors with four or five blades on them. However, a straight razor shave from a professional ensures that your skin does not get irritated."
Stop two: Dinner
While boozing it up at a club or bar may be the focus of a big night out, nothing sets the tone better than a great meal. On this evening, we headed to Izakaya around 7:30, where the hip, sexy atmosphere made for a perfect setting to let the good times officially roll.
"Izakaya Mondays" have been around for a while now, and are a key part of industry night at Borgata. If the $7 food and drink specials are not enough to bring you in, Borgata offers free admission to Premier until midnight for guests who spend $30 at Izakaya that night.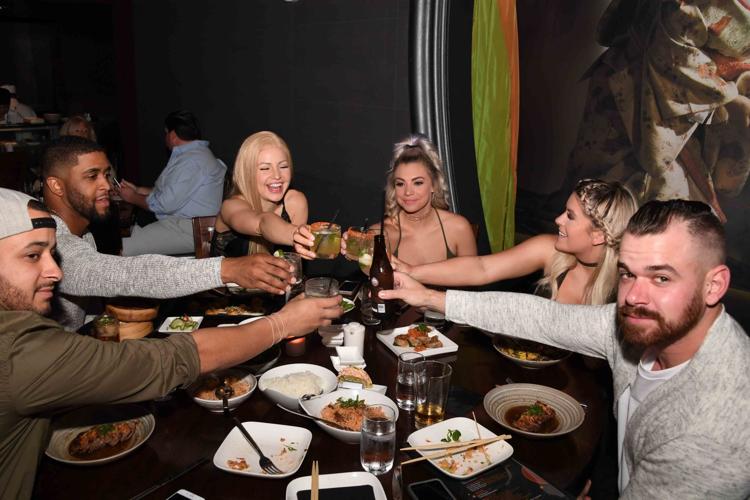 It was at this point that we began tailing our group of partiers. Seated at a table next to theirs, we made quick introductions, and then watched as the group of 20-somethings wined and dined on items such as tuna tartar, avocado rolls and beef negamaki (each $7), washing them all down with everything from shots to sake bombs to exotic cocktails such as the Breeze, which blends coconut rum with vanilla liqueur, pineapple juice and sake.
Stop Three: The Pregame
After dinner and before the night can get fully underway, there is still one ritual that must occur. The Pregame. At around 10 p.m. we headed up to the room of our head partier, Ryan LeBon, who had taken advantage of some of the reduced rate deals on rooms during the week and snagged a suite for him and his crew.
LeBon knows a thing about nightlife, as he has enjoyed a career managing nightclubs in Philly. For him, industry nights are a way to experience all that luxuries he provides for his customers on weekends.
"The folks that work all weekend every weekend, we want to go out and have some fun too," he says.
While there are many options, the hospitality at Borgata seems to be what brings LeBon back.
There's no place like being "home" on a stage for actress Stephanie Mills, who became a hous…
"I started coming here for Mondays at mur.mur years ago, and now that Premier is open, it's the new hot thing to do. And Premier provides for us a very hospitable environment on Mondays," says LeBonbetween sips of a cocktail.
Madeline Dewey agrees. "The energy in Atlantic City on a Monday night is equivalent to a night out in Vegas," says the statuesque blonde who flanks Lebon.
Dewey is one of several girls bouncing around the suite, each seeming to be in a competition to see who's dress can show the most cleavage. Within five seconds of us entering their space, a wardrobe malfunction occurred.
"Oops!" someone yelled from across the suite.
"That's nothing, you missed the twerking competition we just had before you got here," Dewey says.
"Don't worry, we videotaped it!"
Clearly the party had begun.
Stop four: The Club
This was it. Everything prior to this moment was just buildup, but now that 11:30 p.m. had rolled around, it was time to get to the club and make use of those free admissions that our dinner at Izakaya earned us. As we entered the club, we all were taken aback by just how packed it was for a Monday. Apparently industry night is for real.
Our gang and LeBon's had now merged into one, with side-by-side VIP tables next to the DJ booth. Cocktail waitresses dressed in what can only be described as lingerie were quick to bring us bottles of our favorite spirits and mixers, and even came around on a regular basis to freshen up the ice in our drinks. This is the kind of service that keeps folks coming back.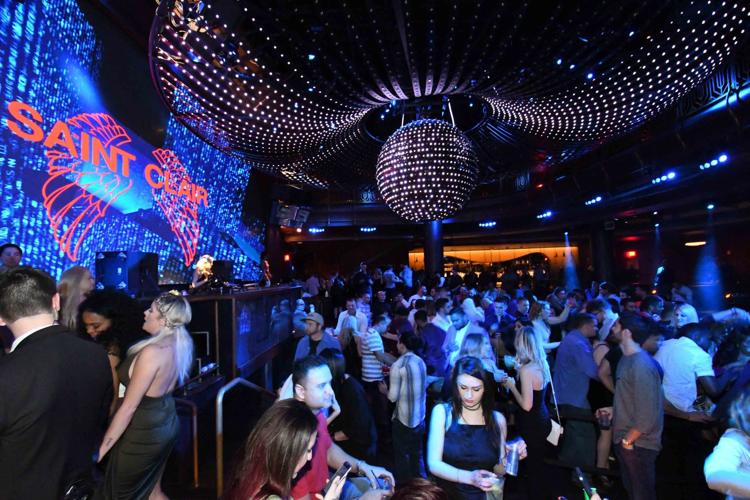 One unexpected feature of our particular VIP booth was that directly overhead sat a cannon-like apparatus which blasted pressurized C02 onto the dance floor every few minutes with the fury of an F-16. The purpose seemed to be to cool everyone down a bit with a blast of cooling fog, but be warned — the volume on this is enough to startle a dead bear.
Over in the DJ booth was the headliner for the night, Saint Clair. Saint Clair came all the way from Australia and, despite battling a head cold, looked flawless, with long, icy blonde hair and skin-tight black clothing from head to toe.
"This is my first time here — I'm popping my A.C. cherry," Saint Clair shouts excitedly. There is no doubt about her enthusiasm for what the night will bring.
While she may be new to Atlantic City, the reputation of where she will perform has spread across the globe via the DJ grapevine.
"I've heard nothing but great things from everyone. It looks like I've gone straight to the top! The word on the street is Premier is a pretty dope spot," she says.
As her set began, you could sense the excitement in the crowd, as the dance floor filled to capacity.
Lights of every color seemed to flash at once, confetti bursts rained from the sky, sirens went off at random throughout the night, and our group of partiers eventually invaded the DJ booth to become part of the action. Everyone on hand was having the night of their lives — and apparently have been for some time — right under our noses. We scratched our heads (almost in unison), wondering, how have we missed out on this for so long? We each make silent promises to return each week.
Then it dawned on us — we had to be at work in four hours. We raced back to our rooms to try and cram a few hours of rest in before the alarm went off.
The following morning, as we struggled our way down the halls of Borgata, as if to prove it was not all a dream, one of the nameless blonde partiers from the night before suddenly appeared from a random hotel room, with ratted hair and smeared makeup, suspiciously sporting the same outfit and 5-inch heels she had on the night before.
"Uh. that was ... uh... my boyfriend's room... I swear," she says, struggling to keep a straight face.
And for the first time ever, we felt just a bit jealous of all those people who have to work on the weekends …
Borgata's not alone in this game.
While the Monday-night scene there is hopping, there are more than a few spots (and a few nights) to party for folks in the industry. Check these out:
Dusk at Caesars Atlantic City: Dusk opens its doors to industry folk (and anyone else) on Tuesdays from 11 p.m. to 4 a.m. Club DJs spin all night and admission is free for Caesars hotel guests.
The Pool After Dark at Harrah's Resort: Every Wednesday the pool hosts its own industry night, known as Wet and Wild Wednesdays. With admission just $10 and some of the hottest DJs around spinning weekly, Harrah's offers up some serious competition.
Haven at Golden Nugget Atlantic City: Every Thursday is hopping at Golden Nugget's Haven, as its weekly industry party MisBeHaven goes down. Complimentary admission is available before midnight for those with a college ID, a Golden Nugget room key or industry ID.
Providence at Tropicana Atlantic City: While The Quarter at Trop may offer lots of options on any given night, Thursdays at Providence were made for industry folk. Anyone who works at a casino, restaurant, bar or nightclub receives complimentary admission, front-of-the line access plus exclusive drink and VIP specials.  
Anthem at Tropicana Atlantic City: Get ready for a Wednesday night dance party at Anthem each week as they celebrate their own industry night. The night features both local and guest DJs and bartenders along with $5 drink specials.