Just one day after the summer solstice, 400 people from 14 states — including as far as Oklahoma and Texas — will mine the waters of Patcong Creek for the 9th annual Assault on Patcong Creek Crabbing Tournament in Somers Point.
Held June 22 through June 23, this event is popular, not just because it's fun, but because it evokes memories of summers past, says tournament coordinator Ron Meischker.
"Everybody has a story about crabbing at the Jersey Shore, whether they went to a bridge or a dock or took the boat out," Meischker says. "People want to relive those times and create new memories with their kids."
While reliving memories and creating new ones are big reasons people come to the tournament, another is the beauty of the catch. Last year, crabbers brought in 24 bushels of crawling crustaceans, and feasted on them at the end of the tournament.
It's no secret that people at the Jersey Shore take their crab eating seriously — even those who don't forage for their catch. For those folks, they satisfy their cravings by frequenting area restaurants, which are happy to oblige with menus that feature everything from crab cake sandwiches to burgers topped with crab meat.
"Crabs are considered a luxury item," says Greg Gregory, co-owner of Gregory's Restaurant and Bar in Somers Point. "So when people come to the shore, they're on vacation, and they want to treat themselves. What better way than with fresh crab meat?"
Gregory's offers various crab items. One of the most popular is the "crabby tomato," a Jersey Fresh tomato paired with fresh mozzarella and roasted red peppers, topped with jumbo lump crab meat and drizzled with balsamic glaze. The tomato and crab combo are a home run, says Gregory.
"A lot of people come to the Jersey Shore just for our tomatoes," he says. "But then we put jumbo lump crab meat on top of it. And people go nuts for it."
Another big seller is the soft shell crab, which Gregory gets locally from May through September. Some people order them beer battered and deep fried, so the crabs crunch with each bite. But others prefer them sautéed and served over toast. During the summer, the restaurant serves thousands of these delicacies, Gregory says.
Also popular is the "crabby burger," a 100 percent Angus beef burger topped with Gregory's signature crab cake and béarnaise sauce.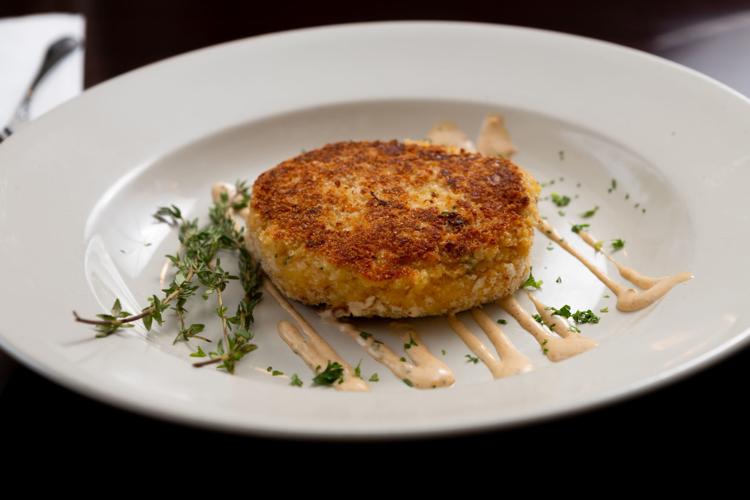 And no restaurant at the shore would be complete without a crab cake sandwich. Gregory's makes the crab cake with jumbo lump meat and the claws, since "they're the most flavorful part of the crab," says Gregory. The meat is then mixed with herbs and spices and served over a bun.
As the name suggests, Grilled Cheese & Crab Cake Co., also in Somers Point, serves a few crab cake sandwiches on its menu. One is the simple Maryland crab cake, made with lump crab, egg, mayonnaise, panko breadcrumbs, Old Bay seasoning and freshly squeezed lemon. They simply grill it and serve it on a seeded bun.
The "supreme crab cake" is a jacked up version of the regular crab cake sandwich and features 6 ounces of crab meat on a seeded bun. When cooked, it puffs up to a creamy cake of deliciousness, enthuses Dominic Stigliano, executive chef and general manager.
The restaurant also features the "Maryland crab melt," a riff on one of America's favorite comfort foods. This signature sandwich boasts crab meat stuffed between two pieces of Texas toast and slices of creamy Monterey Jack cheese.
If you like fries, the restaurant pairs the crunchy potatoes with its creamy crab soup, crumbled bacon, Old Bay and scallions.
"The soup is creamy and thick. And the fries are crispy. When the fries and soup are put together, it's just crabby, creamy goodness," Stigliano says.
Speaking of fries, sports bar Chickie's & Pete's always offers its uber popular crinnkle-cut, seasoned Crabfries with a white cheese sauce for dipping, as well as a Crabfeast Special this summer with crabs covered in Old Bay, corn on the cob and bread.
For purists, Crabby's Suds & Seafood in Mays Landing is the place to go. There's no fuss, no froufrou dining and, for many, this is the only way to eat crabs.
"The puritan crab lovers want to crack the shells, work to get the meat out, sit around, talk and drink beer," says Lynn Jenkins, who's owned Crabby's for 30 years. "It takes a lot of time to eat a hard shell crab. And that's what people love about it."
Along with featuring a full menu of seafood, Crabby's offers all-you-can-eat specials to satisfy any crab lover: Mondays, Dungeness crabs; Tuesdays, snow crabs; Wednesdays and Sundays, blue claw crabs; and Thursdays, snow crabs with steamed shrimp.
In celebrating the crab, Gregory describes the crustacean as a "delicate food that pairs itself so well with herbs and spices. But you can ruin crab in a heartbeat if you don't know how to cook it."
So why take that chance? Dine out.