We don't want to be the bearers of bad news, but by now it should come as no surprise that summer is on its way out. And while we'll all miss those lazy, hazy, crazy days of playing in the sun, it's crunch time — time to make sure you're getting the most out of the moments we have left. Though that list may include water parks and boat trips, there are some places you need to hit now, because like summer itself, their season, too, will soon come to an end.
"The Deck parties dockside all summer long, fitting a year's worth of dancing, drinks and laughter into 16 weeks," says Kevin Scull, assistant general manager and VP of resort operations at Golden Nugget, of The Deck. "The Deck Bayfront Bar & Restaurant is one of the highlights of the summer at Golden Nugget — a meal at The Deck is accompanied with a cool bay breeze and unbeatable marina views. When the sun goes down, The Deck heats up, bringing the spirit of summer to life with the sounds of your favorite local cover bands."
Here's a list of places to hit before your summer nights end.
Baia Restaurant
Get your dancing shoes on and head to Baia Restaurant. With live music inside and on the deck each weekend, Baia is especially well-known for its legendary, high-energy Sunday Reggae Night on the lower deck. 998 Bay Ave., Somers Point. Go to BaiaRestaurant.com.
Memories in Margate
Looking to rub elbows with a local DJ legend? Head to Memories in Margate on Fridays and Saturdays through the summer for Jerry Blavat's famous dance party. 9518 Amherst Ave., Margate. Go to Memories Margate on Facebook.
Maynard's Starlite Garden
While Maynard's stays open year round, the Starlite Garden is only open seasonally, so get there while you can. With string lights and cozy seating, it's the perfect place to take your date. 9306 Amherst Ave., Margate. Go to Maynards-Café.com.
Water Star Grille at The Reeds at Shelter Haven
Nothing says coastal luxury like The Reeds at Shelter Haven, and its outside bar and restaurant, the Water Star Grille, is the perfect place for dinner. Plush and comfortable, the views are spectacular and the vibe unforgettable. 9601 Third Ave., Stone Harbor. Go to ReedsatShelterHaven.com.
The Patio at Girasole
This family-owned Italian restaurant is a dreamy date night waiting to happen, and the outside patio is just as delightful. 3108 Pacific Ave., Atlantic City. Go to GirasoleAC.com.
The Deck
With daily live music, boat access and specialty cocktails like the Bay of Passion and Atlantic City Sweet Tea, The Deck is a favorite all summer long, for good reason. Golden Nugget, 600 Huron Ave., Atlantic City. Go to GoldenNugget.com.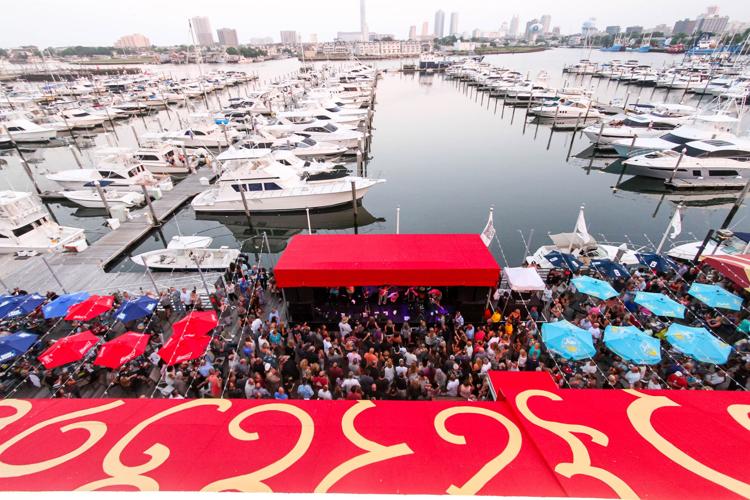 Laguna Grill & Rum Bar
Forget bar-hopping — Laguna is a destination in and of itself. With national acts like Soul Asylum and Rusted Root, as well as beachfront dining, Laguna is perfect for taking a two-hour summer vacation. 1400 Ocean Ave., Brigantine. Go to LagunaGrillandRumBar.com.
The Deck at McCullough's Pub & Restaurant
McCullough's Pub is open all year, but The Deck is only hopping during the summer. Overlooking Miller Pond and the 18th Fairway, with live music every weekend, The Deck is a best bet for catching a summer show. 3016 Ocean Heights Ave., Egg Harbor Township. Go to McCulloughsGolf.com.
Borgata Beer Garden
Known as much for its laid back fun — think lawn games and Adirondack chairs — as it is for its weekend music scene, Borgata Beer Garden ups the ante for the always-fun Borgata. 1 Borgata Way, Atlantic City. Go to TheBorgata.com.
Crabby Jack's at The Crab Trap
With relaxing bay breezes and live entertainment nightly during the summer, Crabby Jack's is a bayside paradise. 1 Broadway, Somers Point. Go to CrabbyJacksNJ.com.
Smitty's Clam Bar
With seafood galore at prices that won't hurt your wallet, Smitty's has earned its reputation as a veteran clam shack for locals and tourists alike. Grab a six-pack and kick back at this BYOB. 910 Bay Ave., Somers Point. Go to The Clam Bar on Facebook.
Buckets Margarita Bar & Cantina
Buckets Margarita Bar & Cantina and its bayfront Belly Up Bar is the epitome of "chillaxing." With signature margaritas like lemon basil and watermelon mint, as well as daily live music, Buckets is a little bit of paradise. 9631 Third Ave., Stone Harbor. Go to BucketsStoneHarbor.com.
The Backyard Bar at Caesars
Kick back on the Atlantic City Boardwalk at The Backyard Bar. Frozen drinks and summer food … what more do you need to relax in the summer? Caesars, 2100 Pacific Ave., Atlantic City. Go to Caesars.com.
Worship Surf Bar
Head to Worship Surf Bar, where surf culture and beach life collide. Check your board at the door and come in to chill, or stay on the beach for food and drink service direct to your chair. Showboat, 801 Boardwalk, Atlantic City. Go to ShowboatHotelAC.com.
Bally's Beach Bar
With bikini-clad waitresses, daily live entertainment and all-day drink specials, Bally's Beach Bar takes center stage for all the summertime action. Bally's, 1900 Boardwalk, Atlantic City. Go to Caesars.com.
H20 Bar & Grille
OK, it's not a beach … but we can't resist an outside pool and bar, and neither should you. Enjoy frozen drinks like the Martini & Rossi Frose and kick back in a cabana before autumn rolls around again. Golden Nugget, 600 Huron Ave., Atlantic City. Go to Golden Nugget.com.
The Chelsea Beach Bar
With a tiki bar, hammocks, live music and drink specials, you can make a day of it at The Chelsea Beach Bar. Don't forget the sunscreen. The Chelsea, 3001-3099 Boardwalk, Atlantic City. Go to Chelsea Beach Bar on Facebook.
Bungalow Beach
If cabanas and beach beds and hookahs aren't enough to get you to Bungalow Beach before summer ends, head there for the live entertainment and bottle service. 2641 Boardwalk, Atlantic City. Go to BungalowBeachAC.com.