Between its summertime Fakefest and Deckstock tribute festivals, and its Flashback Fridays series that continues to enjoy a remarkable run, Golden Nugget Atlantic City could stake a claim as A.C.'s overlord of the impersonator groups.
Tribute bands have gained a lot of traction lately because they give audiences the feel for what classic rock bands are like — in some cases bands that are no longer performing — without the high ticket cost, and usually in a much more intimate setting. Of course, that only works if the bands mimicking the originals do so with the utmost authenticity, and Golden Nugget has consistently brought in the best.
A case in point is Eliminator KC, a ZZ Top tribute band from the Kansas City, Mo., area that has been hailed as one of the best and longest-running tribute acts in the nation. The group goes to great lengths to replicate the look and sound of the famed rock power trio, featuring Daniel Holloway playing the part of ZZ Top guitarist/vocalist Billy Gibbons; Bobby Kerr playing bassist/vocalist Dusty Hill; and Brian Eads playing drummer Frank Beard.
The band borrows its name from ZZ Top's eighth of 15 studio albums, 1983's "Eliminator." It is also the name of Gibbons' customized 1933 Ford Coupe that is on display at the Rock 'n' Roll Hall of Fame in Cleveland, Ohio, where ZZ Top was inducted in 2004. The album is among the Top 100 best-selling records of all time, and contains many of ZZ Top's biggest hits including "Gimme All Your Lovin'," "Got Me Under Pressure," "Sharp Dressed Man," "TV Dinners" and "Legs." Eliminator KC covers these classics in its repertoire and other ZZ Top hits, including "Cheap Sunglasses," "Tube Snake Boogie" and "La Grange."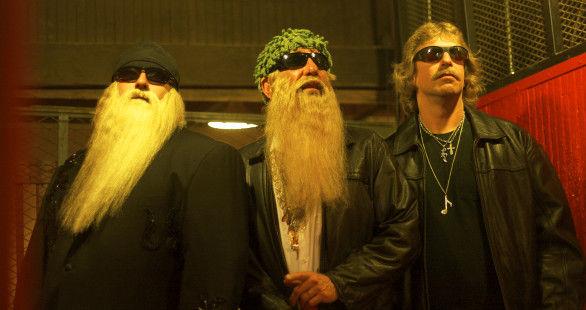 "What we found out a long time ago is that ZZ Top fans are very discriminating in what songs they like to listen to," Holloway says. "We have a formula of 20 songs that we put together in a 90-minute set, and 17 of them were charted radio hits starting in the '70s and running through the '90s. We do all the favorites — all the ones that that fans love and have come to expect. After doing this for 20 years, we've got the tricks down pretty good."
Holloway's personal tribute-band resume began in 1995 with the Jimmy Van Zant Band, which honored Lynyrd Skynyrd and whose namesake is the cousin of late Lynyrd Skynyrd founder Ronnie Van Zant. He also played the part of Keith Richards in the internationally acclaimed Rolling Stones tribute band Satisfaction before establishing Eliminator KC about 16 years ago. Holloway, Kerr and Eads sought out and purchased replicas of ZZ Top's amps and instruments to make Eliminator's sound as close to the originals as possible, and Holloway and Kerr even grew the long trademark beards that Hill and Gibbons wear.
"ZZ Top's guitar tones are synonymous with '70s and '80s rock, and we spend a lot of time recreating and refining our tones so that when we get out in front of people, it really does sound like ZZ Top," Holloway says.
Holloway also wears a replica of the spiritual hat — called a Nudu cap — given to Gibbons by a tribal chief during a ZZ Top tour of Africa years ago. His guitar of choice is a custom Gretsch like the one Gibbons still uses in ZZ Top concerts.
"Bo Diddly gave Billy a guitar in the '80s that Bo Diddly actually made," Holloway says. "He called it the Jupiter Thunderbird. It was a one-of-a-kind guitar that Billy would play on stage occasionally, and Gretsch noticed it."
The idea was hatched to reproduce the Jupiter Thunderbird, and the end result was the Billy-Bo Jupiter Thunderbird that Gretsch launched as part of its 2005 lineup, and as a tip of the cap to both Diddly and Gibbons.
"That's the Gretsch guitar I use today," Holloway says.
ELIMINATOR KC
WHEN: 9 p.m. Friday, March 25
WHERE: The Showroom at Golden Nugget Atlantic City, Huron Ave. and Brigantine Blvd., A.C.
HOW MUCH: Free.
MORE INFO: GoldenNugget.com/AtlanticCity or EliminatorKC.com