Southeastern New Jersey has stayed mostly rain-free, despite the cloud cover at times. That will change, though. 
Just the facts:
Start time: 5 to 8 p.m., Thursday, from southwest to northeast
End Time: 2 a.m. to 4 a.m. Friday 
What: Roadway, stream and creek flooding is the main threat. Wind damage is a lesser concern and a weak tornado is even lesser than that.
Where: All of South Jersey, except for the weak tornado, which likely will be west of a line from Egg Harbor City to Millville to Lawrence Township.
Full story:
As of 3:00 p.m. lines of thunderstorms have clustered up on radar.  A thunderstorm, which was severely warned in western Cumberland County, brought a quick 0.99 inches of rain in Lower Alloways Creek in Salem County. Meanwhile, Greenwich saw 0.01 inch and the rest of the region saw nothing.
Another example came with small showers moved from Delaware toward Cape May. However, they fizzled out over the cooler Delaware Bay, which stabilizes the air. 
However, we need to look to our southwest for the answer on when the storms will arrive.
Between 5 p.m. to 8 p.m. thunderstorms will move in, from the shores of the Delaware Bay to Long Beach Island. As of 3 p.m., there are two lines of storms to watch for. The main risk with both lines will be flooding.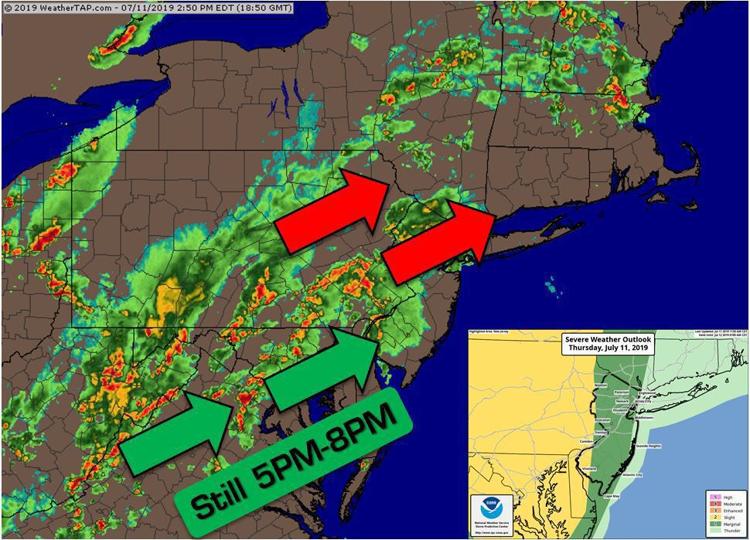 Very localized 3.5 to 4.5 inches of rain will be likely, though most stay lower. That will bring pockets of roadway, stream and creek flooding. Remember, it only takes 6 inches of water to move a car. A flash flood watch is not in effect, since the sandy soils of the Pine Barrens drains water quickly, but stay vigilant. 
The atmosphere is very juicy, courtesy of it 1) being summer and 2) tapping into Tropical Storm Barry, which is in the Gulf of Mexico. Southwesterly winds stretch from South Jersey to the Gulf Coast and beyond, pulling in that air. 
To a lesser extent, severe weather will be possible. The region sits in a level 1 (marginal) or level 2 (slight) of 5 risk for severe weather by the Storm Prediction Center, a government agency in Oklahoma. Damaging winds will be the main threat, but still well under a 50/50 chance of happening. To an even lesser extent, a tornado can spin up in the vicinity of the sea-breeze front, which will resides in western Atlantic and Cumberland county.
Like hurricanes and tornadoes, severe thunderstorms have five different categories to distinguish themselves. Thunderstorm risk categories range from Marginal, the lowest level, to High, the most concerning level. These are forecasted out to three days in advance by the Storm Prediction Center, not the local National Weather Service office. Severe storms in your neighborhood are still not likely until you reach a moderate, the fourth highest level.