Over the course of the last year, A.C. Weekly and Golden Nugget Atlantic City have paired up to prove one thing — people not only love to eat, they love to celebrate iconic foods in grand style. And they want to see restaurants go head to head to determine who has the perfect version of the item.
We had a hunch this was true from the success of last year's Burger Bash, but now that the upcoming Wing Wars event was sold out weeks in advance, it's no longer just a theory, it's confirmed.
"The turnout of the participating restaurants and the tickets selling out weeks before the event shows that Atlantic City is still very alive and thriving," says Alicia Brown, director of advertising and public relations for Golden Nugget.
For anyone who has been living under a rock for the last few months, Wing Wars is a head to head wing competition that will take place 3 p.m. Saturday, Jan. 28, at Golden Nugget's Haven. We rounded up some of the top wing places in the area and asked them to not only show up, but bring their A game wingwise. They agreed, and the stage has been set. It's time to throw down.
Just to be clear, this competition is not about burning your mouth off with super hot sauces. Sure, there will be some hot sauces, but Wing Wars is all about flavor. Competitors will be judged on who has the best wing as well as whose dipping sauce beats them all. First, second and third place trophies will be given out in both of those categories, so everyone's blue cheese game needs to be tight, too.
Additionally, Press of Atlantic City Director of Entertainment Publications Scott Cronick and A.C. Weekly Associate Editor Ryan Loughlin will hand out a series of honorary "Fat Boy Munch Club" awards in some unique categories.
When setting out to form a tribute band, most folks plan it carefully, considering a variety of potential groups to pay tribute to, combing th…
The "Fattest Presentation" award will honor the competitor who has the best overall presentation of their product. "Fattest Imagination" goes to whichever restaurant brings the most unique approach or flavor to their wing or dipping sauce. The "I Can't Feel My Face" award will be handed out to those who really put the "hot" in "hot wings," and finally, there's the "XXL Fat Boy Heavenly Combo" award, which will be presented to the competitor who provides the most amazingly perfect melding of both wing and dipping sauce – a literal match made in (Fat Boy) heaven.
Those who were smart enough to grab tickets before they sold out will have the chance to get in on the voting, to determine once and for all who's wing is indeed king.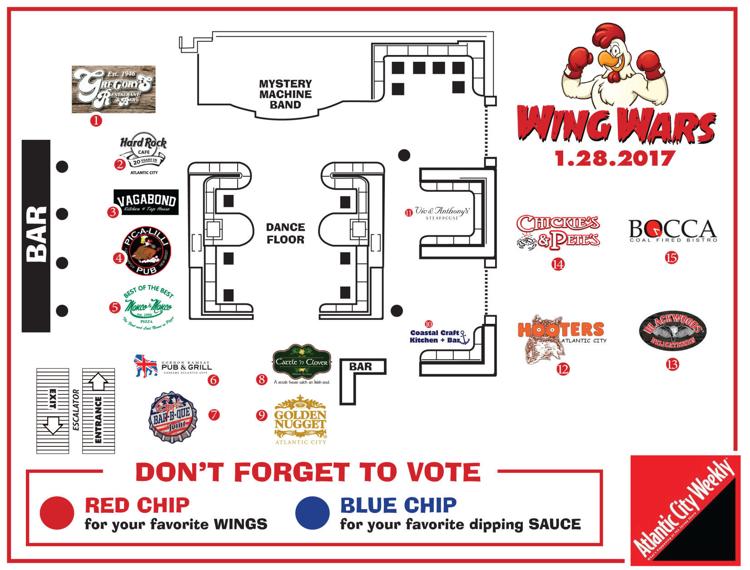 So who's competing?
Hooters, Atlantic City
Traditional buffalo wings and homemade blue cheese dipping sauce
Vagabond Kitchen and Tap House, Atlantic City
Buffalo beer wings and house made blue cheese
Gregory's Restaurant and Bar, Somers Point
Nashville hot wings and house made blue cheese.
Coastal Craft Kitchen + Bar, Atlantic City
Chipotle bourbon maple wings
Pic-a-Lilli Pub, Atlantic City
Classic wings with a variety of sauces from mild to smokers and house made blue cheese
Cattle 'n Clover, Wildwood
Curry habanero wings
Michael Patrick's Brasserie and The Deck at Golden Nugget, Atlantic City
Garlic parmesan wings with roasted cauliflower puree
Gordon Ramsay Pub and Grill, Atlantic City
Molasses and brown ale glazed wings with crumbled blue cheese and green onion
Manco and Manco, Somers Point
Mild and honey hot wings
Guy's Bar-B-Que Joint, Atlantic City
Jumbo wings with a bourbon bbq sauce
Hard Rock Café, Atlantic City
Jumbo Asian wing with a sweet and spicy glaze
Chickie's and Pete's, Egg Harbor Township and Atlantic City
Classic buffalo wings blue cheese dipping sauce
Bocca Coal Fired Bistro, Margate
Baked dry rub wings with Italian long hots and caramelized onions
Vic & Anthony's, Atlantic City
Maple-glazed quail wing
The sounds of Wing Wars
Cramming down wing after delicious wing for four straight hours is probably thrilling enough on its own, but you didn't really think we were going to force you to do it in silence did you?
Fear not, as the soundtrack to this year's Wing Wars will be brought to you by Mystery machine. Mystery Machine is one of the top party bands in the area. A 10-piece outfit covering everything from rock to oldies, they are sure to keep just the right amount of pep in every wing-eater's step.
  // <![CDATA[ _informq.push(['embed']); // ]]>
And if after you have scraped that last bit of blue cheese from your dipping cup you still feel the urge to rock out, Golden Nugget has ensured that this desire will be accommodated for in the form of a free concert by the Lynyrd Skynyrd tribute band Tuesday's Gone. Tuesday's Gone recreates the sound of the classic southern rockers flawlessly, with a high energy show featuring classic anthems such as "Gimme Three Steps," "Sweet Home Alabama" and "Free Bird."